Best known for its CEO Warren Buffet, one the world's wealthiest men and the "Oracle of Omaha", Berkshire Hathaway does not only buy or sell stocks as the general perception is. Its main business and source of capital is insurance, from which it invests the float (the retained premiums) in a broad portfolio of subsidiaries, equity positions, and other securities. So we thought to end this curiosity and learn what does Berkshire Hathaway do? What is the business model of Berkshire Hathaway?
Let me start this story by sharing a fact. Berkshire Hathaway's stock is the most expensive stock on Nasdaq. It is so expensive that a single share is worth more than a house in many parts of the US. As of Dec'22, the stock is priced at $460,000 and has a market capitalization of $670 billion.
Berkshire Hathaway Inc. is a holding company owning subsidiaries engaged in numerous diverse business activities. The most important are insurance businesses conducted on both a primary and a reinsurance basis, a freight rail transportation business, and a group of utility and energy generation and distribution businesses. 
Despite the popularity of the brands Berkshire Hathaway owns, many know it best for its stock holdings. Investors wait for Buffett to release his annual letter to shareholders yearly, partly because the letters list Berkshire Hathaway's holdings. These consist of a portfolio of well-known companies, with Apple constituting its most significant holding in terms of market value and Bank of America topping the list regarding the number of shares owned. These letters are finance institutions in themselves.
Berkshire Hathaway also owns and operates numerous other businesses engaged in various manufacturing, services, retailing, and other activities. Berkshire is domiciled in the state of Delaware, and its corporate headquarters is in Omaha, Nebraska. Let's understand each business in detail to understand the business model and what Berkshire Hathaway does.
What is the Business Model of Berkshire Hathaway? What business activities does it do?
Insurance and Reinsurance Businesses
Berkshire's insurance and reinsurance business activities are conducted through numerous domestic and foreign-based insurance subsidiaries. Berkshire's insurance subsidiaries provide insurance and reinsurance of property and casualty risks and reinsurance of life and health risks worldwide.
In direct or primary insurance activities, the insurer assumes the risk of loss from persons or organizations directly subject to the risks. Such risks may relate to property, casualty (or liability), life, accident, health, financial or other perils that may arise from an insurable event. In reinsurance activities, the insurer assumes defined portions of risks that other direct insurers or reinsurers assumed in their own insuring activities.
Berkshire's insurance companies maintain capital strength at exceptionally high levels, differentiating them from their competitors. The combined statutory surplus of Berkshire's U.S.-based insurers was approximately $301 billion on December 31, 2021. 
Berkshire's insurance group operates in some countries through subsidiaries and in some countries through branches of subsidiaries. Berkshire's insurance underwriting operations include the following groups: 
GEICO: The GEICO companies primarily offer private passenger automobile insurance to individuals
Berkshire Hathaway Primary Group: The Berkshire Hathaway Primary Group ("BH Primary") is a collection of independently managed insurers that provide a wide variety of insurance coverages to policyholders located principally in the United States.
Berkshire Hathaway Reinsurance Group: Berkshire's combined global reinsurance business, referred to as the Berkshire Hathaway Reinsurance Group ("BHRG"), offers a wide range of coverages on property, casualty, life and health risks to insurers and reinsurers worldwide
In this segment, Berkshire Hathaway generates revenue in two ways: Insurance underwriting and Insurance Investment. Berkshire's insurance subsidiaries hold significant levels of invested assets. In 2021, Berkshire Hathaway generated $728 Mn from underwriting and $4.8 bn from investment income. 
Railroad Business—Burlington Northern Santa Fe
Burlington Northern Santa Fe, LLC ("BNSF") is based in Fort Worth, Texas, and through BNSF, Railway operates one of the largest railroad systems in North America, with over 32,500 route miles of track in 28 states.
In serving the Midwest, Pacific Northwest, Western, Southwestern, and Southeastern regions and ports of the United States, BNSF transports a range of products and commodities derived from manufacturing, agricultural, and natural resource industries. BNSF's financial performance is influenced by, among other things, general and industry economic conditions at the international, national, and regional levels.
BNSF's primary routes, including trackage rights, allow it to access major cities and ports in the western and southern United States and parts of Canada and Mexico. In addition to major cities and ports, BNSF Railway efficiently serves many smaller markets by working closely with approximately 200 shortline railroads. 
BNSF classifies its major business groups by the type of product shipped, including consumer products, industrial products, agricultural products, and coal. For 2021, Berkshire Hathaway generated $22.5 bn from BNSF, of which 38% was derived from consumer products, 24% from industrial products, 23% from agricultural products, and 15% from coal. 
What is the Investment Strategy of Warren Buffett?
Utilities and Energy Businesses—Berkshire Hathaway Energy
Berkshire has a 91.1% ownership interest in Berkshire Hathaway Energy Company ("BHE"). BHE is a global energy company with subsidiaries and affiliates that generate, transmit, store, distribute and supply energy. 
BHE's locally managed businesses are organized as separate operating units. BHE's domestic regulated energy interests are comprised of four regulated utility companies serving approximately 5.2 million retail customers, five interstate natural gas pipeline companies with approximately 21,100 miles of operated pipeline having a design capacity of approximately 21 billion cubic feet of natural gas per day, and ownership interests in electricity transmission businesses. 
BHE's Great Britain electricity distribution subsidiaries serve about 3.9 million electricity end-users, and its electricity transmission-only business in Alberta, Canada, serves approximately 85% of Alberta's population. 
BHE's interests also include a diversified portfolio of independent power projects, a liquefied natural gas export, import, and storage facility, the largest residential real estate brokerage firm in the United States, and one of the largest residential real estate brokerage franchise networks in the United States.
Non-Energy Businesses: HomeServices of America, Inc. ("HomeServices") is the largest residential real estate brokerage firm in the United States. In addition to providing traditional residential real estate brokerage services, HomeServices offers other integrated real estate services, including mortgage originations and mortgage banking, title and closing services, property and casualty insurance, home warranties, relocation services, and other home-related services. 
It operates under 55 brand names with approximately 46,000 real estate agents in over 900 brokerage offices in 33 states and the District of Columbia. HomeServices' franchise network currently includes approximately 360 franchisees, primarily in the United States and internationally, in over 1,600 brokerage offices with over 53,000 real estate agents under two brand names.
Berkshire Hathaway generated ~$25 billion in 2021 from this segment, of which $19 bn was from energy and $6 bn from real estate.
Manufacturing Businesses
Berkshire's numerous and diverse manufacturing subsidiaries are grouped into three categories: 
Industrial products: Berkshire's industrial products businesses manufacture components for aerospace and power generation applications, specialty chemicals, metal cutting tools, and other products primarily for industrial use.
The industrial products group includes metal products for aerospace, power, and general industrial markets (Precision Castparts Corp. ("PCC")), specialty chemicals (The Lubrizol Corporation ("Lubrizol")), metal cutting tools/systems (IMC International Metalworking Companies ("IMC")), and Marmon, which consists of more than 100 autonomous manufacturing and service businesses.
Building products: The building products group produces prefabricated and site-built residential homes, flooring products, insulation, roofing, engineered products, building and engineered components, paint and coatings, and bricks and masonry products. 
The building products group includes manufactured and site-built home construction and related lending and financial services (Clayton Homes), flooring (Shaw), insulation, roofing and engineered products (Johns Manville), bricks and masonry products (Acme Building Brands), paint and coatings (Benjamin Moore) and residential and commercial construction and engineering products and systems (MiTek).
Consumer products: The consumer products group manufactures recreational vehicles, alkaline batteries, various apparel products, jewelry, and custom picture framing products.
The consumer products group includes leisure vehicles (Forest River), several apparel and footwear operations (including Fruit of the Loom, Garan, H.H. Brown Shoe Group, and Brooks Sports), and a manufacturer of high-performance alkaline batteries (Duracell). This group also includes custom picture framing products (Larson-Juhl) and jewelry products (Richline).
Berkshire Hathaway generated ~$69 billion in 2021 from this segment, of which $28 bn was from Industrial products and $25 bn from building products, and $16 bn from consumer products.
Service, Retailing & McLane Businesses
Service Businesses: Berkshire's service businesses provide grocery and food service distribution, professional aviation training programs, shared aircraft ownership programs, and distribution of electronic components. Other services include franchising and servicing quick service restaurants, media businesses (television and information distribution), and logistics businesses. 
Retailing Businesses: Berkshire's retailing businesses include automotive, home furnishings, and other operations selling various consumer products. Berkshire Hathaway Automotive, Inc. ("BHA") represents 62% of the combined retailing revenue in 2021. BHA consists of over 80 auto dealerships that sell new and pre-owned automobiles and offer repair services and related products. 
Other retailing businesses include three jewelry retailing businesses (Borsheims, Helzberg, and Ben Bridge), See's Candies (confectionary products), Pampered Chef (high-quality kitchen tools), Oriental Trading Company (party supplies, school supplies, and toys and novelties) and Detlev Louis Motorrad ("Louis"), a retailer of motorcycle accessories based in Germany.
McLane: McLane Company, Inc. operates a wholesale distribution business that provides grocery and non-food consumer products to retailers and convenience stores ("grocery") and to restaurants ("food service"). McLane also operates businesses that are wholesale distributors of distilled spirits, wine, and beer ("beverage"). The grocery and food service businesses generate high sales and very low-profit margins.
Berkshire Hathaway generated ~$84 billion in 2021 from this segment, of which $16 bn was from service, $19 bn from retailing, and $49 bn from McLane.
Investment and Derivative Contract Gains/Losses
Unrealized gains and losses arising from changes in market prices of Berkshire Hathaway's investments in equity securities are included in its reported earnings, which significantly increases the volatility of its periodic net earnings due to the magnitude of the equity securities portfolio and the inherent volatility of equity securities prices. Pre-tax investment gains/losses included net unrealized gains of approximately ~$78 billion in 2021.
Summary:
Revenue: Berkshire Hathaway generated $276 billion in revenues from Insurance, Railroad, Utilities & Energy, Manufacturing, and Services & Retailing. Berkshire Hathaway also gained $78.5 billion from changes in market prices of Berkshire Hathaway's investments in equity securities, which it includes in its earnings. So Berkshire Hathaway generated ~$355 billion of earnings in 2021.
Expenses: Berkshire Hathaway's expenses from Insurance, Railroad, Utilities & Energy, Manufacturing, and Services & Retailing were $244 billion in 2021, and it paid ~$21 billion in Income taxes. So Berkshire Hathaway incurred ~$265 billion of expenses in 2021.
Profitability: Berkshire Hathaway's net earnings in 2021 were ~$90 billion ($355- $265 bn), which is approximately a whopping 26% overall profitability. The below table from Berkshire Hathaway's 2021 Annual Report summarises it all.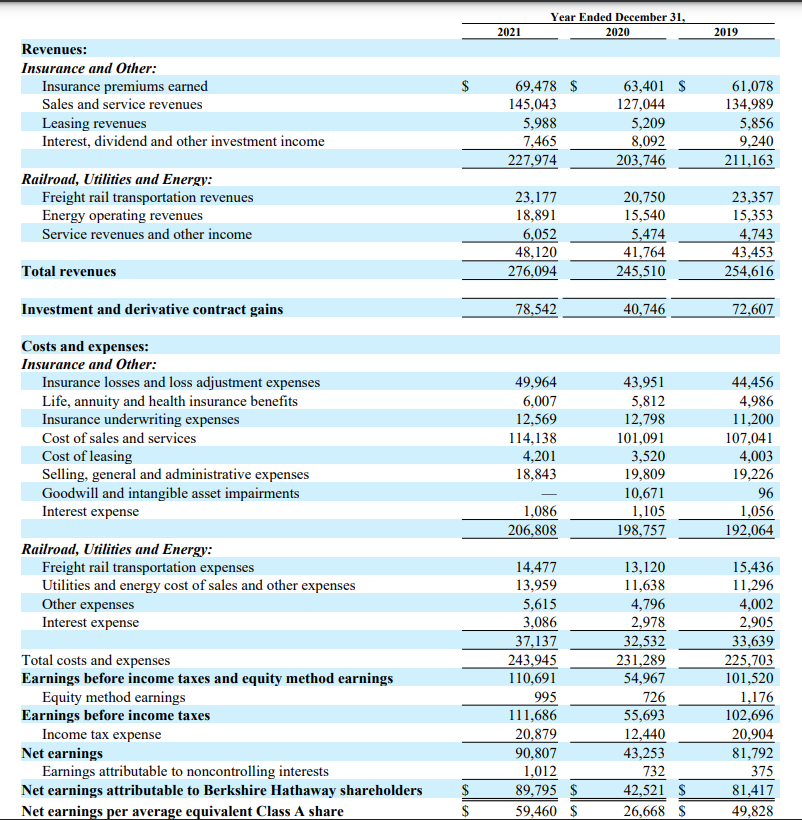 ---
Information Source: Berkshire Hathaway's 2021 Annual Report