Increasingly, consumers use a digital-first approach to managing their lives: they manage appointments, book vacations, plan events, and shop using apps. During the past several years, this digital-first approach has also permeated personal finance, with consumers expecting to have the ability to manage all aspects of their financial wellness online.
Traditional financial services providers have established digital interfaces to meet this consumer demand and are continually adding new functionality. At the same time, successful fintech companies are increasing and setting new standards for digital experiences.
By focusing on different personal financial products, fintech companies have unbundled personal finance. They have provided value that conventional financial services providers cannot, often improving and expanding consumers' choices and overall financial wellness.
While digital access and an increasing number of fintech companies are making it easier to invest, make payments and even take out a loan, the explosion of market participants also makes it increasingly difficult and time-consuming for consumers to sift through all of the options to determine which product is best suited to their personal financial needs. 
Many consumers need a trusted financial advisor to help them navigate this complexity and instead seek advice online. Finding trustworthy financial guidance online can take time and effort. Enters NerdWallet.
NerdWallet empowers 19 Million+ (as of 2021) consumers and SMBs monthly to make well-informed financial decisions at no additional cost. NerdWallet has built a 100+ person editorial team that functions as the "brains" behind the guidance. 
As strategy enthusiasts, we thought to explore the business model of NerdWallet. We will also evaluate how does NerdWallet work and make money?
What is NerdWallet? How does NerdWallet work?
NerdWallet is an American personal finance company founded in 2009 by Tim Chen and Jacob Gibson and was started with an initial capital investment of $800. NerdWallet began as a web application that provided comparative information about credit cards.
NerdWallet's writers and editors, who have joined from notable publications, cover specific verticals daily, producing high-quality content and financial guidance. The product team codifies the guidance developed by the editorial team to create the insights.
Through this unique combination of human-powered guidance and machine-learning capabilities, NerdWallet provides consumers with high-quality and personalized insights at no cost. This trusted guidance has enabled NerdWallet to build a large, well-informed audience, many of whom are ready to transact. 
NerdWallet aligns the interests of consumers and SMBs seeking financial guidance and products with the financial services providers that offer these products. Hence NerdWallet has become an attractive platform for financial service providers to sell their products.
NerdWallet's ability to serve consumers and financial services providers hinge on its position as an independent, unbiased resource.
How does NerdWallet make money? What is the business model of NerdWallet?
Value Proposition
Consumers and SMBs
NerdWallet empowers consumers and SMBs to gain clarity about their financial decisions, helps them make optimal decisions, and instills confidence in their choices through:
NerdWallet provides financial product reviews and content that cover various topics developed by an expert editorial team. This strategy helps NerdWallet build direct, ongoing, trusted relationships with users.
NerdWallet articles are designed to appeal to everyone, ranging from the casual reader to someone looking to understand more complex details on a topic in various digestible formats. 
NerdWallet envisions making financial decisions frictionless for consumers. By combining insights from its editorial team with machine learning capabilities, NerdWallet recommends smart money moves via contextual "nudges." 
Through the wide range of guidance NerdWallet offers, consumers are exposed to relevant products outside the one they are researching at a given time.
Partners
NerdWallet provides its 400+ financial services partners with well-matched and well-informed consumers. These consumers also frequently have desirable characteristics—they have higher credit scores and maintain higher levels of investable assets—making them highly attractive to these financial services partners.
These individuals receive many offers for financial products because they are often the most attractive customers for financial services providers. They tend to drive long-term value, encouraging financial services partners to continue promoting their products through NerdWallet to acquire potential customers.
Products
The NerdWallet platform is designed to empower consumers at every stage of their financial journey through its personalized offerings. NerdWallet offers guidance across eight verticals: credit cards, mortgages, insurance, SMB products, personal loans, banking, investing, and student loans.
To meet distinct consumer needs and preferences, NerdWallet has products in three categories: Learn, Shop, and Manage. 
Learn: NerdWallet provides resources like articles, calculators, videos, and podcasts to make the most complicated financial questions and topics simple to understand. NerdWallet's editorial team of Nerds creates and curates NerdWallet's house views on a wide variety of personal finance topics. 
This trusted guidance has enabled NerdWallet to build a large, well-informed audience, many of whom are ready to transact. Accordingly, NerdWallet has become an attractive partner for financial services providers wanting to reach these high-value consumers.
Shop: NerdWallet's platform enables consumers to explore and shop available products according to their needs, including side-by-side comparisons, "Best-of" lists, and financial product reviews. 
Manage: NerdWallet centralizes consumers' financial decisions in one place. Consumers can get a holistic view of their finances and hone in on specific details about their spending and saving patterns across accounts. 
NerdWallet recommends smart money moves via contextual "nudges," for example, letting consumers know that improving their credit score means they could qualify for lower auto insurance rates. 
Marketing Strategy of NerdWallet
Marketing is a significant growth lever for NerdWallet to reach and build consumer trust. NerdWallet's marketing strategy is diversified across brand marketing, organic and performance marketing, customer relationship management, and communications. 
Brand marketing campaigns, which encourage consumers to turn to NerdWallet with all their money questions, increase awareness and drive top-of-funnel interest while amplifying the effectiveness of the organic and performance marketing channels.
NerdWallet's organic marketing program leverages its proprietary body of trusted guidance and expertise in SEO and public relations to reinforce NerdWallet as a trusted authority in personal finance. 
NerdWallet's editorial team guides in all areas of personal finance and for various stages of consumers' financial journeys, from basic information about saving for retirement to timely guidance about applying for unemployment to in-depth product reviews. NerdWallet further distributes this content through reputed journals and newspapers.
NerdWallet has designed its marketing strategy to position itself as the trusted brand of choice in personal finance, improve traffic acquisition at all funnel levels, drive engagement with users, and scale quickly across new consumer finance verticals and geographies.
Network effects of NerdWallet's business model
NerdWallet's business model works on network effects. As more consumers use NerdWallet and engage with its extensive financial guidance and tools, NerdWallet's database grows, and its product recommendations yield higher success rates. This increases user satisfaction, converting more users into Registered Users and improving repeat user rates. 
As NerdWallet matches more high-quality consumers with products and services using data science modeling, it also becomes increasingly valuable to financial services partners.
This, in turn, attracts new partners and new financial products to the platform. 
More partners and products further increase consumers' success, which drives growth. This creates a unique value proposition for all constituents in the ecosystem.
How does NerdWallet make money: revenue model
NerdWallet made $379.6 Million in 2021. NerdWallet makes money by promoting financial products to its users. Financial service partners of NerdWallet pay in the form of revenue per action, revenue per click, revenue per lead, and revenue per funded loan arrangements. Revenue increased by $134.3 million, or 55%, for 2021 compared to 2020, with revenue increases across all verticals.
For these revenue arrangements, in which a partner pays only when a consumer satisfies the criteria set forth within the arrangement, revenue is generally recognized when NerdWallet matches the consumer with the financial services partner. 
NerdWallet's revenue generally includes three product categories: credit cards, loans, and other verticals.
Credit card revenue includes revenue from consumer credit cards. Credit card revenue increased $45.6 million, or 58%, for 2021 compared to 2020, primarily driven by increased activity amid recovery from the economic impacts of the COVID-19 pandemic and higher pricing with the financial services partners. Credit cards contributed 32% to NerdWallet's revenue in 2021.
Loans revenue includes home mortgages, personal loans, student loans, and auto loans. Loans revenue increased $45.1 million, or 55%, for 2021 compared to 2020, primarily driven by 56% in home mortgage revenue and 94% in personal loan revenue, reflecting higher consumer demand for loans in the sustained low-interest rate environment. Loans contributed 33.5% to NerdWallet's revenue in 2021.
Other verticals revenue includes revenue from other product sources, including insurance, banking, investing, and SMB product. Other verticals' revenue increased $43.6 million, or 51%, for 2021 compared to 2020, primarily attributable to higher SMB revenue following the acquisition of Fundera and higher revenue in the U.K. following the acquisition of KYM. Other verticals contributed 34.5% to NerdWallet's revenue in 2021.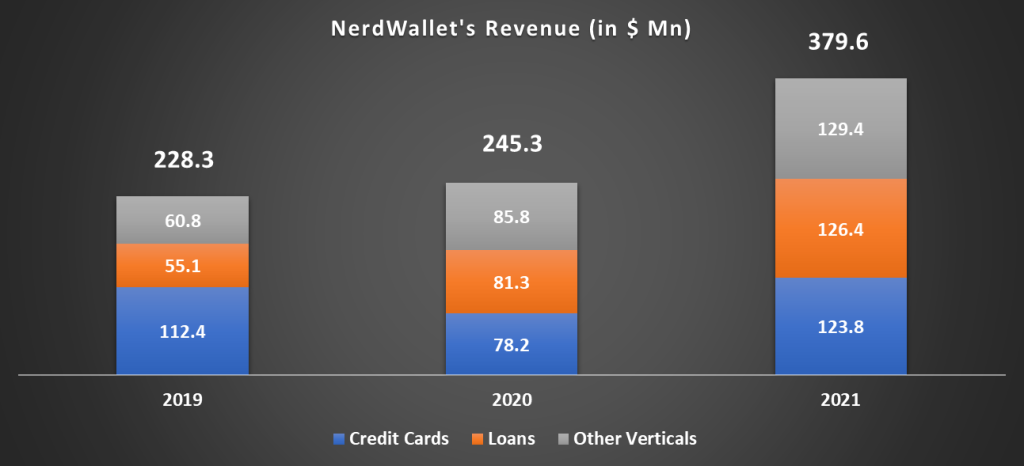 Compeitor Analysis of NerdWallet
NerdWallet's primary and direct competitors are online and offline financial guidance providers in four categories:
Financial advisors, agents, and brokers who provide guidance and expertise as part of their offerings;
Traditional media such as the New York Times, U.S. News & World Report, and other print and broadcast media;
Friends and family, as many consumers consult friends and family for financial guidance; and
Influencers on social media platforms.
In addition, NerdWallet's competitors also include companies that advertise their financial products through content.
Financial services providers' own marketing: Financial services providers connect directly through many different channels, digitally (in-app, email, etc.) and offline channels (direct mail, printed media, etc.);
Online search engines: Financial services providers spend advertising budgets with online search engines, primarily Google AdWords, as many consumers turn to Google to answer their personal finance questions; and
Online marketplaces: including Bankrate, Credit Karma, LendingTree, and Zillow.
How does Zillow make money | Business Model
---