Small and medium businesses are the foundation of the global economy. According to the Organization for Economic Cooperation and Development (OECD), SMBs, defined as firms with fewer than 250 employees, make up over 99% of all businesses and approximately 70% of all employment across the 36 OECD countries.
SMBs continue to be the most critical component of global economic development and will increasingly seek to adopt emerging technologies that can enhance productivity, improve customer experiences, drive employee engagement and enable resource-efficient growth.
Given their size, SMBs typically have one person overseeing the discovery and implementation of new systems, a responsibility that is often in addition to their core job function. Expense management is a business's first accounting function: long before generating revenue, it will have already generated expenses.
Still, the vast majority of SMBs rely on manual, cumbersome methods to manage expenses, with employees physically filing expense claims via paper and pen or spreadsheets and managers chasing employees across the organization for receipts, confirming expenses one-by-one and performing repetitive data entry on multiple platforms to synchronize information.
Expensify has developed a cloud-based expense management software platform that helps the smallest to the most prominent businesses simplify how they manage money. Since its founding in 2008, Expensify has added over 10 million members and processed and automated over 1.1 billion expense transactions on its platform, freeing people to spend less time managing expenses and more time doing the things they love.
Looking at the exciting subject and our enthusiasm for business strategy, we decided to evaluate the business model of Expensify while learning how Expensify works and makes money.
What is Expensify? How does Expensify work?
Expensify works as a cloud-based expense management software platform that helps the smallest to the most prominent businesses simplify how they manage money.
Organizations use Expensify to scan and reimburse receipts from flights, hotels, coffee shops, office supplies, and rideshares.
Expensify defines pre-accounting as the systemized set of processes through which employees, or non-accountants, gather, code, aggregate, and normalize financial data.
While other financial processes have seen vast efficiency improvements with the widespread adoption of cloud-based ecosystems, company-focused pre-accounting tasks such as expense management have remained unchanged. They are still overwhelmingly inefficient, unscalable, and time-consuming.
Expense management, which refers to the collection, processing, auditing, and reimbursement of employee expenses, is one of the last great holdouts of paper-based back office processes, with employees stuffing actual physical receipts into an envelope and handing it to their accountant.
As SMBs seek to modernize back office functions like expense management to better compete in today's digital economy, Expensify offers a comprehensive technology that is easy to discover, implement, purchase, manage and use.
Expensify's first breakthrough was revolutionizing receipt tracking with its scanning technology, SmartScan, which allows anyone to take a photo of any receipt – no matter the currency or quality of handwriting – for fast, automatic, and accurate transcription of a receipt with just one tap. 
How does NerdWallet make money: Business Model & Competitor analysis
Expensify moved on to automating the entire expense journey, from the initial receipt scan all the way through to categorization, expense approval, reconciliation, and next-day reimbursement.
Expensify aims to be used by every single employee within an organization, not just decision-makers or managers. Expensify works on a bottom-up business model. After signing up for free to submit expenses and realizing the benefits, Expensify's members champion its platform internally, convincing decision-makers to adopt Expensify company-wide.
How does Expensify make money? What is the business model of Expensify?
Sales & Marketing Strategy
Marketing Strategy
Expensify's marketing strategy relies on word-of-mouth promotion by users who adopt, champion, and spread Expensify to their colleagues, managers, and friends. Expensify is available for a free online trial, facilitating rapid and widespread adoption.
This word-of-mouth marketing increases organically as more individual members and teams discover Expensify. Expensify's marketing strategy is designed to support the bottom-up viral nature of its platform by establishing Expensify as the premiere option in pre-accounting software.
Expensify invests in brand and platform promotion through partners, conference participation, thought leadership, direct marketing, and advertising and content development to educate the market about the benefits of its platform and create market consensus.
This market consensus strategy ensures Expensify gets the lion's share of the best new customers in the market by default without needing to pay a high marginal cost to acquire each new customer. 
How does SoFi work and make money: Business Model
Sales Strategy
Expensify's word-of-mouth lead generation enables it to employ a self-service and inbound sales model. Potential customers are generally first introduced to Expensify when an employee submits an expense report using Expensify, when they hear of us through their networks, or indirectly through accountants and accounting platforms.
Customers then seek to try and adopt Expensify. Expensify's sales model enables customer self-service and low-friction entry points enhanced with AI-powered customer service.
When a member has completed their platform evaluation, purchasing is coordinated online through an automated web or mobile-based process. Any customer can get on the phone with the sales team during or after the sales process, but most prefer to complete the sales and onboarding process online.
Products
Expensify enables SMBs to collaborate and complete financial tasks more efficiently with its AI-driven, mobile-first, cloud-based platform. Expensify's financial platform offers features that automate the pre-accounting processes for businesses of all sizes – including managing expenses, capturing and managing spend via the Expensify Card, and paying bills and sending invoices, all included in the Expensify platform.
Expensify Management: Expenses are among the most complicated pre-accounting workflow, no matter the size of a company. Expenses touch every employee, span every layer of the organization, and require interaction with a host of internal and external business systems. While the expense management process is incredibly complex, it primarily occurs in three distinct, sequential phases: Capture > Approve > Pay.
Expensify Card: The Expensify Card is an extension of the expense management platform and is powered by the Visa network. Companies can use the Expensify Card with existing expense policies at no additional cost or independently as a separate corporate card program. The feature is designed to fix the common pain points seen with traditional corporate cards, namely the lack of real-time receipt capture and transaction visibility, enhanced access to credit for small businesses, and streamlined setup of corporate card programs.
Invoicing & bill pay: Invoicing is similar to expense reporting but with a simpler approval workflow, as a customer merely needs to approve and pay an invoice rather than a boss needing to track down and verify expenses. Similarly, bills are the same as invoicing from the recipient side because every invoice is a bill someone else needs to approve and pay.
Accordingly, because bills, invoices, and expenses share so many underlying similarities, Expensify leverages its underlying technology to accommodate each of these use cases with the same easy-to-use platform.
How does Expensify make money: revenue model
Expensify made $142.8 Million in 2021, an increase of 62% from 2020. Expensify is free for individual users and primarily makes money from businesses for the subscription fees based on the usage of its expense-reporting cloud-based platform. Expensify charges its customers a subscription fee for access to its platform based on the number of monthly members and level of service.
Expensify's platform strategy enables a viral "bottom-up" business model that is capital efficient and highly scalable. Anyone can easily use Expensify for free and later upgrade to a paid subscription for advanced features.
With multiple employees using Expensify and features simplifying the manager's job, the decision maker purchases a subscription to Expensify and becomes a paying customer with a few members. The usage within an organization expands further as the company adds members and adopts new features such as the Expensify Card or Bill Pay.
Expensify offers flexible subscription plans for individuals and businesses that are entirely self-service and payable by credit card. Expensify designed its pricing plans to facilitate the easy adoption of our platform by the smallest mom-and-pop stores to the largest and most complex organizations.
Top 11 Finance terms which are too cool to know
For Individuals
Expensify's individual subscriptions include its Track and Submit plans, including an optional paid monthly upgrade for anyone wishing to SmartScan over 25 receipts in a given month.
Expensify's free Track plan comes with a SmartScan receipt scanning functionality and is used primarily by individuals and sole proprietors to streamline their receipt and mileage tracking. Expensify's free Submit plan adds the ability to submit expense reports to anyone for reimbursement automatically.
For Businesses
Teams, organizations, and companies can use Expensify's business subscriptions for free. Expensify's Free plan enables its members to roll out a corporate card program with the Expensify Card, reimburse cash expenses for employees, send invoices to clients, and set up bill payments for their team.
Businesses can also upgrade to one of the paid plans, which includes Collect and Control plans, following a free trial.
Expensify's Collect plan enables its members to integrate with popular small business accounting systems, configure simple expense report approval workflows, and pay employees, contractors, and volunteers via Direct Deposit ACH.
Expensify's Control plan includes everything in Collect. It adds the ability to configure rules-based approval workflows and integrate them with financial, travel, HR, and other internal systems commonly used by midmarket and enterprise companies.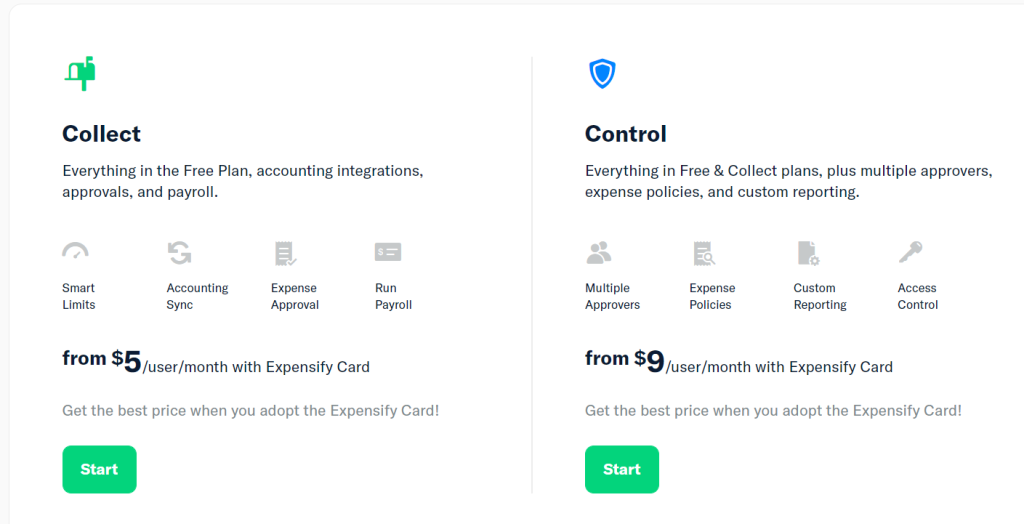 ---