When I was a kid, my mom had the perfect incentive to coerce me to obedience – Maggi noodles! Whether it was getting good grades or helping her with domestic chores – Maggi was ALWAYS the "Oh! so gratifying" reward.
In fact, chances are, you are living under a rock, if you haven't slurped India's favorite 'comfort food' to beat midnight hunger pangs or if you haven't fought with your siblings for a bigger share!
For most of us, Maggi outgrew the product identity to represent the rush of nostalgia, the dash of joy & playfulness, so much so that,
"What Google is to Search Engines, Maggi is to instant noodles."
So how did Maggi noodles capture a nation's (and mind you a nation of 1.3 billion people!) collective imagination? More importantly, how did it change traditional eating behavior in a "rice and wheat" obsessed nation?
Brand Repositioning of Maggi: From a Flop Product to India's Favorite Snack
In the year 1983, Maggi set its foot in India, positioned as a convenience product for working class women. Till then, the Indian middle class was oblivious to the concept of instant noodles, let alone consideration & trial. The product, definitely had a first mover advantage in the category, but not so much in consumer's minds. The initial sales figures were forgettable, to say the least.
However, Nestle, not yet ready to give up on the product, decided to decode a real consumer insight. Indians are accustomed to eating wheat and rice during prominent meals (lunch and dinner), hence, Nestle had to find an occasion, where Maggi could fit in seamlessly. After extensive observation, 'Evening snacks' became the Pandora's box, Maggi needed for its resurgence.
Usually kids coming from school in evening, complained of hunger. Homemade snacks took long to prepare while other options such as potato chips, biscuits were considered unhealthy. Maggi finally had its Eureka moment! It retargeted kids, adolescents and college going students who craved for delicious, easy to prepare in between meals.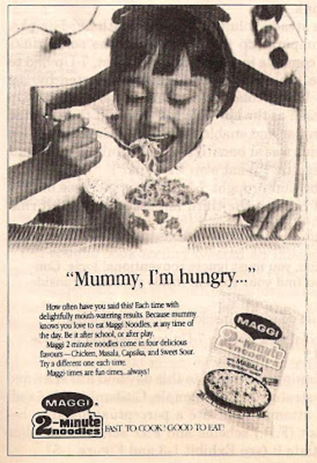 After a successful repositioning strategy, Maggi developed a robust brand culture, representing the contemporary Indian spirit, through external and internal cues.
Maggi in India: Building ownable brand cues
Brand cues are a mix of textual, visual, and spoken narratives that affect brand perception and subsequently, consumer purchasing behavior. How did Maggi leverage them to reach its iconic stature?
Sharp visual codes:
Evergreen messaging:
The "2-minute noodles" catchphrase added to sell the product's convenience, catapulted a cultural movement for the brand.
Maggi tapped extensively into emotional storytelling to showcase indulgent moments of mother-child dynamic and propagated the idea of free-spirited youngsters, representing modern India.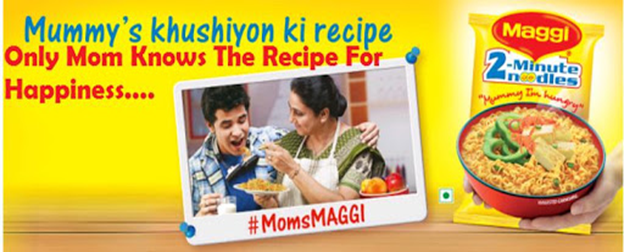 Dominant Distribution power
Maggi leveraged Nestlé's scale and supplier dynamics to reach every nook & corner of the country. This not only increased its shelf visibility against competitors but also expanded penetration across rural hinterlands.
Over the years, Maggi experimented with product flavors, pack sizes, at a consistently affordable price to become accessible to everyone. Such was the brand's legacy, that within 25 years of its inception, Maggi enjoyed around 90% market share in the instant noodles segment. The Maggi noodles along with the brand's complementary products (soups, sauces) – directly contributed to more than 20% of Nestle India's revenue. And, with a value of 1500 crore INR ($235 M), it was also the biggest brand in Nestle India's portfolio.
The "infamous" ban: brand complacency and broken trust
Everything worked straight out of a fairytale for our beloved noodles, until the summer of 2015. The nightmare began when Food Safety & Regulation Authorities found higher lead concentrations than permissible in the noodles.
Nestle, failing to gauge the severity of the crisis, casually denied these allegations and failed to communicate against misunderstanding (if any!) to consumers. People perceived the brand's complacency and silence as admissions of guilt. In parallel, media houses began aggressive coverage to the point of virality, greatly hampering brand image. Lo & behold, consumer anger intensified and the brand crashed faster than any stock market to date!
This is a case where you can be so right and yet so wrong. We were right on factual arguments and yet so wrong on arguing.

Paul Bulcke, Nestlé Global CEO.
Nestle reported its first quarterly loss in three decades– Maggi's market share dropped from an impressive 80% to below 5% in just a month. A nationwide ban was imposed on Maggi and all major retailers pulled out the products from their shelves.
Maggi was given 6 weeks to prove its safety standards. It eventually cleared the test and was back on shelves but winning back the consumer base was a treacherous road ahead. Mothers were greatly concerned about feeding Maggi to their children.
Various brand endorsers and influencers no longer wanted to be associated with the brand. And the void created by its ungracious disappearance was tactically filled by a plethora of competitors. The market became highly fragmented with ITC's SunFeast Yippie, Nissin's Top Ramen, Ching's Secret, Wai Wai, and HUL's Knorr covering the major ground.
Rebuilding a broken empire: Crisis Communication & Agility
Nestlé's biggest failure lied in not being able to sense the hurt consumers' sentiments and, most importantly, to respect them. While the crisis brewed, their communication, by all means, was curt and formal, lacking the human touch – the humility to accept mistakes.
Once the organization realized their erroneous ways, Maggi turned its heels to the new age of information consumption – 'Social Media' to actively engage with people.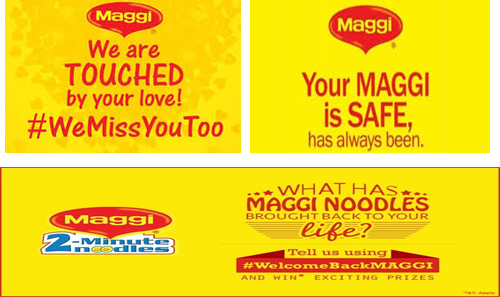 Extensive monitoring provided vital insights into consumer sentiment and identified the emerging PR crisis. Subsequently, Nestle increased its ad and promotional spending and diversified digital media mix to launch a "We miss you too" campaign shedding spotlight on a bunch of Maggi loyalists sharing tales of their love for the noodle – in a Maggi-less world.
Digital and social media is central to our brand-building process. We believe that big things happen for brands when these two are in synergy.

Suresh Narayanan, Nestle India CEO
Maggi also collaborated with a famous e-commerce website 'Snapdeal.com' which exclusively sold Maggi welcome kits – a box containing 12 packets of Maggi, some complimentary goodies, and a Maggi welcome back letter.

Snapdeal sold out a whopping 60,000 Maggi Welcome Kits within 5 minutes of the Maggi Flash Sale. Hashtags such as #DILKIDEALWITHMAGGI started trending on Twitter after the sale was resumed.
After receiving an overwhelming response to the flash sale, Maggi conducted various online competitions asking consumers to express their favorite moments and feeling's about Maggi's comeback. Consumers participated with full enthusiasm. Brand's Twitter, Facebook page, and YouTube page's resounded with fans expressing their trust in Maggi.
The company thus, set the stage for Maggi's official comeback on shelves in India. In no time, Maggi regained a market share of 57% by 3rd quarter of 2016, reclaiming a major chunk of it's lost glory.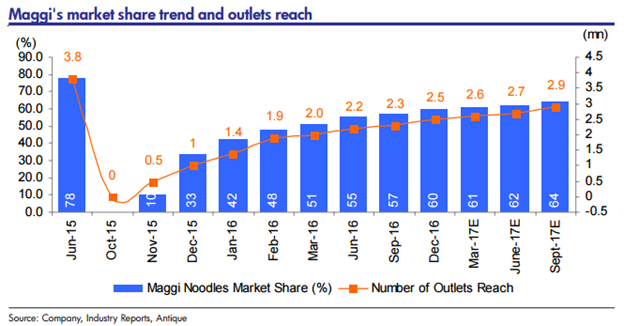 In conclusion: ALWAYS COMMUNICATE WITH YOUR CUSTOMERS!
Maggi's crisis in India showcases the need to be empathetic to public opinion, any day and every day! It's never a matter of being right. It's a matter of engaging the right way and finding a solution.
One must not let go of foresight, in the hour of crisis. Always think ahead and plan for contingencies. The company engaged in massive product extension – 42 new products and variants were built to establish a balanced portfolio and to reduce dependence on a single product. The brand increased emphasis on health and nutrition simplified the corporate structure and increased advertising. However, the biggest improvements came in through agile communication & PR machinery.
And, of course, the rest, as we know, is history and perhaps a case study on crisis management!
---
Interested in reading more Marketing Strategy Stories? Check out our collection.
Also check out our most loved stories below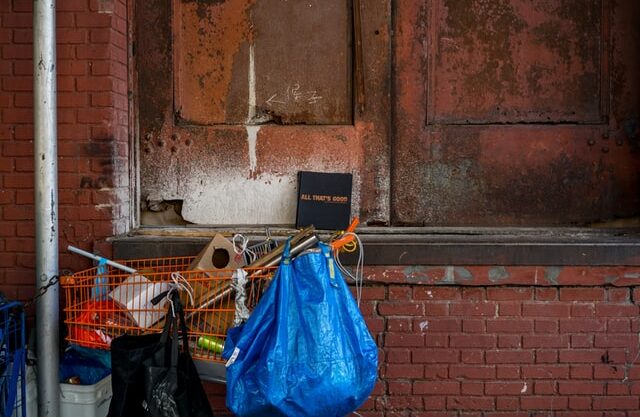 IKEA- The new master of Glocalization in India?
IKEA is a global giant. But for India the brand modified its business strategies. The adaptation strategy by a global brand is called Glocalization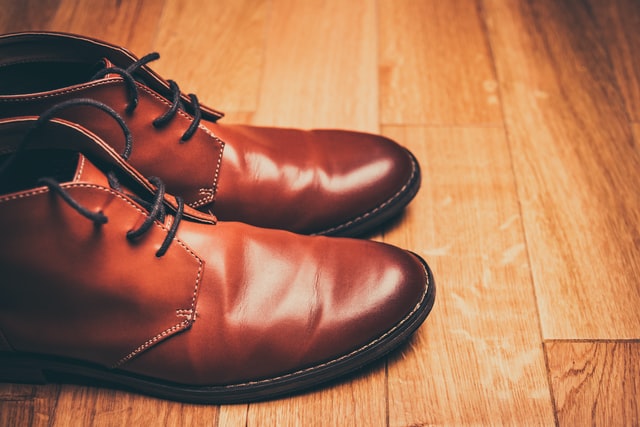 How Bata became India's household name despite being a classy international brand?
Bata is not an Indian brand. It is as international as it can be. But what strategies made it India's highest selling footwear brand?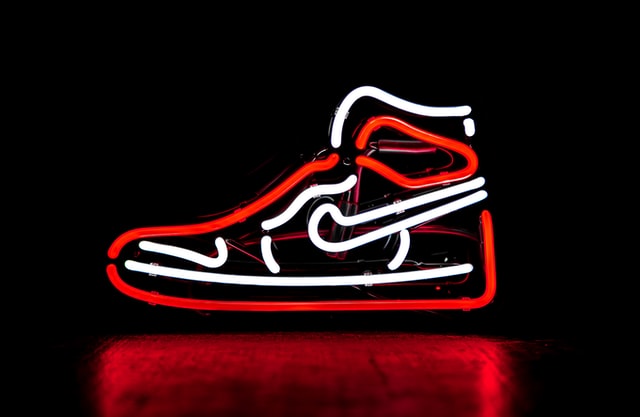 Nike doesn't sell shoes. It sells an idea!!
Nike has built one of the most powerful brands in the world through its benefit based marketing strategy. What is this strategy and how Nike has used it?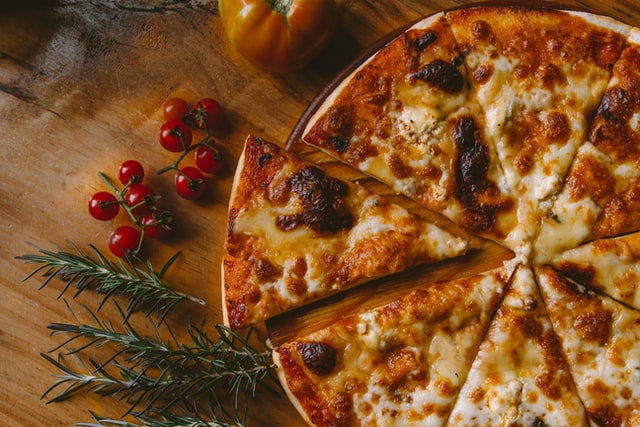 Domino's is not a pizza delivery company. What is it then?
How one step towards digital transformation completely changed the brand perception of Domino's from a pizza delivery company to a technology company?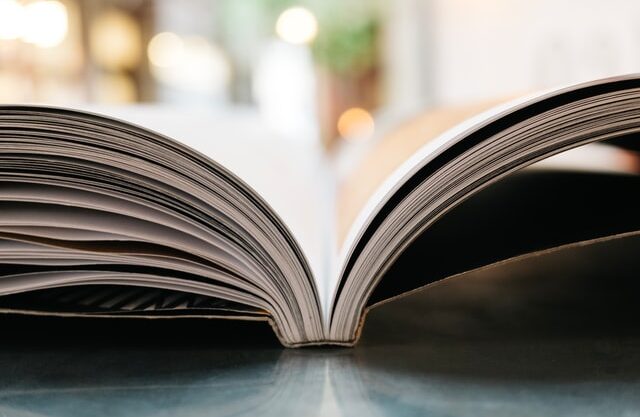 What made The Economist magazine a must-have for career success
The Economist has grown from being just a newspaper to a must have for career success through its innovative advertising strategy. Learn How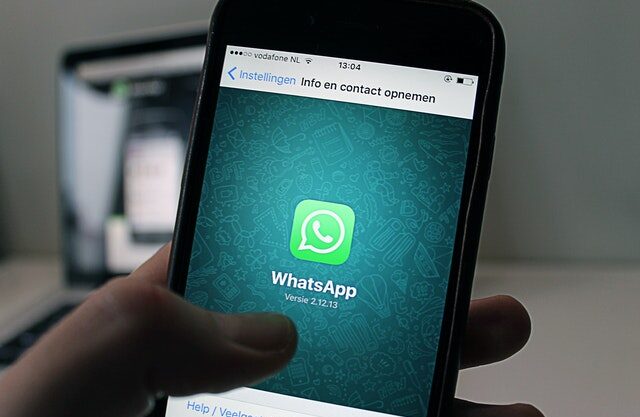 WhatsApp "Photo Status" was a strategic move. How?
Whatsapp launched photo status in 2017. It was hated by many. But why it was a good move that improved the way you use application today?