I am one of those 90s kids who used to wait in line to get a seat at my favorite restaurant. Let alone ordering online at just a click; it was too difficult even to imagine such an ecosystem would exist somebody.
Technology advancement has changed how we lead our lives, how we imagine businesses, and how a consumer interacts with a business.
I am a strong evangelist of the platform model. Why? The platform model benefits the entire ecosystem: customers, partners, and the platform's company.
One such application that has revolutionized the food ordering ecosystem and hence the restaurant businesses is DoorDash of the U.S. Applications like DoorDash, Grubhub and Uber Eats have benefitted the end customers by providing convenience, but they have also acted as a big booster to small businesses.
In less than eight years, DoorDash has clearly dominated the market with more than 50% market share. As a business enthusiast, that's made me curious to learn about the business model of DoorDash and understand how DoorDash makes money?
What is Doordash?
Similar to Zomato and Swiggy's to India, DoorDash is to the U.S. market. Founded in 2012, Stanford University students Tony Xu, Stanley Tang, Andy Fang, and Evan Moore. DoorDash is now the most significant food ordering and delivery platform with a 55% market share in 2021.
The company was started as PaloAltoDelivery.com to help small business owners use technology for deliveries. In the same year, the company received $120,000 in seed money from Y Combinator in exchange for a 7% stake. It was incorporated as DoorDash in June 2013.
DoorDash went international in 2015 by launching in Canada. By 2019, The company started operating in markets outside North America 2019, officially launching in Melbourne, Australia, in September and later expanding further into the country. In June 2021, the company expanded its market presence again, launching services in Sendai, Japan.
As stated by DoorDash in its SEC filing, DoorDash is enabling local brick-and-mortar businesses—which are fundamental to the vitality of local economies and communities—to address consumers' expectations of ease and immediacy and thrive in an increasingly convenience-driven economy. DoorDash claims that it is on a mission to grow and empower local economies.
With a market share of 55%, DoorDash dominates the online food delivery market in the United States as of March 2021. Meanwhile, Uber Eats held the second highest share with 22%.
DoorDash's local logistics platform connects over 450,000 merchants, 20 million consumers, and 1 million Dashers (local drivers). Since its founding, over 1.2 billion orders have been completed through the platform. Let's try to understand what is so unique about the business model of DoorDash.
How does Zalando with its platform-based business model aim to become the Starting Point for Fashion in the markets it serves?
What makes DoorDash's business model so innovative?
DoorDash's business model is built on fulfilling the needs of three stakeholders through its platform. These stakeholders are merchants, consumers, and Dashers. The platform's success can be attributed to its marketplace ecosystem that benefits all stakeholders and to the scale of its logistics.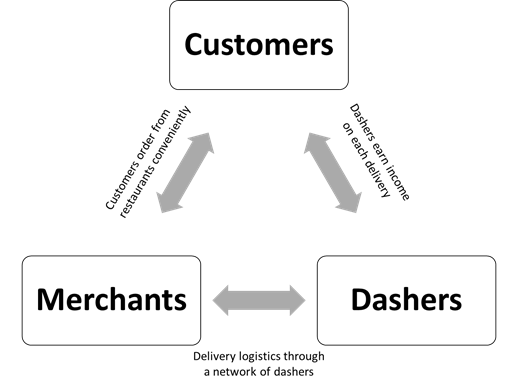 Merchants: DoorDash, through its marketplace, offers a broad array of services that enable merchants to solve mission-critical challenges such as customer acquisition, delivery, insights and analytics, merchandising, payment processing, and customer support.
The marketplace also allows merchants to establish an online presence and expand their reach. It generates significant demand for merchants by connecting them with millions of consumers. Merchants can fulfill this demand through delivery facilitated by DoorDash's local logistics platform or in-person pickup by consumers. There are over 450,000 merchants on the platform as of December 2020.
Consumers: DoorDash offers the consumers the ability to order from the best of their communities with the click of a button and to have their orders reliably delivered or waiting at the store for pickup. Over 20 million consumers discover, engage with, and purchase goods from merchants on DoorDash.
Dashers: DoorDash calls its local drivers Dashers. There are more than 1 Million dashers who connect merchants and consumers. These dashers are free to set their working schedules and make decisions about the deliveries. For Dashers, DoorDash provides opportunities for those looking for a fast and flexible way to earn and achieve their goals.
DoorDash's logistics platform benefits from three powerful virtuous cycles that result in a win-win for all key stakeholders:
Network Effects: This is a cycle between consumers and merchants. DoorDash's technology-enabled with service stack platform attracts a variety of merchants, creating more selection in the marketplace. Such selection brings more engagement from customers, resulting in more merchant sales. The value proposition of more sales attracts more merchants, which attracts more customers.
Economies of Scale: This is a cycle between consumers and dashers. As more consumers join, DoorDash would benefit from higher order volume. This means more revenue for local businesses and more opportunities for Dashers to work and increase their earnings. This, in turn, attracts Dashers, allowing faster and more efficient fulfillment of orders for consumers.
Brand Affinity: This is a cycle between merchants and dashers. As DoorDash's network of its three key stakeholders grows, it benefits from increased brand awareness and positive brand affinity. Growth in-network helps both merchants and dashers as more merchants mean more selection means more customer engagement, which more earning options for dashers. More dashers indicate speedy and cost-effective logistics options available for merchants.
DoorDash's business model adopted a few right things:
Focus on Suburbs: Delivering in cities is complex. Customers expect to pay less, and drivers expect to be paid more, traffic sucks, parking is challenging. Suburbs have better fundamentals and even more people.
Focus on quality over speed: In food delivery, a business can compete on either speed, prices, selection, or quality. Uber Eats focused on delivering in less than 30 mins and delivering cheaply. DoorDash knew that it could not beat Uber at prices. So DoorDash differentiated itself in selection and quality.
You will find more infographics at
Statista
How does Doordash make money?
Let's first look at how DoorDash makes money. Are the unit economics profitable? Is Doordash's business model of subsidy — with venture dollars artificially attracting diners, Dashers, and merchants — or sustainability?
Earning from Merchants
The company's primary means of revenue generation comes from commissions paid by merchants (to list on their marketplace) and variable fees paid by diners (including delivery and services fees).
Merchants entering into contractual agreements with DoorDash pay a commission fee to support the services it provides or facilitate for merchants and consumers and provide earnings opportunities for Dashers. When customers order through DoorDash, it takes a commission, a percentage of an order subtotal (~15%).
DorrDash does not charge commissions to non-partner merchants, who are merchants that receive orders on its marketplace but have not entered into contractual agreements. The objective is to demonstrate these non-partners sales growth to convert them into paying partner merchants.
DoorDash provides marketing solutions that allow partner merchants to create demand by funding promotional discounts to consumers. DoorDash generates revenue through its merchant marketing service primarily by collecting per-order marketing fees from merchants. DoorDash also charges partner merchants upfront activation fees related to onboarding services and equipment for merchants.
DoorDash also generates revenue through Drive, a white-label logistics service, by collecting per-order fees from merchants that use its local logistics platform to arrange for delivery services that fulfill demand generated through their channels.
Earning from Customers
DoorDash generates revenue from fees paid by consumers for orders from merchants. For each order, consumers pay (i) a fixed delivery fee and (ii) a variable service fee based on the total dollar value of goods ordered.
DoorDash also generates revenue from membership fees paid by consumers for DashPass, a subscription product. DashPass subscribers pay zero delivery fees and reduced service fees on orders from DashPass-eligible merchants.
DashPass serves as a membership program to the physical world and offers consumers unlimited access to eligible merchants with $0 delivery fees and reduced service fees on eligible orders. DashPass currently costs $9.99 per month for a monthly membership. DashPass enables the company to reward its most engaged consumers with savings on the cost of delivery and to reward DashPass-eligible merchants by featuring them to its most active consumers.
Let's understand the economics for all the stakeholders. Who earns what? How much money does DoorDash make on each order?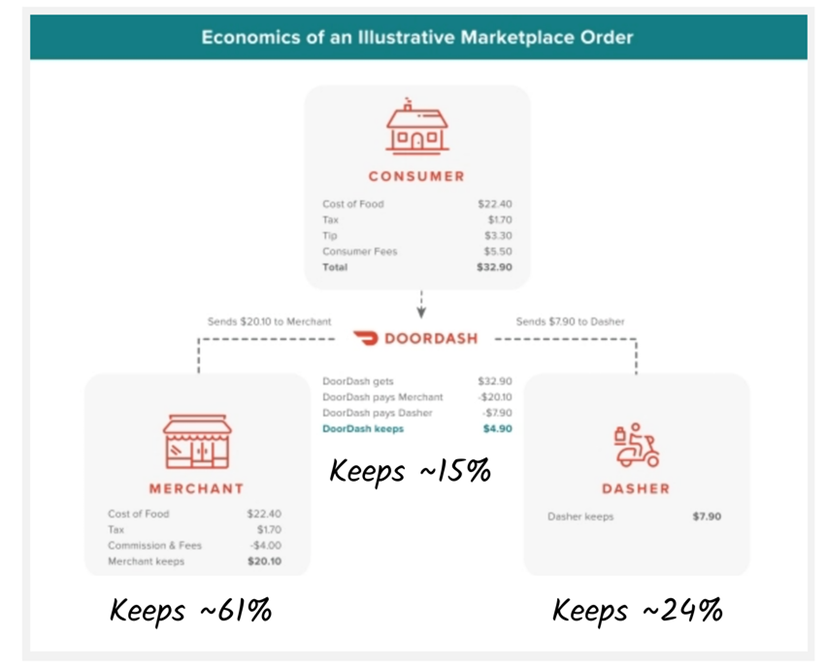 Merchant Economics: DoorDash remits to the partner merchant a net amount equal to the dollar value of goods ordered and tax collected from the consumer, less the commission and fees. In the example above, DoorDash remits $20.10 to the merchant, consisting of $22.40 for the items ordered and $1.70 in tax, less the commissions, and fees retained by DoorDash of $4.00.
Dasher Economics: DoorDash shares with the Dasher an amount based on the estimated duration and distance of travel and desirability of the order and any promotions available at that time. In the example above, it remitted $7.90 to the Dasher, including the $3.30 tip provided by the consumer.
DoorDash Economics: DoorDash retains the net amount of fees charged to the consumer and the commission charged to the partner merchant fewer amounts shared with the Dasher. In the example above, DoorDash retained $4.90.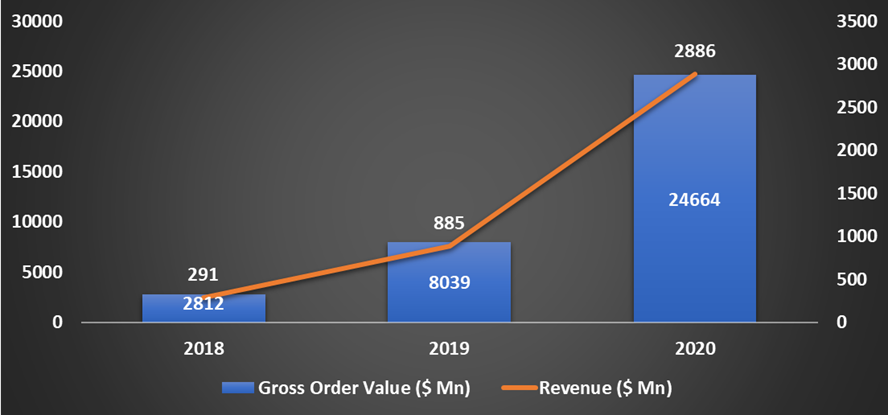 DoorDash defines marketplace GOV as the total dollar value of Marketplace orders completed on its local logistics platform, including taxes, tips, and any applicable consumer fees, including membership fees related to DashPass.
In general Marketplace GOV (100%) = Payments to Merchants and Dashers (85%)- Refunds (2%)- Promotions (2%) = Revenue (11%)
Robinhood is on a mission to democratize finance for all. Robothood charges 0 commission on trades. Then how does Robinhood make money?
Threats and opportunities in Doordash's business model?
No business model is immune to threats. The DoorDash business model is no different. It faces threats from multiple directions: Merchants, customers, and Dashers.
Let me explain each threat in detail:
Merchant: As we have seen in the unit economics example above, a merchant is getting only $20.10 for an order; it would have earned $22.40, thus losing almost 9% sales. It looks high unless an increase in sales compensates for the loss in revenue.
Customer: As shown in the unit economics example above, a customer's order cost was increased by almost 40%. How many diners do you think exist who are willing to pay a 30-40% premium for food to arrive on their doorstep? Not much. Moreover, as Covid continues to decline and the economy opens up further, people should start returning to sit-down restaurants. This impacts DoorDash, given the company was one of the biggest beneficiaries of the pandemic, with sales more than tripling last year to $2.9 billion. This can be seen in the stock price of DoorDash, which surged 86% on its opening day (9th Dec' 2020) but has declined since then. The stock fell 40% in November '21 itself.
Dasher: As shown in the example, a dasher earned only $7.9, which is just above the national minimum wage but often below what's mandated by the states in which DoorDash operates.
An analysis by #Payup (a labor's movement) of more than two hundred samples of pay data provided by DoorDash workers across the country finds that DoorDash pays the average worker an astonishingly low $1.45/hour, after accounting for the costs of mileage and additional payroll taxes borne by independent contractors. Nearly a third of jobs actually pay less than $0 after accounting for these basic expenses. Just 11% of jobs pay more than the federal minimum wage of $7.25/hour after expenses, and only 2% meet the standard of $15 + expenses.
Let us now look at the opportunities:
In Apr '20, DoorDash announced partnering with regional and national convenience stores across the U.S.—including 7-Eleven, Wawa, Casey's General Store, and CircleK—to offer you essential household products on-demand, delivered straight to your doorstep through a no-contact drop-off option.
In August 2020, DoorDash announced the launch of a chain of virtual convenience stores called DashMart, which will sell snacks, groceries, and other food-related products from partner restaurants. These stores don't have brick-and-mortar locations. Instead, they exist solely on the DoorDash app, kind of like a ghost kitchen if it were a CVS or 7-Eleven instead.
In September 2021, DoorDash announced that it's adding alcohol to its marketplace across 20 states, the District of Columbia, Canada, and Australia. As per the company's press release, customers in select markets, where legally permissible, can toggle to the Alcohol tab of the DoorDash app to browse and safely order from a wide selection of drinks from restaurants, grocery stores, local retailers, and convenience stores.
In Dec '21, DoorDash introduced ultra-fast grocery deliveries in 10-15 minutes, beginning with DashMart in New York City. With over 2,000 items, DashMart would offer a wide assortment of fresh and frozen grocery staples, snacks, household goods, and local products to fulfill any last-minute shopping needs. DoorDash is entering this emerging industry Q-commerce to provide quality but speed.
As we have seen, the opportunities are unlimited. DoorDash is becoming Amazon of services. A business that started as a delivery service for the restaurants is now delivering groceries, alcohol, flowers, and pet supply delivery. But considering its threats, what would be interesting is to see how the whole space pans out. Maybe a new player will come to disrupt. Who knows!