Rumble was founded in 2013 when the concept of 'preferencing' on the internet was simple – big vs. small. At that time, it was clear that big tech social video platforms were beginning to prefer prominent creators, influencers, and brands leaving the small creator behind, thus, creating a market opportunity. At that time, Rumble was founded to provide small creators with the tools and distribution they needed to succeed.
Fast forward to 2020, when a new and much more nuanced world of 'preferencing' was evolving online, which included sophisticated algorithms used by the big tech incumbents for amplification and censorship. In contrast, Rumble never took the approach of black box algorithms to drive profit, and, most importantly, it never moved the goalposts on content policies.
Soon after, the preferencing and censorship enforced by big tech social platforms continued to expand into many other content areas, including but not limited to the crypto-finance community and pop culture. As a result, more creators and their audiences found a new home on Rumble.
These have included top creators, such as Dan Bongino, Russell Brand, Kim Iversen, Steve Will Do It, Dave Rubin, Kimberly Guilfoyle, Glenn Greenwald, Matt Kohrs, and Dana White, just to name a few. As a result, Rumble's user base has grown from 21 million MAUs in Q4 2020 to 80 million MAUs in Q4 2022, almost quadrupling in two years.
Rumble sits at the intersection of a secular trend away from "Big Tech" and has capitalized on the opportunity with a differentiated offering while maintaining the user and creator experience. Rumble's mission is to continue exceeding its community's expectations, and it continues to invest in the tools to grow its network and enhance offerings.
As of 2022, Rumble had 80 Mn monthly active users who watched 11.1 bn minutes of videos on its platform. In this story, we will understand how does Rumble work and make money? What is its business model?
How does Rumble work?
Rumble has two core businesses:
Video: consisting of Rumble, a social video platform; Locals Technology Inc. ("Locals"), a subscription platform; and Rumble Advertising Center (RAC), an in-house advertising platform; and
Cloud: a new infrastructure as a Service (IaaS) venture that Rumble plans to launch.
Video Business
The video business comprises three core products: Rumble, Locals, and RAC. The vision of its video business is to provide creators with the best monetization toolkit on the internet. To fulfill this vision, the product roadmap includes the conversion of Rumble, Locals, and RAC from three separate products to a single, seamlessly integrated platform.
Rumble is a free-to-use video-sharing platform where users can watch, share, like, comment, and upload videos. Users can subscribe to channels to stay in touch with creators and access video-on-demand ("VOD")and live content streamed by creators.
Locals, which Rumble acquired in October 2021, is a platform on which users can purchase subscriptions to access exclusive content in creator communities. Creators and subscribers can engage through VOD, podcasts, live chat, polls, and community discussions.
RAC is an advertising marketplace, similar to Google AdSense, designed to facilitate transactions for advertisers seeking to advertise on Rumble's platforms and publisher platforms with which Rumble has partnerships. In RAC, advertisers can create and set up banner and video campaigns.
Cloud Business
In addition to the video business, Rumble plans to launch Rumble Cloud, a new Infrastructure as a Service (IaaS) business. Rumble is anticipating early demand for its cloud services from companies that find themselves at risk of cancellation by the incumbent big tech cloud providers, analogous to the initial market opportunity Rumble realized in its video business.
Offering cloud services is a natural extension of its video business, as it can utilize excess capacity from existing infrastructure.
How does Rumble Make money? What is Rumble's Business Model
Value Proposition
Rumble has built a differentiated product for both users and creators, which has fueled its recent user growth and positions it for further widespread adoption.
For users:
Rumble aims to allow consumers of its content to see simply what they search, with no preferential treatment for "large" creators or algorithms that suppress certain points of view.
Rumble has attracted and retained a global user base on the simple premise that Rumble offers its community the best market experience— the single most crucial component of its strategy.
Rumble's open search algorithm allows its community to access its entire content library within the search function. As its library expands from user-generated content and through world-class content creators, this value proposition will continue to expand opportunities and create an even better experience for the Rumble community.
For creators:
Most critical elements of Rumble's value proposition to users also benefit its creators. At the same time, Rumble is also laser-focused on attracting the best talent to the platform and has built tools to facilitate content production, distribution, and monetization.
Simply put: if a creator uploads excellent content, it will be seen (and will not be preferenced behind other creators' work). This creates favorable monetization opportunities for the best content on the platform and highlights the value of Rumble's offering to content creators of all magnitudes.
Rumble's offering includes a world-class SDRM (social digital rights management) service for its creators, helping them to manage their library and ensure maximum efficiency on and off the Rumble platform. This further enhances Rumble's relationship with its creators and allows it to capture, record, and improve its offering through data analytics.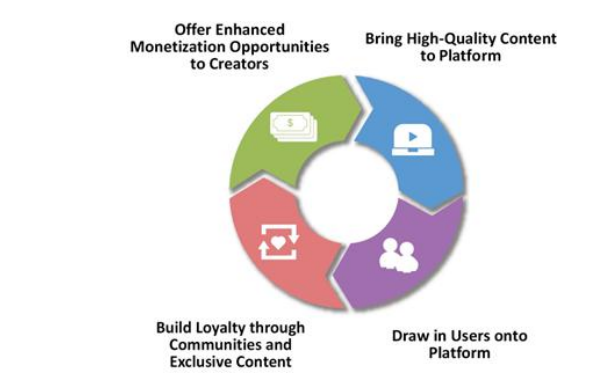 How does Rumble make money: revenue model?
Rumble made $39 Mn in 2022. Rumble makes money primarily from advertising and licensing fees. The revenues are generated by delivering content either via Rumble's own or third-party platforms.
Advertising fees are generated by delivering both display advertisements and cost-per-message-read advertisements. Display advertisements are placed on Rumble and third-party publisher websites or mobile applications. Customers pay for ads directly or through their relationships with advertising agencies or resellers based on the number of impressions delivered or actions, such as clicks or purchases taken, by Rumble's users.
The Company recognizes revenue from display advertisements when a user engages with the ad, such as an impression, click, or purchase. For cost-per-message-read advertising, customers pay to have their products or services promoted by a content creator, and advertising revenue is recognized when the performance obligation is fulfilled, usually when the message is read.
Licensing fees are charged on a per video or on a flat fee per month basis. Licensing fee revenue is recognized as the related performance obligations are satisfied in line with the nature of the intellectual property being licensed.
Other revenues include fees earned from tipping features within the Company's platform and certain cloud, subscription, platform hosting, and professional services. Fees from tipping features are recognized at a point in time when a user tips on the platform. Both cloud and subscription services are recognized over time for the duration of the contract.
Revenues related to platform hosting are recognized over time as the Company provides access to the platform. Professional service revenues have stand-alone functionality to the customer and are recognized at a point in time as services are provided or earned.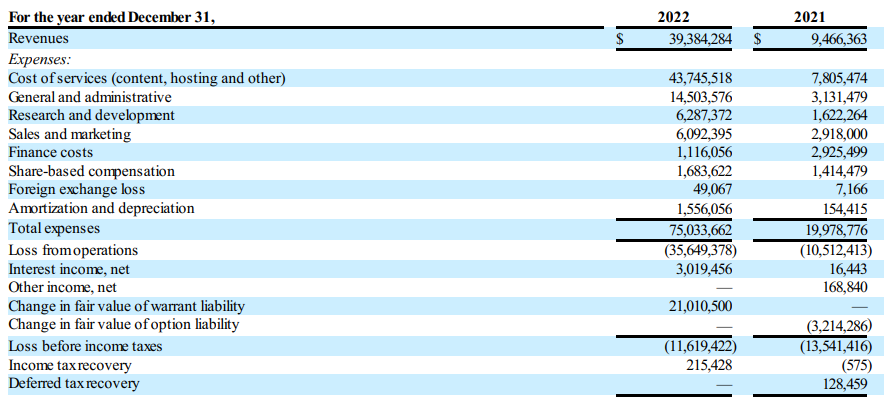 Marketing and Advertising Strategy of Rumble
Users & Creators
With the tremendous amount of organic growth experienced to date, most of Rumble's marketing efforts have been focused on amplifying earned media and accelerating the word-of-mouth momentum through creator advocacy.
As a result, Rumble has built its user base and brand with relatively minimal marketing costs. In the future, Rumble looks to drive user growth and video consumption through
content creator partnerships and advocacy, including by offering incentives, including economic incentives, to content creators to join Rumble's platform,
continued earned media strategies, and
Increased marketing spending, primarily through digital paid media channels.
Rumble competes with traditional video distribution platforms but also with social media networks, entertainment businesses, video-on-demand providers, major film and television studios, cable/news television networks, and more.
How does Facebook (Meta) make money: Business Model Analysis
Advertiser
Rumble currently uses several third-party ad networks and ad exchanges to fill its ad inventory. By developing its own ad network, Rumble can drive its value proposition and expand its advertiser base.
In January 2022, Rumble announced deploying a version of its advertising marketplace. Several advertisers have begun to run campaigns through the new system, and eventually, all ads on the Rumble platform will be served through its own advertising system.
As Rumble scales its platform, it expects to drive significant and differentiated value to advertisers by developing this independent advertising marketplace.
Enterprise
As Rumble looks to expand into the IaaS space and offer Cloud Solutions to the enterprise segment, Rumble plans to build out its business-to-business subscription-based marketing model. Rumble expects these services to include video streaming, email services, storage, and cloud & website hosting.
---