Customers increasingly use online grocery shopping platforms as conventional brick-and-mortar supermarkets, and grocery stores are time-consuming and less convenient.
Also, an increase in food and nutritional awareness is causing consumers to increasingly turn away from fast food and move toward healthy and balanced meals, preferably home-cooked, and placing added value on the quality and origin of the food products they purchase.
Additionally, consumers are increasingly becoming conscious of food waste. When shopping for ingredients required by a particular recipe, people often have to buy much larger quantities than are necessary to prepare a meal, which may be uneconomical and lead to food waste.
HelloFresh understood all these trends and challenges and came up with a solution by providing customers with everything they need (in an appropriate quantity) to cook healthy and balanced meals from scratch at their doorstep.
In a decade, HelloFresh has built a strong, trusted brand for providing personalized, home-delivered meal solutions worldwide. In this strategy story, we will understand the business model of HelloFresh and what marketing strategy it deploys. Before diving into business technicalities, let's learn how HelloFresh started.
What is HelloFresh? How did HelloFresh start?
Founded in Berlin in 2011, HelloFresh was one of the first companies to offer meal kit solutions as they are known today. Shortly after the two founders (Dominik Richter and Thomas Griesel) assembled the first meal kits in their kitchens, they quickly ramped up operations to offer nationwide coverage in Germany, the Netherlands, and the United Kingdom. 
Subsequently, HelloFresh expanded to Austria, Australia, the contiguous United States, Belgium, Canada, Switzerland, Luxembourg, France, New Zealand, Sweden, and Denmark. In 2021, HelloFresh started operations in Norway, Italy, and Japan. 
With operations in seventeen countries across four continents, HelloFresh has grown to become one of the most prominent players globally in the meal kit market regarding geographic coverage, revenue, and the number of active customers.
HelloFresh is on a mission to change how people eat, providing customers with a safe, convenient way to enjoy fresh, home-cooked, or fully-prepared meals without any planning and shopping.
Business Model of HelloFresh
The business model of HelloFresh differs from that of a retailer or grocer, as it focuses on working upstream with a "pull model." HelloFresh essentially eliminates the need for intermediaries such as distributors or wholesalers. 
HelloFresh works closely with its growers and producers to ensure customers receive fresh, seasonal, and healthy ingredients in the exact quantities needed for their meals. When choosing and designing recipes, HelloFresh considers which produce is in the season to facilitate finding sufficient supply at attractive prices.
HelloFresh operates on a low inventory basis for perishable products and follows a just-in-time delivery business model. The meal kits' ingredients and ready-to-eat meals are packed in HelloFresh's refrigerated fulfillment centers. 
From there, food solutions are delivered using insulated packaging or refrigerated vehicles with a high freshness. Almost all deliveries are free of charge to customers.
Value Proposition
HelloFresh's 'value proposition rests on five pillars: great tasting healthy food, personalization, providing high value for money, high convenience, and an enjoyable product experience.
Customers can customize Meal Kit plan to meet their lifestyle. Customers can pick a plan depending on their dietary preferences, schedule, and household size. HelloFresh uses underlying data and analytics tools to cover a broad and diverse range of tastes and dietary choices, such as family-friendly, vegetarian, vegan, low-calorie, and quick and easy options.
HelloFresh offers Data-Driven Meal Design and Menu Optimization. HelloFresh creates recipes by combining the market-specific input from chefs' experience and their knowledge of food trends and customer inputs, particularly customer ratings and ingredient-based data points. 
Using optimization software tools, HelloFresh further optimizes its offering and identifies customers' needs concerning protein, cuisine and variety, rare ingredient, and menu mix.
Through a data-driven product development approach, HelloFresh can offer an increasing selection of add-ons, such as soups, snacks, fruit boxes, desserts, ready-to-eat meals, and seasonal boxes (e.g., for Christmas).
Customers
75% of HelloFresh customers are aged between 25 and 54. HelloFresh products address young families who focus on convenience (aged between 18 and 54 years and living with kids), professionals who value cooking as an experience (also aged between 18 and 54 years, but not living with kids), and empty nesters who want to break out of a cooking rut (aged over 54 years). 
HelloFresh claims its customer base is very loyal, as highlighted by a repeat order revenue rate of 90%+. HelloFresh's business model caters both to metropolitan areas as well as to customers located in the countryside.
Based on HelloFresh's internal research, its typical customer enjoys preparing food, cooks at home at least three times per week, cares about the freshness of ingredients and healthy meals, and is already an avid online shopper in categories other than food, such as fashion, electronics or books.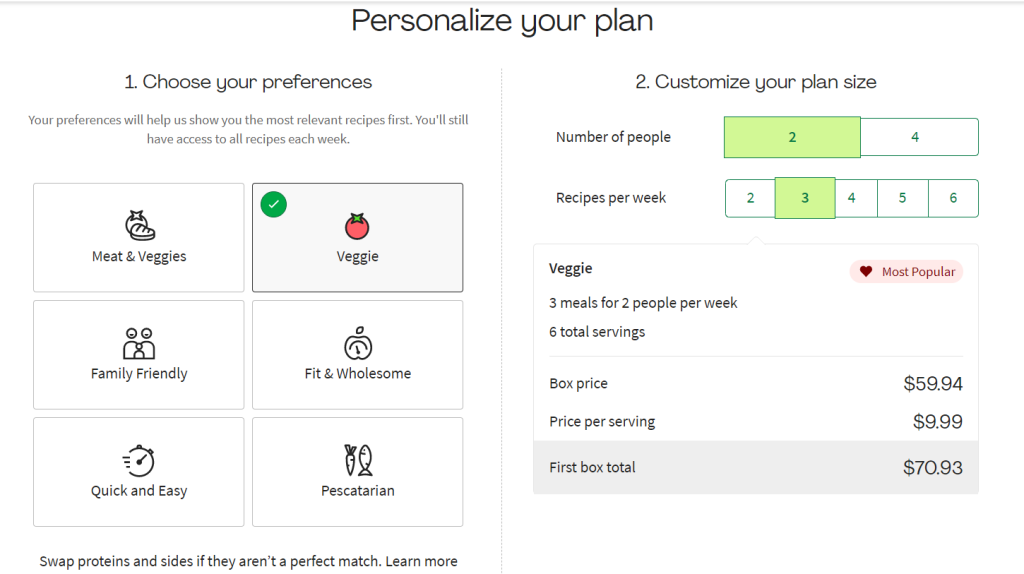 Operations
HelloFresh has built a global, end-to-end, and efficient supply chain based on global scalability, an almost zero inventory model, and a sustainable supply chain benefiting suppliers and customers.
Procurement: HelloFresh follows a quality and price-driven procurement strategy backed by data platform and analytics engines. HelloFresh has removed several steps and intermediaries in the supply chain, resulting in faster delivery times for fresh items and allowing it to capture the product margin across the whole value chain.
Packing and Fulfillment: HelloFresh follows a lean and cost-efficient fulfillment process geared towards low to almost zero inventory. The flexible production set-up of HelloFresh allows it to pack any box type in any sequence.
Delivery: Most HelloFresh deliveries are currently conducted by third-party logistics partners. The process is aimed at achieving higher logistics efficiency. HelloFresh leverages area-wise data to determine the delivery fleet size and where to best establish centralized hub locations to minimize costs and delivery distances.
How does HelloFresh make money- Revenue Model
HelloFresh makes money primarily from the sale of food solutions, which comprise (i) ingredients along with corresponding recipes ("meal kits"), (ii) add-on products, such as soups, desserts, bakery products, salads and surcharge products, and (iii) ready-to-eat meals as well as shipping fee.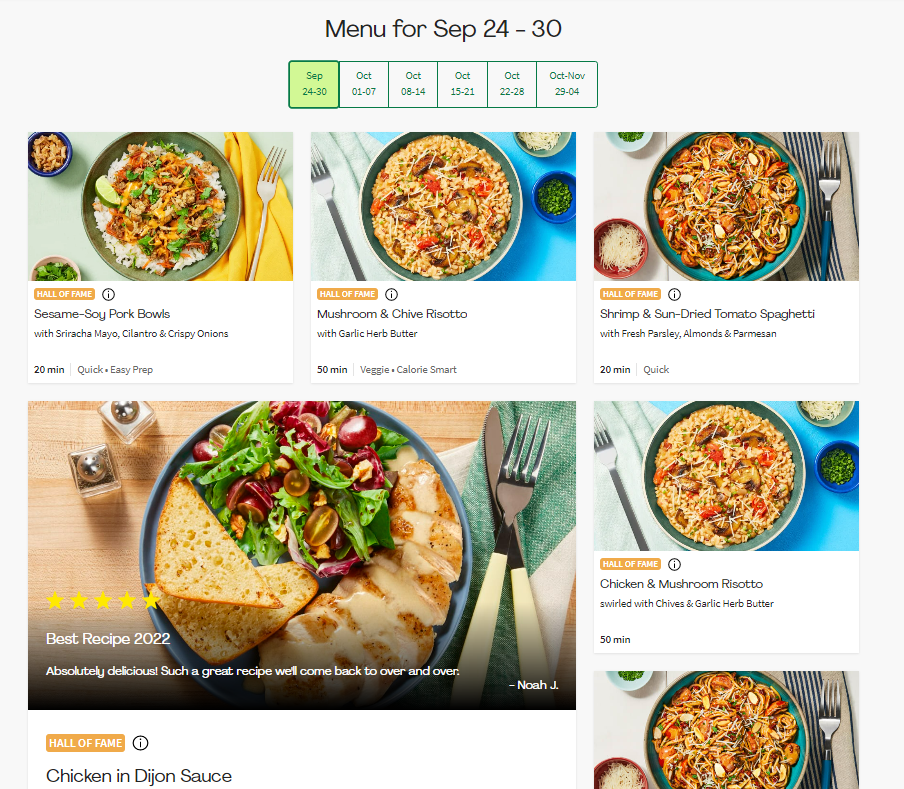 Revenue represents amounts receivable for goods supplied, stated net of promotional discounts, customer credits, refunds, and VAT.
HelloFresh has fixed weekly plans for a price. HelloFresh also has customized plans that allow users to curate their personal menu and select from 50+ menu and market items. HelloFresh made 5.99 billion Euros in 2021 from 7.22 Mn customers. 
In addition to the primary source of revenue, HelloFresh also makes money from some other sources, including income from marketing partners and revenue from logistics services.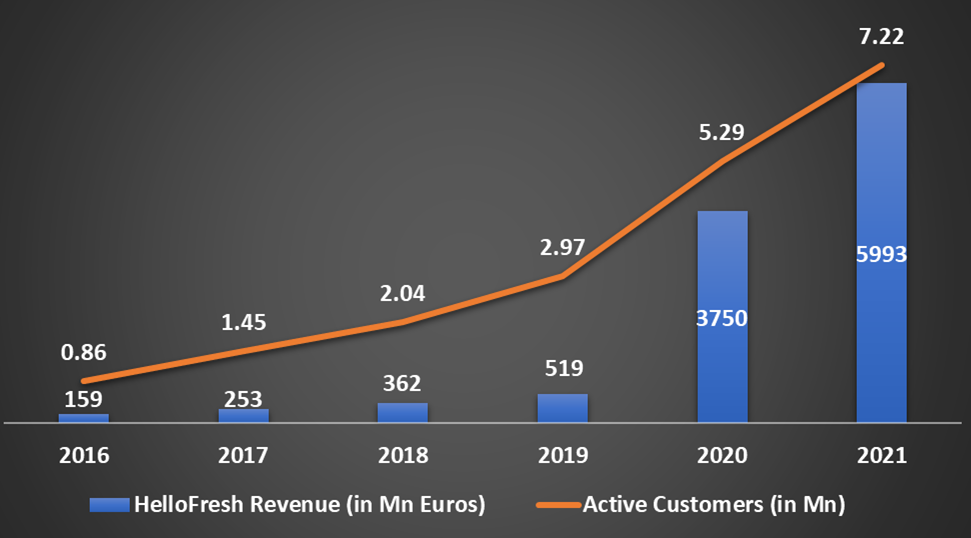 Marketing Strategy of HelloFresh
The marketing strategy of HelloFresh is aimed at creating a global lifestyle brand that consumers trust and love through a data-driven approach. This marketing strategy of creating a powerful brand helps HelloFresh drive down customer acquisition costs by increasing virality by facilitating word-of-mouth and customer loyalty. 
HelloFresh has an omnichannel marketing strategy to reach customers through multiple channels and touchpoints, helped by data and technology solutions. Understanding customer journeys and the interdependencies between customer touch points are crucial to achieving a diverse and highly profitable marketing mix. 
The marketing strategy of HelloFresh depends on the target customer acquisition cost for the relevant period. Based on the target customer acquisition cost, HelloFresh sets a specific marketing budget for the relevant period. It then allocates it to the various marketing channels intending to achieve many new customers. 
Twist, Lick, and Dunk- Oreo's Marketing Strategy
Going forward, HelloFresh intends to continue to strengthen its brand, use its platform to launch new products, derive more profound insights into customers' preferences, and improve return on investment on marketing by focusing on cost optimization. 
Marketing expense as a percentage of revenue in 2021 was 14.4%. Marketing expenses represent costs associated with the promotion of goods and include online and offline marketing expenses, promotion of the brand through traditional media outlets, the production and distribution of marketing materials, photo production, costs related to customer care activities, and other costs associated with HelloFresh's market presence.
Way Forward
HelloFresh's vision is to build the world's leading integrated food solutions group – being a pioneer as the nascent online food market expands manifold over the coming years. HelloFresh has built significant capabilities and expertise across recipe creation, menu development, and demand forecasting skills over time.
HelloFresh's ecosystem is powered by proprietary data and software, a direct-to-consumer supply chain of perishable goods, efficient production processes in fulfillment centers, cost-efficient and reliable logistic solutions, a well-known brand, and robust growth marketing & digital platform.
How DoorDash has dominated the US food delivery market?
There is significant room for HelloFresh's growth as it estimates its Total Addressable Market to be 176 Million households, of which it has captured only 7.2 Mn. 
In the future, HelloFresh aims to expand its product line and enter into new business verticals to leverage its D2C expertise. These new additions to the business model of HelloFresh will drive higher market penetration and improve customer monetization.
---