What is common among KitKat, Nescafe, Maggi, Munch, and Ceregrow? They are world-famous brands. They are all household names. They are products you would have consumed at some point in your life. Heck, maybe even consuming them regularly (Hello Maggi lovers!). All of these belong to Nestle.
That brings us to the next question. What has Nestle done to get us excited about its brands and explore more such products from the company? Rome was not built in a day, and neither was Nestle. The Switzerland-based multinational company has been in existence since 1866 (been through thick and thin, huh) and has tailored its offerings over the ages (literally) to meet consumer demands across the globe.
Here are some interesting numbers about Nestle that make it stand out. Nestle is the planet's biggest food and beverage company. It is present in 186 countries with 2000 local and global brands. The Swiss company entered India in 1912 and has since been a market leader in the fast-moving consumer goods space, competing with Unilever and Proctor and Gamble.
Nestle has come a long way since it started selling infant food in the 1860s to reduce mortality rates among babies. It is now a behemoth in the health food, wellness, and pet care space with a "Good Food, Good Life" tagline. Now, the next question is – how did Nestle get to this point? How can a company build a legacy so strong that it has stood the test of time from the 19th century?
The answer to this may lie in the crème de la crème of this article – the marketing strategy.
Key Pillars of Nestle's Marketing Strategy
By virtue of being a company in the consumer segment (B2C), Nestle's marketing strategy has evolved with the times. Nestle's primary target group has been kids, working moms, and youngsters. The products are priced reasonably or are available at a premium. The company has a presence in both online and offline segments.
To understand different components of Nestle's marketing strategy, we need to look at the overall template that the company follows for its products. The company intends to offer products that evolve with consumer demands and contribute to a sound environment.
Nestle's marketing strategy, with its five key pillars, focuses on building and showcasing expertise in nutrition, health & wellness to help people live happier and healthier lives. The idea is to bring innovative and affordable products to meet the needs of modern consumers wherever they are in the world.
Good food, Good growth: Nestle's way of doing business!
Now, let's look at how the company's brands communicate, generate demand, and create opportunities for sales. While traditional media like TV, radio, and the outdoors have played a dominant role over the years, recent times have seen a gradual shift towards digital mediums. Nestle's audiences vary across geographies, product lines, and even SKUs (stock-keeping units).
However, a few strategies are common in all its communications across the globe. We will pick a few of these and explore them deeper. Let's start with the first one, down below,
1. Localization of Products
Localization is adapting a company's products to the local market. Nestle has gone big on localization in several markets where it now operates. Consider Japan, for instance, where the company's initial foray was through coffee-flavored candies. Japan is traditionally a tea-drinking country, and the company introduced these candies so that children could develop a taste for coffee. Later on, it introduced KitKat and Nescafe, and the rest is history. You know Japan has 300+ flavors of KitKat. Why?
Nescafe Marketing Strategy: Lesson in Pull Marketing
The product continues to do well in Japan, and Nescafe is the market leader. Japan now imports 50,000 tons of coffee every year. This is a remarkable change induced by a company in a country where hardly a cup of coffee was sold until the mid-20th century.
The localization of products can be seen in India as well. Think products such as Maggi Atta Noodles, Maggi Special Masala, Maggi Noodles (without onion and garlic). As 40% of Indians are vegetarians (according to a 2021 study by Pew Research Centre), this makes a lot of business sense and ensures that customers are satisfied.
2. Benefit-led Advertising
Nestle's product line is very extensive. It means that advertising strategies must include the specific benefit provided by a product. Benefit-led advertising coupled with a storytelling narrative builds better recall. Here, the idea is to increase product visibility and create top-of-mind awareness while also showing how the offering alleviates a customer pain point.
Nestle has often collaborated with film personalities like Sanya Malhotra, Disha Patani, Rani Mukherjee, and Juhi Chawla to drive the message home. Much of the products' core audiences are working mothers and youngsters. Eminent personalities which resonate with the youth are often used to build trust and familiarity with the offerings.
Nestle has been rolling out communication in Indian languages to connect further with the masses. Its contextual messages during Covid-19 have also been a hit.
3. Content Marketing
Nestle has created a ton of video content on each of its brands' YouTube channels. The content ranges from informative 'how-to' videos to cooking tips to better insights on using the products. For instance, the Meri Maggi page has over 530 videos with over 571,000 subscribers. Though video content is a growing channel in Nestle's marketing strategy, it has even established other avenues to share pertinent information with its customers.
Dramatic story of Maggi in India: a lesson in brand management
Nestle India has launched an entire website dedicated to child nutrition. It is a comprehensive guide for new mothers on nutrition and recipes and even has a community aspect to it aside from expert advice.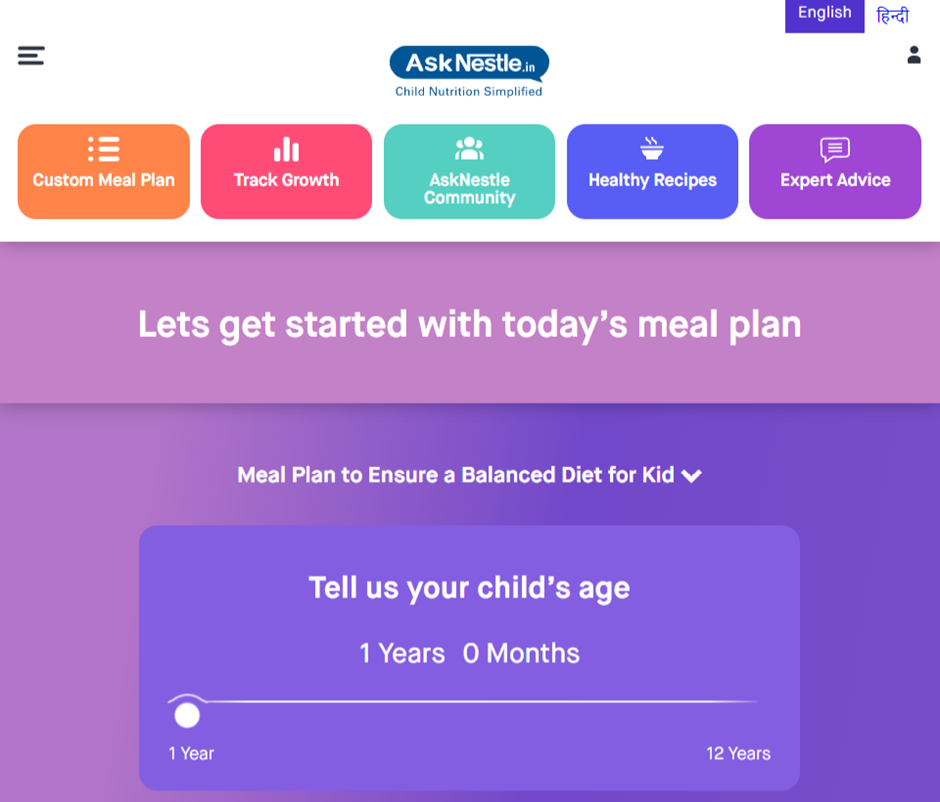 The website even shares diet plans depending on age and other factors. Building a tech-based model is also a focus, and that is a great way to engage and help your customers beyond selling products.
Nestle's packaging also contains valuable information at the back of the product. The company has ensured this section is also informative in the case of most of its brands.
4. Brand Building and Equity
It is not enough to sell your product and expect returns year on year in today's competitive business landscape. Nowadays, companies have to project themselves as brands. They must give people a reason to buy from you and come back over and over. Nestle has been involved in various activities to ensure its brands get seen to expand their presence across different parts.
One of the critical ways to expand brand presence is through franchise stores. Let me take you back to the time when you were in college. You can now vividly remember going to that kiosk which a Nestle franchisee ran. You could buy multiple of Nestle's products – that large Kit Kat for your friend's birthday, a bowl of Maggi before the morning class, or a quick coffee with your group of buddies. It also becomes a place to hang out and meet new people.
These franchise stores are located in colleges, schools, university campuses, mall food courts, and corporate parks. By building a robust on-ground presence, Nestle's products become the de facto choice for youth (their primary TG for these items) and also create a favorable brand image in their minds. This is a vital part of Nestle's marketing strategy, which doesn't much talk about.
It has also experimented with co-branding by tying up with Google for Android KitKat. The Swiss major has also collaborated with Starbucks for its Nespresso range of coffee beans.
Nespresso: Redefining the experience of coffee lovers!!
5. Out of Home Advertising
Nestle's brands – Milo, Maggi, Nescafe, or KitKat, use several ways to garner people's attention on the roads. Whether it is banners or benches, or hoardings, the company's brands have made it to the limelight for their creativity and contextuality. Check out some of these fantastic pieces of art (and marketing).
The benefits of OOH ads? Most people receive them well. They are shareworthy – people take photos and put them on the internet, send these over to their friends and even have marketers talk about them. Also, they reach a lot of people at a relatively low cost. Plus, Nestle's marketing strategies stand out from the crowd and generate action from consumers.
Final Thoughts
Over the years, Nestle has been able to cement itself as a leader in the food and beverage space with product innovation and sound marketing strategies. It has created campaigns that are relatable, memorable, and shareworthy.
As it moves toward establishing a solid presence in the coming decade, digital marketing will play a leading role in Nestle's next phase of user growth. Since Nestle has continued to stay aligned to its values, vision, and purpose, this may not be far-fetched after all.
---