How do you build a network of thousands of restaurants while starting without diners, in fact, "Zero" diners initially? You go the OpenTable way by giving restaurants a value proposition to set up or sign up with you, even with no diners on offer. In this Strategy Story, I will help you learn the business model of OpenTable and how OpenTable makes money.
Humble Beginnings
OpenTable is an online restaurant reservation service company that was founded in 1998 by Sid Gorham, Eric Moe, and Chuck Templeton and is based in San Francisco, California. As per OpenTable, it seats more than 1 billion diners each year. Further, its strong network chain of 60,000 restaurants provides a quality booking-dining experience to their billion-strong diners.
OpenTable aims to value the human connection and create value for the restaurants. In particular, they enable diners to find and book the perfect table for every occasion. And their story is one of human connection—among diners and restaurants and between restaurants and their communities.
In 1998, the company started operations with a limited selection of restaurants in San Francisco. What attracted restaurants was the company's back-end software to process the reservations made on the website, resulting in a real-time reservation system for restaurants (and as you would have guessed for diners too, but later).
Earlier, restaurants booking was based on the old-school reservation system based on calling and pen-paper-based system of booking, which, as expected, was quite cumbersome and time-consuming.
OpenTable's competitors include Yelp, Bookatable, Resy, and other online restaurant reservation services.
OpenTable Business Model solved the "chicken-or-egg-problem" in a different way.
As would sound like a movie script, Founder Chuck Templeton first had the idea for the software after his wife spent hours (some account mention over three hours) calling restaurant after restaurant to make reservations for an upcoming visit from her parents. The software revolutionized the process and made value propositions for restaurant booking and management.
As more restaurants began to avail of their software product, the platform became more lucrative for diners, creating a compelling value proposition for both sides, i.e., the restaurants and now the diners.
To give a perspective of a traditional "cold-start problem" facing startups, OpenTable, or any reservation aggregator such as Uber, Airbnb, and similar multi-side marketplaces face challenges during the initial stages. Their big challenge is to get the demand/buyers (diners in case of OpenTable) with low initial supply (restaurants) to gain traction, or more particularly, "network effect ."
This is touted as one of the biggest problems facing the marketplace. In startup parlance, this is commonly referred to as the chicken-or-egg-problem. They decide to initially focus on one of the sides – supply or demand – to have the network effect of allowing transactions on their marketplace. In OpenTable's case, they built a unique software (for table management and CRM product) which they provided to restaurants who signed on to use the platform and then imposed a subscription fee.
The business strategy used by OpenTable was based on providing a Saas (software as a service) reservation software for restaurants. This tactic is classically known as the Single-player mode (or Standalone or Trojan horse mode) to solve the marketplace problem. The restaurants found a value proposition to use the software for booking management. This way, they provided value and locked the supply side, i.e., the restaurants. 
They continued this way till they had hundreds of restaurants in an area (say 10% or some hundred restaurants as per different areas). They opened or activated the software for the buyers (diners) based on the desired supply.
This led to a mode value proposition – for both the restaurants and the diners – to create the desired network effect on their software. Such "network effect" leads to further rush from both the restaurants, which would have earlier averse to join, to consider and even sign up on the OpenTable software.
How does OpenTable work?
OpenTable provides solutions that form an online network connecting reservation-taking restaurants and people who dine at those restaurants. For its restaurant customers, OpenTable provides its proprietary Electronic Reservation Book, or ERB, an integrated software, and hardware solution that computerizes restaurant host-stand operations and replaces traditional pen-and-paper reservation books.
OpenTable's ERB streamlines and enhances restaurant business-critical functions and processes, including reservation management, table management, guest recognition, and email marketing. The ERBs at its restaurant customers connect via the Internet to form an online network of restaurant reservation books.
For diners, OpenTable operates www.opentable.com, a popular restaurant reservation website. The OpenTable website enables diners to find, choose and book tables at restaurants on the OpenTable network in real-time, overcoming the inefficiencies associated with the traditional process of reserving by phone.
Restaurants pay OpenTable a one-time installation fee, a monthly subscription fee, and a fee for each restaurant guest seated through online reservations. OpenTable's online reservation service is free to diners.
Benefits of OpenTable to Reservation-Taking Restaurants: fill seats that might otherwise remain empty and minimize "no-shows," create operational efficiency, and market restaurants to a targeted audience in a cost-effective way.
Benefits of OpenTable to Diners: find and book available tables at diner's favorite restaurants and explore new restaurants in different categories.
Let's now deep dive into OpenTable's business model and understand how does OpenTable makes money.
DoorDash has dominated the US food delivery market with >50% market share. But what is the business model of DoorDash?
How does OpenTable make money? What is the business model of OpenTable?
From the beginning, OpenTable was more centered on the restaurants to make money. OpenTable relies on a combination of four streams for revenue: subscriptions, reservations, installations, and advertisements.
They offer different subscriptions like Basic (with access to their global diner network and some management features); Core (with basic features, with the added ability to maximize seatings, automate table status, and more); and Pro (with all Basic and Core features, plus relationship management to help create regulars and drive loyalty).
Such a variety of subscriptions and features allowed them to onboard restaurants – of different types, sizes from various locations and niches. Further, these different plans provide additional features such as complimentary bookings with Core and Pro plans, but a one-time fee of $1 per network is covered. Also, plans like Core and Pro provide additional features such as table management and availability controls, among others, which would be crucial to cater to different requirements of restaurants.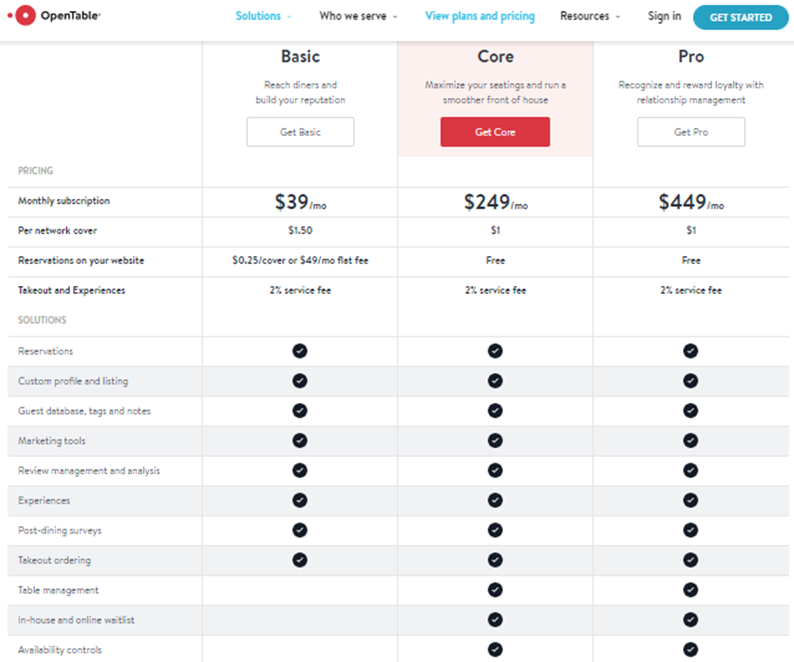 And for the diners or the end-users, reservations are free, while the company charges restaurants flat monthly and pre-reservation fees for their use of the software. Most of OpenTable's revenue comes from the direct sale of reservation tools, i.e., the software and the mobile applications to the restaurants, and not from commissions on reservations.
Diners can reserve tables at the company's more than 60,000 restaurants by visiting the website or downloading one of the company's mobile applications (available for Android and iOS). As expected, one of the prime movers for OpenTable was the launch of its iPhone application in November 2008, while the Android app was launched in September 2009. It is worth noting that OpenTable's free mobile websites were offered to restaurant partners starting from 2012.
With the ease and portability of mobiles, booking tables on the same became highly profitable as people could book them while on the move or make necessary changes more dynamically. Mobiles were also an excellent platform for on-demand services, such as ride-hailing app Uber, vacation rental company Airbnb, and the like.
OpenTable recognizes revenues for reservation fees when diners are seated through its online restaurant reservation service and revenues for subscription fees for restaurant management services on a straight-line basis over the contractual period per how the service is provided.
OpenTable's last reported revenue was $190 million back in 2013 before being acquired by Booking Holdings' in 2014. Since the acquisition, Booking Holdings has not publicly reported any of OpenTable's revenue.
Funding, valuation, and then acquisition by Booking holdings
As per Crunchbase reports, OpenTable raised $48 million in VC (venture capital) funding in three rounds between 2012 and 2014. Initially, the company raised a total of $60 million in May 2009 after going public. On the one hand, the launch of IPO raised much-needed capital while establishing OpenTable's respectability, as happens for many startups post listing. At that time, the company was valued around $626 million.
Furthermore, the capital infusion provided by the IPO allowed OpenTable to expand and purchase other companies. Toptable was an online restaurant booker and OpenTable's largest competitor, covering the UK as well as major cities in Europe and New York City was bought by OpenTable for approximately $55 million in 2010. Toptable was primarily focused on the European market.
On June 13, 2014, it was announced that the company had agreed to be acquired in an all-cash deal for $2.6 billion by the Priceline Group (now Booking Holdings, Inc.). The company was delisted by the Nasdaq stock exchange subsequently.
As per some accounts, OpenTable also benefited from the acquisition due to the ecosystem's breadth. As practiced by many aggregator companies, it launched loyalty programs in which members are rewarded with hotel booking credits. Further, users of other Booking-owned sources, such as KAYAK, will likely receive discounts also.
What Growth Strategy made Stripe the largest venture-backed private company
What does the future look like for OpenTable?
In July'19, OpenTable announced that it has partnered with three leading delivery services — Caviar, Grubhub, and Uber Eats — to extend pickup and takeout options from thousands of restaurants to diners across the U.S. Clearly OpenTable wants to target the ~$25 bn food delivery market in the US.
OpenTable declared in 2020 that it would suspend subscription payments in reaction to the coronavirus outbreak. They were revived in early 2021. The coronavirus outbreak and related lockdown measures led to the nearly complete cancellation of bookings.
As with many companies in the hospitability industry, the company had to lay off hundreds of employees. To give a perspective of the whole situation, even the management team (headed by Booking's Debby Soo since August 2020) also waived its monthly fees to assist restaurants.
However, to counter the pandemic effect, the company tried different campaigns and added additional features, such as ordering takeout or promoting unique dining events (such as outdoor movie nights).
OpenTable opened its first restaurant among the pandemic in April 2021, called Layla. The Miami-based restaurant boasts various safety measures, including sanitizing and a limited number of seated diners, and leverages technology to learn more about consumer preferences. The official mission of Layla seems to serve as an innovation lab and to subsequently implement state-of-the-art ideas from the lab across OpenTable's 60,000 restaurant partners. 
Some practices and steps from OpenTable may be the need of the day – in our post-pandemic world and its fallout. However, ingenious implementation of their business strategy to lock and attract the restaurants first, without any news of the diners, serves as a classical lesson for startups and marketplaces.
And, then "the network effect" created by the interaction of the interested buyers to connect with the thousands of restaurants on their software speaks loads on their vision and overall strategy. 
---