I joined CRM of a large automotive company in 2016. That was the first time I realized how complex it is to understand the customer data across multiple channels, namely customer surveys, digital channels, social media, review sites, messaging channels, and many more. With modern channels, exponential increase in consumer data, and increased customer expectations, multiple solutions can bring chaos.
We had a team for each technology, but they hardly communicated with each other. Insights were coming and the team level, but they were still not giving a complete picture of a customer. As a CRM Manager, I was hungry for such insights. At that time, I wondered if there was a platform that combines different applications for social media marketing, social advertising, content management, customer care, etc., in one platform and brings out insights.
Little did I know that such a company already existed even back then. Sprinklr, founded by technology executive Ragy Thomas in 2009, is an American software company based in New York City that develops a SaaS customer experience management (CXM) platform.
Sprinklr believes that the market opportunity for the Unified-CXM platform is nascent, largely underpenetrated, and rapidly growing, with $51 bn as a total addressable market in 2021. Sprinklr's vision is to become the world's most loved enterprise software company ever.
Let's deep dive into the purpose, products, and business model of Sprinklr.
What is Sprinklr, and what challenges does it aim to solve?
A per Sprinklr, 86% of companies expect to compete primarily based on customer experience. To do so, brands must communicate instantly with consumers who move fluidly across dozens of channels in a personalized way. For large enterprises, such high customer expectations are posing new challenges.
Let's first see what the challenges businesses in today's digital era are facing:
The world has changed, and so does consumer behavior. Along with traditional channels like email and phone, consumers are interacting on dozens of modern channels like social, messaging, chat, and text.
New channels to connect with customers are emerging, generating data that grows exponentially but is unprecedented, unstructured, and unmanaged.
Technologies are working silos. Siloed teams. Siloed tools. Siloed data. Duplicate customer and campaign IDs, disconnected workflows, isolated analytics, and limited governance.
Customers are more empowered than ever. Customers can be brand advocates or can be brand critics. They want to be a point of contact in the Company's database. They want to be listened to.
To solve these challenges, Sprinklr came up with a new category of enterprise software – Unified Customer Experience Management, or Unified-CXM. Sprinklr enables every customer-facing function in any enterprise to collaborate across internal silos and leverage a complete suite of modern capabilities to deliver better, more human customer experiences at scale – all on one unified, AI-powered platform.
Sprinklr's platform helps enterprises cross the barrier of information silos across the customer journey to create a unified view of each customer, by utilizing AI for its unstructured but relevant data. Sprinklr calls it a unified customer experience management (Unified-CXM).
Using Sprinklr's tool, customer-facing teams across the organization can collaborate and communicate with potential customers more effectively while delivering a more humanly experience.
But how does Sprinklr work?
Sprinklr's AI deep machine learning algorithms work via eight distinct and powerful layers. These layers aggregate all different unstructured data types across more than 30 channels and convert them into actionable structured insights, empowering businesses with a unified platform to manage customer experience at scale.
Sprinklr's architecture enforces unified abstraction and provides the ability to create reusable pipeline components for each machine learning lifecycle stage, including data acquisition, data transformation, model training, machine learning operations, and model inferences.
DoorDash has dominated the US food delivery market with >50% market share. But what is the business model of DoorDash?
What is the business model of Sprinklr?
Sprinklr claimed in its Form S-1 to SEC that its platform captures over 500 million conversations, makes 10 billion AI predictions every day, publishes over 20 million brand messages and handles more than 15 million customer cases every month while also tracking 35,000 brands and influencers and managing over 2 billion profiles across all digital channels.
Sprinklr's platform utilizes a single codebase architecture purpose-built for managing CXM data and enables a wide range of customer use cases.
Value Proposition
A Unified and scalable platform that allows enterprises to engage with customers and prospects across more than 30 digital channels in a personalized way.
Handling a massive scale of real-time but unstructured data to yield actionable insights.
Sophisticated machine learning algorithms to predict consumer intent in real-time.
Enabling seamless collaboration, skills-based workflow, customer-led governance, and timely decision-making across the entire customer journey.
Customers
Sprinklr's customers include global enterprises (usually they have a revenue > $100 Mn) across a broad array of industries and geographies, as well as marketing agencies and government departments along with non-profit and educational institutions.
As of 2021, Sprinklr had 1,179 customers, including more than 50% of the Fortune 100. These customers are located in over 60 countries, and our platform is delivered in over 50 languages.
Sprinklr keeps Customer Success at the heart of everything they do. Sprinklr has a value-based delivery system as follows:
Value Realization Check-In (VRCI) system is designed to collaborate with customers regularly to identify and resolve issues. The system helps Sprinklr with customers' desired business outcomes and priorities.
Executive Business Review (EBR) system allows Sprinklr to collaborate with customers to ensure that their targets are achieved, and recommendations are discussed on how to excel, based on best practices and industry expertise.
Customer Happiness Index (CHI) measures customer happiness on a scale of 1-10 through informal surveys.
Customer Delight Assurance Program (CDAP) is a review process system to ensure customer retention if the CHI falls.
Products
Even though Sprinklr is a unified platform, it offers 4 product suites designed to integrate all stages of the customer journey. The core of all these four key products are:
Modern Research: The product offers a real-time understanding of brand awareness, product perception, customer loyalty, and user satisfaction. Sprinklr's customers can use this product to protect brand reputation while improving customer experience.
Modern Care: The product enables the brand to analyze customer service issues while measuring the agent's performance, reducing customer churn rate. Product empowers customer service agents with automated surveys and live chats.
Modern Marketing & Advertising: The product empowers brands to plan, create, publish, optimize and analyze their marketing content across various platforms. Sprinklr claims that the product helps achieve greater efficiency and reduced content production costs.
Modern Sales & Engagement– The product helps the brand listen and analyze conversations across the channels. Enhanced capability of brands to engage with customers turns a conversation into a sales opportunity.
Partnerships
The Sprinklr Global Alliance Program delivers training, go-to-market support, and a certification program to an ecosystem of technology organizations, systems integrators, agencies, and social media channels. Sprinklr's partner program helps brands collaborate across marketing, sales, and care to meet the modern customer's needs. Sprinklr claims that its average deal size is doubled when involving a strategic alliance partner.
Revenue
Sprinklr generated revenue of ~$387 Mn in 2021, primarily from two sources:
Subscription– Subscription revenue consists of subscription fees from customers accessing the Company's cloud-based software platform and applications, along with related customer support services. Revenue from Subscription contributed 87% to Sprinklr's revenue in 2021.
Professional Services– Professional services revenue consists of fees associated with providing services that educate and assist the Company'sCompany's customers with the configuration and optimization of the Company'sCompany's software platform and applications. Revenue from professional services contributed 13% to Sprinklr's revenue in 2021.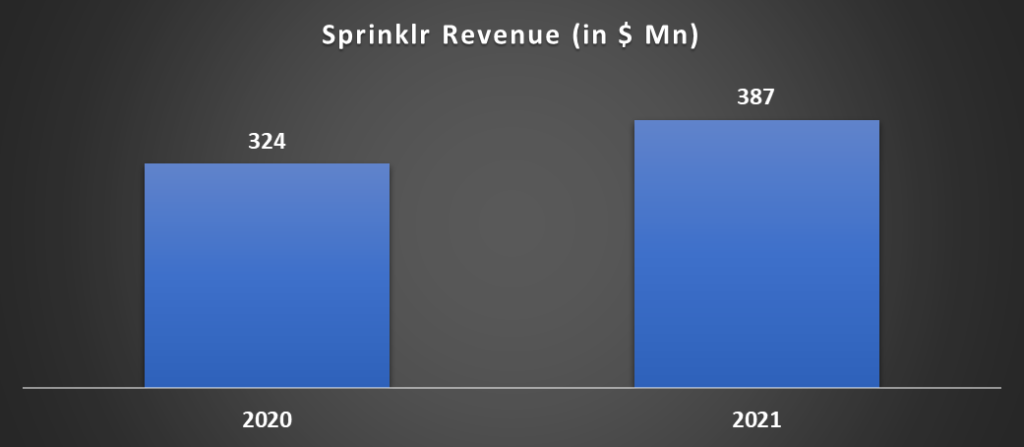 What Growth Strategy made Stripe the largest venture-backed private company
Conclusion
Unified-CXM is definitely in its early stages of adoption, and Sprinklr, with its first-mover advantage, aims to disrupt the traditional ways of managing customer data, including CRM, Enterprise Resource Planning (ERP), and Human Capital Management (HCM) systems, and drive a cultural shift towards enhancing experiences rather than managing transactions.
Sprinklr went public in June 2021 at a valuation of $4 bn and $266 Mn at a downsized IPO. Although Sprinklr's stock has not given much return to investors (actually, it has provided a loss), the future of Sprinklr's business model looks promising as any growing company cannot do without data in the 21st century. And with billions of data points generated every day across multiple platforms and companies looking to leverage those unstructured data sets, the sky is the limit for Sprinklr.
---