There is no 'Plan B' because we do not have a 'Planet B.' We have to work and galvanize our action.

Ban-Ki Moon, Former UN Secretary-General
The Deloitte Global Millennial Survey 2020 revealed that despite the unprecedented challenges presented by the year 2020, Millennials and Gen Z are committed to making an impact. And lead the change for environmental sustainability and for creating a better world with a better future.
Companies around the globe that target these "resilient generations" as employees and consumers are talking about Impact Strategies and are finding promising innovative ways to make an impact and provide a future that they could be proud of.
This six-part series looks at six such companies and their initiatives. We begin with the sustainability drive of Lululemon Athletica, a company headquartered in Vancouver, Canada, and globally known for its technical athletic clothes.
Lululemon Athletica: Overview and Growth
In the year 2020, the global apparel industry showed serious signs of struggle with many brands permanently closing stores and quite a few of them filed for bankruptcy. On the contrary, Lululemon's third-quarter results came out at the beginning of December recording sales worth $1.1billion, up 22% from the last year. Company's shares are up more than 59% year to date, bringing its market cap to $48.1 Billion. In this year of uncertainty and slow down, Lululemon also acquired the at-home exercise equipment maker Mirror for $500 million.
With these financial achievements, it is not only gaining popularity in the investor circles but is also being observed by its consumer base for its culture and commitment that could build or demolish the brand loyalty in the upcoming years.
Lululemon's first holistic Impact Agenda released in October 2020 is a step in the direction of cultivating that loyalty with its sustainability strategies by caring for its people and the planet we live on.
Lululemon's Strategic Pillars for Sustainability
Lululemon's Impact Agenda focuses on three interconnected pillars designed to create an impact. Each sustainability pillar of Lululemon constitutes of focus areas that directly align with UN Sustainable Development Goals 2030. Lululemon's strength lies in the simplicity of its approach to addressing these three focus areas.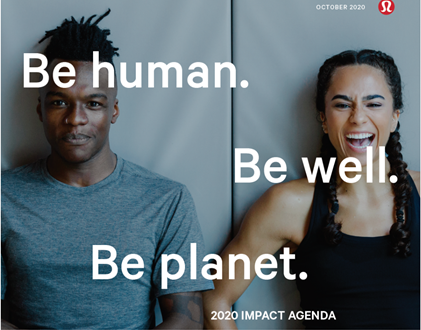 1. Be human
The focus of the first Lululemon's sustainability pillar is to:
Advance a culture of Inclusion, Diversity, Equity, and Action (IDEA)
Support employees through whole-person opportunities
Support the wellbeing of the people who make their products
These 3 areas align with UN Sustainable Development Goal 8 – Promote sustained, inclusive, and sustainable economic growth, full and productive employment, and decent work for all – and Goal 9 – Build resilient infrastructure, promote inclusive and sustainable industrialization, and foster innovation.
Lululemon's products are always at the heart of any action taken by the company, including its impact. Inclusive products, focusing on bodies of all types and sizes, guide the drive for inclusion and diversity.
This product-driven approach makes IDEA transferable from brand to consumer, communicating the commitment to inclusion, diversity and equity in every fabric and fibre of the brand's existence.
Supply Chain is another core area that impacts the environment. To ensure an environmentally responsible supply chain, Lululemon became a member of the Sustainable Apparel Coalition and requires its vendors to use the HIGG Index 2.0 facilities module. This index considers key environmental impact areas like energy use, greenhouse gas emissions, water use, wastewater, air emissions, and chemicals management, and empowers Lululemon's vendors to scale sustainability improvements.
The implementation in people-centric areas is driven by simple approach of incorporating gender pay equity, diversity in senior leadership and employees, educating the workforce and community to imbibe anti-racism and anti-discrimination in day to day living, and Fair Labour Association accreditation to ensure fair compensation, worker empowerment and wellbeing.
2. Be well
The focus of the second pillar is to:
Scale inclusive access to wellbeing tools
This focus is aligned with UN Sustainable Development Goal 3. The goal ensures healthy lives and promote well-being for all at all ages.
Guest facing experience is what makes Lululemon a success among its consumer bases. No impact strategy would be complete without including these guests. Lululemon captivated that sentiment and is creating personal development experiences focusing on emotional fitness and mental wellbeing of its guests.
Looking inwards Lululemon is gearing to launch a lululemon centre of excellence for social impact in 2021. This will further strengthen "Here to Be", lululemon's social impact program since 2016 where it partners with 'organizations that embrace the healing power of movement and mindfulness' and provides funding, connections, and amplification. With a commitment of US $75 Million over the next 5 years, the company is making long strides in this direction.
Peace on Purpose is another effort by lululemon in collaboration with UN Foundations to improve the well being of people through mindfully designed digital meditation tools. Originally developed for the well-being of UN workers, these tools are becoming meaningful to the community at large by providing them ways to deal with anxiety and stress.
3. Be planet
The focus of the third pillar is to:
Innovate sustainable materials
Create circularity through new guest models
Act on climate and renewable energy
Use less water and better chemistry
Make waste obsolete
These 5 areas align with UN Sustainable Development Goal 12 – Ensure sustainable consumption and production patterns – and Goal 13 – Take urgent action to combat climate change and its impacts.
As per CEO Agenda 2020, the transformational priorities for fundamental change in the apparel industry puts Sustainable Material Mix on top of the list. In line with this, sustainable material innovation is a core focus area at Lululemon with the adoption of fabrics like MyloTM, an innovative vegan material that feels like leather, and membership with groups like "Better Cotton Initiative" for improving cotton farming practices globally.
Currently, Lululemon is also running take-back and resell pilot projects in North America. Learning from these initiatives will guide the circular eco-system of resell, repair, and recycle.
The long term impact of the brand on the environment, climate, and renewable energy still needs to be seen. Meanwhile, it is valuable to notice that continuous measures are being taken like signing UN Fashion Industry Charter for Climate Action and joining Climate Group's RE100.
True Impact of Lululemon's Sustainability Strategy
Though the Lululemon's Impact Agenda 2020 is a fairly new document, the company has been taking steps for impact since 2016 and has some measurable results to communicate its dedication to the process.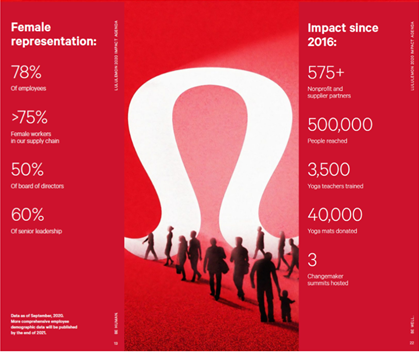 Looking to the future
The sustainability strategy of Lululemon is a holistic one and at this point, the optimism for success prevails as most of the goals are set with a five-year plan, well within the time to align, adjust and deliver in sync with targets of UN Sustainable Development Goals 2030.
Lululemon's emphasis on community building has the potential to play a crucial role in taking these goals from brand to people and have a larger impact.
Association with influencers, healthy lifestyle proponents, brand ambassadors, social impact partners and co-creators are the ones that will give Lululemon an edge in achieving the impact it aspires.
The blueprint is approved, it is time to set a powerful foundation for a powerful future to be proud of.
Additional Resource:
Feel free to download and read the full Impact Agenda Here.
---
Read More Forward Thinking Stories by the Author
Ever-Evolving CSR Strategy | The Walt Disney Company | Part 1
Disney's approach to CSR is built upon the Company's long legacy of engagement in workplaces and communities and actions to protect the environment.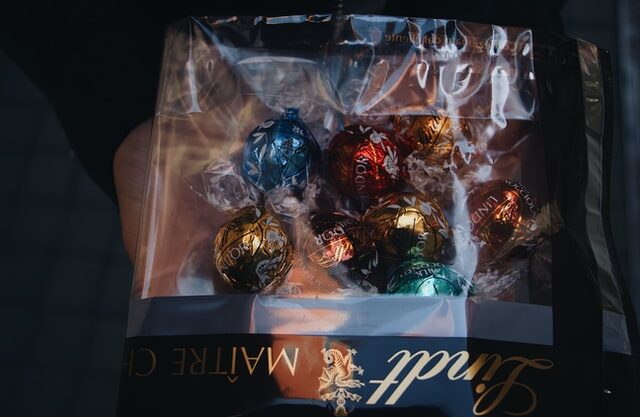 Sustainable Cocoa. Delicious Chocolates. Lindt & Sprüngli
Lindt & Sprüngli's sustainability strategy is based on 4 pillars: Improving Livelihood, Contributing to an intact environment, Performing together, delighting consumers.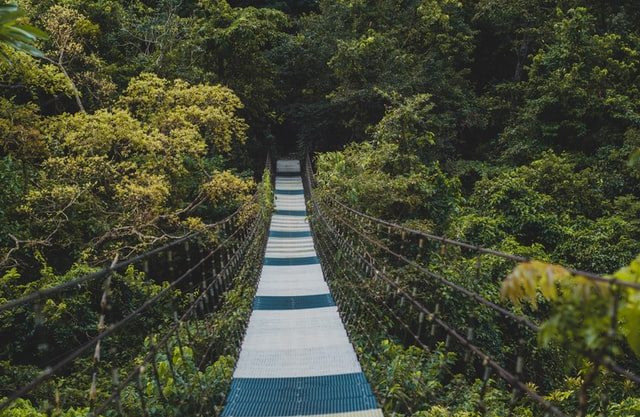 HP Inc – A continued commitment to Sustainable Impact
'Sustainable Impact' is HP's guiding principle for delivering on its corporate vision – to create technology that makes life better for everyone, everywhere.
SheEO: Impact of Radical Generosity! A New Model. A Better World.
The purpose of the story is to highlight how SheEO is taking steps that any gender-neutral collective around the globe could easily replicate.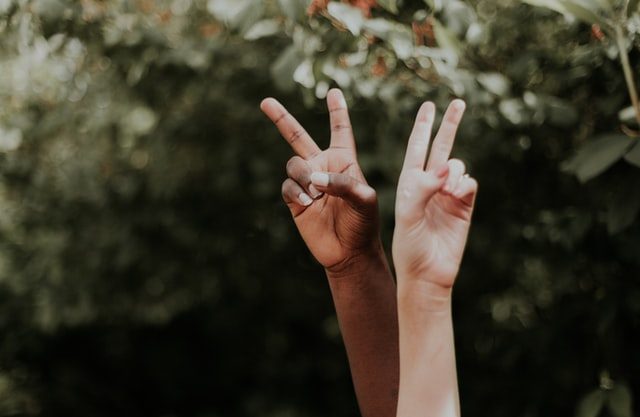 A+E Networks | DEI Based Strategy to Reduce Inequalities
DEI represents action/strategy in the direction of reducing inequality. A+E Networks uses content series and outreach to tell powerful and transforming stories.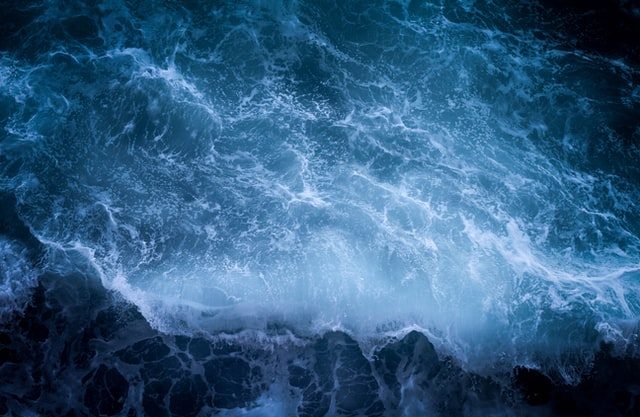 GOZERO with SKY Zero- Sky Group's Net Zero Carbon Strategy
In 2006, Sky became the first carbon-neutral media company. In February 2020, Sky announced its plans to go net-zero carbon by 2030 across its entire value chain.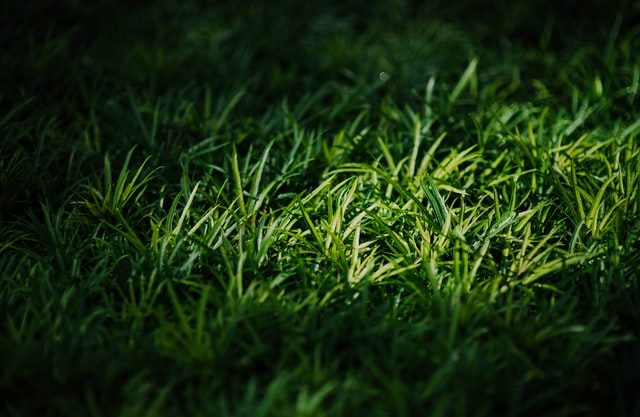 Sustainability & Impact Design. Grassroot by Anita Dongre
Grassroot by Anita Dongre focuses on the 'sustainability first' approach by creating a circular fashion ecosystem and an Impact Design approach.