Alcohol has always been a part of my life, perhaps because my father served in the Navy and retired as an admiral. Or because I led the Innovation agenda for Diageo's Premium & Luxury Category in India from 2015 to 2017. And when it comes to scotch, there is perhaps no brand more prestigious than Johnnie Walker.
My experiences with alcohol started with a glass of scotch that I shared with my dad, just before I entered college. His simple logic being, you are going to drink anyway, might as well start with me! A bottle of Johnnie Walker always evokes memories of foggy Delhi weddings where my uncles would be clutching on to their glass of scotch & enjoying the warm molten warmth of the fine liquid trickling down their throats.
However, I have a confession to make! As I started earning, the first whiskey that attracted me was Jack Daniels. I was really fond of their signature serve of Jack & Coke. I would have it, in the Comedy Circle, which was all the rage in Mumbai in 2008. So it really took me some time to start relishing whiskey. And scotch was certainly not the first category that I was drawn to.
How does this fact relate to the history of Scotch whiskey and what steps has Johnnie Walker been taking to attract consumers like me!
Legendary Origins

of Johnnie Walker
The story of Johnnie Walker is a story of passion & ambition. As per Wikipedia, the story starts in 1819 when John Walker was just 14 years of age and his father had just died. The trustees invested the proceeds in an Italian warehouse, grocery and wine & spirits shop in Kilmarnock in Scotland.
John Walker was already used to retaining a number of single malts however, those whiskeys were inconsistent and he dabbled with blending. His big idea was to create a blend that would deliver consistent taste and quality that he retailed as 'Walkers Kilmarnock Whiskey'.
His sons took the family business forward & further innovated by introducing a signature square bottle in 1860 that earns more bottles in the same space & lesser breakages. Followed by the label at an angle of 24 degrees upwards left to right that allows for the text to be larger & more visible.
The next big milestone on the journey of Johnnie Walker was the purchase of the Cardhu distillery in 1893 which is the heart of most Jonnie Walker whiskeys and an exclusive preserve of the Jonnie Walker family. It's the Cardhu blend that imparts the characteristic smokey taste of most Johnnie blends.
Marketing of an Icon
However, the real reason why Johnnie Walker is so successful has been its thought-leading marketing. The first major marketing investment for the brand was the invention of the 'the Striding man'.
The striding man was first created at the beginning of the 20th century by the cartoonist Tom Browne. There were many iterations of this striding man over the years. He began as a jovial character that played out happy scenarios in print material and adverts. He had a smile on his face and a monocle on his eye.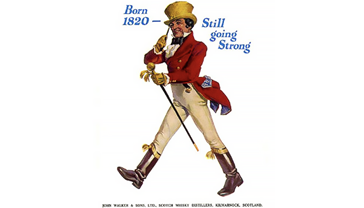 But in recent years, the design that became iconic because of its sophistication and regalness is now widely identified by the most famous brand of scotch whiskeys as a symbol of progress.
The Heart of the Brand
However, for me, the real reason why Johnnie Walker resonates so well is its subtle symbolism. The brand epitomizes the myth on which the entire scotch whiskey category is based on. The category plays a crucial role as a rite of passage or a marker of personal progress.
The striding man stands for a journey of progress from one milestone to the next. Each bottle in the stack has a story of excellence which mirrors the milestones the consumer sets for himself. When one joins a job, one usually prefers Red Label (~Rs.2000) but as one progresses to higher ranks Blue Label (Rs.40000) becomes the choice.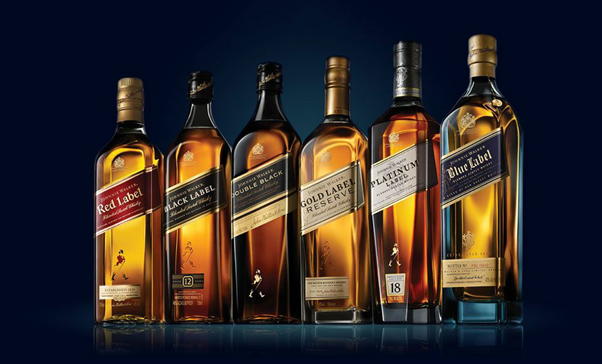 The Brand also uses very sublime symbolism by depositing a little additional glass for the same portion of liquid 700 ml, so each bottle looks like a trophy that you gift yourself as you proceed down your professional or personal journeys.
I still hold a personalized bottle of Gold Label that was gifted to me as my farewell gift from Diageo, perhaps the most exciting organization that I would ever have the privilege of working with.
Bold Moves
Now, for me, Johnnie Walker is the most traditional of scotches which can be defined by a few traditional codes. But what I love about the brand is that it has been bold enough to bust each of them!

Scotch is the preserve of men, it's traditionally depicted by a well-respected man sitting next to a fireplace sipping his well-earned glass of golden nectar.
Scotch is a challenging but precious liquid that you have to learn to love. It's blasphemy to have it with anything other than ice.
Scotch is tightly defined by a set of rules. It may be made only with water and malted barley. Cannot have any additives other than water & caramel coloring & so on.
It is these trends that actually fuelled the growth of other categories like American Whiskey that relaxed the rules & created serves like Jack and Coke!
However, not one to be held back, Johnnie Walker has responded and even pre-empted the changing times and its recent campaigns have broken all of these myths showing a bold and determined spirit that only makes the brand even more endearing to its consumers.
Jane Walker
In 2017, Johnnie Walker realised that whiskey had been the preserve of men and in a bit to promote female equality they launched the Jane Walker campaign with a striding woman.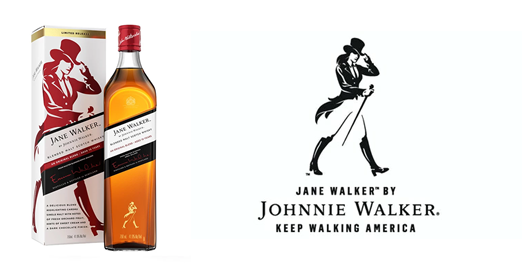 However making such bold changes are often risky and while it was welcomed by several sections of consumers & the media, it also saw a fair share of controversy with many media outlets seeing it as inauthentic.
Whatever these so called experts say but I feel that Johnnie Walker was clearly successful in making a statement that it's willing to experiment and make bold moves that may not strictly be in line with convention.
Blenders Batch
This is one of the latest series of experiments conducted by the Scotch major where they again test the boundaries of scotch tradition by making experimental batches with serves ripe of cocktails.
The master blender leading this charge is Aimee Gibson, who combines whiskey filled into casks of several finishes including Rum Cask finish, Wine Cask Blend & Espresso Roast.
Again the brand challenged the stuffy traditional image of scotch. And creates more flavourful liquids that eventually become the delight of bartenders. And that can be enjoyed in the form of cocktails by a younger and more experimentative generation of consumers.
However, the verdict is far from certain. Are these tactics wise and does the Brand risk diluting its core or will it only emerge richer & stronger? Only time will tell.
It took me a while to get used to the taste of Johnnie Walker. But isn't that where its draw lies? What do you think?
FYI: The Edinburgh International Film Festival recently launched award-winning director Anthony Wonke's new feature documentary, The Man Who Walked Around the World, which charts Scotch whisky brand Johnnie Walker's rise to become a global icon. You can watch the full film here. But till then here is the trailer for you!
---
Interested in reading more Marketing Strategy Stories? Check out our collection.
Also check out our most loved stories below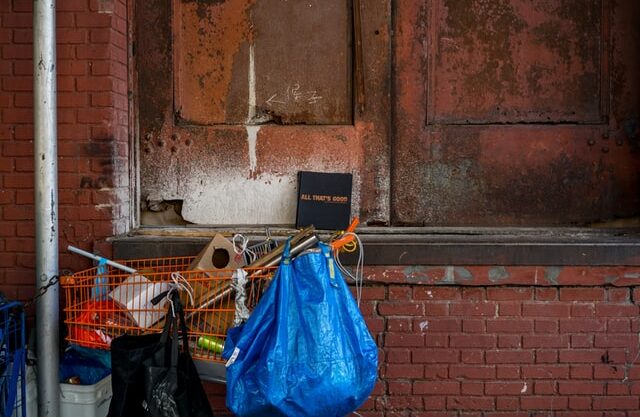 IKEA- The new master of Glocalization in India?
IKEA is a global giant. But for India the brand modified its business strategies. The adaptation strategy by a global brand is called Glocalization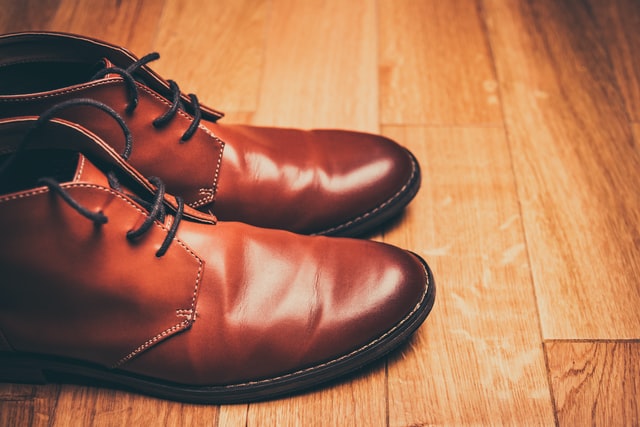 How Bata became India's household name despite being a classy international brand?
Bata is not an Indian brand. It is as international as it can be. But what strategies made it India's highest selling footwear brand?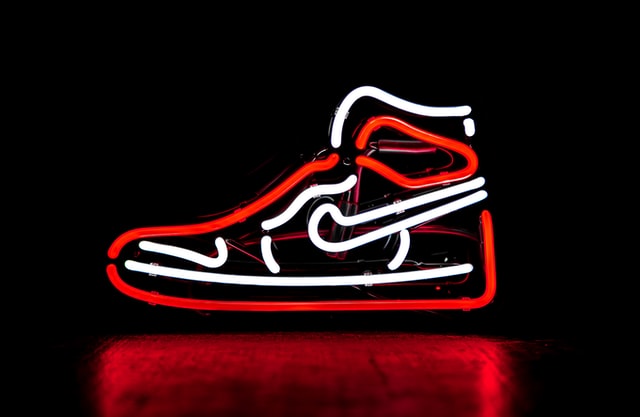 Nike doesn't sell shoes. It sells an idea!!
Nike has built one of the most powerful brands in the world through its benefit based marketing strategy. What is this strategy and how Nike has used it?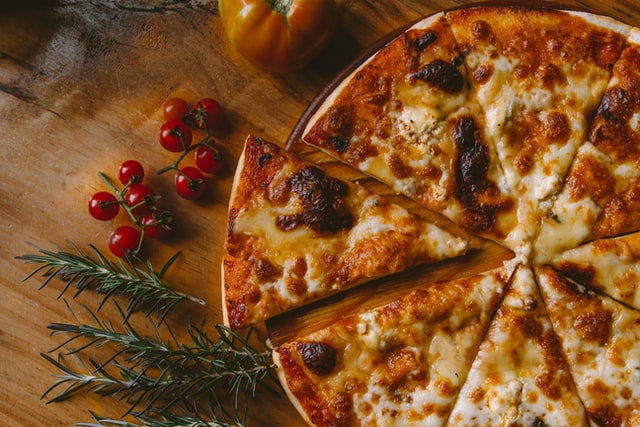 Domino's is not a pizza delivery company. What is it then?
How one step towards digital transformation completely changed the brand perception of Domino's from a pizza delivery company to a technology company?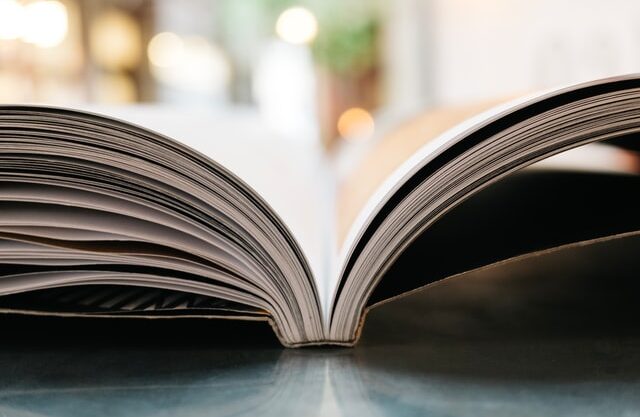 What made The Economist magazine a must-have for career success
The Economist has grown from being just a newspaper to a must have for career success through its innovative advertising strategy. Learn How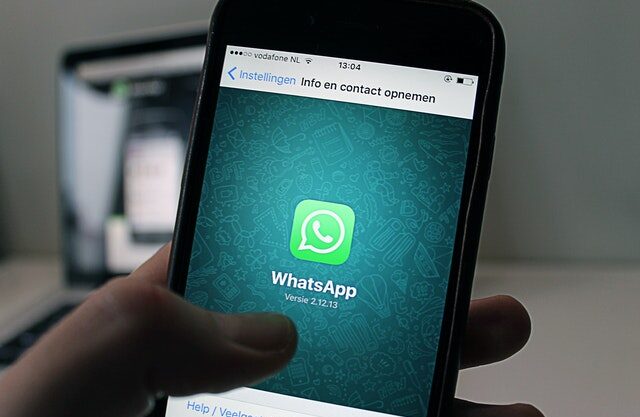 WhatsApp "Photo Status" was a strategic move. How?
Whatsapp launched photo status in 2017. It was hated by many. But why it was a good move that improved the way you use application today?