Given that my last name is 'Bajaj', I have been known as 'Hamara Bajaj' for as long as I can remember. Although I have no direct connection to the family, it's a Brand that I feel quite connected to!
Also, what's interesting is the origin of the word "Bajaj".It comes from the Punjabi word "Bajaji", which means 'cloth'. This perhaps means that most Bajaj's business would have originated from a caste of Cloth sellers in the Sindh. And hence you find Punjabi, Marwari's & Sindhi's all with the last name Bajaj!
An interesting tale that my dad tells me is that I was virtually born on a bullet, which my dad owned when my mom was expecting. I remember later on in the 1980s we also owned a Bajaj scooter like many middle-class Indian families.
Enough of my story. Let's talk about the Bajaj group. The Bajaj Group is one of the oldest and largest Indian conglomerates, founded by Jamnalal Bajaj in 1926. Currently, the group has business interests across automobiles (2- and 3-wheelers), home appliances, lighting, iron and steel, insurance, travel, and finance.
However, Bajaj Auto is clearly the crown jewel. And the story of this business is perhaps one of the most exciting stories of Indian born brands.
Bajaj Auto becoming The Pride of India
Perhaps the fondest memory that any Bajaj mention evokes in all of us is of the iconic 'buland bharat ki buland tasweer' advertisement that was played in 1989. These were the years just before liberalization and Bajaj had a monopoly in the Indian market.
The advertising was perhaps a well thought out pre-emptive strike by the automobile major in a market that was on the cusp of opening up. The Bajaj group knew that its monopoly was soon to be challenged. And perhaps the best way to fight back would be to evoke emotions of national pride among its customers.
The company also did this campaign to popularise Bajaj Chetak as the dynamic scooter that would be the pride of every Indian family. At a time when there was a waiting period for even scooters and cars were a privilege reserved for the rich, the campaign perfectly captured what every Indian family felt about their chariot on two wheels.
The advertising cemented Bajaj's position as the pride of every Indian household. It also helped the brand keep aggressive competition at bay for the next few years.
However, Advertising can rarely combat Product Innovation. As a result, Bajaj Auto's most iconic scooter Chetak faced a fate similar to what Kodak faced in Analogue cameras when the market moved towards digital cameras.
Bajaj Auto: Gearing up to Competition
The 90s were difficult times for Bajaj Auto and under the onslaught of toughening competition, the company faced assault from several directions:
The first big challenge to the business came from the launch of Activa from Hero Honda. Activa was a stylish looking gearless scooter with an electric start. It quickly made scooters with gears obsolete and the iconic 'Chetak' stopped production in 2005.
Bajaj tried to fight back with 'Kristal' in 2006 but it never really took off. And the Bajaj group decided to exit from the Scooter segment altogether in 2009.
To this day, the Bajaj family continues to be asked by market observers, if exiting from the well-established scooter business was a wise strategy. But as very rightly said by Michael Porter
The essence of strategy is choosing what not to do.
Hence the decision to vacate the scooter segment enabled the company to put razor-sharp focus and deploy aggressive resources to reposition the company as a motorbike manufacturer.
Repositioning Bajaj Auto
The strategy to reposition itself as a Motorbike company was not easy and was played out through a number of successful & not so successful initiatives.
The first was the launch of the reloaded version of 'Hamara Bajaj' in 2001 with the brilliant 'badal rahain hain hum yaha..' which interspaced the previous lyrics with the reloaded ones, marking a transition to a more modern avatar while retaining a warm Indian core.
The TVC was perhaps even more brilliant than the original which displayed all their motorcycle models including the 'Eliminator', the 'Boxer' & the 'Caliber'.
After playing in the 100 cc or below segment, it was the launch of Bajaj Discover in 2004 that took Bajaj to lead the 125 cc category.
However, the real success of Bajaj Auto in the motorcycle business could be attributed to its launch of Pulsar in 2001 in 150 cc & 180 cc variants. The bike was in direct competition with Hero Honda CBZ (1999). The Bajaj Group was agile enough to work quickly with R&D support from Tokyo and Glynn Kerr as the designer. The bike was an all-out success and by 2011 it had a 47% Marke Share in the segment, giving Bajaj Auto a market share of 27% in 2011.
By April'12 the company had sold more than 5 million units. Pulsar was important in transitioning the market's focus from small fuel-efficient sub 125 cc motorbikes to a world of performance bikes with higher power and better features.
As competition again started biting on their heels in the domestic market, it was time again for the management team at Bajaj to show their business acumen and move the center of gravity of their business to more lucrative and profitable shores.
You just can't beat a Bajaj
Despite making a bold move of repositioning themselves as a Motorbike company the road was never easy for Bajaj. They faced stiff competition from Honda which was willing to play a low margin game to grow market share.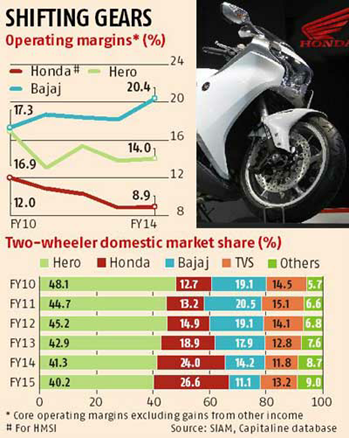 Honda was willing to play on single-digit margins to grow their Market Share and Bajaj's market share slid from 20.5% to 11.1% in the domestic market.
Bajaj actually increased its profit margins in this period by focussing on a completely new strategy. Not only did they tighten their manufacturing practices but they decided to chase leadership in exports!
Showing again the agility to reinvent themselves and choosing strategies that are revolutionary and often counterintuitive!
World's Favourite Indian!
The thrust to become a global Motorbike brand was kicked off in the 2000s. With the success of Pulsar, Bajaj Auto realized that they now had the competency to build an export business of significant scale.
A lot of their export's success can be attributed to leadership in the African, Asian, and South American markets. The Brand in 2007 sold thrice as many pulsars in Columbia as they did in India. Surprisingly it was not the Pulsar or Discover that helped the brand. It was the "Boxer".
The brand was already a household name in Indonesia, owing to their leadership in three-wheelers. So they spent a lot of money on communicating themselves as an upmarket brand and setting up exclusive showrooms. Since they were present at the top end of the market in Indonesia their margins are higher than in India in 2007.
In Nigeria, Bajaj realized that the competition came from cheaper Chinese bikes. Bajaj Auto launched the Boxer at a price that was 25% higher than Chinese bikes but far more fuel-efficient. As per Nigerian customers, it left more money in their wallets.
This strategy has been fantastically successful making Bajaj the top-selling motorbike in countries as diverse as Sri Lanka, Bangladesh, Columbia & the Philippines.
In 2020, this trend has only grown with the company now selling more vehicles overseas than in India. In 2019, around 47% of Bajaj's exports were to Africa, 28% to South Asia and the Middle East, and 14% to ASEAN.
The spirit of this strategy can clearly be captured by Bajaj Auto's latest Ad campaigns. The World's Favourite Indian, with the beautiful lyrics of "hum se hain yeh jahan".
In Conclusion
Bajaj Auto is truly an iconic & global brand and has shown the resilience and agility to pivot time & time again.
They first unleashed magic in domestic markets through 'buland bharat ki buland tasweer', making Bajaj Chetak the pride of every Indian household.
Next, as they faced the heat with gearless scooters. They made the judicious & bold call to exit scooters and reinvent themselves as a motorbike company.
The breakthrough launch of Pulsar again gave them a fresh lease of life & as the margins started drying up in domestic markets they looked overseas. They continue to be the most profitable two-wheeler company in India with a rich and long legacy.
Let's see what the future holds for Bajaj through investments in global brands and new markets. Although Bajaj Auto made an entry in the two-wheelers electric vehicle segment with the new Chetak in 2019, it would be exciting is to see how Bajaj Auto stays relevant to the growth of the rising demand for electric vehicles and prove its relevancy to future generations.
---
Interested in reading more Marketing Strategy Stories? Check out our collection.
Also check out our most loved stories below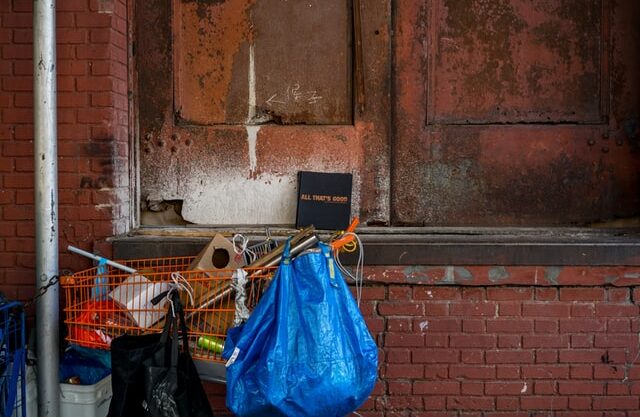 IKEA- The new master of Glocalization in India?
IKEA is a global giant. But for India the brand modified its business strategies. The adaptation strategy by a global brand is called Glocalization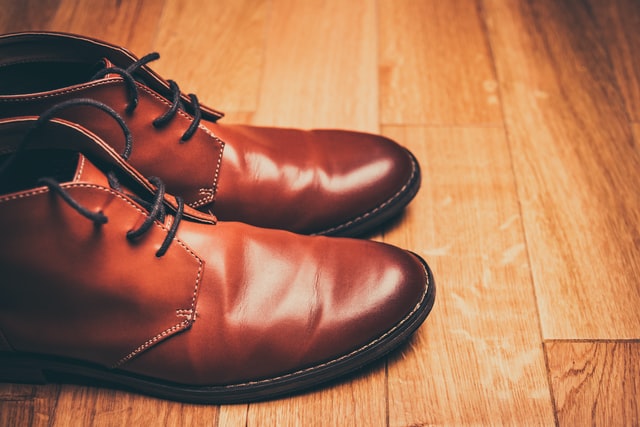 How Bata became India's household name despite being a classy international brand?
Bata is not an Indian brand. It is as international as it can be. But what strategies made it India's highest selling footwear brand?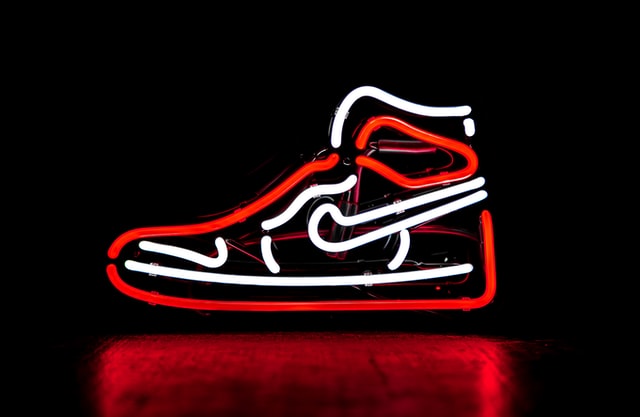 Nike doesn't sell shoes. It sells an idea!!
Nike has built one of the most powerful brands in the world through its benefit based marketing strategy. What is this strategy and how Nike has used it?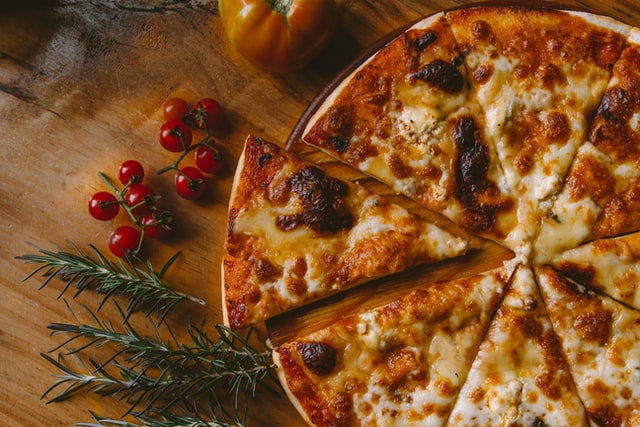 Domino's is not a pizza delivery company. What is it then?
How one step towards digital transformation completely changed the brand perception of Domino's from a pizza delivery company to a technology company?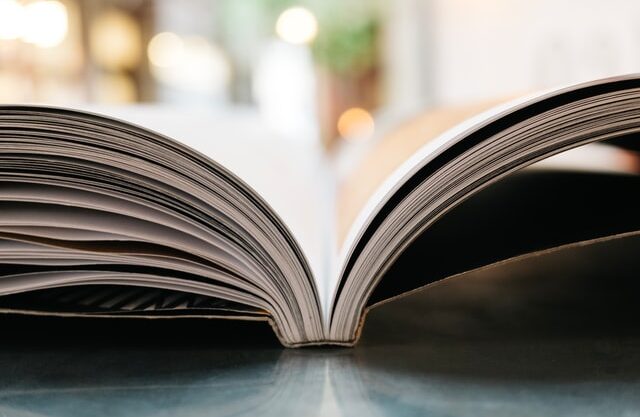 What made The Economist magazine a must-have for career success
The Economist has grown from being just a newspaper to a must have for career success through its innovative advertising strategy. Learn How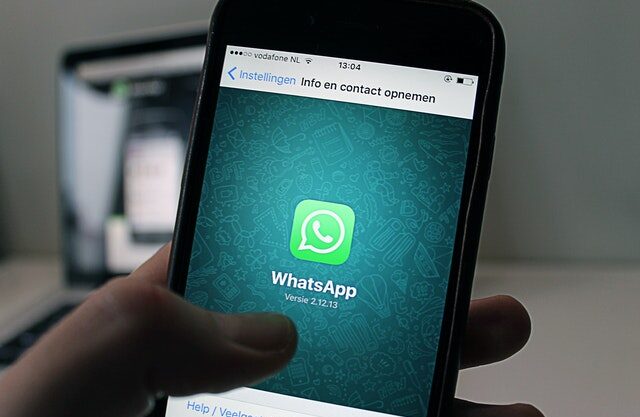 WhatsApp "Photo Status" was a strategic move. How?
Whatsapp launched photo status in 2017. It was hated by many. But why it was a good move that improved the way you use application today?