Few businesses have managed to chart success as rapidly as Netflix, growing from a small online DVD rental company in the late 90s into the world's largest entertainment/ media firm by market capitalization today. With more than 200 million paid subscribers, Netflix is present in more than 190 countries and employs almost 10,000 people globally.
One of the key reasons for this swift rise has been the continuous streak of innovation right from its initial days when it pioneered the world's first online rental store, while Blockbuster, the market leader, was still operating through a brick and mortar model. Later, in 2007, Netflix forayed into streaming media. It expanded internationally in 2010 and began producing content in 2013 with its first series, House of Cards. Evidently, it has always stayed ahead of the curve by breaking new grounds.
Click here to read more about how Netflix has constantly pivoted its business model to success .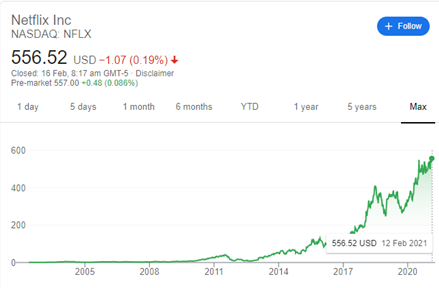 So, what's the secret sauce to this continuously expanding, relentlessly innovating, and intensely agile, yet one of the most successful companies on Earth? It is the nonconformist culture of Netflix!
It's hard to believe that Netflix, despite being a behemoth of an organization, has only a fraction of the internal processes that usually companies of this size have. There is no limit to vacation days, nor is it tracked. No dress code. No rules around travel and expense. Minimal approval requirements, thus no frustrating bureaucratic loops that stifle agility in most companies. In essence, Netflix treats its employees like adults.
The code that every employee leads with is 'Freedom & Responsibility.' Employees are trusted to make the right decisions, use sound judgment while being accountable for their actions' outcomes. This creates ownership, fuels risk-taking ability, nurtures creativity while encouraging self-discipline.
A pleasant serendipity
In their early days of struggle, post the dotcom bubble burst, Reed Hastings, the founder of Netflix, and Patty McNord, the Chief Talent Officer, had to let go a third of their workforce which also allowed them to hold on to their best people. While this was relieving, they also feared that the already drooping employee morale, on the heels of sluggish business, would fall further after the layoffs worsening the company's performance.
However, much to their delight, in the days that followed, the employee morale crept upwards, improving business performance. Deep diving revealed that this was simply because the low performers were not dragging down the performance anymore. An increase in 'talent density' had led to a dramatic improvement in employee motivation and performance.
Over the years, Reed Hastings developed a success formula which when implemented in phases, can help organizations build/ re-engineer their cultural DNA to one that drives non-stop innovation, creativity, and growth while paving the way for a deeply motivated and committed workforce.
First, increase Talent Density
Ever since this early discovery (after the layoffs), an ever-increasing talent density is a constant pursuit at Netflix.
Consequently, the company believes its workforce consists of 'stunning people' – a highly talented and diverse set of high-performing employees who also collaborate effectively. Slackers have no place here, and the leadership believes that 'adequate performance needs to be met with a generous severance'.
Employees are paid top of their market – especially those who qualify the 'Keeper test' – a technique used by managers to evaluate which of their people, if they said were leaving to join a peer company, they would fight hard to keep. The management knows that in creative roles the best people are 10X better than the average and hence, a huge premium on hiring and retaining for such roles is a norm.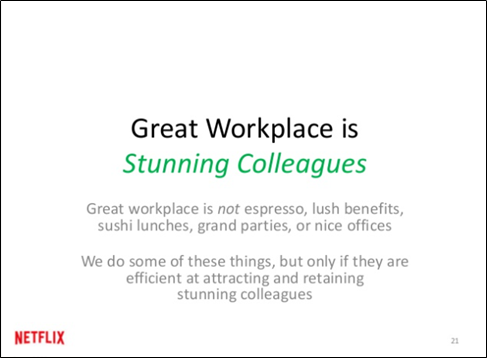 Further, every employee is expected to know the market salary band for their skills and experience and relay the same to their managers, who in turn are expected to match/better the top salary at that band. Contrast this absolute principle with a traditional organization's inward-focused salary bands and increment pools are driven approach which only leads to more dissatisfied employees leading to lower talent density.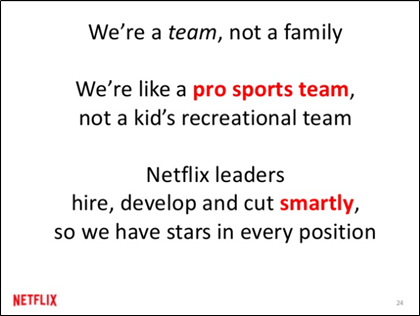 Then, increase candor and transparency
Once an increase in talent density is achieved, organization-wide candor needs to be dialed up significantly. At Netflix, candor is encouraged at all levels, and it is considered disloyal not to speak up if you disagree with an idea. Frequent and candid feedback helps stress test ideas and creates more opportunities to improve. A highly candid culture means managers don't need to spend as much time feeding back to their teams. This also makes the annual performance review system redundant as an average employee gives and receives enough and more feedback throughout the year.
'Selflessly candid' people are valued and not 'brilliant jerks', for whom there is zero-tolerance. Candor is further enhanced when leaders openly admit their mistakes – letting employees know that making errors in the pursuit of innovation is okay.
Transparency across the company is high, and it leads to employees feeling trusted and empowered. E.g., every employee is made aware of the financial performance before it is published externally.
Remove unnecessary processes and controls
With high talent density and a climate of extreme candor and transparency in place, an organization can start removing controls and unnecessary processes. Lesser controls have been found to lead to more accountability and ownership by employees, in addition to agility and innovation.
Leaders amplify responsible employee behavior through context and not controls, talking through what's acceptable and what's not. For instance, reasonable advance notice while applying for leaves is expected so that workload can be managed better.
In the absence of guidelines, any official expense that is in the best interest of the company is accepted and processed. In the rare case where someone is found taking advantage of the freedom provided, he/she is gotten rid off and the case used as an example to further strengthen the context.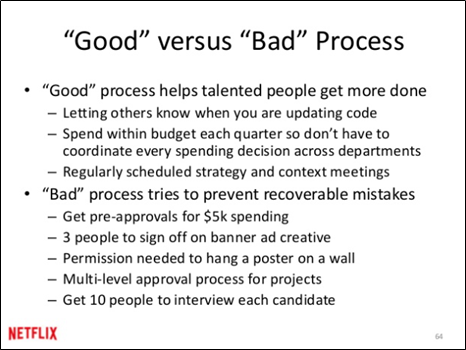 Netflix's Culture Code: Fit for All or Bespoke for Select Few?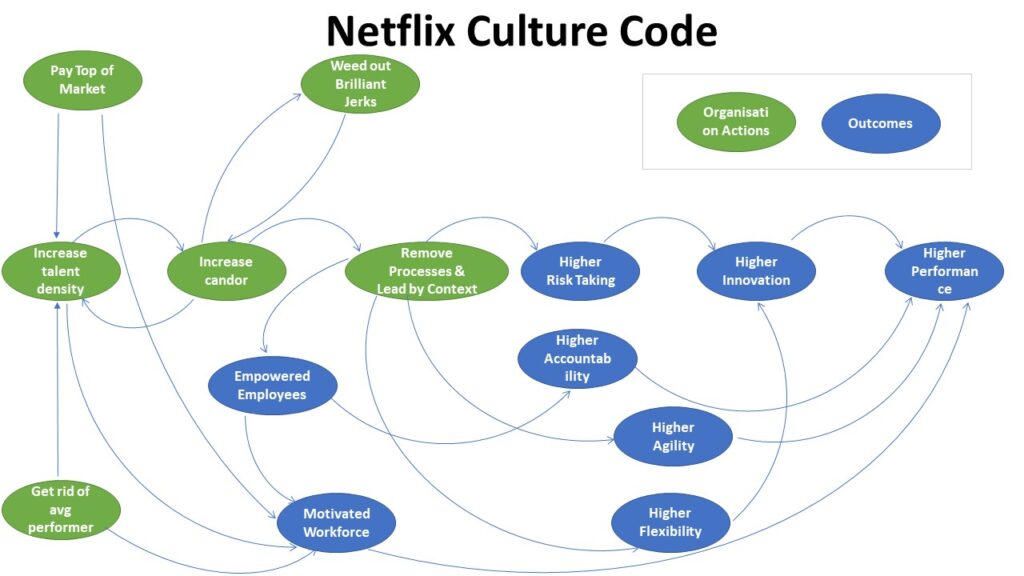 Netflix's story has something to offer for most businesses and organizations, whether they operate in a creative industry like entertainment or in a more risk-averse category where error- prevention is more important than innovation.
The culture of 'people over process' has demonstrated that if you have high caliber employees who work together like a well-oiled machine, feeding back to each other to continuously improve, you don't need processes. The absence of 'bad' processes leads to higher flexibility, better risk-taking ability, speed, and creativity across the organization, not to mention a happier and more motivated workforce.
However even at Netflix, this approach hasn't been equally effective globally – cultural diversity across markets has proven to be a stiff challenge. Besides, the culture itself has also received some flak with The Wall Street Journal dubbing it as 'ruthless, demoralizing and transparent to the point of dysfunctional'. That said, Netflix has never positioned itself as a haven for people seeking long-term career stability and peace of mind.
The company has crafted an environment that is most compatible with people who agree with and believe in their ethos. Potential job seekers need to carefully evaluate what they're signing up for – thankfully there's enough knowledge on Netflix culture available publicly. If not, this article should help.
The information in this article is taken from
---
Also, check out our most loved stories below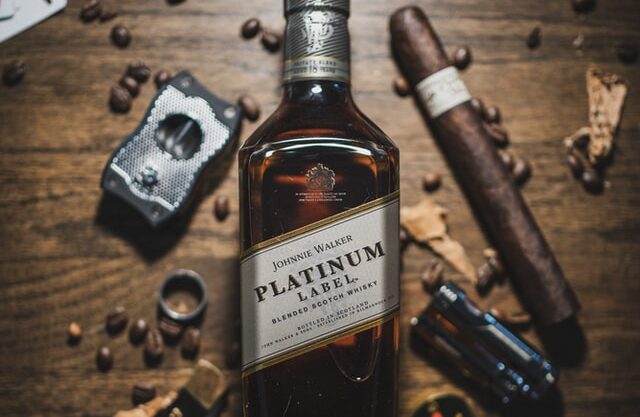 Johnnie Walker – The legend that keeps walking!
Johnnie Walker is a 200 years old brand but it is still going strong with its marketing strategies and bold attitude to challenge the conventional norms.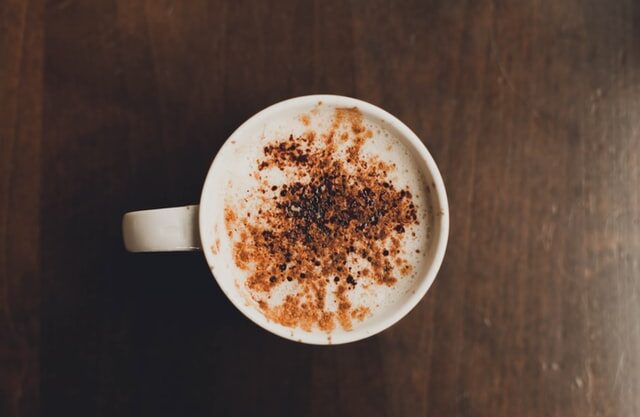 Starbucks prices products on value not cost. Why?
In value-based pricing, products are price based on the perceived value instead of cost. Starbucks has mastered the art of value-based pricing. How?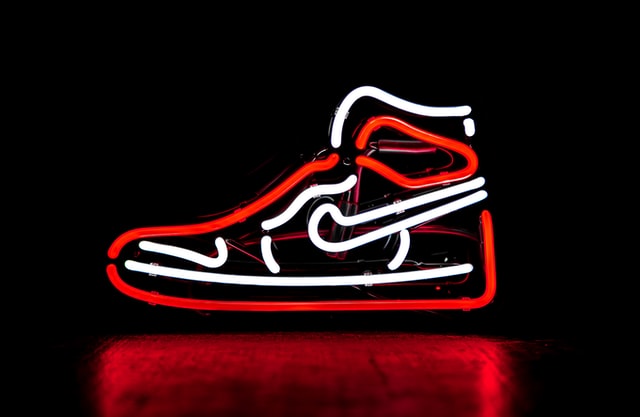 Nike doesn't sell shoes. It sells an idea!!
Nike has built one of the most powerful brands in the world through its benefit based marketing strategy. What is this strategy and how Nike has used it?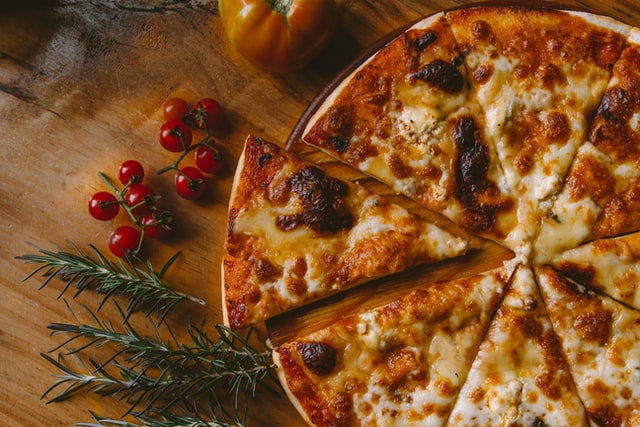 Domino's is not a pizza delivery company. What is it then?
How one step towards digital transformation completely changed the brand perception of Domino's from a pizza delivery company to a technology company?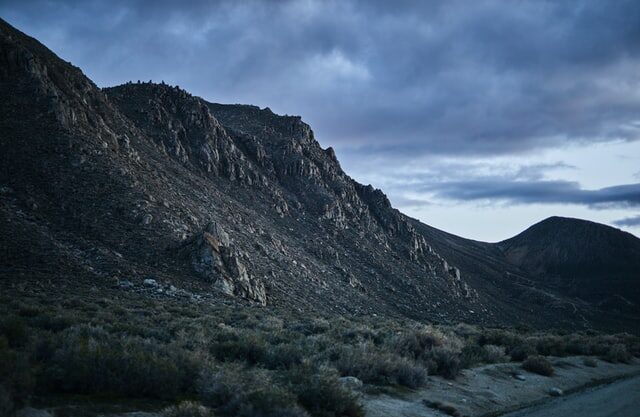 BlackRock, the story of the world's largest shadow bank
BlackRock has $7.9 trillion worth of Asset Under Management which is equal to 91 sovereign wealth funds managed. What made it unknown but a massive banker?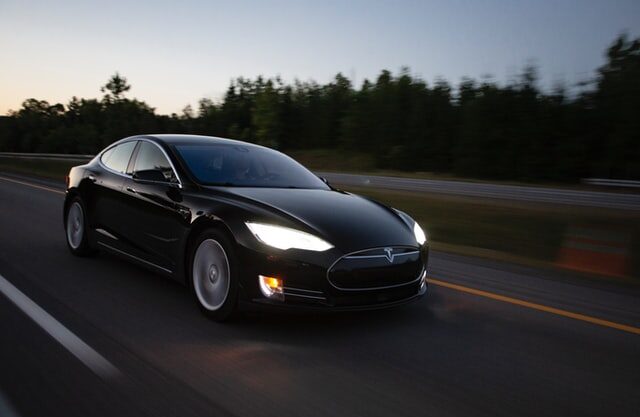 Why does Tesla's Zero Dollar Budget Marketing Strategy work?
Touted as the most valuable car company in the world, Tesla firmly sticks to its zero dollar marketing. Then what is Tesla's marketing strategy?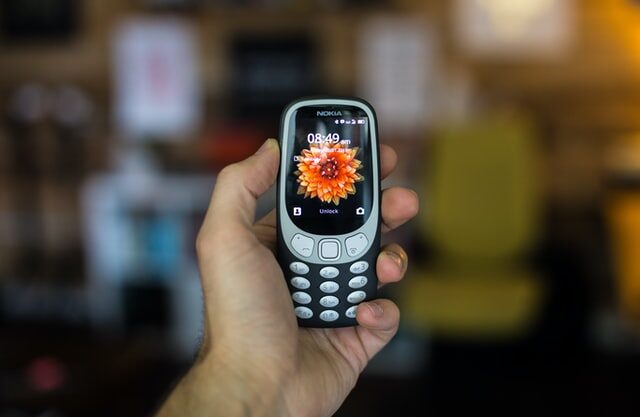 The Nokia Saga – Rise, Fall and Return
Nokia is a perfect case study of a business that once invincible but failed to maintain leadership as it did not innovate as fast as its competitors did!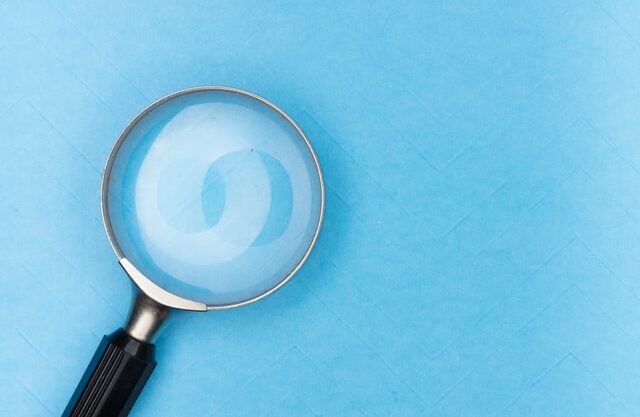 Yahoo! The story of strategic mistakes
Yahoo's story or case study is full of strategic mistakes. From wrong to missed acquisitions, wrong CEOs, the list is endless. No matter how great the product was!!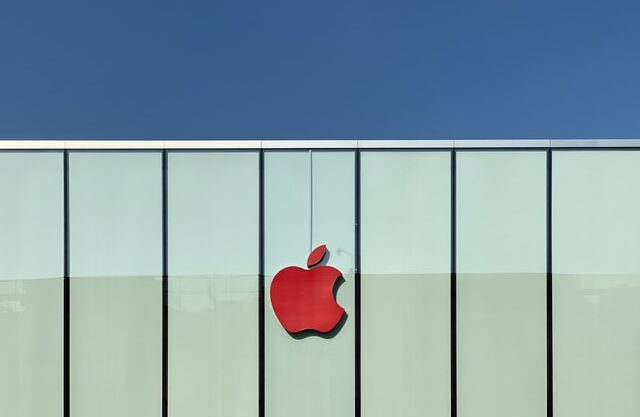 Apple – A Unique Take on Social Media Strategy
Apple's social media strategy is extremely unusual. In this piece, we connect Apple's unique and successful take on social media to its core values.