American Express is a globally integrated payments company providing customers with access to products, insights, and experiences that enrich lives and build business success. American Express is a leader in offering credit and charge cards to consumers, small businesses, mid-sized companies, and large corporations worldwide. 
American Express cards issued by the company, as well as by third-party banks and other institutions on the American Express network, can be used by Card Members to charge purchases at the millions of merchants around the world that accept cards bearing its logo. 
American Express's various products and services are offered globally to diverse customer groups through various channels, including mobile and online applications, affiliate marketing, customer referral programs, third-party service providers and business partners, direct mail, telephone, in-house sales teams, and direct response advertising. 
American Express has four reportable operating segments: U.S. Consumer Services (USCS), Commercial Services (CS), International Card Services (ICS), and Global Merchant and Network Services (GMNS). Corporate functions and certain other businesses and operations are included in Corporate & Other. 
U.S. Consumer Services (USCS) issues a wide range of proprietary consumer cards and provides services to U.S. consumers, including travel and lifestyle services as well as banking and non-card financing products.
Commercial Services (CS) issues a wide range of proprietary corporate and small business cards and provides services to U.S. businesses, including payment and expense management, banking, and non-card financing products. CS also issues proprietary corporate cards and provides services to select global corporate clients.
International Card Services (ICS) issues a wide range of proprietary consumer, small business, and corporate cards outside the United States. ICS also provides services to international customers, including travel and lifestyle services, and manages certain international joint ventures and loyalty coalition businesses.
Global Merchant and Network Services (GMNS) operates a global payments network that processes and settles card transactions, acquires merchants, and provides multi-channel marketing programs, capabilities, services, and data analytics, leveraging the global integrated network.
For the year ended December 2022, worldwide billed business (spending on American Express cards) was $1,338 billion, and on December 31, 2022, American Express had 76.7 million proprietary cards in force worldwide. American Express has a "spend-centric" business model. We will explain later how.
American Express's Integrated Payments Platform
American Express connects participants and provides differentiated value across the commerce path through its general-purpose card-issuing, merchant-acquiring, and card network businesses. American Express maintains direct relationships with both Card Members (as a card issuer) and merchants (as an acquirer) and handles all key aspects of those relationships. 
These relationships create a "closed loop" in that American Express has direct access to information at both ends of the card transaction, distinguishing its integrated payments platform from the bank card networks.
American Express's integrated payments platform allows the company to analyze information on Card Member spending and build algorithms and other analytical tools that it uses to underwrite risk, reduce fraud, and provide targeted marketing and other information services for merchants and partners and special offers and services to Card Members, all while respecting Card Member preferences and protecting Card Member and merchant data in compliance with applicable policies and legal requirements. 
Partners and Relationships
American Express's integrated payments platform allows it to work with a range of business partners, and partners, in return, help drive the scale and relevance of the platform. There are many examples of how American Express connects partners with its integrated payments platform, including: 
issuing cards under cobrand arrangements with other corporations and institutions (e.g., Delta Air Lines (Delta), Marriott International, Hilton Worldwide Holdings, and British Airways);
offering innovative ways for Card Members to earn and use points with merchants (e.g., Pay with Points at Amazon.com);
expanding merchant acceptance with third-party acquirers (e.g., OptBlue partners);
operating through joint ventures in certain jurisdictions (e.g., in China, the Middle East, and Switzerland);
developing new capabilities and features with digital partners (e.g., PayPal and i2c); integrating into the supplier payment processes of business customers (e.g., BILL, BillTrust, and Versapay); and
extending the platform into travel services with American Express leisure and business travel (e.g., Fine Hotels and Resorts).
American Express also has a significant ownership position in Global Business Travel Group, Inc. (GBTG), which provides business travel-related services.
American Express Business Strategy
American Express seeks to grow its business by focusing on four strategic imperatives:
First, American Express aims to expand its leadership in the premium consumer space by continuing to deliver membership benefits that span its customers' everyday spending, borrowing, travel, and lifestyle needs, expanding its roster of business partners around the globe, and developing a range of experiences that attract high-spending customers.
Second, American Express seeks to build on its strong position in commercial payments by evolving its card value propositions, further differentiating corporate card and accounts payable expense management solutions, and designing innovative products and features, including financing, banking, and payment solutions for its business customers. 
How does Visa work & make money: Business Model
Third, American Express is focused on strengthening its global, integrated network by increasing merchant acceptance, providing merchants with fraud protection services, marketing insights, and connections to higher-spending Card Members, and working with its network partners to offer expanded products and services. 
Finally, American Express wants to continue to build on its unique global position, seeking ways to use its differentiated business model and global presence as it progresses against its other strategic imperatives.
How does American Express Make money? What is the business model of American Express?
American Express has a "spend-centric" business model that makes money primarily by driving spending on its cards and secondarily through finance charges and fees. Spending on American Express's cards, which is higher on average on a per-card basis versus competitors, offers superior value to merchants in the form of loyal customers and larger transactions. 
Because of the revenues generated from high-spending Card Members and the annual card fees American Express charges on many of its products, it can offer attractive rewards and other benefits for Card Members, as well as targeted marketing and other programs and investments for merchants. This incentivizes Card Members to spend more on their cards and positively differentiates American Express cards. 
American Express made $52.8 billion in 2022. American Express makes money in the following ways from its various products and services: 
Discount Revenue: Discount revenue, American Express's largest revenue source, represents the money it makes and retains from the merchant payable for facilitating transactions between Card Members and merchants on payment products issued by American Express. Discount revenue increased by 25% in 2022, driven primarily by the momentum in Card Member spending volumes throughout 2022.
Interest Income: Interest income principally represents interest earned on outstanding loan balances. Interest on Card Member loans is assessed using the average daily balance method.  Net interest income increased by 28% in 2022, primarily driven by growth in Card Member loans.
How does Mastercard work & make money: Business Model & Strategy
Net Card Fees: Net card fees represent revenue earned from annual card membership fees, which vary based on the type of card and the number of cards for each account. Net card fees increased by 17% in 2022 as new card acquisitions reached record levels and Card Member retention remained high, demonstrating the impact of investments in premium value propositions.
Service fees and other revenue: Service fees and other revenue primarily represent service fees earned from merchants and other customers, travel commissions and fees, Card Member delinquency fees, foreign currency-related fees charged to Card Members, and income (losses) from its investments.  Service fees and other revenues increased by 36% in 2022, driven in part by higher travel-related revenues.
Processed revenue: Processed revenue primarily represents revenues related to network partnership agreements, comprising royalties, fees, and amounts earned for facilitating transactions on cards issued by network partners.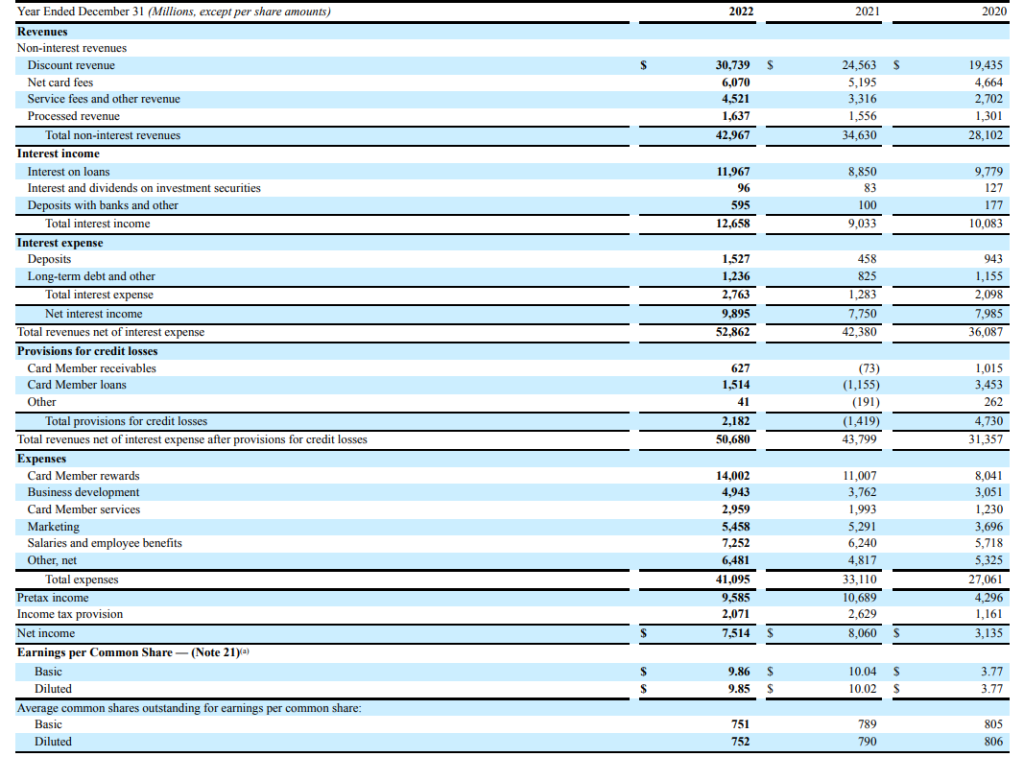 ---