The global gaming industry includes many products across land-based and online platforms, from lotteries to bingo, slot machines, casino games, and sports betting. In 2019, the global gaming industry was estimated to generate approximately $456 billion in gross gaming revenue, according to H2 Capital. 
The industry has various operators and stakeholders across the private and public sectors, including traditional brick-and-mortar casinos, state-run lottery operators, Native American Tribes, legacy online gaming operators, racetracks/racinos, and gaming technology companies.
Per H2, online gaming grew at an annual rate of 10% from 2014 to 2018, relative to global gaming's growth of 2% per annum during that same period. H2 expects this trend to continue over the next five years. Online gaming's share of global gaming revenue is projected to nearly double from 2014 to 2024E (from 8% to 15% of the worldwide gaming industry).
One company with solid plans to leverage this trend is DraftKings, which allows users to enter daily and weekly fantasy sports–related contests and has become the largest daily fantasy sports operator in the United States in less than a decade.
As strategy enthusiasts, we decided to break down the business model & marketing strategy of DraftKings and also answer critical questions like how DraftKings makes money or who are its major competitors.
Overview of DraftKings
DraftKings, established in 2012, is an American daily fantasy sports contest and betting company. The company allows users to enter daily and weekly fantasy sports–related contests and win money based on individual player performances in 
five major American sports (MLB, the NHL, the NFL, the NBA, and the PGA), 
Premier League and UEFA Champions League football, 
NASCAR auto racing, 
Canadian Football League, 
the XFL, mixed martial arts (MMA), Tennis, All Elite Wrestling (AEW), and WWE.
DraftKings' mission is to make life more exciting by responsibly creating the world's favorite real-money games and betting experiences and creating an environment where users can find enjoyment and fulfillment in its online consumer product offerings. 
DraftKings established a following among "skin-in-the-game" sports fans through its robust daily fantasy sports technology that now powers millions of contest entries in weekly peer-to-peer competitions. 
DraftKings leverages technology, the scale, the density of the user base, and insights from approximately 7.3 million cumulative unique paid users to improve its analytics, marketing, and technology continuously.
How does DraftKings make money? What is the business model of DraftKings?
DraftKings' business model predominantly makes money through two segments, B2C and business-to-business ("B2B"). Let's dive deep into each element.
Business-to-consumer
DraftKings has three main B2C product offerings—DFS, Sportsbook, and iGaming. In addition to the three main product offerings, DraftKings' B2C segment also offers non-fungible tokens on DraftKings Marketplace and advertising and sponsorship packages to targeted advertisers across our DFS product offerings, free games, and content. 
Below is a breakdown of how each DraftKings' B2C offering functions: 
Daily Fantasy Sports – DraftKings make money in DFS by facilitating peer-to-peer play, whereby users compete against each other for prize money. DraftKings provides users with technology that establishes DFS contests, scores the contests, distribute the prizes, and performs other administrative activities to enable the "skin-in-the-game" sports fan experience. 
The difference between the entry fees collected and the amounts paid out to users as prizes and customer incentives are the money that DraftKings make.
Sportsbook – Sports betting involves a user placing a bet by wagering money on an event at some fixed odds determined by DraftKings. In the event the user wins, DraftKings pays out the bet. In the Sportsbook category, DraftKings make money by setting odds intended to provide a built-in theoretical margin in each proposition offered to the users. 
In addition to the online Sportsbook, DraftKings collaborates with casinos to convert their foot traffic to bet in Sportsbook while on the premise and makes money on revenue sharing basis.
iGaming – iGaming, or online casino offerings, typically include the full suite of games available in land-based casinos, such as blackjack, roulette, baccarat, and slot machines. DraftKings function similarly to land-based casinos for these offerings, generating revenue through the hold, or gross winnings, as users play against the house. 
In iGaming, DraftKings believe there is usually lower volatility than land-based casinos since the average return to a player for specific games is easier to predict based on game rules and statistics. 
DraftKings Marketplace – DraftKings Marketplace is a digital collectibles (a non-fungible token, or "NFT") ecosystem designed for mainstream accessibility that offers curated initial NFT drops ("Primary Sales"). In addition to the Primary Sales, owners of NFTs on the Marketplace can list their NFTs for sale to other Marketplace customers ("Secondary Sales"). 
Customers can browse all available NFTs within the secondary market and opt to purchase based on the selling price. The money DraftKings makes is based on a specific percentage of the gross value of each Primary Sale or Secondary Sale. 
Advertising and Sponsorship – Advertising packages range from standard and background ad placements to more high-touch integrations, such as sponsored DFS contest series or custom site takeovers. 
Each advertising package is bespoke, and DraftKings offer each client a custom "menu" of advertising options, which include online media (such as display, video, and audio advertisements and page and "skin" sponsorship takeovers), custom content, including branded video content, live events such as sponsored watch parties and sponsored free or paid games, including daily fantasy, pick 'em and bracket games. 
Other packages, such as custom-branded video content or online advertisements, are sold with a guaranteed number of impressions, priced per a certain number of guaranteed impressions. Each time a consumer sees an ad while playing, watching, reading, or listening to a piece of content or playing a game, an impression is counted.
Business-to-business
DraftKings supplies B2B sports betting and iGaming services globally for various gaming operators, resellers, and government-run lotteries through its proprietary software.
DraftKings' complementary service offerings include trading and risk management and support for reporting, customer management, and regulatory reporting requirements. 
In the B2B business, DraftKings makes money from operators by providing sports betting and integrating iGaming content directly to operators in exchange for a share of operators' revenues.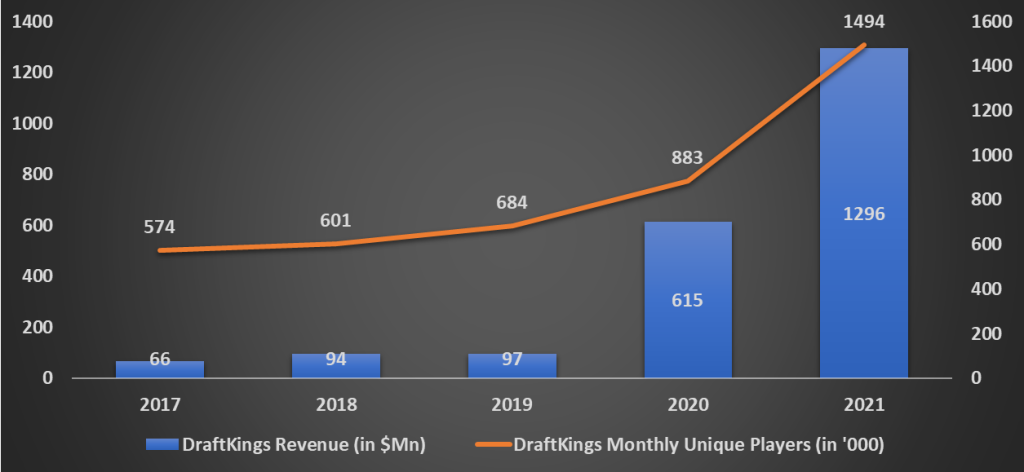 What is the marketing strategy of DraftKings? Who are the Competitors of DraftKings?
Marketing Strategy of DraftKings
User Acquisition and Retention – The marketing strategy of DraftKings is to acquire, retain and reactivate users while building a trusted consumer-facing brand. DraftKings uses a variety of free and paid marketing channels to achieve its marketing objectives. 
Where paid marketing is concerned, DraftKings leverages a broad array of advertising channels, including television, radio, social media platforms such as Facebook, Instagram, Twitter, and Snap, affiliates and paid and organic search, and other digital channels such as the mobile display. 
The marketing strategy & expenditures of DraftKings tend to be highly seasonal, with most spending correlating with the start of a sports season and during its playoffs and championships. 
In addition to traditional paid advertising channels, DraftKings cross-promotes its products to its existing user base through internal channels such as mobile push notifications, email and text messages, and external channels such as Facebook, Twitter, Instagram, and Snapchat. 
DraftKings also leverages a referral marketing strategy that incentivizes users with free entries into tournaments or free bets if the referred user ultimately interacts with our product offerings.
How ESPN Redefined Sports Consumption through the Spelling Bee
Team and League Relationships – DraftKings engages in relationships with sports leagues to improve brand awareness, acquire users, and improve user retention.
In March 2021, DraftKings became the UFC's first official Sportsbook and DFS partner in the United States and Canada.
In April 2021, DraftKings extended its current relationship with the NFL as the exclusive official DFS partner and also became an official NFL sports betting partner.
In July 2021, in addition to extending its original partnership with the MLB, DraftKings expanded its relationship to include promotional rights and content inclusive of the sports betting category. 
In October 2021, DraftKings entered into a multi-year relationship with the NHL to become an Official Sports Betting, Daily Fantasy Sports, and iGaming Partner of the league in the United States.
In November 2021, DraftKings expanded its relationship with the NBA and became the co-official sports betting partner of the NBA. 
In September 2020, DraftKings entered into a multi-year agreement with ESPN to become a co-exclusive sportsbook link-out provider and exclusive daily fantasy sports link-out provider across a selection of ESPN's digital properties. 
More recently, DraftKings has established partnerships with media entities like iHeartMedia as DraftKings seeks to grow our audience of U.S. sports fans. 
B2B Business Marketing – The B2B marketing strategy of DraftKings is centered around attending and exhibiting at major trade shows worldwide. Marketing at trade shows is supplemented with digital and offline marketing campaigns in leading industry publications, websites, regular media pieces, and participation on industry panels.
Red Bull Marketing Strategy: Sampling & Extreme Sports
Competitors of DraftKings
DraftKings operates in the global but competitive entertainment and gaming industries with its business-to-consumer offerings such as DFS, Sportsbook and iGaming, and its business-to-business offerings. 
DraftKings users face a vast array of entertainment choices. DraftKings compete with other forms of entertainment, such as television, movies, sporting events, and in-person casinos, for its users' discretionary time and income. 
Several established, well-financed companies producing online gaming and interactive entertainment products and services are significant competitors of DraftKings. The biggest competitors of DraftKings are BetMGM, Caesars, FanDuel, and Bet365.
There has also been considerable consolidation among competitors in the entertainment and gaming industries, which could form larger competitors with increased financial resources, offer more competitive products, gain a larger market share, expand offerings and broaden their geographic scope of operations.