Food is an essential, social and enjoyable aspect of everyday life. However, there is often little time to cook at home or dine out. In addition, diners are increasingly looking for a broader and more diversified choice of cuisines and menu items.
Takeout offers a convenient alternative, providing diners with a wide variety of options wherever and whenever they want. For restaurants, takeout enables them to grow their business without adding seating capacity or wait staff.
Grubhub, with a market share of 14% in the US, is a leading online and mobile platform for restaurant pick-up and delivery orders and is on a mission to make takeout better.
DoorDash has dominated the US food delivery market with >50% market share. How?
As strategy enthusiasts, it's essential to learn how Grunhub works and makes money. What is the business model of Grubhub? What is the sales and marketing strategy of Grubhub?
You will find more infographics at
Statista
What is Grubhub? How does Grubhub work?
Grubhub, started in 2004, is a platform for restaurant pick-up and delivery orders, which Grubhub refers to as takeout. Since 2020, Grubhub has been a subsidiary of the Dutch company Just Eat Takeaway.
Grubhub's robust takeout marketplace creates additional value for both restaurants and diners as it grows. Grubhub's value proposition is discussed in detail in the next section.
Grubhub works by charging restaurant partners on the platform a per-order commission that is primarily percentage-based.
To understand how does Grubhub work, let's look at the three-step process.
Diners use Grubhub's app or website to filter results across cuisine types, restaurant names, menu items, proximity, ratings, diner rewards, GH+ restaurants, and other criteria.
Once diners have found what they are looking for, they place their orders using easy-to-use and intuitive menus, enabling them to discover food choices, select options, and provide specific instructions on a dish-by-dish basis.
Once an order is received, Grubhub transmits it to the restaurant while saving the diners' preferences for future orders, thus providing diners with a convenient repeat order experience.
How does Grub make money? What is the business model of Grubhub?
Value proposition
The business model of Grubhub is designed to provide value to both restaurants and diners through its takeout marketplace.
Restaurants: Grubhub provides restaurants with more orders, helps them serve diners better, facilitates delivery logistics in many markets, and enables them to improve the efficiency of their takeout business. Grubhub has more than 300,000 restaurants on its platform as of 2021.
These restaurants typically advertise takeouts through the distribution of menus to local households or advertisements in local publications, which is often inefficient and requires upfront payment with no certainty of success.
In contrast, Grubhub provides restaurants on its platform with an efficient way to generate more takeout orders. Grubhub enables restaurants to access local diners at the moment when those diners are hungry and ready to purchase takeout.
For restaurants, Grubhub generates higher margin takeout orders at full menu prices. In many markets, Grubhub also provides delivery services to restaurants on its platform that do not have delivery operations.
Diners: For diners, Grubhub makes takeout accessible, simple, and enjoyable, enabling them to discover new restaurants and accurately and quickly place their orders anytime and from anywhere. Grubhub has more than 32 million active diners on its platform who order 700K+ Grubs daily.
For diners, the traditional takeout ordering process is often a frustrating experience—from using paper menus to communicating an order by phone to a busy restaurant employee.
In contrast, Grubhub offers an enjoyable and dramatic improvement over the "menu drawer," avoiding the inefficiencies, inaccuracies, and frustrations associated with paper menus and phone orders.
For corporate customers, Grubhub provides a wide variety of ordering options for employees and proprietary tools that provide rule-based ordering and consolidated reporting and invoicing for employers.
For campus customers, Grubhub provides integrated order ahead and meal plan payment processing technology and a mobile ordering application for student diners.
OpenTable is an online restaurant reservation service company that values human connection. What is the business model of OpenTable?
Products & Services
Delivery Services
Grubhub offers delivery services to restaurants in many of its markets. By providing delivery services, Grubhub can significantly broaden the number of restaurants it can offer to diners while enhancing the transparency, consistency, and reliability of the diner experience.
Delivery services benefit restaurants by allowing them to focus on making great food, while Grubhub handles the complexity of operating the delivery networks.
Grubhub for Restaurants
Grubhub for Restaurants is a responsive web application that allows restaurants to electronically receive and display orders and provides operators with the capability to acknowledge receipt of the order, update the estimated completion time and status, specify driver pick-up times, monitor delivery status for delivery drivers in Grubhub's network, update menu items and perform other administrative functions.
GH+ Subscription Program
Grubhub offers a subscription program to diners, GH+, which grants membership benefits in GH+ restaurants for a flat subscription fee. GH+ subscribers receive unlimited deliveries with a $0 delivery fee on qualifying orders from GH+ restaurants.
Technology and Fulfillment Services
Technology and fulfillment services include order transmissions, customer relationship management tools such as loyalty programs, fully integrated online and in-store ordering and fulfillment solutions, quick-response code payment processing scanners, customer support, and operational analytics.
Point of Sale Integration
Grubhub offers point of sale ("POS") integration to those restaurants that want to manage Grubhub orders and update their menus directly from their existing POS system, improving their in-store workflow, eliminating the time required to enter orders, creating more transparency and potentially shorten the window between consumer order and meal preparation.
Restaurant-Branded Websites and Mobile Applications
Grubhub offers restaurants in its network website and mobile application design and hosting service, which provides restaurant partners with a simple yet effective online and mobile presence.
Grubhub processes the orders on these websites and mobile applications through its platforms. Grubhub also offers customized ordering links that allow diners to place orders directly through restaurant websites.
How does Grubhub make money: revenue model
Grubhub makes money primarily when diners place an order from a restaurant on its platform, and then the restaurant pays Grubhub a commission. The commission depends on the visibility and exposure a restaurant may receive on the Grubhub Marketplace.
The business model of Grubhub does not wish to charge the restaurants on its platform any upfront or subscription fees, does not require any discounts from their full-price menus, and only gets paid for the orders Grubhub generates for them, providing restaurants with a low-risk, high-return solution.
A restaurant can pay a higher rate, affecting its prominence and exposure to diners on the platform. Additionally, restaurant partners that use Grubhub's delivery services pay an additional commission for the use of those services.
Grubhub has three pricing plans for its restaurant partners: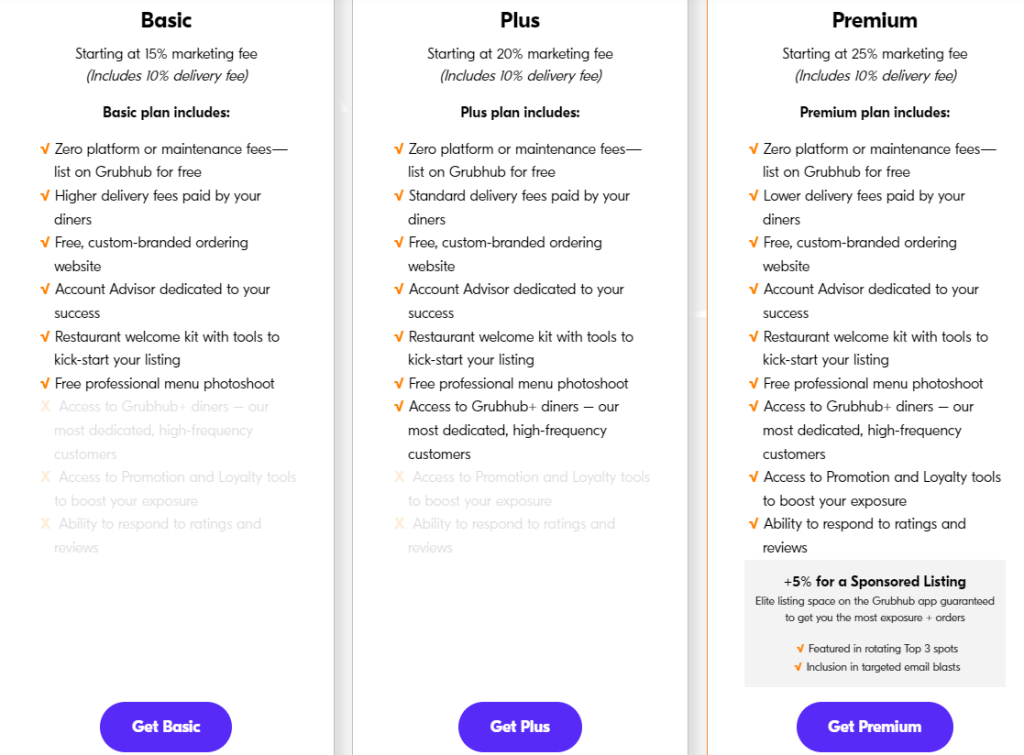 Other sources through which Grubhub makes money are:
Grubhub makes money from fees paid by diners for GH+, Grubhub's subscription product.
Grubhub derives revenues from mobile application development professional services and related tools and services.
Grubhub generates a small amount of revenue directly from companies participating in its corporate ordering program and by selling advertising on allmenus.com.
Revenues in 2020 increased by $508 million, or 39%, to $1,819 Million as compared to 2019. The increase was primarily related to a 26% increase in Daily Average Grubs and a 16% higher average order size.
What is the sales and marketing strategy of Grubhub?
Grubhub's sales strategy is to add new restaurant partners to the network by emphasizing the Grubhub Platform's low-risk, high-return proposition: providing more orders without charging any upfront payments or subscription fees or requiring any discounts from a restaurant's full-price menus and Grubhub only gets paid for orders it generates for them.
Grubhub leverages its strong delivery network to attract restaurants that do not have delivery operations.
Once restaurants have joined Grubhub's takeout marketplace, Grubhub representatives continue to work with them to maintain quality control and increase their order volume.
As part of its sales strategy, Grubhub separately focuses on adding new corporate and campus program clients by emphasizing Grubhub's value proposition.
The marketing strategy of Grubhub relies on its innovative products and customer care as they help Grubhub generate strong word-of-mouth referrals, which have been the primary driver of Grubhub's diner growth.
The marketing strategy of Grubhub is aimed at encouraging new diners to try the platform and driving existing diners to engage more frequently with the platform through online and offline advertising. Advertising includes search engine marketing, television, online display, media, and other programs.
---