Work continues to get harder to manage as organizations try to move faster to accomplish ambitious goals and respond to changing market demands. Most crucial work requires coordination across teams and geographies.
Without a record system, teams move slowly, miss deadlines, and fail to live up to their full potential. At work, people face an overwhelming volume of communications from email and messaging applications, many of which are asking for status updates.
These messages often provide little clarity around what steps need to be taken and by when and limited accountability around who owns the action. As a result, requests go unanswered, and employees spend more time searching and responding to messages to provide clarity and accountability to their teams. 
These emails and messages only give teams momentary clarity about specific deliverables or actions. As such, they do not provide a holistic, persistent, and referenceable plan of record that can be easily or quickly accessed, shared, and updated. 
To minimize work about work, reduce chaos, and give individuals time back to focus on the work that matters, teams need a purpose-built solution for coordination. Asana brings innovation in work management to help teams plan, manage, and execute their work.
Let's understand how Asana works and makes money in this strategy story. What are the different aspects of the business model of Asana?
What is Asana? How does Asana work?
Asana, founded in 2008 by Dustin Moskovitz and Justin Rosenstein, is a work management platform designed to help teams organize, track, and manage their work. Asana's mission is to help humanity thrive by enabling the world's teams to work together effortlessly.
Asana was started because co-founders experienced firsthand the growing problem of work about work. While at Facebook, they saw the company's coordination challenges as it scaled. 
Instead of working on generating results, they spent time in status meetings and long email threads trying to figure out who was responsible for what. They recognized the pain of work about work was universal to teams that needed to coordinate their work effectively to achieve their objectives. 
Yet there were no products in the market that adequately addressed this pain. As a result of that frustration, they were inspired to create Asana to solve this problem for the world's teams. 
Asana works on a unified platform that provides clarity at every level of an organization for individuals, team leads, and executives. Asana provides dynamic views—List, Calendar, Board, Timeline, Portfolio, Reports—so that individuals can see work data in whatever way makes the most sense to them.
Asana is a system of record for work. This system collects and structures institutional knowledge about how past work was completed and provided a real-time plan and roadmap for current and future initiatives. Asana's platform is built on its proprietary, multi-dimensional data model, which it calls the work graph. 
Asana's data model provides individuals, team leads, and executives with dynamic views of the work most relevant to them—across multiple people and projects—all based on the same underlying data in the work graph. 
On Asana, Individuals can manage and prioritize their daily work and collaborate with team members on shared projects, gaining visibility into who is doing what and when each piece of work is due. Team leads can plan work and optimize team workload across multiple projects, and executives can track progress towards company objectives in real time on Asana.
Let's now break down various aspects of Asana's business model.
How does Asana make money? What is the business model of Asana?
Value proposition
Teams get work done faster: Organizations are becoming more agile because they can respond to changing demands quickly, accelerate the pace of new offerings, and promptly align resources to achieve their goals.
According to a survey of over 3,000 customers that Asana conducted, 83% agreed that Asana improves their job performance, 77% agreed that It reduces wasted time at work, and 74% agreed that It helps them accomplish tasks more quickly.
Streamlined processes: Asana allows individuals to efficiently customize projects across specific use cases. Individuals can auto-assign and triage tasks, trigger actions and notifications, and automatically populate due dates for templated projects. 
Increased employee engagement: Employees can see that their work matters and understand how it connects to broader organizational goals. By eliminating much of the work about work, Asana gives them back valuable hours in their day to focus on the work that matters, leading to higher productivity, higher engagement, and improved retention.
Improved confidence and execution: Using Asana, individuals reduce their anxiety about missing deadlines and having work fall through the cracks. As a system of record for work, Asana stores all task and project information on past and present initiatives, so people have greater confidence in meeting deliverables.
Monday.com is Asana's direct competitor. How is monday.com's business model different?
Offering
Individuals can manage and prioritize their projects to maximize their effectiveness and reduce distractions. They can see their tasks, how their dependencies owned by teammates are being tracked, and how their work contributes to the overall team and organization-wide goals. 
Individuals can collaborate with teammates and see each team member's responsibilities and progress. When teammates operate off a single, real-time plan of record, they do not need to check in with each other for updates or sit through status meetings. This clarity reduces work and helps individuals get the job done faster.
Team leads can manage work across a portfolio of projects or processes. Team leads see progress, bottlenecks, resource constraints, and milestones without creating work for teams to come up with this information in spreadsheets, emails, or status meetings.
Executives can communicate company-wide goals, monitor status, and oversee work across projects to gain real-time insights into which initiatives are on track or at risk. With this visibility, they can proactively ensure alignment, address inefficiencies, manage team workload, and reallocate work among teams or departments so that the company can stay on track to achieve its objectives.
Asana's Marketing Strategy
Asana employs a hybrid go-to-market approach, combining a self-service model with direct sales efforts. Asana's marketing strategy creates positive word-of-mouth marketing and further drives adoption.
Self-Service Model: Self-service plays a vital role in Asana's business model. Customers initially adopt Asana through self-service and free trials of Asana Premium and Business offerings in this marketing strategy. As they realize the productivity increase through the platform, customers move up to purchasing the plan.
Direct Sales: In conjunction with our self-service model, Asana has a targeted direct sales team focused on promoting new use cases and expanding its footprint within the existing customer base. 
Marketing and Customer Success: Asana uses the website and social media channels, media coverage, paid acquisition, and word of mouth to promote the discovery and adoption of its platform. Customers can invite external parties to collaborate on specific Asana projects, which supports the viral adoption of the platform. Just like what Dropbox did. Do read Dropbox's case study.
How does Asana make money: The revenue model
Asana makes money from the sale of subscriptions to our cloud-based platform. Asana offers three levels of paid subscriptions to serve the varying needs of paying customers: Premium, Business, and Enterprise. In FY22, Asana generated $378 million of revenues from 119,000 paying customers.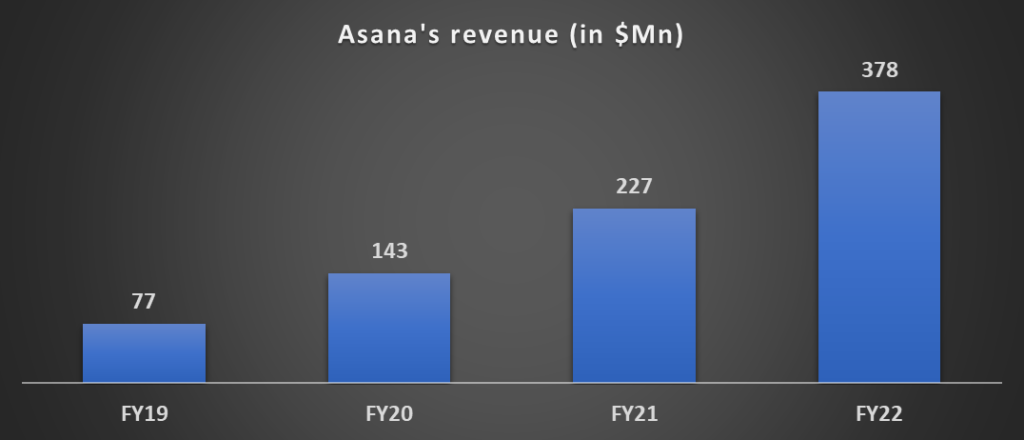 The basic Plan of Asana is free to use. The free version of Asana is available for teams of up to 15 people with limited access to premium features. Asana uses this plan to demonstrate its product's value and convert free customers to paying customers. Since its inception, over 35 Mn has registered on Asana and used its basic features. Asana's free-to-paid conversion ratio is ~4.8%.
At $10.99 a month, Asana's premium plan is suitable for teams with 15+ members and complex workflows. Premium offers project management tools, Reporting and progress insights, and balance project privacy.
At $24.99 a month, Asana's Business plan is intended for teams looking to plan, manage, and monitor work across their entire company. It has more robust features for project managers, portfolio leads, and management to best allocate resources and understand progress towards significant objectives.
With Asana Enterprise, an organization gets access to Asana's full suite of work management features. Below is the comparison of all Asana's pricing plans.
Conclusion
Teams today must navigate increasingly cross-functional, matrixed, and distributed work while also moving quickly to meet the objectives of their organizations. With product lifecycles now shorter than ever, organizations cannot afford to be slowed down by inefficient processes. 
Individuals and teams must be empowered to make autonomous decisions aligned with organizational goals to ensure business agility in rapidly changing markets. 
Organizations need new, purpose-built solutions for work management. The work management market is large and rapidly growing. According to a June 2019 IDC report, aggregate demand for collaborative applications and project and portfolio management is expected to grow from $23 billion in 2020 to $32 billion in 2023.
Organizations need a work management solution that provides transparency, clarity, and accountability so that individuals and teams know—at any given time—what work needs to get done, by whom, and by when. And Asana believes it delivers precisely that.
---