Organizations have historically run their businesses utterly dependent on pre-packaged software. They also relied on internally developed solutions by a fraction of their employee base who did not fully understand how users think and want to work.
But in the last few years, the way people work and collaborate has been transformed by digital technologies. Industry trends like focus on organizational agility, dependency on software, and adoption of tools for automation have created new business opportunities.
Monday.com is one such tool that is democratizing the way people work. Monday.com is a cloud-based platform that allows users to create their applications and work management software.
Monday.com was founded in 2012 by Roy Mann, Eran Kampf and Eran Zinman. By August of that year, the company, then called dapulse, had raised $1.5 million in seed funding. In November 2017, the company changed its brand name from dapulse to Monday.com.
As of 2021, the company reported serving 152,000 customers across over 200 business verticals. The company went public on June 10, 2021.
Monday.com is pioneering a new category of software that will change how people work, and businesses operate. Through this story, let's analyze how Monday.com works and how it makes money. What is Monday.com's business model?
How does monday.com's platform work?
Software should empower businesses, not limit them. However, organizations are often forced to use rigid, function-specific software and disconnected tools that prevent them from operating productively and effortlessly.
These constraints lead organizations to use multiple tools to fit their needs, resulting in inefficient workflows, data and employee silos, broken communication channels, and insufficient institutional knowledge.
As a result, organizations manage and evaluate their operations with an incomplete view of their businesses, limiting their ability to grow and move efficiently.
monday.com democratizes the power of software so organizations can easily build software applications and work management tools that fit their needs. Monday.com works through a platform that it calls 'Work OS'.
The platform consists of modular building blocks that are simple enough for anyone to use yet powerful enough to drive the core functionality within any organization. The platform also integrates with other systems and applications, creating a new connective layer for organizations that links departments and bridges information silos.
Using Monday.com's platform, customers can simplify and accelerate their digital transformation, enhance organizational agility, create a unifying workspace across departments, and increase operational efficiency and productivity.
Monday.com works by allowing organizations to create software applications and work management tools that suit their needs across virtually any use case. By connecting them to other systems and applications, the platform eliminates corporate silos and facilitates cross-functional workflows.
With its platform, organizations can have a holistic view of their businesses, work with more agility, become more productive, and increase operational efficiency.
How does Monday.com make money? What is its business model?
Value Proposition
Enable users to manipulate and access software in ways that fit their needs.
Help customers digitize their business operations and reengineer existing digital processes to make them more efficient.
Bring organizations' departments, applications, and data into a unified workspace that empowers them to make complete, data-driven decisions, eliminate silos, and centralize all tools in one place.
Help organizations greatly reduce the reliance upon meetings, communications, and emails. This gives employees significant time back to their days to perform more work and unlocks more significant potential.
Additionally, the platform automates repetitive, manual, and error-prone work, frees up users' time and energy to focus on more impactful work, such as creative thinking, problem-solving and innovative ideas.
Helps foster a culture of inclusion, ownership, and clarity by empowering everyone to think more holistically and have access to more incredible information.
Customers
Monday.com has 152K customers as of 2022, which spans across thousands of use cases and over 200 different industries and range from teams of two users to organizations of 7,000 users.
Additionally, Monday.com has customers in approximately 38% of the Fortune 500 companies. Since its inception, Monday.com has focused on ensuring that any user can easily adopt its platform on their own regardless of his or her technical skills.
Consequently, 70% of Monday.com's customers work in traditionally non-tech industries, such as real estate, banking, journalism, and construction.
Marketing
Monday.com employs a hybrid approach to sales and marketing, combining an extensive self-serve funnel with direct sales from its partners and sales team.
With its bottom-up marketing approach, Monday.com initially targets customers on the team level. Then it casts a wide net of performance-based marketing, brand advertising, and organic marketing across several digital and offline channels.
As its self-serve funnel customers grow, Monday.com's sales teams actively monitor customers' usage patterns and engage to help them achieve their goals and become more successful.
Products
Monday.com's products, built on top of its Work OS platform, include the following:
monday work management enables customers to create workflows that suit their needs using no-code building blocks to manage any work.
monday marketer allows customers to plan and track all aspects of marketing and creative campaigns.
monday dev permits product development teams, including R&D, design, and product management, can plan, build and launch new products.
monday projects allows customers to plan, manage and execute more complex projects or portfolios.
monday sales CRM, a CRM for tracking and managing all aspects of a sales cycle and sales operations from leads to customer projects.
monday Canvas, a digital whiteboard for real-time, unstructured collaboration.
monday WorkForms allows users to create personalized forms or surveys and gain organizational insights.
These products serve as an entry point for specific industries and include tailored features to fit the needs of a specific industry's use cases.
Revenue: how does Monday.com make money
Monday.com makes money from the sale of subscriptions to customers to access its cloud-based Work OS platform. Monday.com made $308 Mn in 2021 from 152,000+ customers.
Monday.com has five subscription plans: Individual (Free), Basic, Standard, Pro, and Enterprise. In all these plans user gets Unlimited docs, 200+ templates, whiteboard collaboration, shareable forms, and Kanban view, among others. Let's see what different plans offer extra.
Individual Plan: This is a free plan for individuals looking to keep track of their work. The plan includes 500 Mb file storage, 1 week activity log, and all the features described above.
Basic Plan: This Plan costs $24/month to manage the team's work in one place. In addition to the Individual Plan, this plan offers 5Gb storage, unlimited board, and viewers.
Standard Plan: This Plan costs $30/month for teams looking to collaborate and optimize processes. In addition to the Basic Plan, this plan offers 20Gb storage, timeline view, calendar view, Gantt view, Automations, and Integrations (250 actions per month).
Pro Plan: This Plan costs $48/month to streamline the team's complex workflows. In addition to the Standard Plan, this plan offers 100Gb storage, private boards, chart view, time tracking, Automations, and Integrations (25000 actions per month).
Enterprise Plan: Pricing of this plan is available at request. An enterprise plan is fororganizations seeking enterprise-grade solutions. In addition to the Pro Plan, this plan offers 1000Gb storage, 5-year activity log, enterprise-scale automation and integrations, advanced reporting and analytics, and premium support.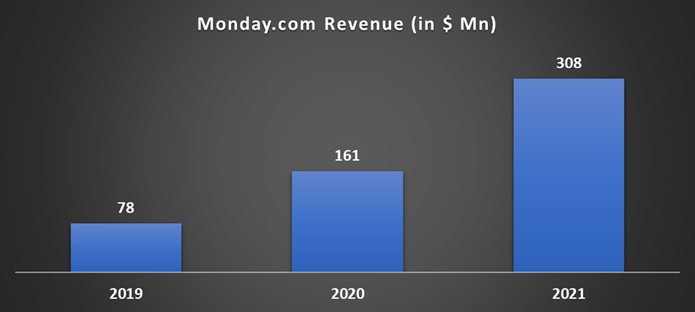 Conclusion
monday.com is an excellent tool for managing projects and tasks. It is user-friendly and has a lot of features that help track progress and keep everyone on the same page.
The biggest downside of monday.com is the price tag; it is one of the market's more expensive project management tools. However, if you are willing to pay for the features it offers, monday.com is worth considering.
Overall, monday.com is a great tool for project management and is perfect for teams that need to stay organized and on track.
---