Just a few years ago, we all faced a situation when we had to make an important presentation and forgot our hard drive. But innovations like Dropbox have solved this problem.
Dropbox is a file hosting service operated by the American company Dropbox, Inc., headquartered in San Francisco, California, the U.S. that offers cloud storage, file synchronization, personal cloud, and client software.
Dropbox was founded in 2007 by MIT students Drew Houston and Arash Ferdowsi as a startup company, with initial funding from seed accelerator Y Combinator. Dropbox founder Drew Houston conceived the concept after repeatedly forgetting his USB flash drive while he was a student at MIT.
Over the past decade, Dropbox has pioneered the worldwide adoption of file sync and share software. Dropbox has since expanded its capabilities and introduced new product experiences to help users get work done.
Dropbox's addressable market includes collaborative applications, content management, project and portfolio management, and public cloud storage. As one of the few large-scale collaboration platforms that serve customers of all sizes, Dropbox also has an opportunity to reach a broad population of independent knowledge and creative workers.
From innovation to business, Dropbox has changed the market. So, in this story, we decided to look at Dropbox's business model and understand how Dropbox works and makes money.
How does Dropbox work?
Dropbox has been around for nearly a decade. In that time, it has become one of the world's most popular cloud storage solutions. There are several reasons for this:
Ease of use – A significant benefit of Dropbox is that you can start using it immediately. You create an account, install the app on your devices, and you're ready.
Security – Dropbox offers extremely secure file storage. All files are encrypted end-to-end and therefore unreadable by third parties.
Two-way syncing – Any changes you make to files in your Dropbox account will be reflected in other connected devices.
Multiple device compatibility – Dropbox is so popular because it works on all major platforms, including Windows, Mac, Android, and iOS.
Dropbox works by creating a particular folder on each user's computer. This folder is synchronized with the user's Dropbox account, meaning any changes made to the files in the folder are reflected in the cloud-based account.
This allows users to access their files from any device with an Internet connection and share them with others. For example, if a user wants to share a file with a colleague, they need to add it to their Dropbox folder and send them the link.
The recipient can then view or download the file, regardless of whether they have a Dropbox account. Because of its ease of use and cross-platform compatibility, Dropbox has become one of the most popular file sharing and storage services.
How does Dropbox make money? What is Dropbox's business model?
Value Proposition
Dropbox allows individuals, teams, and organizations to collaborate more effectively. Anyone can sign up for free through its website or app and upgrade to a paid subscription plan for premium features. The value proposition of Dropbox's business model is:
Unified home for content: When users join Dropbox, they gain access to a digital workspace that supports the entire content lifecycle—they can create and organize their content, access it from anywhere, and share it internally and externally.
Global sharing network: Users use Dropbox to share and collaborate with friends and colleagues. Such frictionless sharing creates a powerful network effect that increases the utility and stickiness of Dropbox's platform.
New product experiences: Machine learning further improves the user experience by enabling more intelligent search and better organization and utility of information. This ongoing innovation broadens the value of its platform and deepens user engagement.
These elements reinforce one another to produce a powerful flywheel effect. As users create and share more content with more people, they expand Dropbox's global sharing network.
This network allows Dropbox to gather insights and feedback that help it create new product experiences. And with Dropbox's scale, it can instantly put these innovations in the hands of millions. This, in turn, helps attract more users and content, propelling the flywheel.
Marketing Strategy
Users who share content and collaborate on Dropbox's platform introduce and invite new users, driving viral growth. Dropbox generates over 90% of its revenue from self-serve channels, which limits customer acquisition costs.
Dropbox's goal is to rapidly demonstrate the value of its platform to users to convert them to paying users and upgrade them to its premium offerings. Dropbox reaches them through in-product prompts and notifications, time-limited trials of paid subscription plans, email, and lifecycle marketing.
Each year, hundreds of millions of devices—including computers, phones, and tablets—are actively connected to the Dropbox platform, representing many touchpoints to communicate with the users.
How does DocuSign work and make money?
Dropbox complements its self-serve strategy with a focused outbound sales effort targeted at organizations with existing organic adoption of Dropbox. Once prospects are identified, the sales team works to broaden the adoption of its platform into wider-scale deployments.
Through paid marketing and distribution partnerships, Dropbox also acquired some users in which hardware manufacturers pre-install its software on their devices.
Revenue: how does Dropbox make money
Dropbox is a cloud storage and file synchronization service that allows users to store and share files online. Dropbox makes money by charging users for additional storage space and premium features such as expanded file version history and increased security.
Dropbox has categorized its plans as paid personal and business and its free basic plan.
In the personal category, Dropbox makes money from subscription fees from customers for access to its platform through various subscription plans. Subscription plans include a Plus and a Family plan.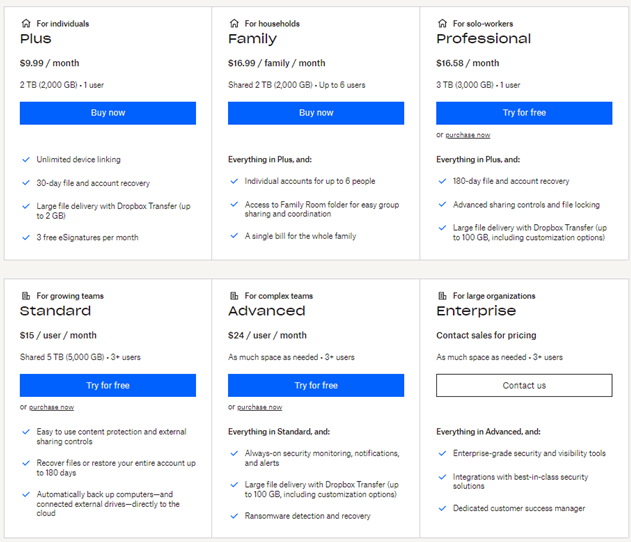 In business, Dropbox offers unlimited storage and advanced collaboration tools. Dropbox makes money from this service through subscription fees charged to businesses. Subscription plans include Professional, Standard, and Advanced.
Premium subscription plans, such as Professional and Advanced, provide more functionality than other plans and have higher per-user prices. Dropbox's Standard and Advanced subscription plans offer robust business capabilities, and the vast majority of Dropbox Business teams purchase its Standard or Advanced subscription plans.
In addition, Dropbox also generates revenue through partnerships with companies such as Microsoft, which integrate Dropbox into their products.
Quality of revenue can be seen from the fact that no customer accounted for more than 1% of its revenue among its 17 Mn paying customers in 2021.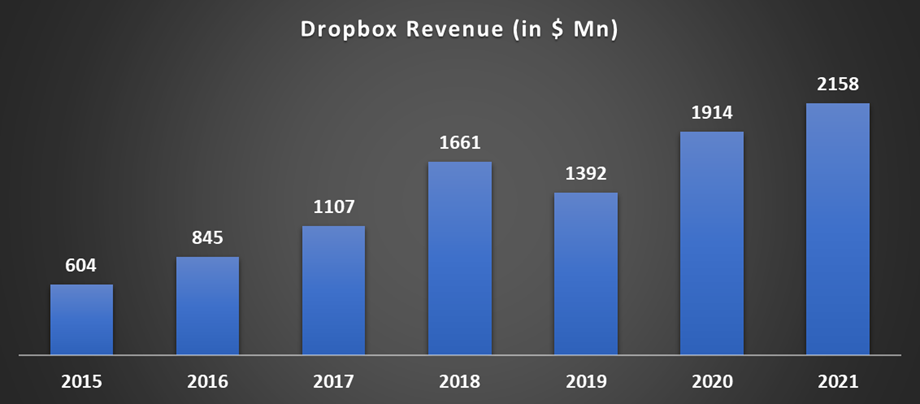 Conclusion
The way Dropbox's business model works is a unique and innovative way to provide cloud storage and file sharing services. By offering a simple, user-friendly interface and affordable subscription plans, Dropbox has carved out a niche in the market.
However, the company faces stiff competition from larger, more established players such as Google and Microsoft. To succeed in the long run, Dropbox must continue to differentiate itself from its competitors.
One way to do this is by expanding its features and services. Another is to focus on delivering an exceptional customer experience. If Dropbox can continue to execute on its vision, it has a real opportunity to build a large and loyal customer base.
---