The internet and other digital technologies enable a business to be done faster, more efficiently, and at a lower cost than ever before. Companies that fail to adapt to this new paradigm lose customers to more agile competitors.
As a result, many have undertaken major digital transformation projects across the front and back offices. While these projects have yielded positive results—improved efficiency, faster time to market, and an enhanced customer experience—they have been unable to completely address one of the most fundamental elements of doing business: the agreement.
Every day, companies enter into millions of agreements with their customers, employees, and other parties with which they do business. Yet every day, the process is still fraught with friction and frustration.
Against this backdrop, the traditional agreement process seems outdated, costly, and unnecessarily difficult—and therefore ripe for transformation. DocuSign decided to bring that transformation.
As business enthusiasts, we need to learn how DocuSign brought that transformation, how it works, and how it makes money?
What is DocuSign? How does DocuSign work?
DocuSign, founded in 2003 by Court Lorenzini, Tom Gonser, and Eric Ranft, is an American company headquartered in San Francisco, California, that allows organizations to manage electronic agreements.
As part of the DocuSign Agreement Cloud, DocuSign offers eSignature, a way to sign electronically on different devices. DocuSign has over 1 million customers and hundreds of millions of users in more than 180 countries.
DocuSign works by offering an electronic signature product, enabling an agreement to be signed electronically on a wide variety of devices, from virtually anywhere in the world, securely. The DocuSign Agreement Cloud is its cloud software platform that works on automating and connecting the entire agreement process.
The DocuSign Agreement Cloud also includes several other applications for automating pre- and post-signature processes—for example, automatically generating an agreement from data in other systems, supporting negotiation workflow, verifying identities, assisting remote online notary, collecting payment after signatures, and using artificial intelligence to analyze a collection of agreements for risks and opportunities.
Finally, the DocuSign Agreement Cloud includes over 400 partner integrations with the world's most popular businesses, so agreement processes can integrate with more extensive business processes and data where work happens.
In what areas can DocuSign work? Within a given company, DocuSign can be used across business functions: contracts for sales, employment offers for human resources, and non-disclosure agreements for legal, among many others.
How does DocuSign make money? What is the business model of DocuSign?
Value Proposition
Traditional agreements are slow, expensive, and error-prone because they involve many manual steps, disconnected systems, and paper signing. DocuSign's value proposition is to automate the entire process.
This allows organizations to reduce turnaround times and costs, eliminate errors, and deliver a streamlined customer experience. Customers are benefited by:
Do business faster: By replacing manual, paper-driven processes with automated digital workflows, DocuSign can substantially reduce the time and labor necessary to complete agreements. In fiscal 2022, 79% of all transactions on DocuSign's eSignature platform were completed in less than 24 hours and 44% within 15 minutes.
Better customer and employee experience: Organizations that use DocuSign services internally and externally can deliver a more straightforward, better experience for their customers and employees.
Significantly reduced manual processes and cost of doing business: Organizations can achieve cost savings per agreement in labor and materials. Some DocuSign Agreement Cloud products help reduce legal costs in finding and reviewing documents and reduce customer-support costs by automatically guiding customers through complex agreement forms.
Reduced risk: Using the DocuSign Agreement Cloud, organizations can centralize, standardize, and automate agreement processes—so employees have an easy way to use approved processes and templates, with audit trails generated automatically.
Products & Offerings
The DocuSign Agreement Cloud enables businesses to address each aspect of the agreement process, with solutions tailored for each step in the agreement lifecycle and, in some cases, for particular market segments, industries, or geographic regions. Key DocuSign Agreement Cloud products include:
DocuSign eSignature enables sending and signing of agreements.
CLM (Contract Lifecycle Management) automates workflows across the entire agreement process. It allows larger organizations to model complex processes for generating, negotiating, acting on, and storing agreements.
Insight uses AI to search and analyze agreements by legal concepts and clauses.
Analyzer helps customers understand what they're signing before they sign it. An add-on to Insight, Analyzer uses AI to analyze inbound agreements. It can detect the presence or absence of clauses by their type, score their risk, and extract key terms.
Gen for Salesforce allows sales representatives to automatically generate polished, customizable agreements with a few clicks from within Salesforce.
Payments enable customers to collect signatures and charges in just one step—reducing collection times, increasing collection rates, reducing errors and associated risk, and saving time.
Remote Online Notary is a solution using audio-visual and identity verification technologies to enable notarization to be done remotely.
Monitor uses advanced analytics to track DocuSign eSignature web, mobile, and API account activity across the customer's organization to provide near real-time visibility and strengthen security operations.
What is GoodRx Business Model, and how does it work?
Marketing
In addition to account-based marketing aimed directly at high-value customers and industry-specific marketing, DocuSign also deploys various marketing strategies and tactics.
These include broader digital demand generation campaigns; corporate communications and analyst relations; first-party events, such as DocuSign Momentum, the annual gathering of customers, prospects, developers, and partners; participation in third-party events, such as Dreamforce.
Marketing efforts include extensive customer evidence and advocacy programs, developer relations programs; cooperative marketing with strategic partners; and a comprehensive Webinar series, among many other things.
Revenue
DocuSign earned $2.1 bn in FY22. It derives revenue primarily from subscriptions and, to a lesser extent, professional services.
Subscription Revenue: Subscription revenue consists of fees for using DocuSign's platform and its technical infrastructure and access to customer support. This stream comprised 97% of the money DocuSign made in FY22.
Professional Services and Other Revenue: Professional services include fees for new customers requesting deployment and integration services. This stream comprised only 3% of the money DocuSign made in FY22.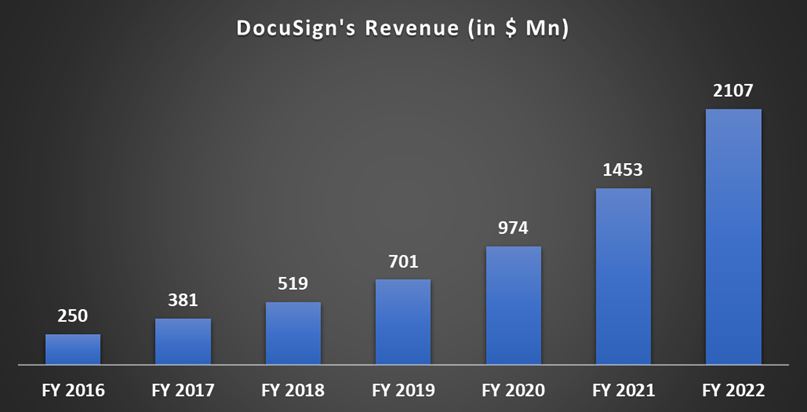 Undoubtedly, DocuSign has wholly revamped how businesses look at agreements and pioneered the digital signature category with its innovative products. DocuSign calculates that the total available market for its products is $25 bn. The sky is the limit for DocuSign.
DocuSign is the strongest brand and market share leader: the company name is becoming a verb.

2016 Forrester Research report
DocuSign Competitors
The biggest global competitor for DocuSign eSignature is Adobe, which began to offer an electronic signature solution following its acquisition of EchoSign in 2011 (now known as Adobe Sign).
As per Gartner, other major competitors for DocuSign are
signNow.
PandaDoc.
HelloSign.
Zoho Sign.
GetAccept.
emSigner.
OneSpan Sign.
Other global software companies may elect to include an electronic signature capability in their products and become a competitor of DocuSign.
A select number of vendors that focus on specific industries, geographies, or product areas, such as contract lifecycle management and advanced contract analytics, are competitors of DocuSign.
---