The Covid-19 pandemic has exposed and exacerbated weaknesses, not in one country's healthcare system but the entire world. Even the most powerful country had to succumb. Yes, I am talking about the United States.
Undoubtedly, the United States has achieved sophistication in developing drugs. Still, the pandemic has revealed shortages in essential equipment and hospital beds, the disproportionate effects of disease on the marginalized, the challenge of prevention rather than cure, the limits of insurance-based models to provide equitable care, and our unacknowledged dependence on the labor of underpaid health care workers.
Additionally, the number of uninsured consumers in the United States has increased recently. As per a survey by CNBC, 56% of Americans cannot cover an unexpected $1,000 bill with savings.
I won't go deep into this issue, but clearly, the pandemic has revealed that we took our healthcare lightly. But one company understood this problem long before the pandemic. This company is on a mission to help Americans get healthcare at an affordable price. The company is GoodRx.
GoodRx, founded in 2011, is building a consumer-focused digital healthcare platform to solve the challenges consumers face in understanding, accessing, and affording healthcare. In this story, let's deep dive into the business model of GoodRx and also understand how GoodRx works and make money.
What is GoodRx? How does GoodRx work?
Let me first explain the challenges with the current American healthcare system:
Lack of affordability in healthcare is a contributing reason why 20% to 30% of prescriptions are left at the pharmacy counter.
Non-adherence significantly impacts American health: someone dies every four minutes in the United States from not taking their prescribed medication at all or as directed, according to a report in the American Journal of Health-System Pharmacy.
Even for those who can afford care, access to physicians is limited. According to a Merritt Hawkins survey, the average wait time for a new patient appointment in the United States was 24 -56 days in 2017. As per GoodRx, an estimated 30% of emergency cases could have been treated in primary or other care settings.
GoodRx was founded to solve the challenges mentioned above that consumers face in understanding, accessing, and affording healthcare. GoodRx started with a price comparison tool for prescriptions, offering consumers free access to lower prices on their medication.
This price comparison platform processes over 230 billion pricing data points daily and integrates that data into a user-friendly interface that provides consumers with curated, geographically relevant prescription pricing and access to negotiated prices through GoodRx codes that can be used to save money on prescriptions across the United States.
GoodRx has affordable solutions for generic and brand medications, medical consultations, and lab tests via telehealth offerings and other healthcare and wellness-related content. Hence, providing significant savings to consumers and driving greater medication adherence, faster treatment, and better patient outcomes benefit the broader healthcare ecosystem. Let's understand from this infographic and video how does GoodRx work.

To use GoodRx, all someone has to do is go to the home page, type in the name of the drug, and click the "Find the Lowest Price" button (the company will also help spell the name of the drug since the terms can be confusing). In the US, the price can vary a lot from pharmacy to pharmacy. I mean a lot.
It will then present coupons that the user can give to their pharmacist so they can pull up the lowest discount available. These coupons are applicable at over 70,000 pharmacies in the US.
What is the business model of GoodRx? How does GoodRx business work? How does GoodRx make money?
GoodRx's business model works on achieving better outcomes by increasing medication adherence, providing fast access to preventative care to reduce the strain on hospitals and emergency departments, improving access to affordable prescriptions that otherwise may not have been filled, and enhancing consumer satisfaction and engagement.
Value proposition
Consumers or PBM: Different mobile-first offerings by GoodRx are aimed to provide consumers with more accessible and affordable healthcare. The benefits of each offering to consumers by GoodRx and how they work are described in the offerings section.
The value consumers ascribe to GoodRx is demonstrated by its high NPS, which exceeds that of many other well-regarded consumer-centric brands. As of December 2021, GoodRx had 6.4 Mn Monthly active Users, who till June '20 had saved $20 bn because of GoodRx's tech-enabled platform.
Healthcare professionals: GoodRx empowers healthcare professionals to improve patient outcomes by encouraging medication adherence and providing a consumer-friendly service.
Using the GoodRx price comparison platform, healthcare professionals can directly suggest prices to consumers when prescribing, thus bringing more transparency. As of 2020, over 2 million prescribers had a patient who has used GoodRx.
Healthcare Companies: PBMs, pharmacies, pharmaceutical manufacturers, and telehealth providers use GoodRx's platform to reach and provide affordability solutions to consumers.
GoodRx works with pharmaceutical manufacturers to advertise, integrate and enhance consumer awareness and uptake of their various savings solutions for brand medications, increasing the likelihood that consumers will start or continue to take their prescribed medication.
Lemonade Business Model: To Become the most loved insurance company
Offering
GoodRx's business model works through the following offerings for customers, healthcare professionals, and companies.
Prescription Offering: GoodRx has over 230 billion price points to compare. Consumers can choose the lowest price from a selection of nearby pharmacies, save a GoodRx code to their mobile device for free, and present that code at their pharmacy to access that low price.
The average discount on the list price on GoodRx is 70%. PBMs, pay GoodRx as compensation for directing the consumer to that PBM's pricing and the pharmacy.
Subscription Offering: GoodRx has two subscription programs: GoodRx Gold and Kroger Rx Savings Club Powered by GoodRx. Both are drug savings programs where consumers pay a membership fee to join.
These programs give consumers access to drugs at discounted prices at popular pharmacies— but with better prices and more convenience. The company has over a million subscribers in both these programs.
Pharmaceutical Manufacturer Solutions Offering: Pharma manufacturers use the GoodRx platform for advertising their affordability solutions such as co-pay cards, patient assistance programs, care portals, and other savings options so that consumers can access their medications.
Telehealth Offerings: This offering is designed to meet the needs of our consumers who seek rapid and affordable access to quality care. GoodRx has in-house healthcare providers who suggest to customers through messaging, video chat, and electronic prescriptions at a fee.
How does GoodRx make money?
GoodRx is free for consumers and does not require creating an account to search for prices and receive discounts. Yet it made $745 Mn in 2021, a 33% growth from 2020. How?
GoodRx primarily makes money through three revenue streams: Prescription transactions (usage of coupons), subscriptions, and others (payments from pharma companies and advertisements).
Prescription transactions revenue: Consists primarily of revenue generated from Pharmacy benefit managers (PBM) or customers when a prescription is filled with a GoodRx code provided through the GoodRx platform. It's free to create a coupon at GoodRx.
GoodRx earns revenue upon the initial usage of the GoodRx code when the consumer realizes savings compared to the list price at the pharmacy. It continues to earn income when the consumer returns to the pharmacy for refills and new prescriptions.
It's similar to using a coupon at a grocery store. When a customer uses a GoodRx coupon, PBM will show the price to charge and later split it with GoodRx. This revenue stream contributed to 80% of GoodRx revenue in 2021.
Subscription revenue: Consists of income from our Gold and Kroger Savings subscription offerings. This revenue stream contributed to 8% of GoodRx revenue in 2021.
Other revenue: Consists primarily of payment from pharma manufacturers and other customers for advertising. The stream also includes income from telehealth offerings that allow consumers to access healthcare professionals online. This revenue stream contributed to 12% of GoodRx revenue in 2021.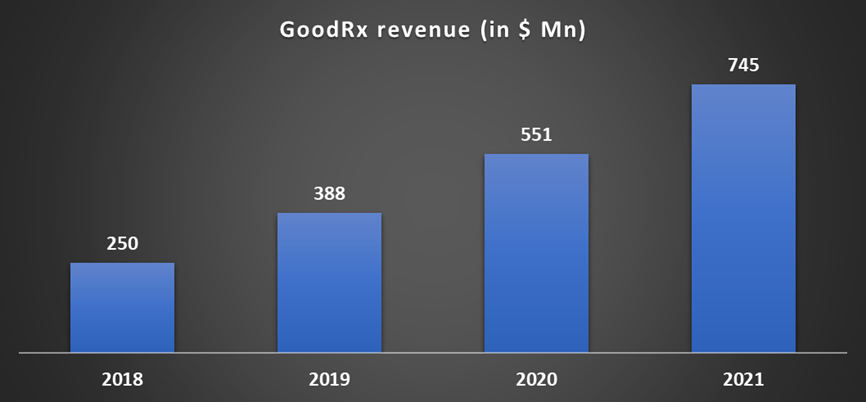 Conclusion
GoodRx believes the market opportunity is substantial and estimates the total addressable market, or TAM, for its current solutions to be approximately $800 billion.
This includes a $524 billion prescription opportunity, including prescriptions that are written but not filled, a $30 billion pharmaceutical manufacturer solutions opportunity, and a $250 billion telehealth opportunity.
AI in Healthcare: How much is too much!
With more and more focus of citizens and government on the healthcare system due to pandemics and the availability of such large market size, the sky is the limit for GoodRx's business model to grow and make money.
---