The growing awareness of the benefits of exercise and physical activity drives increasing participation and spending in fitness and wellness. According to a 2021 report by the Global Wellness Institute, the total global spend on the wellness industry in 2020 was $4.4 trillion.
Peloton Interactive, Inc. is one such American exercise equipment and media company that has made a solid name in the wellness industry, especially during the pandemic, as they brought the gym home. How? Peloton's Internet-connected stationary bicycles and treadmills enable users to participate in classes via streaming media remotely.
It is no secret that exercise makes us feel good. It's simple science: exercising creates endorphins, and endorphins make us happy. On the most basic level, Peloton sells happiness. In this story, I have analyzed the business model of Peloton and explored how Peloton works.
What is Peloton? How did it all start?
Peloton was founded in 2012 by John Foley, an executive at Barnes & Noble in New York City, to solve a challenge in his own life. John and his wife Jill used to love attending boutique studio fitness classes like cycling, running, boot camp, and yoga.
They were addicted to the fast-paced energy, the motivational instructors, the thoughtful programming, and how exercising with a group pushed them harder.
However, with demanding jobs and two small children at home, just getting to the gym became harder and harder for both of them. Additionally, classes with their favorite instructors sold out quickly and were prohibitively expensive. They also had to accommodate someone else's schedule at someone else's location.
John looked at the possibility of making these workouts more convenient, affordable, and accessible. John then pitched his idea to several friends who joined him to make it possible for people with little time to get the experience of working out in a high-end studio cycling class in their homes.
To create Peloton, the team needed to build an indoor bike on the market, recruit the best instructors worldwide, and engineer a state-of-the-art software platform to tie it all together. Investors were skeptical of Peloton's business model.
So, Peloton adopted a lean-approach. The team operated from a one-room "headquarters" with heavy black curtains that cordoned off a makeshift cycling studio, equipped with a modest six bikes and a used camcorder. A decade later, Peloton now has more than 2Mn members.
Peloton is on a mission to empower people to improve their lives through fitness. In its S-1 filing, Peloton described itself as:
A technology company that meshes the physical and digital worlds to create an entirely new, immersive, and connected fitness experience.
A media company that creates engaging-to-the-point-of-addictive original programming with the best instructors in the world.
An interactive software company that motivates its members to achieve their goals.
A product design company that develops beautiful and intuitive equipment that anticipates the needs of Peloton members.
A social connection company that enables its community to support one another.
A direct-to-consumer, multi-channel retail company that facilitates a seamless customer journey.
An apparel company that allows Members to display their passion for Peloton.
A logistics company that provides high-touch delivery, set up, and service for its Members.
In 2019, Peloton went public via an initial public offering, raising $1.16 billion and valuing the company at $8.1 billion.
How Does Peloton work? What is Peloton's Business model?
Peloton is the largest interactive fitness platform in the world, with a loyal community of over 5.9 million members as of June 30, 2021. How does Peloton's business model work that made it so successful?
Peloton's business model focuses on pioneering connected, technology-enabled fitness and the streaming of immersive, instructor-led boutique classes anytime, anywhere. Peloton works to make fitness entertaining, approachable, effective, and convenient while fostering social connections that encourage its members to be the best versions of themselves.
Peloton has disrupted the fitness industry by developing a first-of-its-kind subscription platform that seamlessly combines the equipment, proprietary networked software, and streaming digital fitness and wellness content, creating a product that its members love.
GoodRx works on achieving better outcomes, reducing the strain on hospitals, improving access to affordable prescriptions, and enhancing consumer satisfaction. How?
Peloton's instructors teach classes across various fitness and wellness disciplines, including indoor cycling, indoor/outdoor running and walking, Bike and Tread boot camps, yoga, Pilates, Barre, strength training, stretching, meditation, and floor cardio.
Peloton works innovatively to produce original programs and maintain a vast library of original fitness and wellness programs. Let's now deep dive into different components of Peloton's business model.
Value Proposition
Affordable fitness program: Peloton claims its membership programs are less expensive than most gym memberships. Peloton offers 0% APR financing programs for its Connected Fitness Products to increase affordability.
Vertically Integrated Platform: Peloton works to solve end-to-end challenges consumers face. Peloton has designed its products, developed its interactive software, and created its high-production value fitness and wellness programming while providing full member support.
Compelling and addictive regimes: Peloton help its members achieve their fitness goals by making its program fun and interactive. Peloton analyzes millions of workouts per month to develop features that improve Member experience and create new, on-trend fitness and wellness content.
Community & Convenience: Household trends, longer working hours, and the rise of mobile technology make it challenging to balance time between family, work, and personal health and wellness. Peloton creates a gym-like home environment, thus providing convenience to do gym as per individual schedule while providing consumers the opportunity to build meaningful community connections.
Products
Peloton's products are in two categories: Connected Fitness Product and Subscription. Different offerings by Peloton under each product and how they work are defined below
Connected Fitness Products
Bike: Features a carbon steel frame, a nearly silent belt drive, durable magnetic resistance, and a 22″ high-definition touchscreen with built-in stereo speakers to stream live and on-demand classes, all in a compact, 4′ by 2′ footprint.
Bike+: Provides an immersive cardio experience and seamless transition to floor-based exercises with its 24″, 360-degree rotating display to add strength, yoga, and stretching to their routine.
Tread: The Tread features a sleek belt drive, 24″ touchscreen with integrated soundbar and subwoofer, and ergonomic pace and incline control knobs and jump buttons.
Tread+: Tread+ features a shock-absorbing rubber-slat belt and ball bearing system, ideal for low-impact training. Pace and incline ergonomic control knobs allow seamless adjustments, and the 32″ high-definition touchscreen features a 20-watt sound bar.
Lemonade Business Model: To Become the most loved insurance company
Subscriptions
Connected Fitness Subscriptions: A subscription program provides unlimited access to all live and on-demand classes. It also allows Members to compete on the leaderboard, track performance metrics, and connect and interact with the broader Peloton community.
Peloton Digital: Peloton Digital began as a companion app for Connected Fitness Subscriptions to provide access to classes while members were away from their Connected Fitness Products. Peloton Digital workouts include indoor/outdoor running and walking, Bike and Tread boot camps, yoga, Pilates, Barre, strength training, stretching, meditation, and floor cardio.
As of 2021, Peloton had 2.3 Mn subscribers.
Direct to Consumer, Multi-Channel Sales Model
Peloton sells products directly to customers through a multi-channel sales platform that includes e-commerce, inside sales, showrooms, and in a small number of cases, a "store within store" concept.
Peloton's sales associates use robust customer relationship management tools to deliver an elevated, personalized, and educational purchase experience, regardless of the channel of capture and conversion.
These channels are so well integrated that over 37% of customers purchased a product or service in a different medium than where they initially engaged with Peloton in fiscal 2019.
Revenue
Peloton made $4.02 billion in 2021 through two revenue streams: Connected Fitness Products and Subscription. Let's understand each stream in detail.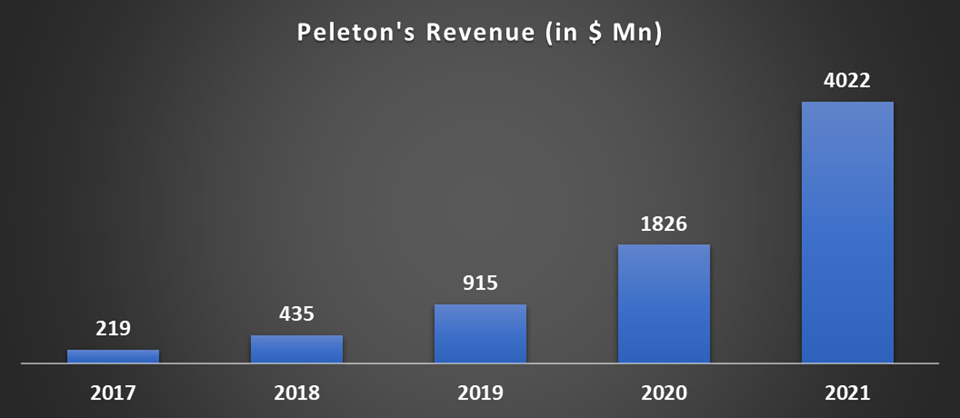 Connected Fitness Products: Connected Fitness Product revenue consists of sales of Bike and Tread and related accessories, associated fees for delivery and installation, and extended warranty agreements. Peloton generated ~78% of revenue in 2021 through this stream.
Subscription: Subscription revenue consists of revenue from its monthly $39.00 Connected Fitness Subscription and $19.49 Digital Subscription. All Memberships include access to the Peloton App, live and on-demand classes, personalized class recommendations, and access to training programs. Peloton generated ~22% of revenue in 2021 through this stream.
Peloton Competitors
Peloton operates in a highly competitive market and may be unable to compete successfully against existing and future competitors.
The biggest competitors for Peloton are myxfitness, the Equinox/SoulCycle at-home bike, NordicTrack, and Echelon, as they all feature large touchscreens and streamed live/on-demand fitness classes with differences in memberships, upfront cost, and tech specs.
Peloton believes to outdo its competitors with its first-mover advantage, leading market position, brand recognition, and vertically integrated platform in the rapidly growing market for connected, technology-enabled fitness.
Primary competitors of Peloton are studio fitness classes, fitness clubs, at-home fitness equipment, content, and health and wellness apps. The areas in which Peloton competes include:
Consumers and Engagement: Peloton seeks to engage and retain consumers through an integrated experience that combines content, software, service, and community.
Product Offering: Peloton competes with producers of fitness products and works to ensure that its Connected Fitness Products maintain the most innovative technology and user-friendly features.
Talent: Peloton competes for talent in every vertical across our company, including technology, media, fitness, design, supply chain, logistics, music, marketing, finance, strategy, legal, and retail.
The principal competitive factors that Peloton considers are total cost, supply chain efficiency across sourcing and procurement, manufacturing, and logistics, enhanced products and services, original content, product quality and safety, competitive pricing policies, vision for the market, and product innovation, the strength of sales and marketing strategies, technological advances, and brand awareness and reputation.
Conclusion
The COVID-19 pandemic has accelerated the ascendance of wellness as a dominant consumer value worldwide. Consumers are increasingly aware that all aspects of their lives – where they live, how they work, what they eat, how they exercise, socialize and travel – impact their health outcomes, mental resilience, and overall sense of well-being.
As per a survey by McKinsey of roughly 7,500 consumers in six countries, 79 percent of the respondents said they believe wellness is essential, and 42 percent consider it a top priority.
Wellness is here to stay, validating the long-term viability of Peloton's business model.
---