Just a decade ago, it would have been difficult to imagine we would be sharing vehicles with strangers. Instead, be happy about it as the medium is lighter on our pockets and is convenient as there is no hassle of maintaining a car.
Additionally, the ride-sharing service type offers numerous advantages such as low carbon footprints, easy booking options, and no parking trouble. As per a report, the global ride-sharing market is projected to grow from $84.30 billion in 2021 to $242.73 billion in 2028 at a CAGR of 16.3% in the forecast period, 2021-2028.
One such US-based company, Lyft, started a movement in 2012 to revolutionize transportation. Lyft started by launching a peer-to-peer marketplace for on-demand ride-sharing. Today, Lyft is one of the largest multimodal transportation networks in the United States and Canada.
Consumers are seeking better ways to get around. They have grown accustomed to the convenience and immediacy of the on-demand economy and expect their experiences to be simpler and more enjoyable. The world is now moving towards Transportation-as-a-service (Taas) model.
Lyft has managed to secure the second-highest market share in the US in ride-sharing after Uber by achieving excellence in the Texas model. The market opportunity for Lyft is huge.
Car ownership has economically burdened consumers. In the United States alone, consumers spend over $1.2 trillion annually on personal transportation. On a per-household basis, the average annual spend on transportation is over $9,500, with the substantial majority spent on car ownership and operation. Yet, the average car is utilized only five percent of the time and remains parked and unused the other 95%.
As business enthusiasts, it's important for us to understand the business model of revolutionary companies like Lyft. But before we deep dive into the business model, let's understand what Lyft is and how it all started.
What is Lyft? How did it all start?
Lyft was launched in the summer of 2012 by computer programmers Logan Green and John Zimmer as a service of Zimride, a long-distance intercity carpooling company they founded in 2007. In May 2013, the company officially changed its name from Zimride to Lyft.
Lyft has established a scaled network of drivers and riders, or users, brought together by its technology platform, which powers millions of rides and connections daily.
Lyft leverages its technology platform and the scale and density of its user network to improve the ride-sharing marketplace efficiency and develop new offerings continuously.
Since its inception, Lyft has acquired multiple mobility platforms like Motivate (a bicycle sharing system), Halo Cars, and PBSC Urban Solutions (a Canadian supplier of bike-share equipment and technology) to expand its transportation modes offering, such as access to a network of shared bikes and scooters for shorter rides and first mile and last-mile legs of multimodal trips.
Such a business model offers a viable alternative to car ownership.
What is the business model of Lyft?
Value Proposition
Drivers: Lyft has around 2Mn drivers on its platform. Lyft's value proposition to drivers on its platform primarily includes:
Opportunity: Even if drivers do not own a vehicle, drivers can get a flexible car rental with Lyft's Express Drive program.
Flexibility: Lyft offers drivers the flexibility to generate income on their schedule, so they can best prioritize what is essential in their lives.
Technology: Lyft's predictive technology around ride volume and demand enables it to share essential information with drivers about when and where to drive to maximize their earnings on a real-time basis.
Insurance: Lyft provides insurance that helps protect transportation network company ("TNC") drivers against financial losses related to automobile accidents while on the platform.
Support: Lyft drivers have access to 24/7 support and earnings tools, education resources, and other support to meet their personal goals.
Riders: Lyft has around 19 Mn active riders. Lyft makes ~$51 per rider. Lyft's value proposition to riders on its platform primarily includes:
Selection and Convenience: Lyft's proprietary technology efficiently matches riders with drivers to provide faster arrival times, localized pricing, and maximum availability. Additional modes, such as Light Vehicles, offer riders more options for shorter trips. Lyft focuses on creating a personalized experience.
Affordability: Lyft empowers riders to choose from a broad set of transportation options to optimize cost, comfort, and time efficiently.
Offering
Lyft's multimodal platform offers riders seamless, personalized, and on-demand access to a variety of transportation options and is comprised of:
Ridesharing Marketplace: Lyft connects drivers with riders who need to get somewhere. The scale of Lyft's network enables it to predict demand and proactively incentivize drivers to be available for rides in the right place at the right time.        
Bikes and Scooters: Lyft has a network of shared bikes and scooters in many cities to address the needs of riders looking for lower-priced, more active, and often more efficient options for short trips during heavy traffic. These modes can also help supplement the first and last mile of a multimodal trip with public transit.   
Public Transit: Lyft wishes to build a more seamless and connected transportation network. Lyft's Nearby Transit offering integrates third-party public transit data into the Lyft app to offer riders a full view of transportation options.
Autonomous Vehicles: Lyft has partnered with Irish automotive technology supplier Aptiv to deploy a fleet of autonomous vehicles in Las Vegas commercially. Lyft has facilitated over 35,000 rides in Aptiv autonomous cars with a safety driver since January 2018. In April 2021, Lyft sold its self-driving car division to Toyota for $550 million.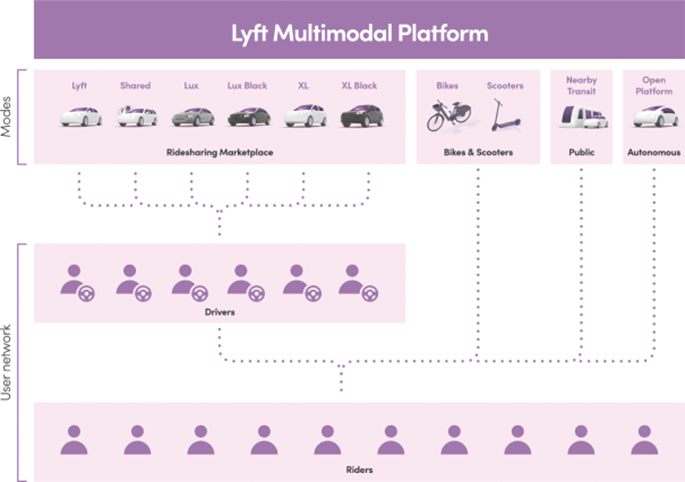 Marketing
Lyft's marketing strategy focuses on various communication channels ranging from national broadcast campaigns to more direct communications like email and social media engagement. Lyft also benefits from positive word of mouth in the existing Lyft rider community.
How does DoorDash make money | Business Model
Lyft emphasizes educating people about Lyft products in creative and memorable ways and generating greater brand awareness among potential drivers and riders. Such efforts include Lyft-produced content, culture and entertainment partnerships, marketing partnerships, sponsored local events, and outdoor advertisements.
Lyft attracts new drivers and riders through referrals, partnerships, display advertising, radio, video, social media, email, search engine optimization, keyword search campaigns, and more.
Revenue
Lyft generated $3.2 bn in 2021. Revenue consists of primarily two streams:
Revenue from contracts with customers.
This revenue stream contributed 92% of totally Lyft's revenue.
revenue recognized from fees paid by drivers for the use of Lyft Platform offerings,
Concierge platform fees from organizations that use its Concierge offering,
subscription fees paid by riders to access transportation options through the Lyft Platform,
revenue from its vehicle service centers and
revenue from licensing and data access agreements
2. Rental Revenue.
This revenue stream contributed 8% of totally Lyft's revenue.
Revenue also consists of rental revenues recognized through leases or subleases primarily from Flexdrive, Lyft Rentals, and Lyft's network of Light Vehicles, including revenue generated from single-use ride fees paid by riders of Light Vehicles.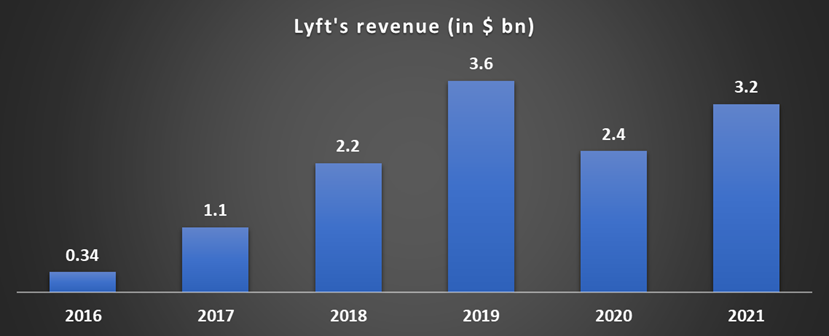 How does Uber work & make money | Business Model
Conclusion
Lyft started with a mission to improve people's lives with the world's best transportation, which I feel Lyft has achieved to a certain extent.
Ride sharing is increasing by leaps and bounds as more and more people are becoming sensitive to climate change. Lyft is at the forefront of this massive societal change. Lyft has committed to reaching 100% electric vehicles ("EVs") on the Lyft network by the end of 2030.
With rising market share in all the business segments, the sky is the limit for Lyft's business model.
---