I am one of those 90s kids who used to wait in line to get a seat at my favorite restaurant. Let alone ordering online at just a click; it was too difficult to imagine such an ecosystem would exist someday. 
Technology advancement has changed the way we lead our lives, how we imagine businesses, and how a consumer interacts with a business. I am a strong evangelist of the platform model. Why? The platform model benefits the entire ecosystem: customers, partners, and the platform's company.
One such application that has revolutionized the food ordering ecosystem is Deliveroo, a British online food delivery company. Applications like Deliveroo and JustEat from the UK, DoorDash, Grubhub, Uber Eats from the US, and Zomato or Swiggy from India have benefitted the end customers by providing convenience. They have also acted as a big booster to small businesses. 
DoorDash has dominated the US food delivery market with >50% market share. What is the business model of DoorDash?
In less than a decade, Deliveroo has become a significant player in the European market with a 22% market share in the UK. As a business enthusiast, that made me curious to learn about the business model of Deliveroo and understand how Deliveroo makes money?
What is Deliveroo?
Founded in 2013 in London by Will Shu and Greg Orlowski (left Deliveroo in 2016), Deliveroo is on a mission is to be the definitive online food company and the platform that people turn to whenever they think about food. Will was the first rider, worked full-time for the first year of the business, and continues to complete deliveries regularly today.
Deliveroo works with some of the most well-known chain restaurants across the UK and its countries. The majority is available exclusively on the Deliveroo app and thousands of independent restaurants. On the journey of becoming global, Deliveroo targets cities neighborhood by neighborhood.
Food is inherently perishable while having an emotional value. Hence getting the food delivered flawlessly is the core philosophy of Deliveroo. Deliveroo claims that it thinks about food as content in the same way other online platforms think about film or fashion.
To achieve its mission, Deliveroo obsesses over every detail of creating the best online food and delivery experience, developing the technology and logistics that make its marketplace work seamlessly.
In 2018, Deliveroo extended its logistics-enabled marketplace to enable grocery partners to service on-demand grocery orders. Deliveroo's grocery business is built on an on-demand grocery model. Deliveroo uses its existing logistics fleet to deliver baskets of convenience or top-up groceries within 30 minutes of ordering.
Deliveroo, in 8 rounds till Jan '21, has raised $1.53 bn+ from investors, and on 31st March 2021, Deliveroo went public on London Stock Exchange in a $2.1 bn IPO. The company lost 31% of share value on day 1 of the listing.
What's Unique in Deliveroo business model?
There are typically two business models in the online home delivery system. First is the restaurant-fulfilled marketplace model, where consumers order online, and restaurants complete their deliveries. In fact, the whole takeaway business is built on this model. Even with the advent of technology enhancement, the problem of delivery times and the inability to track the order remained.
The second model is the logistics-enabled marketplace model, which represented the next stage in the evolution of food delivery, unlocking a more comprehensive range of cuisines and restaurants at different price points, combined with a superior consumer app and delivery experience.
Deliveroo is pioneering the logistics-enabled marketplace business model, where consumers order online, and the platform fulfills delivery via its own logistics network. Deliveroo's business model is based on a marketplace with three key stakeholders: customers, restaurants or grocers, and riders.
Deliveroo's growth flywheel relies on a solid network effect. Let's analyze how this flywheel plays a vital role in the success of Deliveroo's business model.
As more consumers join the logistic network of Deliveroo, more restaurants and grocers are attracted to get the advantage of the opportunity to increase volumes. Greater volume and network density provide more significant earnings opportunities for Deliveroo riders, which drives a more efficient delivery system. Enhancing customer service and a more comprehensive range of restaurant choices bring more customers, and the virtuous cycle begins again.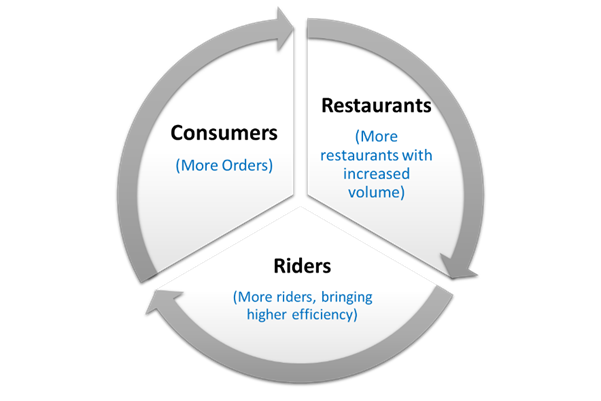 Value Proposition
Customers: To consumers, Deliveroo offers a wealth of choice and fast delivery times in a cost-efficient manner. The logistics enable marketplace model of Deliveroo leverages data and machine learning technology to optimize the delivery process. The process enhances transparency and unlocks better experiences. 
Deliveroo's MAU grew by a CAGR of 52% from 2017 to 2020. Deliveroo's consumer proposition always aims to provide the best availability, selection, experience, and value while building an emotional connection with our brand.
Restaurants or Grocers: To 140,000 best-loved restaurants and takeaways, Deliveroo provides access to its vast network of 110,000 riders and 7.5 Million Monthly active users. As per Deliveroo, more than 90% of the restaurants on Deliveroo's platform did not offer delivery before using the logistics-enabled marketplace model. Deliveroo enables restaurants to have a broader reach beyond their physical premises. 
Deliveroo's proposition to restaurant and grocery partners aims to provide incremental solid demand generation, an excellent consumer experience, tools to drive profitability, and innovations for the future of online food delivery.
Riders: To riders (who deliver food), Deliveroo offers flexible work with attractive rewards. Riders have the freedom to choose work at their convenience and choice. Riders get access to the additional security of free accident and injury insurance from their very first order, access to free safety kits, safety guidance, and skills development opportunities. Deliveroo's rider value proposition is aimed to provide flexible work, more earnings, and security.
Products
Deliveroo has developed three core products that drive value to each stakeholder in the network and allow the brand to bring accelerated growth.
Plus: Delivery charges Plus members a fixed monthly subscription fee (£3.49 or £7.99) for free delivery from all restaurant and grocery partners on orders that meet the minimum spend requirements.
Editions: Delivery Editions brings cloud kitchens on its platform, thus saving these restaurants to spend millions on having a physical premise. Deliveroo leverages technology to identify the requirement of cloud kitchens. Since these cloud kitchens are based on deliveries, chefs are focused solely on creating the ultimate home dining experience. The idea benefits riders by giving them opportunities to deliver more orders.
Signature: Signature is a white labeling offering that enables restaurants to create a direct channel to consumers for delivery and allows customers to directly order from restaurants' websites while using Deliveroo's expertise in logistics and food delivery. For customers who know exactly what they want, Whitelabelled Deliveroo ordering, payment, and delivery offer a great deal for restaurants.
After understanding the business model in detail, let's deep dive into how Deliveroo makes money.
How does Deliveroo make money?
Deliveroo made £1.19 bn in 2020, 51% from UK and Ireland and 49% from international operations. Deliveroo makes money from commissions, consumer fees, and restaurant and grocer sign-up fees. Let's elaborate on each revenue stream:
Commissions: Deliveroo charges commission from partners on each order partner receives through its platform. The commission varies with the type of logistic service partners choose. Deliveroo charges a 30% commission on each order.
Consumer Fees: As described above, the Plus product, Deliveroo, charges customers a flat monthly fee or a delivery fee on a "pay as you go" basis. Based on the characteristic of the order, Deliveroo sometimes charges a small service fee too.
Partners sign-up fees: Partners pay Deliveroo a sign-up fee when they join the platform to cover the cost of equipment and set-up, which enables them to start receiving orders.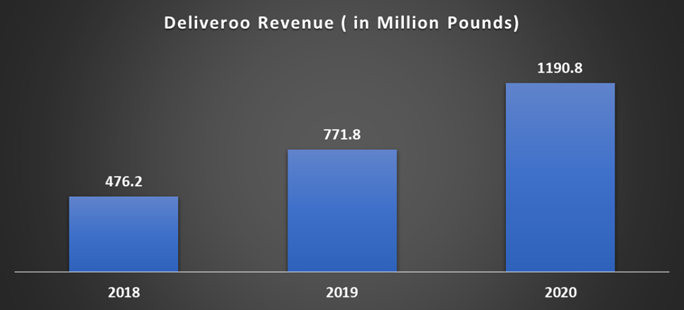 How does Zalando with its platform-based business model aim to become the Starting Point for Fashion in the markets it serves?
How better Unit Economics makes money for Deliveroo?
Unit economics measure the profitability of selling one unit of your product or service. So in Deliveroo's case, unit economics is calculated as the gross margin Deliveroo makes per order (even though the company is in losses due to other costs).
Deliveroo has increased its gross margin from 5.8% in 2018 to 8.8% in 2020. How? Deliveroo focused on improving the operational efficiency of its logistic network, especially on its riders' operations. Improving riders' processes impacts the entire marketplace. It enhances customer experience who thus order more, enhances restaurants' service levels, and enhances riders' earnings. 
Dealroom.co explains the unit economics of Deliveroo.

Deliveroo is competing in a market over £1 trillion in size for both grocery deliveries and food deliveries. With the majority of Deliveroo's business from just the UK and Ireland market and presence in just ten international markets, there is a lot of space for Deliveroo that is still to be captured.
Serving our restaurants, our grocery partners, our riders, and of course our end consumers is what we're all about. All working together in the service of great food. That will never change. But how we do it will change. Join us on the journey.

Will Shu, CEO of Deliveroo
---