Over GE's 130-year history, GE's innovation and technology have improved the quality of life worldwide. GE's businesses today are working to adapt and innovate solutions to three of the world's most pressing challenges: 
Future of flight – The future of flight will be defined by how the aviation industry emerges from the current market cycle and innovates to lower emissions and improves fuel efficiency. 
Precision health – The healthcare industry needs to address productivity challenges by improving access, enabling more precise patient diagnosis and treatment, shortening hospital stays and wait times, and lowering overall costs. 
Energy transition – Energy demand is increasing, and roughly one billion people worldwide cannot access reliable power. Progress in significantly reducing power sector emissions in the near term while accelerating technological innovation for higher renewable penetration and lower carbon-power generation will also enable further emission reductions of other sectors through the electrification of transportation, heat, and industry.
General Electric (GE) aims to solve these challenges throughout its business model. In this strategy story, we will decode the business model of GE and understand what GE does or makes under each segment of that business model.
What does each segment of General Electric do and make? How is the business model of General Electric structured?
General Electric (GE) is a high-tech industrial company that operates its business model worldwide through four segments, Aviation, Healthcare, Renewable Energy, and Power. 
General Electric (GE) products include:
Commercial and military aircraft engines and systems.
Healthcare systems and pharmaceutical diagnostics.
Wind and other renewable energy generation equipment and grid solutions, Gas, steam, nuclear, and other power generation equipment. 
GE has significant global installed bases of equipment across these sectors, and services to support these products are also an important part of GE's business alongside new equipment sales. Let's see each segment of GE in detail and understand segment wise business model.
Aviation
GE's Aviation business over many decades has contributed to advances in engine architectures, aerodynamics, and materials and the use of sustainable aviation fuels that have resulted in today's aircraft engines consuming significantly less fuel with lower emissions.
Aviation designs and produces commercial and military aircraft engines, integrated engine components, electric power, and mechanical aircraft systems. 
Commercial Engines and Services – manufactures jet engines for commercial airframes. GE's commercial engines power aircraft in all categories: regional, narrowbody, and widebody. This includes engines and components for business aviation and aero-derivative applications as well. 
GE also produces and markets engines and aftermarket services through joint ventures with Safran Group of France (Safran) and Raytheon Technologies Corporation via their Pratt & Whitney segment. Commercial provides maintenance, component repair, and overhaul services (MRO), including sales of replacement parts. 
Military – manufactures jet engines for military airframes. GE's military engines power various military aircraft, including fighters, bombers, tankers, helicopters, surveillance aircraft, and marine applications. GE provides maintenance, component repair, and overhaul services, including sales of replacement parts. 
Systems & Other – provides avionics systems, aviation electric power systems, turboprop engines, engine gear, and transmission components and services for commercial and military segments. Additionally, GE provides a wide variety of products and services, including additive machines, additive materials (including metal powders), and additive engineering services.
Healthcare
GE's Healthcare business is working to help support the future of healthcare that will merge clinical medicine and data science by applying advanced analytics and artificial intelligence across the patient journey. 
With its products, services, and digital capabilities, the Healthcare business is focused on building an intelligence-based healthcare system and a healthier world, and greater access to the half of the world's population that is underserved.
Healthcare provides essential healthcare technologies to developed and emerging markets. It has expertise in medical imaging, digital solutions, patient monitoring and diagnostics, drug discovery, and performance improvement solutions that are the building blocks of precision health. Products and services are sold worldwide, primarily to hospitals and medical facilities. 
Healthcare Systems (HCS) – develops, manufactures, markets, and services a broad suite of products and solutions used in the diagnosis, treatment, and monitoring of patients that is encompassed in imaging, ultrasound, life care solutions, and enterprise software and solutions. 
Imaging includes magnetic resonance, computed tomography, molecular imaging, x-ray systems, complementary software and services for general diagnostics, women's health, and image-guided therapies. 
Ultrasound includes high-frequency soundwave systems and complementary software and services for diagnostics tailored to a wide range of clinical settings. 
Life Care Solutions (LCS) includes clinical monitoring, acute care systems, complementary software and services for intensive care, anesthesia delivery, diagnostic cardiology, and perinatal care. 
Enterprise Digital Solutions (EDS) includes enterprise digital, artificial intelligence applications, consulting, and Command Center offerings designed to improve efficiency in healthcare delivery and expand global access to advanced healthcare. 
Pharmaceutical Diagnostics (PDx) – researches, manufactures, and markets innovative imaging agents used during medical scanning procedures to highlight organs, tissue, and functions inside the human body, to aid physicians in the early detection, diagnosis, and management of disease through advanced in-vivo diagnostics. These products include both contrast imaging and molecular imaging agents. 
BioPharma – This business was sold on March 31, 2020. It delivered products, services, and manufacturing solutions for drug discovery, biopharmaceutical production, and cellular and gene therapy technologies.
Renewable energy
GE's Renewable Energy and Power businesses play a central role in helping GE's customers meet this demand for electricity generation while lowering carbon intensity and making power generation more reliable, affordable, and sustainable. 
These businesses' technology and expertise include onshore and offshore wind turbines, gas turbines, digital controls, and hardware solutions that bring more renewables onto power grids while making the grid more resilient.
GE benefits from one of the broadest portfolios in the industry that uniquely positions it to lead the energy transition with products, services, and integrated solutions to grow renewable energy generation, lower the cost of electricity and modernize the grid. 
GE's portfolio of business units includes onshore and offshore wind, blade manufacturing, grid solutions, hydro, storage, hybrid renewables, and digital services offerings. GE has installed more than 400 gigawatts of clean, renewable energy equipment and equipped more than 90 percent of transmission utilities with GE's grid solutions in developed and emerging markets.
Onshore Wind – delivers technology and services for the onshore wind power industry by providing a large range of turbines with smart controls uniquely tailored for various wind environments. 
Wind Services assist customers in improving the cost, capacity, and performance of their assets over the lifetime of their fleet, utilizing digital infrastructure to monitor, predict and optimize wind farm energy performance. GE's Onshore Wind business supports a turbine-installed base of approximately 52,000 units, of which approximately half are under service agreements. 
Grid Solutions Equipment and Services (Grid) – enables power utilities and industries worldwide to effectively manage electricity from the point of generation to the point of consumption, helping to maximize the grid's reliability, efficiency, and resiliency.
Service offerings include a comprehensive portfolio of equipment, hardware, protection and control, automation, and digital services. Grid is also addressing the challenges of the energy transition by safely and reliably connecting intermittent renewable energy generation to transmission networks. 
Hydro Solutions – has equipped more than 25 percent of the global hydro installed base and provides a portfolio of solutions and services for hydropower generation, including the design, management, construction, installation, maintenance, and operation of both large hydropower plants and small hydropower solutions, as well as offering a comprehensive asset management program to hydropower plant operators.
Offshore Wind – leads the industry in offshore wind power technologies and offshore wind farm development with the Haliade-X, the industry's first 14MW offshore wind turbine. 
Hybrid Solutions – provides reliable, affordable, and dispatchable integration of renewable energies that drive vital stability to the grid and includes unique applications to integrate storage and renewable energy generation sources, such as wind, hydropower, and solar.
Power
Power serves power generation, industrial, government, and other customers worldwide with products and services related to energy production. GE's products and technologies harness resources such as oil, gas, fossil, diesel, and nuclear to produce electric power, including gas and steam turbines, full balance of plant, upgrade and service solutions, and data-leveraging software. 
GE has organized the businesses within GE's Power segment into GasPower, Steam, Power Conversion, Nuclear, and others.
Gas Power – offers a wide spectrum of heavy-duty and aero-derivative gas turbines for utilities, independent power producers, and numerous industrial applications, ranging from small, mobile power to utility-scale power plants. Gas Power also delivers maintenance and service solutions across total plant assets and over their operational lifecycle. 
Steam Power – offers a broad portfolio of technologies and services predominately for nuclear and fossil power plants to help customers deliver reliable power as they transition to a lower carbon future. 
Power Conversion, Nuclear and other – applies the science and systems of power conversion to provide motors, generators, automation, and control equipment and drives for energy-intensive industries such as marine, oil, gas, mining, rail, metals, and test systems. Through joint ventures with Hitachi, it also provides nuclear technology solutions for boiling water reactors, including reactor design, reactor fuel, and support services.
Corporate: The Corporate amounts related to revenues and earnings include the results of disposed businesses, certain amounts not included in operating segment results because they are excluded from the measurement of their operating performance for internal and external purposes, and the elimination of intersegment activities. 
What does Berkshire Hathaway do: Business Model Analysis
In addition, the Corporate amounts related to earnings include certain costs of GE's principal retirement plans, significant, higher-cost restructuring programs, and other costs reported in Corporate.
GE made $74.2 billion in 2021. For 2021, total revenues decreased by $1.6 billion (2%).  The revenue structure of the business model of GE is given below in the image (all figures are in $ Millions).
Equipment revenues decreased primarily, 
at power due to decreased GasPower equipment revenues on lower turnkey sales and Steam Power equipment on the exit of new build coal; 
at Aviation, due to fewer commercial install and spare engine unit shipments, 
and at Healthcare due to the disposition of the BioPharma business, 
partially offset by an increase in Renewable Energy driven by higher revenue at Offshore Wind. 
Services revenues increased primarily
at power due to an increase in Gas Power and Steam Power services revenues; 
In healthcare, due to increased volume in Imaging and Ultrasound and a return to pre-pandemic volume in Pharmaceutical Diagnostics; 
and at Aviation, primarily due to increased shop visit volume, 
partially offset by a decrease in Renewable Energy, primarily due to lower repower unit deliveries at Onshore Wind.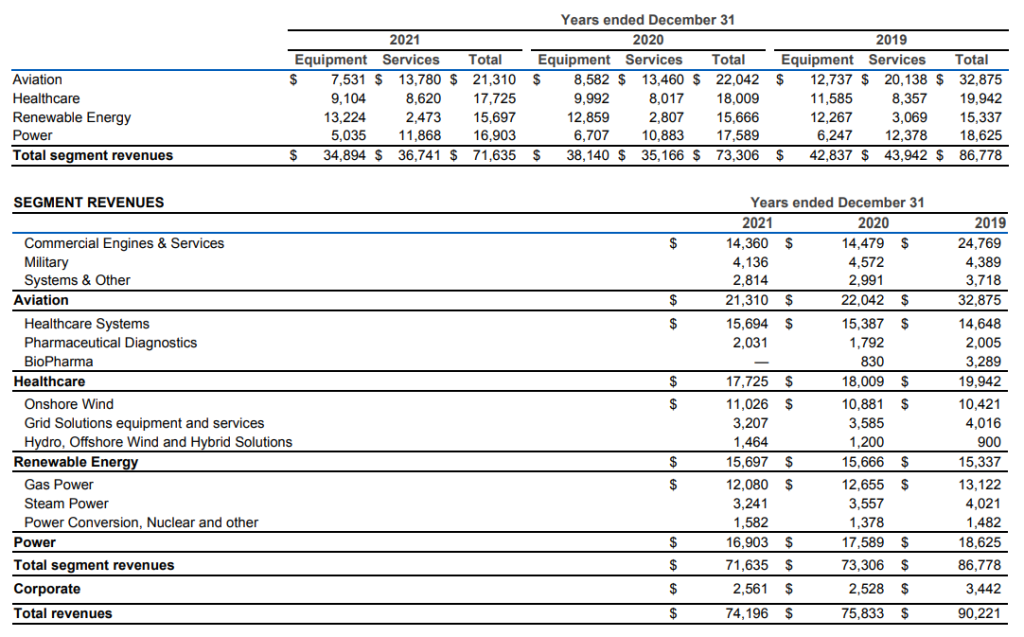 ---