For every company, sales and marketing is a fundamental function that defines its success. As a result, businesses—from the largest enterprises to the smallest companies—typically spend significantly on sales and marketing activities. 
Before the advent of sales and marketing technologies, businesses that sold to other businesses operated in an analog world, relying on field sales representatives to gather customer information and navigate sales processes. This process was manual, expensive, and inefficient. The data gathered was limited in depth, breadth, and accuracy and began decaying as soon as it was captured.
To address these problems, businesses invested in new technologies to digitally transform how they sell and market. Despite these investments, businesses rely mainly on manual processes to gather intelligence to drive these systems.
Consequently, the data that supports CRM and sales & marketing automation systems and workflows are frequently stale, inaccurate, incomplete, and limited in depth and breadth, making these systems and their impact on the businesses suboptimal and less valuable.
According to Salesforce.com, sales representatives spend only a third of their time actually selling, primarily because they must spend so much time researching and organizing data, often of poor quality. There was a Need for a Comprehensive Go-to-Market Intelligence Solution, and ZoomInfo understood this.
ZoomInfo is a global leader in modern go-to-market software, data, and intelligence for sales, marketing, operations, and recruiting teams. So we decided to analyze the business model of ZoomInfo. We will also learn what does ZoomInfo do, how does it work, how does ZoomInfo get their data and who are the major competitors for ZoomInfo.
What does ZoomInfo do? How does ZoomInfo work? How does ZoomInfo get its data?
ZoomInfo, formerly known as DiscoverOrg, was co-founded in 2007 by our CEO, Henry Schuck. DiscoverOrg achieved significant organic growth since its founding and acquired Zoom Information, Inc. in February 2019 to further expand the breadth of our go-to-market intelligence, industry coverage, and addressable market opportunity. 
The combined business was incorporated as the former ZoomInfo Technologies Inc. (now ZoomInfo Intermediate Inc.) on November 14, 2019, to facilitate the IPO. On June 8, 2020, ZoomInfo completed the IPO.
ZoomInfo is a global leader in modern go-to-market software, data, and intelligence for sales, marketing, operations, and recruiting teams. RevOS – ZoomInfo's modern, cloud-based operating system for revenue professionals – delivers comprehensive and high-quality intelligence and analytics to provide sales, marketing, operations, and recruiting professionals accurate information and insights on the organizations and professionals they target. 
This 360-degree view provides a detailed understanding and, coupled with ZoomInfo's analytics, shortens sales cycles and increases win rates by enabling sellers, marketers, and recruiters to deliver the right message, to the right person, at the right time.
ZoomInfo delivers high-quality intelligence at scale by leveraging an artificial intelligence ("AI") and machine learning ("ML") powered engine that gathers data from millions of sources in real-time and standardizes, matches to entities, verifies, cleans, and applies the processed data to companies and people at scale to generate insights.
This data engine, along with a team of research analysts and data scientists, enriches ZoomInfo's platform by providing deep insights, such as personnel moves, pain points, or planned investments, technologies used by companies, intent signals, decision-maker contact information, advanced attributes (such as time series growth, granular department and location information, and employee trends), organizational charts, news and events, hierarchy information, locations, and funding details.
Let's understand how does ZoomInfo work.
ZoomInfo first aggregates and extracts distinct data types, such as revenue, locations, technologies, keywords, contact information, email addresses, titles, phone numbers, and many others, from millions of public and proprietary sources. 
ZoomInfo obtains email signatures, which are rich data sources, through integrations with email systems. It also obtains unattributed data through integrations with its customers' CRM and sales & marketing automation systems.
Then ZoomInfo's evidence-based ML algorithm scores, ranks, and determines these billions of data points daily. To help train its AI and ML technologies and augment the contributory network, ZoomInfo has a team of research analysts and data scientists with deep expertise in cleaning B2B data. 
This human-in-the-loop team plays a strategic role, focusing on quality assurance and addressing data and intelligence gaps that technology alone cannot solve. This research team finds anomalies in data, reviews data pieces that require another manual verification, identifies patterns to transform this understanding into algorithms, and identifies methods to automate data gathering.
Finally, ZoomInfo's customers access insights directly in the platform. They can also directly integrate data and insights into their customer relationship management system ("CRM") or sales and marketing automation systems to improve their go-to-market processes.
Examples of how does the data engine of ZoomInfo work:
ZoomInfo collected 72 pieces of data related to a professional's contact information over three years to accurately identify the professional's contact information and publish that information on its platform.
The VP of Marketing at a retail company responds to one of ZoomInfo's automated surveys, indicating he plans to hire a new digital advertising agency within the next 12 months, which is published as a scoop on ZoomInfo's platform.
ZoomInfo's AI technology reads an agenda for a software company's conference and identifies that the CEO of Omega Corp. is a keynote speaker at the conference, creating a piece of evidence that Omega Corp. is likely a customer.
How does ZoomInfo get their data?
ZoomInfo has a number of data sources, including proprietary sources, that enrich its platform, as detailed below.
Contributory Network: ZoomInfo's users contribute data that enhance its platform. Many paying customers participate in ZoomInfo's contributory network to improve the data quality within their CRM and sales & marketing automation systems. Similarly, all of ZoomInfo's free Community Edition users participate in our contributory network to get access to data. ZoomInfo's contributory network captures data daily on over 50 million email signatures, email deliverability, and contact update records. 
Unstructured Public Information: ZoomInfo's technologies extract and parse unstructured information found on webpages, newsfeeds, blogs, and other public sources and then match that information with entities it has previously identified. 
Data Training Lab: ZoomInfo has developed hundreds of processes, largely automated, to gather information from sources, such as PBX directories, the website traffic and source code, and proprietary surveys. For example, ZoomInfo enhances technology to gather a telephone number extension at a particular company and location by leveraging its library to generate a full direct dial phone number by appending the correct area code and prefix. 
Generally Available Information: ZoomInfo purchases a limited amount of data from third-party vendors (e.g., other data brokers). ZoomInfo's technology typically adds value to this data by combining it with our proprietary insights.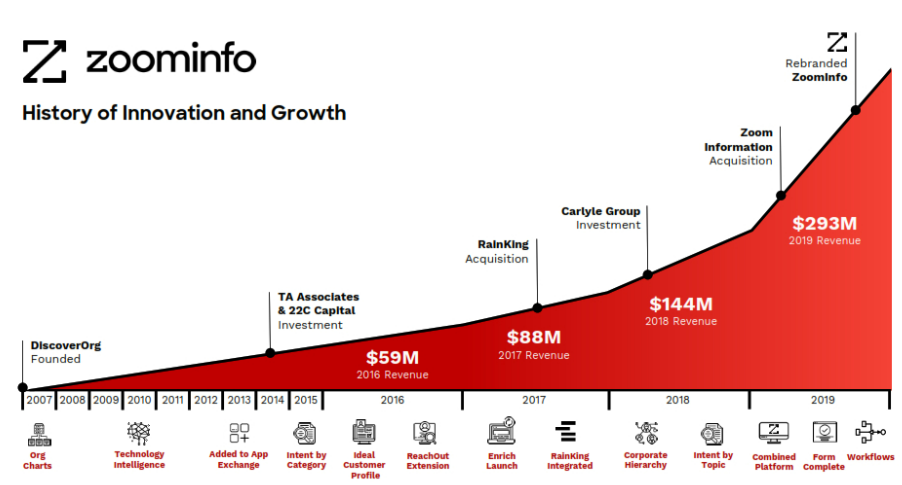 What is the business model of ZoomInfo? How does ZoomInfo make money? Who are ZoomInfo competitors?
Value Proposition
Measurable Revenue Improvement: ZoomInfo's platform increases revenue for its customers, who can easily measure the impact because ZoomInfo integrates with the systems they use to attribute revenue.
Accuracy, Depth, and Coverage of Data: ZoomInfo provides a guarantee of 95%+ accuracy as a result of its focus on quality, coupled with proprietary methods to extract, parse, match, and clean data. 
Valuable Insights: ZoomInfo integrates unique data points proprietary to ZoomInfo with its customers' data to enrich their information and develop unique insights.
Integrated and Automated Platform: ZoomInfo's insights are available on its cloud-based platform and can also be delivered directly into its customers' workflows and supporting infrastructure, including Salesforce, Marketo, HubSpot, Microsoft Dynamics, Oracle Sales Cloud, and other platforms. Most customers integrate ZoomInfo with their CRM or sales & marketing automation system.
Empowering Business Model & Marketing Strategy of Salesforce
Customers
ZommInfo's large and diversified customer base spans a wide variety of industry verticals, including software, business services, manufacturing, telecommunications, financial services, media and internet, transportation, education, hospitality, and real estate. Our customers range from the largest global enterprises to mid-market and small businesses. As of 2021, ZoomInfo had 25,000 customers.
ZoomInfo Competitors or Alternatives
ZoomInfo's competitors or alternatives include:
free online and offline sources of information on companies and business professionals, including government records, telephone books, company websites, and open online databases of business professionals, such as LinkedIn Sales Navigator, D&B Sales & Marketing Solutions, TechTarget, and Infogroup;
customers' internal and homegrown business contact databases;
when used in conjunction with the foregoing or when additionally providing third-party sales and marketing data, predictive analytics, and customer data platform technologies;
When used in conjunction with the foregoing or when additionally providing third-party sales and marketing data, sales and marketing vendors, which may specialize in appointment setting, online ad targeting, email marketing, or other outsource go-to-market functions;
other vendors of sales automation software;
other providers of third-party company attributes, technology attributes, and business contact information;
other providers of online content consumption data for predictive sales and marketing analytics; and
User-based networks of companies and business professionals.
How does ZoomInfo make money: revenue model
ZoomInfo made $747 Million in 2021. ZoomInfo generates all of its revenue from sales of subscriptions to its platform substantially. ZoomInfo's subscription services consist of our SaaS applications and related access to its database. 
How does Snowflake work: Business Model & Strategy
ZoomInfo prices its subscriptions based on the functionality, users, and records under management that are included in each product edition. ZoomInfo's paid product platforms are SalesOS, MarketingOS, OperationsOS, and RecruitingOS, and ZoomInfo has a free Community Edition. The business model of ZoomInfo has two revenue segments.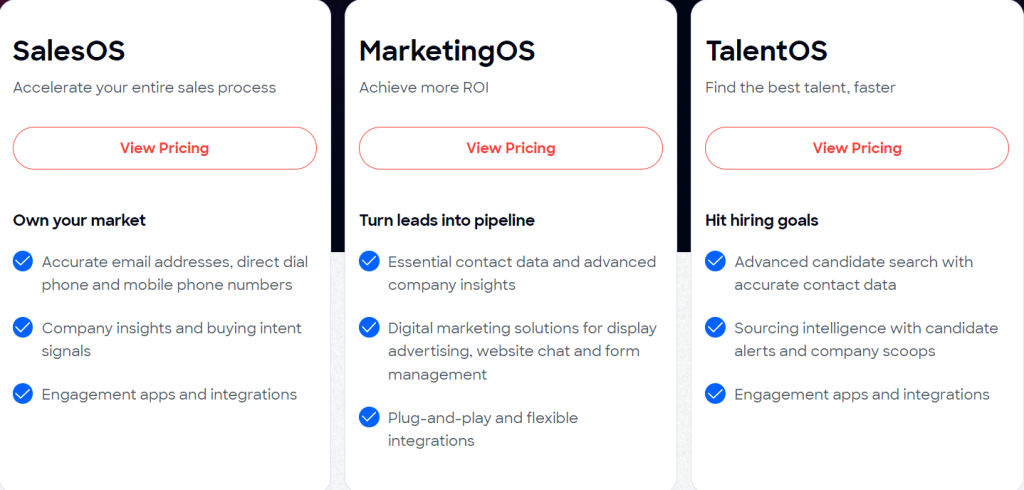 Subscription revenue: Go-To-Market business intelligence tools are subscription services that allow customers access to our SaaS tools to support sales and marketing processes, which include data, analytics, and insights to provide accurate and comprehensive intelligence on organizations and professionals. Subscriptions contributed 99% to ZoomInfo's revenue in 2021.
Usage-based revenue is mainly comprised of email verification and intent-driven audience and targeting services, which are charged to our customers on a per-unit basis based on their usage. Usage-based contributed just 1% to ZoomInfo's revenue in 2021.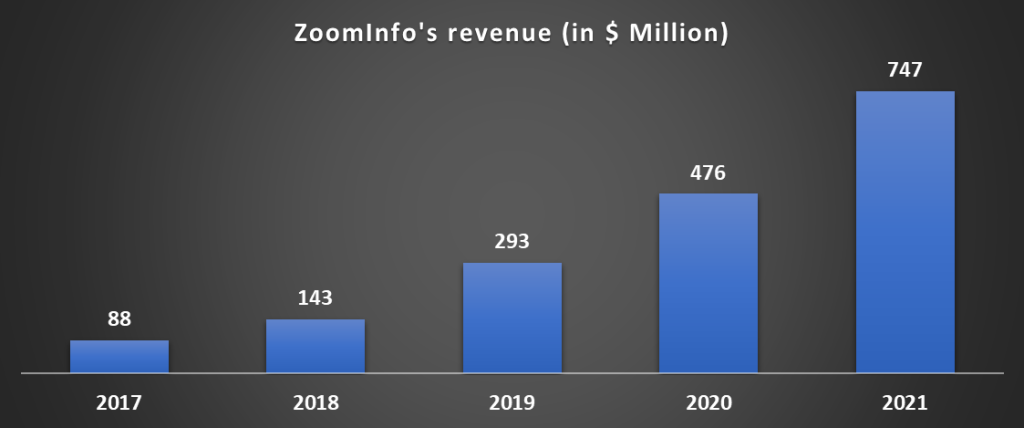 ---