Today, global challenges require businesses to digitally transform while leveraging customer data to become more responsive, resilient, and efficient. Companies must also rethink and reshape everything about how and where their employees work.
Every business, in every industry, has to optimize for a digital-first customer, employee, and partner experience and connect with their customers through digital channels.
Salesforce understood this business need back in 1999 and started providing Customer Relationship Management (CRM) as a SaaS tool. Salesforce empowers companies to take advantage of powerful technologies, including cloud, mobile, social, blockchain, and artificial intelligence, to connect to their customers in a whole new way and help them transform their businesses around the customer in this digital-first world.
Companies of every size and industry worldwide are making significant investments in digital transformation. They trust Salesforce to help them connect with their customers in a whole new way.
Through this strategy story, let's aim to understand various aspects of Salesforce: Business Model, Marketing Strategy, and how it makes money.
Business Overview of Salesforce
Salesforce is an American cloud-based software company headquartered in San Francisco, California. It provides customer relationship management (CRM) software and applications focused on sales, customer service, marketing automation, analytics, and application development.
Founded by former Oracle executive Marc Benioff, Salesforce quickly grew into one of the largest companies in the world, making its IPO in 2004. Salesforce's continued growth makes it the first cloud computing company to reach US$1 billion in annual revenue by the fiscal year 2009. In August '22, Salesforce had leapfrogged SAP as World's Largest Enterprise-Apps Vendor.
The business model of Salesforce aims to deliver a single source of truth, connecting customer data across systems, apps, and devices to help companies with their digital transformation.
Salesforce also gives teams sales, Service, marketing, and commerce capabilities and more, and a single shared view of their customers so they can work together to build lasting, trusted relationships and deliver the personalized experiences their customers expect.
Salesforce primarily delivers solutions as highly scalable cloud computing applications and platform services on a multi-tenant technology architecture. Multi-tenancy is an architectural approach that allows Salesforce to operate a single application instance for multiple organizations, treating all customers as separate tenants who run in virtual isolation from each other.
Check out our detailed case study on Salesforce's business and growth strategy.
This approach allows Salesforce to spread the cost of delivering its services across the user base and scale its business faster than traditional software vendors while building new functionality and enhancing existing offerings.
To read Salesforce's history, you have Wikipedia. In The Strategy Story, we will analyze and present the business model aspects and marketing strategy of Salesforce in detail.
Salesforce Business Model
Value Proposition
CRM integrated platform for business-to-business, business-to-consumer, and business-to-employee and an enterprise application marketplace for the all-digital, work-from-anywhere world;
scalable and flexible solutions for any size company or industry;
A single source of truth that connects customer data across systems, apps, and devices to help companies sell, Service, market, and conduct commerce from anywhere;
The ability to unlock companies' customer data across their business, see and understand their data with advanced analytics, make predictions with pervasive AI, automate tasks and personalize every interaction;
the ability to collaborate easily with employees, customers, partners, and systems;
Modern low-code and no-code tools powered by leading-edge AI, which empowers developers and business users to create digital experiences and configure and automate business processes to fit the needs of any business, accelerating time to value;
The ability to accelerate adoption and drive results with purpose-built, compliant tools and processes that deliver out-of-the-box functionality, security, and interoperability; and
A community of over two million Trailblazers: passionate developers, admins, and experts who use Salesforce to innovate and extend the platform with thousands of partner apps.
Product Offerings
Salesforce's core product and AI-powered Customer 360 platform spans sales, Service, marketing, commerce, and more. It empowers its customers to work together, from anywhere, to deliver seamless, connected experiences for their customers. Customer 360 service offerings are designed to work together and include:
Sales: Sales empowers sales teams of companies of every size and industry to manage and automate their entire sales process, from leads to opportunities to billing, allowing them to sell faster, more intelligently, and in the way they want. Salesforce customers use Sales offering to store data, monitor leads and progress, forecast opportunities, gain insights through analytics and relationship intelligence, and deliver quotes, contracts, and invoices.
Service: Service enables companies to deliver trusted and highly personalized customer service and support at scale. Salesforce's customers use Service offering to connect their service agents with customers across various touchpoints from the phone to digital channels to self-service portals, with connected omnichannel engagement.
Platform: Salesforce's platform enables companies to build business apps to bring them closer to their customers with drag-and-drop tools. It is an agile and trusted way for enterprises to innovate and deliver digital transformation at scale.
Slack: In July 2021, Salesforce acquired Slack, a system of engagement that digitally connects employees, customers, partners, and systems with every application and workflow. Salesforce plans to integrate Slack with most Salesforce offerings.
How does Slack make money | Slack's Freemium business model
Marketing: Marketing offering enables companies to plan, personalize and optimize one-to-one customer marketing journeys, including interactions across email, mobile, social, web, and connected products, and provide an integrated customer experience across their customers' journey with real-time personalization.
With Marketing offerings, customer data can also be integrated with Salesforce's Sales offering and Service offering in the form of leads, contacts, and customer service cases to give companies a single source of truth for their customers.
Commerce: Commerce offering empowers brands to unify the customer experience across many points of commerce, including mobile, web, social, and store. Through personalized shopping experiences and a robust partner ecosystem, commerce's offering helps companies drive increased engagement, conversion, loyalty, and revenue from their customers.
Analytics: Analytics offering, including Tableau, provides customers with an advanced, end-to-end analytics solution serving a broad range of enterprise use cases. Analytics offers customers intelligent analytics capabilities to better understand their business data.
Integration: The integration offering, powered by MuleSoft, makes it easy to connect data from any system to deliver genuinely connected experiences and helps customers unlock, unify and secure their data, use discoverable, reusable APIs and integrations and increase their speed and agility to create connected experiences quickly.
Revenue: how does Salesforce make money
Salesforce made $26.5 billion in FY22. Salesforce makes money primarily from subscription and support revenues; and professional services, and other revenues.
Subscription and support revenues
It includes subscription fees from customers accessing the company's enterprise cloud computing services, software license revenues from the sales of term and perpetual licenses, and support revenue from the sales of support and updates beyond the basic subscription fees or related to the sales of software licenses.
Cloud Services allow customers to use the company's multi-tenant software without taking possession of the software. This stream contributed $24,657 Million (93%) to Salesforce's revenue in FY22. If we look at how Salesforce makes money through different products in Subscription and support:
| | |
| --- | --- |
| Revenue Stream (In $ million) | FY22 |
| Sales | 5,989 |
| Service | 6,474 |
| Platform & Other | 4,509 |
| Marketing & Commerce | 3,902 |
| Data | 3,783 |
| Total | 24,657 |
Professional services and other revenues
It includes professional and advisory services for process mapping, project management and implementation, and training services. This stream contributed $1,835 million (7%) to Salesforce's revenue in FY22.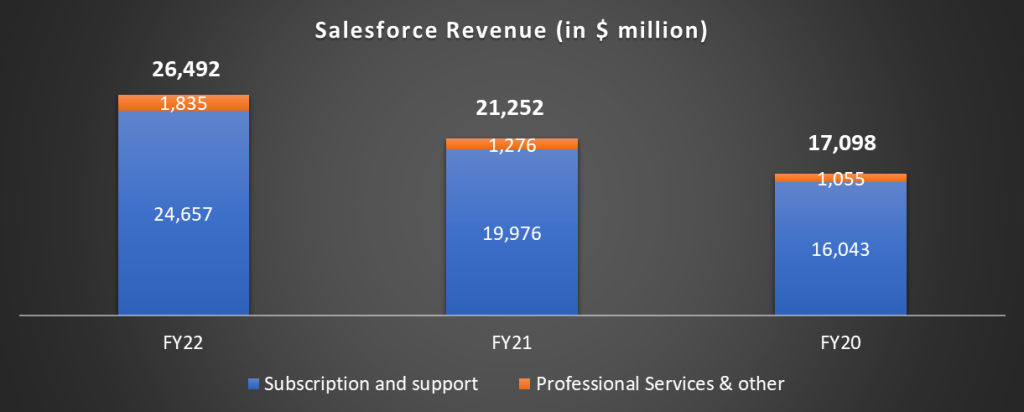 Sales and Marketing Strategy of Salesforce
Marketing and Sales are the biggest cost heads for Salesforce. Salesforce spent almost $11.8 Billion in FY22 on marketing and sales. This data gives a valuable insight that Salesforce is dependent on pushing sales and staying in customers' minds to win over the competition. This also makes marketing and sales strategy very critical at Salesforce.
Sales Strategy of Salesforce
The sales strategy of Salesforce significantly relies on its direct sales force, which comprises telephone sales personnel based in regional hubs, field sales personnel based in territories close to their customers, and self-service offerings.
As part of its sales strategy, the business model of Salesforce also utilizes a network of partners who refer sales leads to Salesforce and assist in selling to these prospects. This network includes global consulting firms, systems integrators, and other partners.
In return, Salesforce typically pays these partners a fee based on the first-year subscription revenue generated by the customers they refer.
Marketing Strategy of Salesforce
The marketing strategy of Salesforce is based on leveraging various marketing programs across traditional and social channels to target prospective and current customers, partners, and developers. Salesforce's primary marketing activities include:
Multichannel marketing campaigns that span email, social media, the web, television, and more, which align to a broader customer journey;
in-person and virtual customer events of all sizes to create customer and prospect awareness, including proprietary events such as Dreamforce and virtual Dreamforce to You, World Tours, and other virtual events, as well as participation in trade shows and industry events;
Live events and original programming on Salesforce+, Salesforce's streaming platform which launched in fiscal 2022, which includes discussions about the future of technology in the digital-first, work anywhere world, and educational content to learn new skills and pursue new career opportunities;
press and industry analyst relations to garner third-party validation and generate positive coverage;
partner co-marketing activities with global and regional implementation partners;
Customer testimonials and its community of Trailblazers: individuals who drive innovation, grow their careers, and transform their businesses using the Customer 360 platform;
in-person and virtual technology event sponsorships;
event partnerships with high-profile global brands and organizations; and
primary real estate signage
Check out our detailed case study on Salesforce's acquisition strategy.
PS: The cover image is of Salesforce's headquarters (called Salesforce Tower) in San Fransisco, United States.
Salesforce Competitors
The market for Salesforce service offerings is highly competitive, rapidly evolving and fragmented and subject to changing technology with low barriers to entry, shifting customer needs, and frequent introductions of new products and services.
Primarily Salesforce competitors are:
internally developed enterprise applications (by Salesforce potential customers' IT departments);
vendors of packaged business software, as well as companies offering enterprise apps delivered through on-premises offerings from enterprise software application vendors and cloud computing application service providers, either individually or with others;
vendors who offer software tailored to specific services
suppliers of traditional business intelligence and data preparation products, as well as business analytics software companies;
integration software vendors and other companies offering integration or API solutions;
marketing vendors, which may specialize in advertising, targeting, messaging or campaign automation;
e-commerce solutions from established and emerging cloud-only vendors and established on-premises vendors; 
productivity tool and email providers, unified communications providers and consumer application companies that have entered the business software market; and 
traditional platform development environment companies and cloud computing development platform companies
Biggest competitors of Salesforce are Microsoft, Oracle, SAP, SugarCRM, Zoho, Sage, Zendesk, HubSpot.
---