The approximately 860,000 restaurant locations in the United States are highly diverse and complex. Restaurants generally operate with low margins, high employee turnover, highly perishable products, and complex regulations. At the same time, the restaurant industry is undergoing foundational changes driven by changing guest preferences and the imperative to utilize technology and data to innovate. 
What was once primarily an on-site experience with antiquated solutions is now becoming an omnichannel experience that employs technology to enable dining in a restaurant, picking up curbside, or ordering delivery. Consumer preference towards omnichannel dining options has further accelerated due to the COVID-19 pandemic.
There has also been a transformation in how guests purchase their food. Credit cards, mobile wallets, and other digital payment solutions have increased in popularity among guests. Cash sales as a percent of total sales through Toast's platform declined. As the diversity of how guests order, where guests eat, and the means guests use to pay continues to grow, restaurants must constantly adapt to support these trends.
To empower the restaurant community and leverage these trends, Toast was founded as a cloud-based, all-in-one digital technology platform that provides a comprehensive suite of software as a service, or SaaS, products. In this strategy story, Toast will understand how does Toast work and money and what is the business model of Toast.
What is Toast? How does Toast work?
Toast is a cloud-based, all-in-one digital technology platform purpose-built for the entire restaurant community. Toast's platform provides a comprehensive suite of software as a service, or SaaS, products, and financial technology solutions, including integrated payment processing, restaurant-grade hardware, and a broad ecosystem of third-party partners. 
Toast works as the restaurant operating system, connecting front-of-house and back-of-house operations across dine-in, takeout, and delivery channels. As of December 31, 2021, approximately 57,000 restaurant locations, processing over $57 billion of gross payment volume in the trailing 12 months, partnered with Toast to optimize operations, increase sales, engage guests, and maintain happy employees.
Toast's all-in-one platform powers the entire restaurant community. Toast's portfolio spans seven product categories: point of sale, restaurant operations, digital ordering & delivery, marketing & loyalty, team management, financial technology solutions, and platform & insights. 
As restaurants adopt more of Toast's platform, Toast's solutions work better together to drive even more success. For example, when a restaurant switches from pen and paper to using Order & Pay, they collect guest data previously unavailable to them. 
This guest data can then fuel Toast's marketing solutions, increasing the likelihood of a return visit to the restaurant or driving the guest to the restaurant's online ordering channel with Toast, eliminating a third-party commission and driving incremental margin for the restaurant.
The business model of Toast benefits from powerful network effects. The benefits of Toast to each stakeholder in the restaurant ecosystem bolsters the success of all. The result is a virtuous cycle between restaurants and their stakeholders. For example, because Toast helps restaurants create a more seamless guest experience, guests often spend more. They are more likely to return to the restaurant, allowing the restaurant to further invest in the guest experience. 
Similarly, higher spend from happier guests is correlated with higher wages for employees, which in tandem with the wage and benefits access enabled by Toast's products, drives happier employees, lower turnover, improved quality of service, and enhanced operational efficiency.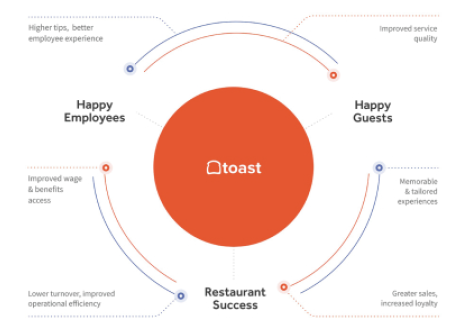 How does Toast make money? What is the business model of Toast?
Value Proposition
Restaurant operators: Toast arms restaurants with a wide range of products and capabilities to address their specific needs regardless of size, location, or business model. As a result, restaurants using Toast often see higher sales and greater operational efficiency.
Guests: Guests can place orders easily, safely, and accurately across web, mobile, and In-person channels for dine-in, takeout, or delivery. In addition, Toast's platform empowers restaurants to utilize their guest data to deliver targeted and personalized experiences with loyalty programs and marketing solutions. In June 2021, Toast saw an average of over 5.5 million guest orders daily on Toast's platform.
Employees: Toast's technology improves the experience of up to 500,000 daily active restaurant employees across Toast customers. Toast's products enable new employees to learn quickly through guided workflows, facilitate faster table turns and safer, streamlined operations, and provide greater transparency and timely access to employees' wages.
Products
Toast's portfolio spans seven product categories: point of sale, restaurant- operations, digital ordering & delivery, marketing & loyalty, team management, financial technology solutions, and platform & insights. 
Point of Sale
Software: Toast's proprietary software enables connectivity across restaurant operations, guests, and employees and drives a differentiated dining experience.
Hardware: Toast's restaurant-grade hardware is custom-built to withstand the rigors of a restaurant, combining the durability needed for the restaurant environment with aesthetically pleasing designs and in-store branding.
How does OpenTable make money | Business model
Restaurant Operations
Software
Kitchen Display System: Kitchen Display System software fully integrates all ordering stations with the kitchen, automates firing by prep time, and instantaneously notifies servers when orders are ready.
Multi-Location Management: Multi-Location Management tool allows Toast's customers to manage and standardize their operations and easily configure menus across multiple locations and channels, including online ordering and delivery. 
xtraCHEF by Toast: xtraCHEF provides back-office tools for restaurants, including accounts payable automation and inventory management. xtraCHEF arms operators to take control of rising inventory costs, automate accounts payable, and streamline back-office tasks to increase overall profitability.
Hardware
Toast Flex for Kitchen: Toast Flex for Kitchen is a larger format, mountable display that can be used as a kitchen screen or order fulfillment station to help restaurants run their kitchens smoothly. 
Digital Ordering & Delivery
Toast Online Ordering & Toast TakeOut: Toast's commission-free online ordering and consumer Toast TakeOut application simplifies the digital ordering experience for guests, increases order accuracy, and allows restaurants to reduce reliance on third parties for driving online orders.
First-Party Delivery, Toast Delivery Services, and Toast Delivery Partners: With first-party delivery, restaurants can manage their own fleet of drivers and customize delivery hours, zones, fees, and minimum ticket sizes. Toast Delivery Services enables restaurants to utilize a partner network of delivery drivers so restaurants can offer delivery to guests without needing their own fleet.
Marketing and Loyalty
Loyalty and Gift Cards: Toast has designed a suite of guest-focused products, including loyalty programs and branded gift cards, to enhance a restaurant's cash flow by driving further engagement with their guests. 
Marketing: Toast's data-driven insights allow restaurants to easily create and send email campaigns based on POS data, such as visit frequency and spending patterns that are automatically built through daily guest interactions across Toast's product suite.
Team Management
Payroll & Team Management: Toast has created a centralized hub that streamlines the entire hiring, employee management, and payroll process. Integrated POS and payroll create a single employee record across systems, allowing for hours, tips, and employee data to synchronize seamlessly and helping managers get valuable time back.
Partner-Enabled Products (Insurance & Benefits): Toast offers workers compensation, business owner policy, or BOP, insurance, automated 401k, as well as restaurant-specific add-ons, such as liquor liability insurance, through Toast's partners, therefore, simplifying the procurement process for restaurants and providing much-requested benefits to their teams.
Financial Technology Solutions
Payment Processing: Toast provides a fully-integrated platform that enables Toast'scustomers to securely accept and process payments while also providing valuable data-driven insights and driving Toast'sguest engagement programs.
Toast Capital: Toast Capital offers restaurants fast and flexible funding via loans advanced by Toast's bank partner that are repaid with interest through a daily holdback of credit card receipts.
Purchase Financing: Toast also offers several ways for customers to finance the upfront cost of Toast products, often one of the largest barriers to switching to or purchasing a new POS system.
Platform and Insights
Reporting and Analytics: Toast's data collection and analytics capabilities provide insights and reporting on real-time sales, menu, and labor data, allowing Toast's customers to analyze their results and improve performance over time. 
Toast Partner Connect and APIs: Toast's partner ecosystem allows Toast's customers to customize their technology stack to meet their business needs, choosing from a curated portfolio of approximately 160 partners that deliver a broad spectrum of specialized solutions ranging from accounting to waitlists. 
Why did Michelin, a tire company, decide to rate restaurants?
How does Toast make money: revenue model
Toast made $1.7 billion in 2021. The business model of Toast makes money primarily from (1) subscription services, (2) financial technology solutions, (3)hardware, and (4) professional services. Most of the revenue (~80%) Toast generates is from financial technology solutions, including customer transaction-based fees to facilitate their payment transactions.
Subscription Services: Subscription services revenue is generated from fees charged to customers for access to Toast's software applications.
Financial Technology Solutions: Financial technology solutions revenue includes transaction-based payment processing services for customers who are charged a transaction fee for payment processing.
Hardware: Hardware revenue is generated from the sale of terminals, tablets, handhelds, and related devices and accessories, net of estimated returns.
Professional Services: Professional services revenue is generated from fees charged to customers for installation services, including business process mapping, configuration, and training. 
| | | | |
| --- | --- | --- | --- |
| Revenue Stream (in $ Mn) | 2021 | 2020 | 2019 |
| Subscription services | 169 | 101 | 62 |
| Financial technology solutions | 1,406 | 644 | 532 |
| Hardware | 112 | 64 | 55 |
| Professional services | 18 | 14 | 16 |
| Total revenue | 1,705 | 823 | 665 |
Source: Annual Report
---