As commerce moves online, businesses must anticipate changing customer expectations and deliver engaging and highly personalized experiences across channels, necessitating a continuous digital transformation process. There are significant shifts in device usage from desktop to mobile, in mobile technology from responsive websites to progressive web applications, and in shopping venues from in-store to branded eCommerce sites, marketplaces, and social networks. 
The entire shopping journey, from product discovery to engagement to purchase and delivery, matters. To best serve their customers in this dynamic digital era, businesses need a cross-channel commerce platform that keeps them at the forefront of user experience and innovation.
Whereas consumer brands historically relied on retail distribution for their products, eCommerce enables a new model of direct-to-consumer, vertically-integrated digitally native brands ("DNBs"). DNBs sell products directly to consumers online as their primary distribution channel, frequently bypassing third-party retailers or the need for their capital-intensive brick-and-mortar stores.
For businesses using legacy software, eCommerce can be enormously challenging, requiring significant headcount and a wide range of capabilities that may be outside their core strengths. Although SaaS platforms have existed since the late 1990s, only within the last few years have multiple SaaS options begun to challenge legacy software leaders in the small, mid-market, and large enterprise segments.
BigCommerce is a leading open SaaS platform for cross-channel commerce, offering a complete, cloud-based eCommerce solution. BigCommerce claims to provide industry-leading capabilities, flexibility, scalability, and ease of use for a SaaS platform. All customers, regardless of size, operate on a single, global, multi-tenant architecture that offers a compelling solution for successful online selling.
As of June 1, 2020, BuiltWith.com ("BuiltWith") ranked BigCommerce as the world's second most-used SaaS eCommerce platform. Hence we decided to analyze the business model of BigCommerce and understand how does BigCommerce make money. We will also explore what does BigCommerce do and how does it work.
What does BigCommerce do? How does BigCommerce work?
BigCommerce, founded in 2009 in Sydney, is an eCommerce platform that provides software as a service to retailers (SaaS business model). BigCommerce empowers businesses to turn digital transformation into a competitive advantage.
BigCommerce provides a comprehensive platform for launching and scaling an eCommerce operation, including store design, catalog management, hosting, checkout, order management, reporting, and pre-integration into third-party services like payments, shipping, and accounting. 
All stores on BigCommerce run on a single code base and share a global, multi-tenant architecture purpose-built for security, high performance, and innovation. BigCommerce's platform serves stores in a wide variety of sizes, product categories, and purchase types, including business-to-consumer ("B2C") and business-to-business ("B2B"). BigCommerce's customers include Avery Dennison, Ben & Jerry's, Burrow, SC Johnson, SkullCandy, Sony, and Woolrich.
When launched in 2009, BigCommerce initially targeted the small business ("SMB") segment with a simple, low-cost, all-in-one solution delivered through the cloud. In 2015, BigCommerce identified the market opportunity to become the first SaaS platform to combine enterprise-grade functionality, openness, and performance with SMB-friendly simplicity and ease of use. 
BigCommerce consequently expanded its strategic focus to include the mid-market, which it defines as sites with annual online sales between $1 million and $50 million, and large enterprises, which it defines as sites with annual online sales from $50 million to billions of dollars. At the time, these segments primarily relied on "legacy software," whether licensed, open source, or custom-developed. 
BigCommerce began a multi-year investment in platform transformation to build a better SaaS alternative. In the subsequent years, it added advanced functionality and openness in nearly every component of its platform using application programming interface ("API") endpoints.
This transformation – beginning with a simple product built for the low end of the market, then adding advanced functionality and performance to compete in the mid-market and large enterprise segments – is classic disruptive innovation.
How does BigCommerce make money? What is the business model of BigCommerce?
Product & Platform
BigCommerce's open SaaS eCommerce platform allows businesses to create compelling online shopping experiences and sell across multiple sales channels, including online storefronts, marketplaces, search engines, POS systems, and social networks. It serves various business types, including B2C, B2B, and DNB; product and service categories; and business sizes. 
BigCommerce's platform encompasses creating and hosting front-end, shopper-facing store experiences and back-end, business-facing store management functionality. It further offers a comprehensive set of APIs and SDKs that allow developers to customize, integrate, and extend the platform based on individual customer requirements. 
BigCommerce has a wide range of more than 600 pre-built applications and integrations promoted through the BigCommerce Apps Marketplace, with additional applications and integrations for merchandising, locations, and payments under development.
Value Proposition
Shopping experiences: Customers and their agency partners use its native, open-source design framework and web-based design tools to build unique and compelling storefronts. Alternatively, customers can use BigCommerce's platform in a headless fashion by creating their storefront experience using a custom or commercial digital experience platform.
Selling across multiple channels: In addition to selling on branded online storefronts, customers can list their products and sell across multiple sales channels such as marketplaces, offline stores, and social networks.
Store management: Customers manage their stores through an intuitive and easy-to-use browser-based interface called the control panel. From the control panel, customers can manage the various parts of their business, including pricing, inventory, promotions, payments, etc.
How does Shopify make money | Business Model
Services: BigCommerce offers paid professional services that complement the capabilities of its customers and their agency partners. These services help speed customers' time-to-market and improve the success and growth of their businesses. Optional services include education packages, launch services, solutions architecting, implementation consulting, and catalog transfer services.
Platform openness: BigCommerce's platform is highly extensible and customizable due to its open APIs and SDKs. Customers use its APIs and SDKs to add, customize, and/or integrate systems, functionality, and shopper experiences. In the BigCommerce Apps Marketplace, customers can easily find and install hundreds of third-party applications and extensions, including marketing automation, B2B, POS, marketplace integrations, shipping, tax, orders, wish lists, and fraud management.
Marketing Strategy of BigCommerce
Mid-market and large enterprise: Organic, inbound interest is the largest lead source of new mid-market and large enterprise sales for BigCommerce. Referrals, reputation, and promotion from existing customers primarily generate inbound interest. Excellence in product marketing, content marketing, and thought leadership helps BigCommerce in customer discovery and research. BigCommerce employs various paid enterprise marketing techniques, including search engine marketing, campaigns, webinars, and events.
How does Poshmark work and make money: Business Model
Small business: Most of BigCommerce's new SMB customers originate as self-serve trials. Positive reputation, word-of-mouth, and customer promotion contribute to organic customer acquisition. BigCommerce marketing strategy focuses on effective product and content marketing, its applicability to various use cases, and customer success stories.
How does BigCommerce make money: revenue model
BigCommerce made $220 Million in 2021. BigCommerce has a SaaS business model that primarily makes money by providing subscriptions to its open platform to provide a comprehensive offering for launching and scaling eCommerce operations. Offerings include store design, catalog management, hosting, checkout, order management, reporting, and pre-integration into third-party services like payments, shipping, and accounting.
Subscription solutions revenue
Subscription solutions revenue consists primarily of platform subscription fees from all plans, tailored to customers' size and feature needs.
For larger customers, BigCommerce's Enterprise plan offers a full feature set at a monthly subscription price tailored to each business.
For SMBs, BigCommerce Essentials offers three retail plans: Standard, Plus, and Pro, priced at $29.95, $79.95, and $299.95 per month, respectively.
The Essentials plans include GMV thresholds with programmatic upgrades built in as merchants exceed each plan's threshold.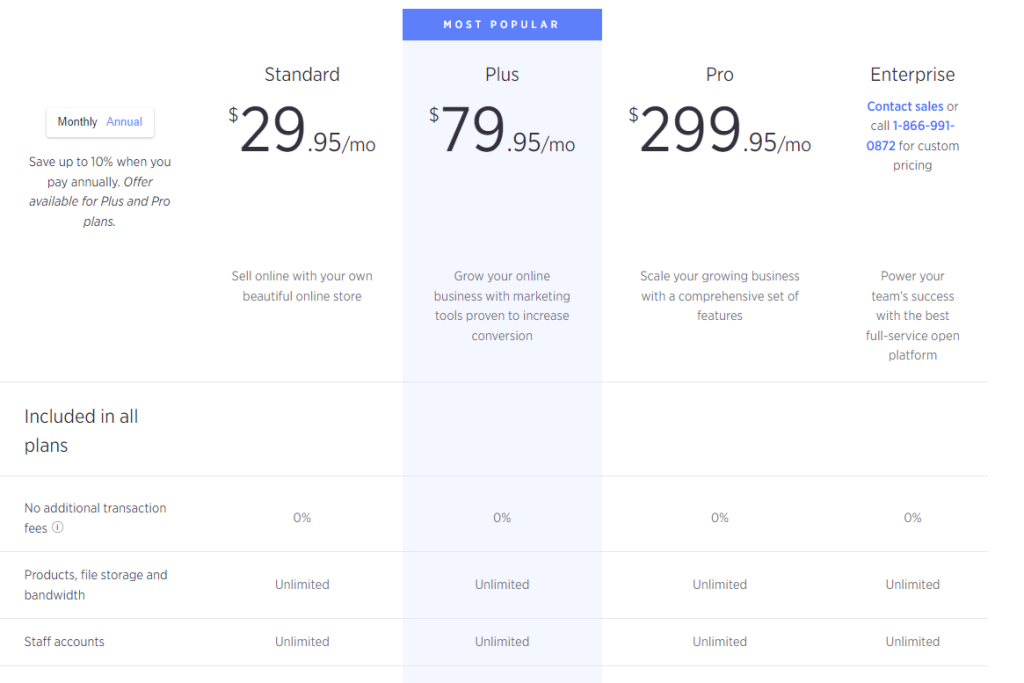 It also includes recurring professional services and sales of SSL certificates. Subscription solutions are charged monthly, quarterly, or annually for their customers to sell their products and process transactions on its platform. Subscriptions contributed ~70% to BigCommerce's revenue in 2021.
Partner & Services
BigCommerce makes money in this segment from its technology application ecosystem. Customers tailor their stores to meet their feature needs by integrating applications developed by its strategic technology partners. BigCommerce makes money from these contracts in three ways: (1) revenue-sharing arrangements, (2) technology integrations, and (3) partner marketing and promotion. 
BigCommerce also makes money from the non-recurring professional services that it provides to complement the capabilities of its customers and their agency partners. These services are designed to help improve customers' time-to-market and the success of their businesses using BigCommerce. Partner & Services contributed ~30% to BigCommerce's revenue in 2021.
---