Walmart helps people worldwide save money and live better – anytime and anywhere – by providing the opportunity to shop in retail stores and through eCommerce and access its other service offerings.
Through innovation, Walmart strives to continuously improve a customer-centric experience that seamlessly integrates its eCommerce and retail stores in an omnichannel offering that saves time for the customers. Each week, Walmart serves approximately 230 million customers who visit more than 10,500 stores and numerous eCommerce websites under 46 banners in 24 countries. 
Walmart's business strategy is to make every day easier for busy families, operate with discipline, sharpen the culture and become more digital, and trust a competitive advantage. 
Price leadership has been a cornerstone of Walmart's business strategy and model. By leading on price, Walmart earns customers' trust by providing a broad assortment of quality merchandise and services at everyday low prices ("EDLP"). 
EDLP is Walmart's pricing philosophy and business strategy under which it prices items at a low price daily, so customers trust that prices will not change under frequent promotional activity. Everyday low cost ("EDLC") is Walmart's commitment to control expenses so the cost savings can be passed to customers. 
Let's closely analyze the business model and supply chain strategy of Walmart.
Business Model Analysis of Walmart
Walmart has global operations of retail, wholesale and other units, as well as eCommerce, located throughout the U.S., Africa, Canada, Central America, Chile, China, India, and Mexico. The business model of Walmart makes money from three segments: Walmart U.S., Walmart International, and Sam's Club. Walmart made $567.8 billion in fiscal 2022 through these three segments. Each component contributes to the Company's operating results differently.
Walmart U.S. Segment
Walmart U.S. is the largest segment and operates in the U.S., including in all 50 states, Washington D.C. and Puerto Rico. Walmart U.S. is a mass merchandiser of consumer products, operating under the "Walmart" and "Walmart Neighborhood Market" brands and walmart.com and other eCommerce brands. Walmart U.S. had net sales of $393.2 billion for fiscal 2022, representing 69% of Walmart's revenue in fiscal 2022.
Omni-channel: Walmart U.S. provides an omnichannel experience to customers, integrating retail stores and eCommerce through services such as pickup and delivery, ship-from-store, and digital pharmacy fulfillment options. As of January 2022, Walmart had approximately 4,600 pickup locations and more than 3,500 same-day delivery locations.
Walmart+ membership offers enhanced omnichannel shopping benefits that include unlimited free shipping on eligible items with no order minimum, unlimited delivery from the store, fuel and pharmacy discounts, and mobile scan & go for a streamlined in-store shopping experience.
Merchandise: Walmart U.S. does business in three strategic merchandise units, listed below:
Grocery consists of a full line of grocery items, including dry groceries, snacks, dairy, meat, produce, deli & bakery, frozen foods, alcoholic and nonalcoholic beverages, as well as consumables such as health and beauty aids, pet supplies, household chemicals, paper goods, and baby products;
General merchandise includes Entertainment (e.g., electronics, toys, seasonal merchandise, wireless, video games, movies, music, and books); Hardlines (e.g., automotive, hardware and paint, sporting goods, outdoor living, and stationery); Apparel (e.g., apparel for men, women, girls, boys, and infants, as well as shoes, jewelry, and accessories); and Home (e.g., housewares and small appliances, bed & bath, furniture and home organization, home furnishings, home decor, fabrics, and crafts).
Health and wellness include pharmacy, over-the-counter drugs, medical products, optical services, and other clinical services.
The Walmart U.S. business also includes an in-house advertising offering via Walmart Connect, supply chain and fulfillment capabilities to online marketplace sellers via Walmart Fulfillment Services, and access to quality, affordable healthcare via Walmart Health.
In Fiscal 2022, Walmart's U.S. initiatives also included the launch of a B2B last-mile delivery service platform via Walmart GoLocal, and Walmart Luminate, which provides a suite of data products to merchants and suppliers. 
Additional service offerings include fuel, financial services, and related products (including through digital channels, stores, and clubs as well as its previously announced fintech joint venture), such as money orders, prepaid access, money transfers, check cashing, bill payment, and certain types of installment lending. 
Distribution & supply chain strategy: Walmart U.S. has a total of 157 distribution facilities from which the majority of Walmart U.S.'s purchases of store merchandise are shipped. General and dry grocery merchandise are transported primarily through the segment's private truck fleet. Walmart ships merchandise purchased through eCommerce platforms by many methods from multiple locations, including its 31 dedicated eCommerce fulfillment centers, or delivers directly from more than 3,500 stores.
Walmart International Segment
Walmart International is the second largest segment, operating in 23 countries outside the U.S. as of January 2022. Walmart International operates through wholly-owned subsidiaries in Canada, Chile, and China and majority-owned subsidiaries in Africa, India, Mexico, and Central America. Walmart International had net sales of $101.0 billion for fiscal 2022, representing 18% of Walmart's revenue.
Walmart International includes numerous formats divided into two major categories: retail and wholesale. These categories consist of many formats, including supercenters, supermarkets, hypermarkets, warehouse clubs (including Sam's Clubs), cash & carry, and eCommerce through walmart.com.mx, walmart.ca, flipkart.com, and other sites.
Walmart International's strategy is to create strong local businesses powered by Walmart, which means being locally relevant and customer-focused in each market it operates.
Omni-channel: Walmart International provides an omnichannel experience to customers, integrating retail stores and eCommerce, such as through pickup and delivery services in most of its markets, its marketplaces such as Flipkart in India, and a digital transaction platform anchored in payments such as PhonePe in India.
Same-day delivery capacity continues to expand in Mexico, including the launch of a membership model which provides unlimited same-day delivery from stores. In China, Walmart's partnerships with JD.com and JD Daojia provide customers with one-hour delivery by leveraging Walmart stores as fulfillment centers. 
A value-based internet and telephone service was recently launched in Mexico, allowing customers to enjoy digital connectivity. Generally, retail units' selling areas range from 1,400 square feet to 186,000 square feet. Walmart's wholesale stores' selling areas range from 24,000 square feet to 158,000 square feet. On January 31, 2022, Walmart International had approximately 2,900 pickup locations and over 1,900 delivery locations.
Merchandise: The merchandising strategy for Walmart International is similar to that of Walmart U.S. in terms of the breadth and scope of merchandise offered for sale. While brand name merchandise accounts for most of its sales, Walmart has leveraged U.S. private brands and developed market-specific private brands to serve customers with high-quality, low-priced items.
In addition, Walmart has developed relationships with regional and local suppliers in each market to ensure reliable sources of quality merchandise equal to national brands at low prices. Walmart International also offers advertising, financial services, and related products in various markets, but they do not contribute significantly to Walmart's revenue.
TESCO – British Retailer that redefined Grocery Shopping
Distribution & supply chain strategy: Walmart has 179 distribution facilities in Canada, Central America, Chile, China, India, Mexico, and South Africa. Through these facilities, Walmart processes and distributes both imported and domestic products to the operating units of the Walmart International segment.
Across the segment, Walmart connects physical stores and distribution and fulfillment centers which facilitate the movement of goods. Walmart ships merchandise purchased on its eCommerce platforms from its 83 dedicated eCommerce fulfillment centers, more than 3,400 eCommerce sort centers, last-mile delivery facilities in India, and physical retail stores.
Sam's Club Segment
Sam's Club operates in 44 U.S. and Puerto Rico states. Sam's Club is a membership-only warehouse club that also operates samsclub.com. Sam's Club had net sales of $73.6 billion for fiscal 2022, representing 13% of Walmart's revenue. As a membership-only warehouse club, membership income is a significant component of the segment's operating income. 
Membership: The following two options are available to members.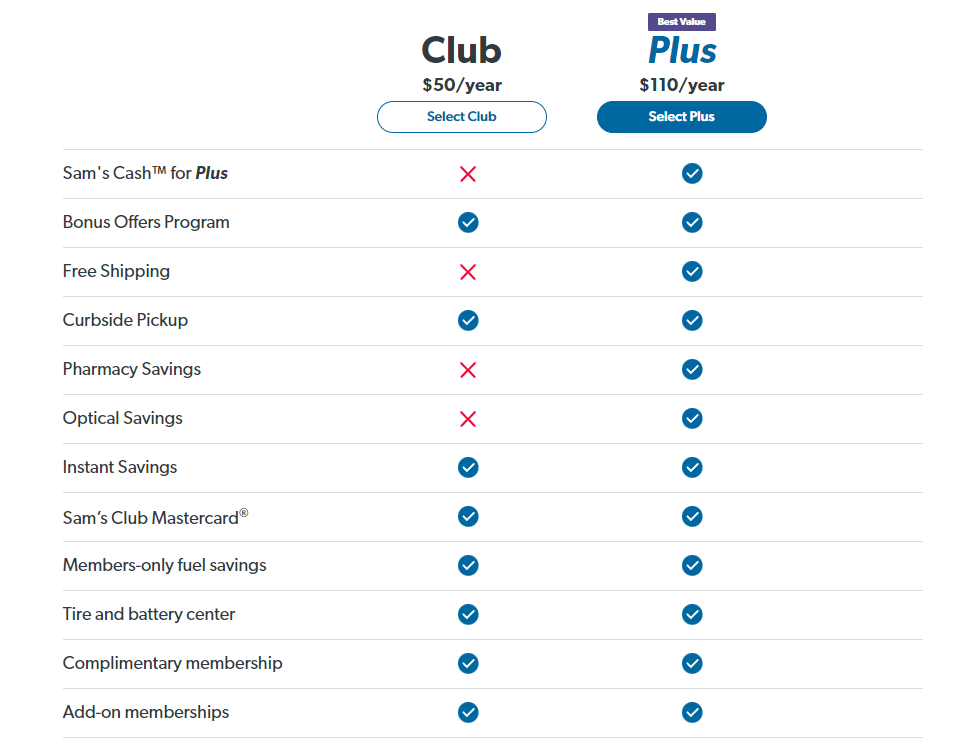 All memberships include a spouse/household card at no additional cost. Plus Members are also eligible for free shipping on most merchandise, with no minimum order size, and receive discounts on prescriptions and glasses. Members may redeem Sam's Cash on purchases in the Club and online to pay for membership fees or cash in clubs.
Omni-channel: Sam's Club provides an omnichannel experience to customers, integrating retail stores and eCommerce through such services as Curbside Pickup, mobile Scan & Go, ship-from-club, and delivery-from-club. The warehouse facility sizes generally range between 32,000 and 168,000 square feet, with an average size of approximately 134,000 square feet.
Merchandise: Sam's Club offers merchandise in the following five merchandise categories:
Grocery and consumables include dairy, meat, bakery, deli, produce, dry, chilled or frozen packaged foods, alcoholic and nonalcoholic beverages, floral, snack foods, candy, other grocery items, health and beauty aids, paper goods, laundry and home care, baby care, pet supplies, and other consumable items;
Fuel, tobacco, and other categories;
Home and apparel includes home improvement, outdoor living, gardening, furniture, apparel, jewelry, tools and power equipment, housewares, toys, seasonal items, mattresses, and tire and battery centers;
Technology, office and Entertainment include consumer electronics and accessories, software, video games, office supplies, appliances, and third-party gift cards; and
Health and wellness include pharmacy, optical and hearing services, and over-the-counter drugs.
Distribution & supply chain strategy: Walmart has 28 dedicated distribution facilities located strategically throughout the U.S. Some of the Walmart U.S. segment's distribution facilities service the Sam's Club segment for certain items. Most of Sam's Club's non-fuel club purchases are shipped from these facilities, while the remainder is shipped directly to Sam's Club locations by suppliers. 
Sam's Club ships merchandise purchased on samsclub.com and through its mobile commerce applications by several methods, including shipments made directly from clubs, 12 dedicated eCommerce fulfillment centers, and other distribution centers. Sam's Club uses a combination of Walmart's private truck fleet and common carriers to transport non-perishable merchandise from distribution facilities to clubs. 
Overall Supply Chain strategy of Walmart
As a retailer and warehouse club operator, Walmart utilizes a global supply chain strategy that includes U.S. and international suppliers from whom it purchases merchandise in its stores, clubs, and online. 
In many instances, Walmart purchases merchandise from producers near the stores and clubs where such merchandise will be sold, particularly products in the "fresh" category. Walmart offers its suppliers the opportunity to sell significant quantities of their products to Walmart efficiently.
These relationships enable Walmart to obtain pricing that reflects the volume, certainty, and cost-effectiveness these arrangements provide to such suppliers, allowing it to offer low prices to customers.
Walmart's ability to acquire from its suppliers the assortment and volume of products, to receive those products within the required time through its robust supply chain strategy, and to distribute those products to its stores and clubs, determines the attractiveness of Walmart's merchandise assortment.
Walmart strongly focuses on building a sustainable supply chain in its business model.
With respect to people, Walmart's sustainability efforts focus on sourcing responsibly, helping prevent forced labor, empowering women, creating inclusive economic opportunities, and selling safer, healthier products.
With respect to the planet, Walmart's efforts aim to enhance the sustainability of product supply chains by reducing emissions, protecting and restoring nature, and reducing waste.
To help address the effects of climate change, Walmart has set science-based targets for emissions reduction to achieve zero emissions in operations by 2040 —without offsets—and to reduce or avoid one billion metric tons of emissions in its value chain by 2030.
Information Source: Walmart Annual Report Fiscal 2022
---