Organizations often experiment with single-purpose tools and custom software solutions for specific workflows such as customer relationship management and financial planning. Each new tool or application creates a new silo within a fragmented data landscape.
As organizations grow and change, their legacy technology often fails to keep up, and fixing a Legacy System Can Be as Expensive as Building One from Scratch. A typical response to aging infrastructure is a custom solution, bought or built in-house to meet bespoke requirements.
Palantir understood these challenges and came up with an approach of not selling features, tools, or one-off custom applications, allowing organizations to recast their siloed systems as contributors to a unified data asset.
With many Governments as its customers and generating over $1.5 billion from just 237 customers ($6.5 Mn per customer), Palantir has built a unique business model. As strategy enthusiasts, we decided to break down the business model of Palantir and learn how Palantir makes money.
Palantir Business Overview
Palantir Technologies is a public American software company specializing in big data analytics. Headquartered in Denver, Colorado, it was founded by Peter Thiel, Nathan Gettings, Joe Lonsdale, Stephen Cohen, and Alex Karp in 2003.
Palantir started by building software for the intelligence community in the United States to assist in counter-terrorism investigations and operations as Palantir realized they did not have the software they needed to do their jobs and were searching needles in haystacks.
In Afghanistan and Iraq, soldiers were mapping networks of insurgents and makers of roadside bombs by hand. Per its S-1 prospectus, Palantir enabled users to identify patterns deep within datasets, ranging from signals intelligence sources to reports from confidential informants.
Palantir later began working with commercial enterprises, which often faced similar challenges in working with data. An Airbus A350, for example, has five million parts and is built by hundreds of teams spread across four countries and more than eight factories. Palantir enabled such organizations to interact with information by creating a central operating system for their data.
Palantir believes that the systemic failures of government institutions to provide for the public — fractured healthcare systems, erosions of data privacy, strained criminal justice systems, and outmoded ways of fighting wars — will continue to require both the public and private sectors to transform themselves. Thus increasing the need for its products.
How does Palantir make money? What is the business model of Palantir?
Products
Palantir has three principal software platforms: Gotham, Foundry, and Apollo. These software platforms provide the critical infrastructure to integrate customers' data and operations and run their software in virtually any environment. 
The vertically integrated nature of Gotham and Foundry allows users of varying technical abilities to collaborate. Data engineers can integrate new data sources, analysts can clean and transform data, data scientists can write models, business users can conduct daily workflows, and senior leaders can make critical decisions. 
Empowering Business Model & Marketing Strategy of Salesforce
Similarly, customers can now use Apollo to enable continuous deployment, configuration management, and central software operations management across almost any environment for their software products.
Gotham: Gotham enables users to identify patterns hidden deep within datasets, ranging from signals intelligence sources to reports from confidential informants.
It also facilitates the hand-off between analysts and operational users, helping operators plan, and execute real-world responses to threats identified within the platform. Gotham is used broadly across government functions for counter-terrorism and in the financial services industry for fraud investigations.
Foundry: Foundry transforms organizations' operations by creating a central system for their data. Individual users can integrate and analyze the data they need in one place. The speed with which users can experiment and test new ideas makes the software stick.
Apollo: Apollo enables the continuous delivery of Palantir's software in the cloud, on-premises, or even more rugged environments. Apollo provides a single control layer to coordinate the constant delivery of new features, security updates, and platform configurations.
Sales and Marketing strategy of Palantir
Palantir's sales and marketing strategies are built around the three phases of its business model: customer acquisition (in the Acquire phase), account growth (in the Expand phase), and Scale.
Customer Acquisition: Palantir's customer acquisition strategy targets large-scale, hard-to-execute opportunities at large government and commercial institutions. The high installation costs, high failure risks, complexity of data environments, and the long sales cycles associated with these opportunities raise the competition's entry barriers. 
Additionally, Palantir has expanded access to its platforms to early- and growth-stage companies, including startups, as it continues its outreach efforts to an increasingly broad swath of the potential market.
Account Growth: Palantir's sales and marketing strategies focus on increasing revenue per account once it has successfully acquired it. These strategies include
creating new ecosystem partnerships to extend the platform beyond the customer's four walls into the operations of its partners and suppliers, 
selling additional productized cross-industry software capabilities, and 
Selling strategic implementations of Palantir's software against specific use cases, which deliver competitive differentiation.
Scale: As customer accounts mature, Palantir's investment costs relative to revenue generally decrease, while its software's value increases as the platform's usage increase across the customer's operations.
How does Palantir make money: revenue model
In 2021, Palantir's revenue was $1.54 billion, of which 58% came from government customers and 42% from commercial agencies. Revenue increased by 41% in 2021 as compared to 2020.
The business model of Palantir primarily makes money from the sale of subscriptions to access its software in its hosted environment along with ongoing O&M services ("Palantir Cloud"); software subscriptions in our customers' environments with ongoing O&M services ("On-Premises Software"); and professional services.
Palantir Cloud:  Palantir Cloud subscriptions grant customers the right to access the software functionality in a hosted environment controlled by Palantir and are sold together with stand-ready O&M services.
On-Premises Software: Sales of software subscriptions grant customers the right to use the functional intellectual property on their internal hardware infrastructure or their cloud instance. They are also sold together with stand-ready O&M services. 
O&M services include critical updates and support and maintenance services required to operate the software and, as such, are necessary for the software to maintain its intended utility.
Professional Services: Palantir's professional services support the customers' use of the software and include, as needed, on-demand user support, user-interface configuration, training, and ongoing ontology and data modeling support.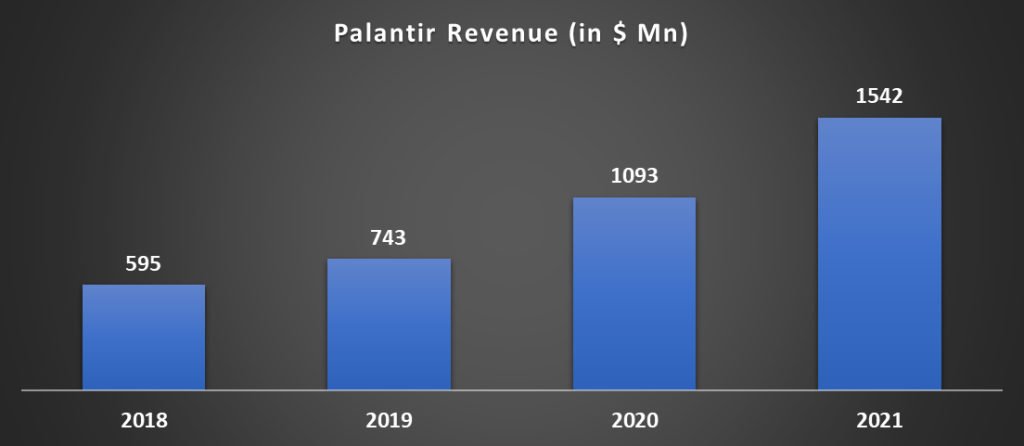 Palantir Competitors
Palantir is competing with its potential customers' internal software development efforts. Organizations frequently attempt to build their data platforms before turning to Palantir. 
In trying to build something independently, they rely on a patchwork of custom solutions, outside consultants, IT services companies, packaged enterprise and open-source software, and significant internal IT resources. 
What is IBM's business strategy to help clients leverage the power of the hybrid cloud and Artificial Intelligence (AI)?
In addition, Palantir's competitors include large enterprise software companies, government contractors, and system integrators. As per Gartner, Palantir has three major competitors: Alteryx, IBM, and Microsoft.
---