Images help businesses to communicate. Companies invest in imagery for the same reasons they invest in marketing, advertising, and media production: to increase their communications' impact, engagement, and differentiation.
From the smallest start-ups to the most prominent companies pay to license photographs, videos, and illustrations for use in print and digital marketing materials, corporate communications, external and internal websites, social networking sites, mobile applications, games, and video. Imagery is also widely used in publishing books, eBooks, magazines, and news articles. 
These professional imagery users are highly selective about where they source their images; images must be of high quality and fulfill the licensing obligations necessary for use in a commercial context.
Commercial digital imagery is typically specially commissioned or licensed from pre-shot image libraries to meet these requirements. Pre-shot images are not created for a single, specific purpose at a user's expense; instead, they are cataloged for review and selection by many potential users. Pre-shot images are generally considered a more affordable, less time-intensive substitute for commissioned imagery.
With the emergence of millions of new users and millions of new potential contributors, the global market for commercial digital imagery has become increasingly fragmented in both supply and demand.
The digital economics of online marketplaces enable affordable pricing that allows small and medium-sized businesses to participate in the market and provide existing image buyers an alternative to the expensive and time-consuming processes of working with traditional image agencies or commissioning custom images.
Shutterstock is one such marketplace with over 2 Million customers. Hence as strategy enthusiasts, it's crucial to learn how Shutterstock works and makes money. What is Shutterstock's business model?
What is Shutterstock? How does Shutterstock work?
Founded in 2003 by programmer and photographer Jon Oringer, Shutterstock is a global creative platform offering full-service solutions, high-quality content, and creative workflow solutions for brands, businesses, and media companies.
Shutterstock works through an online marketplace business model that brings together content creators and contributors by providing readily-searchable content that customers pay to license and compensating contributors as their content is licensed.
Shutterstock's online marketplace provides a freely searchable library of commercial digital images that users can pay to license, download and incorporate into their work. Shutterstock compensates image contributors for each of their images that are downloaded.
This marketplace business model allows Shutterstock to offer users a disruptive, low-cost, and easy-to-use alternative to the time-consuming and expensive traditional methods of obtaining commercial imagery. It enables millions of small and medium-sized businesses, or SMBs, to affordably access commercial digital images and allows larger enterprises and media agencies to satisfy their increasing image needs efficiently.
Shutterstock is the beneficiary of significant network effects. As Shutterstock has grown, its broadening audience of paying users has attracted a library of images, footage clips, music, and 3D models from contributors. This increased selection of images has, in turn, helped to attract more paying users, representing businesses of all sizes and from all major industries.
Every contributor and image in Shutterstock's marketplace passes through a proprietary screening process to meet the quality standards while enabling users to search and discover content to meet their unique needs.
Shutterstock distributes content through five brands:
Shutterstock (flagship brand) includes various content types and offerings such as images, footage, editorial, music, and studios.
Bigstock maintains a separate content library tailored for creators seeking to incorporate cost-effective imagery into their projects.
Offset provides content for high-impact use cases that require extraordinary images, featuring work from top assignment photographers and illustrators worldwide.
PremiumBeat maintains a library of exclusive music tracks that allows producers, filmmakers, and marketers to search for handpicked production music from the world's leading composers.
TurboSquid operates a marketplace that offers more than one million 3D models and a two-dimensional ("2D") marketplace derived from 3D objects.
What is the business model of Shutterstock?
Value Proposition
Users: Affordable access to a licensable digital content library of more than 625 million images and footage clips from verified contributor accounts.
Shutterstock's subscription-based pricing model makes the creative process easier because customers can download content in its collection for use in their creative process without incremental costs, which provides greater creative freedom and helps improve the work product.
Contributors: Access to millions of users searching for imagery to license and a platform to transact. Shutterstock also provides consumer insights to contributors to help them understand popular or trending content and plan new content accordingly.
Shutterstock has 2 Million+ contributors (as of 2021), including photographers, videographers, illustrators, designers, and musicians.
Shutterstock claims it has paid over $1 billion to contributors. The amount a contributor can earn for each download is determined by the plan and license purchased by the customer and the contributor's earnings level at the time. As shown below, contributors can earn at six separate earnings levels for images and videos, ranging from 15% to 40%.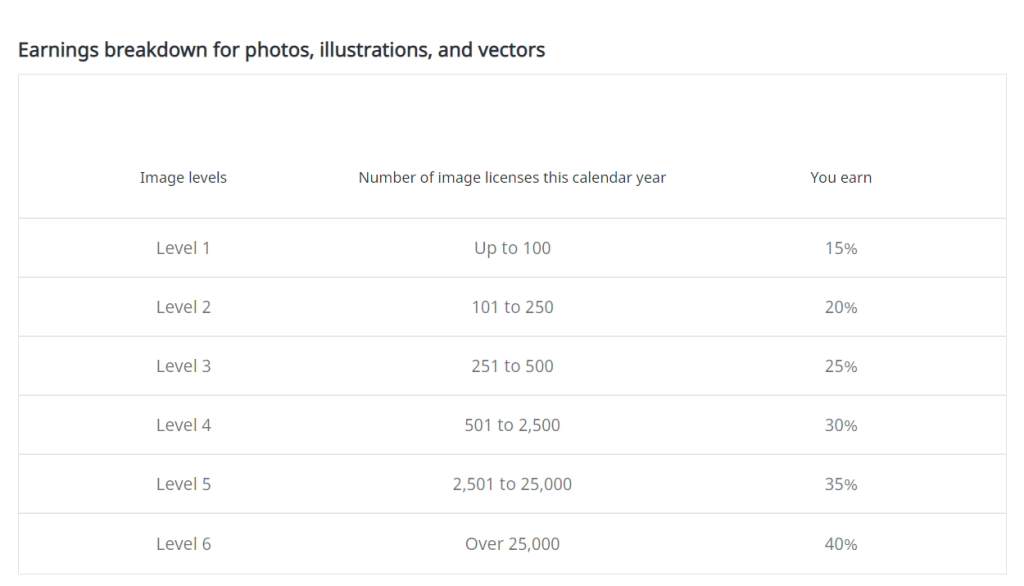 Customers
In 2021, over 2.0 million customers in more than 150 countries licensed revenue-generating content. Shutterstock classifies its customers into three categories:
Corporate Professionals and Organizations: Marketing and communications professionals incorporate licensed content in the work they produce for their organizations or clients' business communications.
Media and Broadcast Companies: Media organizations and professionals incorporate licensed content into their work, which includes digital publications, newspapers, books, magazines, television, and film, to market their products effectively.
Small and Medium-Sized Businesses and Individual Creators: Organizations of all sizes or Individual content creators utilize creative content for a wide range of internal- and external-use communications such as websites, print, and digital advertisements, merchandise, brochures, employee communications, newsletters, social media, email marketing campaigns, and other presentations.
Key Product Offerings
Images – consisting of photographs, vectors, and illustrations.
Footage – consisting of video clips, premium footage filmed by industry experts, and cinema-grade video effects, available in HD and 4K formats.
Music – consists of high-quality music tracks and sound effects, often used to complement images and footage.
3-Dimensional ("3D") Models – consisting of 3D models used in various industries such as advertising, media and video production, gaming, retail, education, design, and architecture.
Creative Design Software – consisting of online graphic designs and image editing platforms.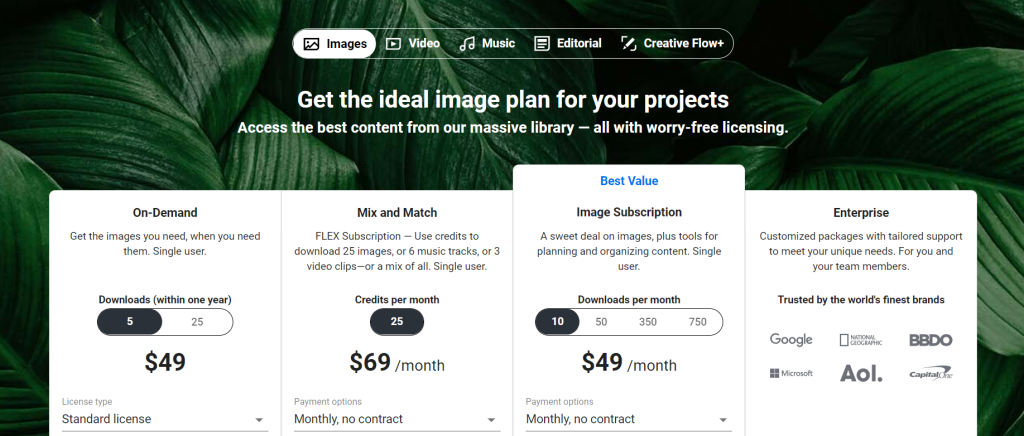 For customers seeking specialized solutions, Shutterstock Studios provides custom and high-quality content matched with production tools and services at scale. Shutterstock Studios delivers end-to-end custom creative services providing data-driven content strategy and full-scale production for its customers. 
Shutterstock Editorial provides imagery and video content for the latest news, sports, and entertainment, and Shutterstock Editorial also offers the Newsroom for global breaking news, exclusives, and archival content.
Shutterstock invests in applications and technology to enhance customers' workflow management needs and enable efficient search capabilities. In 2021, Shutterstock launched Catalog and Plan applications, which form the beginnings of Shutterstock's Creative Flow, a suite of applications powered by creative insights designed to enhance creativity and encourage collaboration.
Marketing
Shutterstock acquires customers through online marketing efforts, TV campaigns, and directly through the sales force. Online marketing includes paid search, display advertising, print advertising, trade shows, email marketing, direct mail, affiliate marketing, public relations, social media, and partnerships.
How does Google make money? What is Google's Business Model?
Shutterstock also uses customer relationship management (CRM) marketing to grow its existing customers' lifetime value by promoting its offerings' key value propositions: diverse and high-quality content, intuitive and efficient interfaces, and economical content options.
As Shutterstock attracts additional paying customers and generates more revenue, its contributors can also receive increased earnings. Increasing contributor earnings helps attract more content submissions, which in turn helps Shutterstock convert and retain even more paying customers.
Shutterstock believes customers' high degree of satisfaction with its product drives word-of-mouth recommendations, which helps its marketing efforts attract an even broader and more diverse audience than Shutterstock's direct audience. Therefore, Shutterstock believes its marketing efforts have a self-reinforcing network effect, which powers the growth and success of its marketplace.
How does Shutterstock make money?
Shutterstock primarily makes money from the license of content, whereby a customer pays for a predetermined quantity of content that may be downloaded over a specific period, or, on a transactional basis, whereby a customer pays for individual content licenses at the time of download.
After the acquisition of PicMonkey, the Company also generates revenue from the license of creative editing tools.
Shutterstock made $773 Mn in 2021 through E-commerce and Enterprise sales channels of its business model.
E-commerce: Most customers use Shutterstock's website to purchase a subscription-based plan that is paid on either a monthly or annual basis or to license content on a transactional basis. E-commerce contributed $490 Mn (63%) to Shutterstock's revenue in 2021.
In 2021, growth in the E-commerce sales channel was driven by increased subscriber revenue and revenue generated by acquisitions of TurboSquid and PicMonkey.

Enterprise: Shutterstock has dedicated sales, service, and research teams for a customer base with unique content, licensing, and workflow needs.
Shutterstock provides tailored enhancements to customers, including non-standard licensing rights, multi-seat access, the ability to pay on credit terms, multi-brand licensing packages, increased indemnification protection, and content licensed for use cases outside of those available on its e-commerce platform.
Customers in enterprise sales channels may also benefit from access to Shutterstock Editorial, which includes a library of editorial images and videos, and Shutterstock Studios, which provides custom, high-quality content with production tools and services at scale. Enterprise contributed $283 Mn (37%) to Shutterstock's revenue in 2021.
---