In 2008, the music industry was facing massive challenges, and revenues were declining due to one primary reason- piracy and digital distribution growth. People were listening to plenty of music, but the market needed a better way for artists to monetize their music. Consumers needed a legal and more straightforward way to listen.
One company, which needs no introduction, has revolutionized how people listen to and artists sell music. The company is none other than Swedish music streaming giant- Spotify.
Spotify has reimagined the music industry and has provided a better way for both artists and consumers to benefit from the digital transformation of the music industry. Spotify was founded on the belief that music is universal and that streaming is a more robust and seamless access model that benefits both artists and music fans.
In this detailed story, we will uncover various aspects: a brief history of Spotify, how Spotify works, what is the business model of Spotify (value proposition, marketing strategy, and how Spotify makes money).
What is Spotify? How did Spotify start?
Founded in 2006 by Daniel Ek and Martin Lorentzon in Sweden, Spotify is one of the largest music streaming service providers, with over 422 million monthly active users, including 182 million paying subscribers, as of March 2022.
Spotify has transformed the way people access and enjoy music and podcasts. Millions worldwide have access to over 82 million tracks, including more than 3.6 million podcast titles, through Spotify whenever and wherever they want.
Spotify has transformed the music industry by allowing users to move from a "transaction-based" experience of buying and owning music to an "access-based" model, enabling users to stream music on demand.
In contrast, traditional radio relies on a linear distribution model in which stations and channels are programmed to deliver a limited song selection with little freedom of choice.
Spotify is more than an audio streaming service. Every day, fans worldwide use Spotify to discover music, podcasts, and entertainment they would never have found on their own.
How does Spotify Work?
Spotify works on its two-sided music marketplace for Users and artists, powered by data, analytics, and software. Spotify Users can choose exactly what they want to listen to. Spotify provides fans a way to discover and enjoy music and artists with an additional avenue to showcase and compensate for their creative works.
For artists, Spotify provides a platform from which they can reach and interact with their fans, as well as analytics that provide a better and more thorough understanding of their fan base.
Unlike physical or download sales, which pay artists a fixed price per song or album sold, Spotify pays royalties based on the number of artist streams as a proportion of total songs streamed.
For users, Spotify works on either premium services on ad-supported services. While creating an account, users can simply choose the subscription method. Spotify, in general, works like any other subscription model. Depending on the country, Users pay a monthly subscription amount. Let's now understand how Spotify's business model works.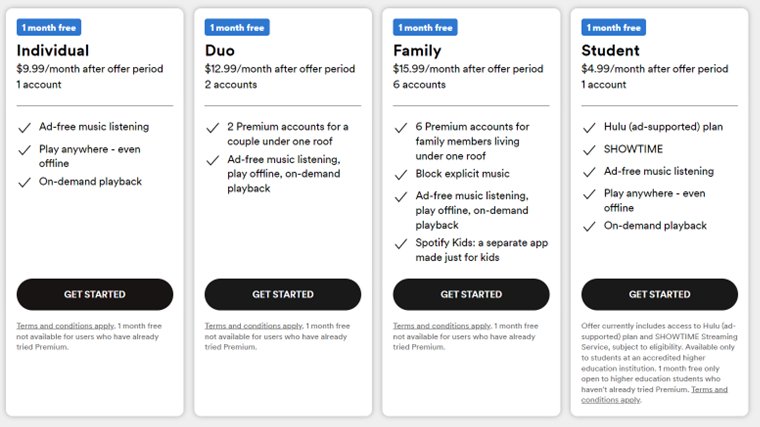 How does Spotify's business model work? How does Spotify make money?
So far, we have learned how Spotify started and how it works. Let's now break down the critical components of Spotify's business model. Spotify's business model is based on building a two-sided music marketplace for Users and artists, which is powered by data, analytics, and software.
Value Proposition
Users: Spotify helps users navigate our millions of tracks and acts as a gateway to a universe of accessible, dynamic, and engaging content. Spotify provides a range of listening options that address users' real-time moods and activities and capture a unique understanding of the moments in their lives.
Spotify provides its users with Cross-Platform Flexibility. This flexibility enables users to access Spotify via a single user ID across mobile, tablet, and other connected devices, creates a seamless and integrated experience designed to fit various lifestyles. As of Dec'21, Spotify had 406 Mn Monthly active users across 184 countries.
Creators: Spotify provides a large stage for creators and artists to connect with existing fans and to be discovered by new fans. Additionally, Spotify provides artists with a full stack of tools and services, enabling them to grow their businesses on a single platform.
Spotify provides creators a monetization opportunity by paying royalties. Through December 2021, Spotify has paid more than €26 billion in royalties to certain record labels, music publishers, and other rights holders since its launch.
One prominent example of how Spotify enabled an aspiring artist to reach a global audience is the international pop star, Lorde. Lorde started as a singer-songwriter from New Zealand looking to break out with her new single, "Royals," when Sean Parker added her single to his popular playlist Hipster International. After approximately one month, Lorde had jumped past prominent artists such as Katy Perry, Drake, and Lady Gaga to land at the top of Spotify's Viral Chart. After eight months, she had reached over 100 million streams on Spotify and was #1 on the Billboard Hot 100.
Marketing
Initially, Spotify's campaigns were designed to educate the market on the concept of on-demand music streaming and the navigation functionality we provided. As familiarity with the music access model spread, its promotional efforts shifted to convey the personalization and discovery capabilities. Its primary marketing initiatives include:
Brand marketing: Spotify often puts users at the center of campaigns to showcase how they use Spotify's Service to reinforce the centrality of music in everything Spotify does and to convey its distinctive and quirky culture.
Marketing For artists: Spotify uses billboards, other traditional media, and digital outlets to highlight artists and their work by creating a story that directly connects their music and Spotify's Service with a community of fans.
Premium Service discounts: Spotify runs discounting campaigns on its subscription offering. These campaigns typically offer a three-month subscription to the Premium Service at a discounted price and are run during the summer months and around the holiday season.
To have a detailed view of Spotify's marketing strategy, check out our story below.
Revenue: How does Spotify make money?
Spotify makes money by offering Premium (ad-free subscription for a fee) and Ad-Supported Services (display, audio, and video advertising delivered through advertising impressions). In 2021, Spotify made €9.7 bn. Let's break down each revenue stream.
1. Premium Revenue
Spotify provides Premium Subscribers unlimited online and offline high-quality streaming access to its catalog of music and podcasts. The Premium Service offers a music listening experience without commercial breaks.
Spotify sells Premium Services directly to end users and through partners who are generally telecommunications companies that bundle the subscription with their services or collect payment for the stand-alone subscriptions from their end customers.
Out of total of 406 Mn Monthly active users, 180Mn are premium subscribers. That's an astonishing ratio of 45%. As per TechCrunch, most freemium companies have customer conversion rates of between 1 percent and 10 percent (with the average around 2 percent to 4 percent). In 2021, Premium comprised 86% of revenue/money Spotify made.
2. Ad-Supported Revenue
Spotify generates revenue for its Ad-Supported segment primarily through display, audio, and video advertising delivered through advertising impressions.
Spotify enters into arrangements with advertising agencies that purchase advertising on its platform on behalf of the agencies' clients and directly with some large advertisers. In 2021, Ad-supported revenue comprised 14% of the money Spotify made.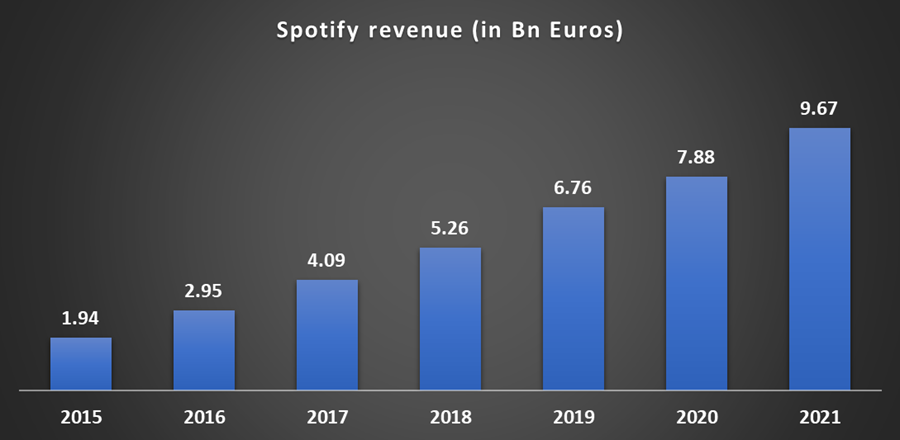 Conclusion
Spotify has undoubtedly transformed the music industry by allowing users to move from a "transaction-based" experience of buying and owning music to an "access-based" model, allowing users to stream music on demand.
According to the shareholder letter accompanying its quarterly report, the company seems to put high hopes on its podcasting segment for future growth. As of March 31, the platform is home to around four million podcasts. The growth of monthly active users engaging with podcast content allegedly outperforms the growth of monthly active users in general.
Spotify rose from 7% of the U.S. market in 2010 to a whopping 83% by the end of 2020. As per Spotify, some 450 artists generated more than $2 million on Spotify, 130 artists generated more than $5 million — and more than 50,000 artists generated $10,000 from Spotify alone. Spotify clearly dominates the music industry with its innovative business model.
With Spotify, people don't get it until they try it. Then they tell their friend

Daniel Ek, CEO Spotify
---