A vehicle powered by electricity has gone from a rare sight on even the busiest road to an increasingly common, affordable option in less than a decade. As an e-mobility expert, I am regularly asked what the most significant challenge adoption of electric vehicles would face.
Many research reports state that lack of charging infrastructure remains one of the top reasons for slowing the mass adoption of EVs, along with the high Total cost of ownership (TCO). Countries have set up EV sales targets by 2030. 
But it's not only the govt that is leading the charge. ChargePoint, an American electric vehicle infrastructure company, operates the most extensive online network of independently owned EV charging stations operating in 14 countries and makes the technology used in it.
As of 2022, ChargePoint is the largest and most open electric vehicle (EV) charging network globally, with more than 20,000 charging locations.
In this story, let's understand the business model of ChargePoint that is setting it apart. Before beginning with ChargePoint, let's learn about the charging station business model.
Charging Station Business- An overview
The global electric vehicle market has taken a giant leap forward in the past decade. But even though we've already seen some incredible growth in the number of EVs worldwide, industry predictions would suggest that we've only just scratched the surface. Let me prove this statement by sharing some statistics:
Electric car registrations increased by 41% in 2020, despite the pandemic-related worldwide downturn in car sales, in which global car sales dropped 16%
Consumer spending on electric car purchases increased to USD 120 billion in 2020. In parallel, governments across the world spent USD 14 billion to support electric car sales, up 25% from 2019,
Automotive lithium-ion (Li-Ion) battery production was 160 GWh in 2020, up 33% from 2019.
An accessible and robust network of electric vehicle (EV) charging infrastructure is an essential prerequisite to achieving this ambitious transition. It has been observed that the growth of EVs is directly proportional to an increase in charging infrastructure as it removes the element of range anxiety.
The electric vehicle charger market was valued at $3.8 billion in 2019 and is projected to reach $25.5 billion by 2027, registering a CAGR of 26.8% from 2020 to 2027.
Electric vehicles (EVs) can be charged in various ways, depending on location and requirement.
Accordingly, charging infrastructure for EVs is of different types and designed for various applications. Specifications and standards for EV chargers, also known as electric vehicle supply equipment (EVSE), vary from one country to another, based on available EV models in the market and the characteristics of the electricity grid.
Not getting into too many technicalities, let me simplify charging station or Electric vehicle supply equipment (EVSE) for you. EVSE is the basic unit of EV charging infrastructure. The EVSE accesses power from the local electricity supply and utilizes a control system and wired connection to charge EVs safely.
An EVSE control system enables various functions such as user authentication, authorization for charging, information recording and exchange for network management, and data privacy and security.
There are primarily two categories of charging: AC Charge and DC Charge. When we talk about charging an EV, the main difference between AC and DC charging is where the conversion from AC to DC occurs. 
Whether an EV uses an AC or DC charging station, the EV's battery will still only store DC energy. When you use a DC charging station, the conversion from AC (from the grid) to DC happens within the charging station—allowing DC power to flow directly from the station into the vehicle's battery. 
Because the conversion process happens inside a charging station (that houses a large converter) and not within the EV (that houses a smaller converter), charging the battery takes far less time. As a result, DC charging stations can provide up to 350 kW of power and fully charge an EV within 15 minutes.
I think you have understood the basics of charging an EV. Let's now understand what ChargePoint and its business model are.
What is ChargePoint?
Founded in 2007 by Richard Lowenthal, Dave Baxter, Harjinder Bhade, and Praveen Mandal, ChargePoint is a leading electric vehicle ("EV") charging technology solutions provider. It is creating a new fueling network to move people and goods on electricity.
ChargePoint is driving the shift to electric mobility by providing networked charging solutions in North America and Europe for all segments: commercial (e.g., retail, workplace, parking, recreation, education, and highway fast charge), fleet (e.g., delivery, logistics, motor pool, transit and shared mobility) and residential (e.g., homes, apartments, and condominiums).
As of January 31, 2022, ChargePoint has activated approximately 174,000 ports on its network, including 11,500 DC ports, excluding single-family home ports. ChargePoint's roaming integrations enable EV drivers to access more than 300,000 additional ports in North America and Europe through ChargePoint's mobile and in-dash applications.
ChargePoint's networked charging solutions can charge most EVs—cars, trucks, delivery vehicles, buses, yard tractors, and 18-wheelers—regardless of manufacturer.
With more than 66,000 public and semi-public commercial charging spots and thousands of customers (businesses, cities, agencies, and service providers), ChargePoint is the only charging technology company that designs, develops, and manufactures hardware and software solutions across every use case.
EVBox's business model of charging the world of EVs
What makes ChargePoint's business model so unique?
ChargePoint designs, develops, and markets networked EV charging system infrastructure ("Networked Charging Systems") and cloud-based services, enabling consumers to locate, reserve, authenticate, and transact EV charging sessions.
ChargePoint believes its business model is distinct in the EV charging industry. ChargePoint sells networked charging hardware, cloud-based software services, and extended parts and labor warranty solutions ("Assure") to customers to enable electrification.
ChargePoint does not sell networked charging hardware without its software. In addition, ChargePoint rarely owns EV charging assets, nor does it try to profit from electricity or driver charging fees.
Accordingly, ChargePoint believes its operating model allows it to scale active network ports more cost-efficiently as compared to other models in the EV industry, where the charging station provider owns and operates the unit, and it gives the site owner or operator full control over branding, access, pricing and policies to ensure a positive driver experience.
Customers
ChargePoint targets three key customer markets: commercial, fleet, and residential.
Commercial customers have parking places primarily within their workplaces and include retail, hospitality, and parking lot operators.
Fleet includes municipal buses, delivery, work vehicles, port/airport/warehouse, and other industrial applications, ride-sharing services, and is expected to eventually have autonomous transportation.
Residential includes single-family homes and multifamily residences.
Product Portfolio
Hardware Portfolio Powered by Cloud Services: ChargePoint offers Level 2 AC and Level 3 DC charging hardware and does not sell these solutions without a Cloud Services subscription. ChargePoint offers high efficiency in power and footprint, with a modular and scalable architecture created for high availability, easy expansion, and efficient serviceability.
Advanced Cloud Services to Scale Charging Infrastructure: ChargePoint's network, sold as a Cloud Services subscription, enables commercial and fleet customers to manage to charge in their parking lots and depots. Cloud Services capabilities include station management, setting price scenarios, energy management, etc.
Parts and Labor Warranty Subscriptions and Customer Support Foster Loyalty: ChargePoint offers the Assure warranty services which include proactive monitoring, fast response times, parts and labor warranty, expert advice, and robust reporting.
Revenue
ChargePoint made $242 Mn in FY22, a 65% increase from FY21. ChargePoint's business model relies on three revenue streams.
1. Networked Charging Systems
Networked Charging Systems revenue includes the deliveries of EV charging system infrastructure, including a range of Level 2 AC products for use in residential, commercial, and fleet applications, and Level 3 DC, or fast-charge products for use in commercial and fleet applications.
Networked Charging Systems made 72% of revenue in FY22
2. Subscriptions
Subscriptions revenue consists of services related to the cloud and extended maintenance service plans under Assure.
Subscriptions revenue also consists of CPaaS revenue which combines the customer's use of ChargePoint's owned and operated systems with Cloud and Assure programs into a single subscription.
Subscriptions made 22% of revenue in FY22.
3. Other
Other revenue consists of fees received for transferring regulatory credits earned for participating in low carbon fuel programs in approved states, charging related fees received from drivers using charging sites owned and operated by ChargePoint, net transaction fees earned for processing payments collected on driver charging sessions at charging sites owned by its customers, and other professional services.
Others made 6% of revenue in FY22.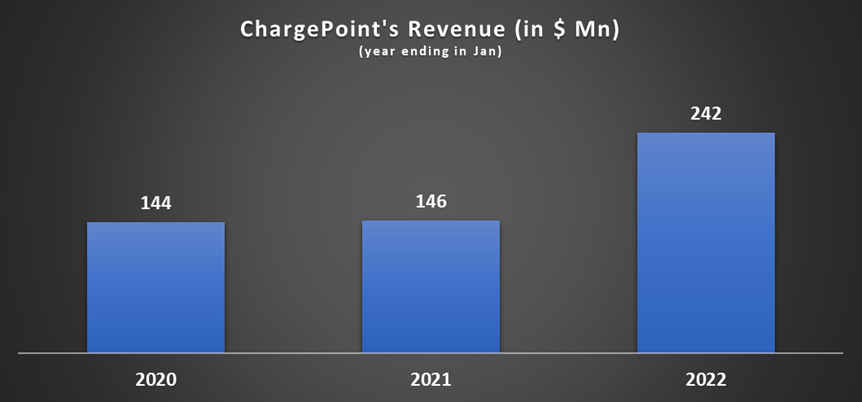 NIO's Ecosystem Strategy to Rule the World of EVs
Conclusion
From humble beginnings, ChargePoint has become the first publicly traded electric vehicle fueling network operating across two continents: North America and Europe.
ChargePoint is democratizing mobility by providing commercial customers with a platform to participate in the electric vehicle revolution. In its 2022 Charging Forward Report, ChargePoint has predicted some trends:
Automakers, businesses, and fleets will hasten their electrification commitments, enabling a tipping point for EVs within the decade.
Utility policy and rate designs will evolve to support an EV-centric world.
Home charging will be vastly adopted.
If all these predictions came true, it's not unsafe to say that ChargePoint has just begun!!
---