A vehicle powered by electricity has gone from a rare sight on even the busiest road to an increasingly common, affordable option in less than a decade. As an e-mobility expert, I am regularly asked what is the most significant challenge adoption of electric vehicles would face.
Many research reports state that lack of charging infrastructure remains one of the top reasons for slowing the mass adoption of EVs, along with Total cost of ownership (TCO).
Countries have set up EV sales targets by 2030. While India wants to achieve 30%, Germany wants to put 15 million EVs on the road; Netherland is leading the charge with a mission to have all new passenger vehicles be zero-emission.
Dutch Govt is so serious about EVs that they have built one of the densest charging networks in the world with hundreds of fast-charging stations and tens of thousands of regular charging stations.
But it's not only the govt that is leading the charge. EVBox, an Amsterdam-based company, manufactures and operates slow and fast charging stations and is one of the world's top charging station companies.
With more than 350,000 charging points across 70+ nations via 20,000+ partners, EVBox has committed itself to lead the world's transition. The charging station business is tricky. In this story, let's understand the business model of EVBox that is setting it apart. Before we begin with EVBox, let's understand the charging station business in general.
Charging Station Business- An overview
The global electric vehicle market has taken a giant leap forward in the past decade. But even though we've already seen some incredible growth in the number of EVs worldwide, industry predictions would suggest that we've only just scratched the surface. Let me prove this statement by sharing some statistics:
Electric car registrations increased by 41% in 2020, despite the pandemic-related worldwide downturn in car sales, in which global car sales dropped 16%
Consumer spending on electric car purchases increased to USD 120 billion in 2020. In parallel, governments across the world spent USD 14 billion to support electric car sales, up 25% from 2019,
Automotive lithium-ion (Li-Ion) battery production was 160 GWh in 2020, up 33% from 2019.
An accessible and robust network of electric vehicle (EV) charging infrastructure is an essential prerequisite to achieving this ambitious transition. It has been observed that the growth of EVs is directly proportional to an increase in charging infrastructure as it removes the element of range anxiety. The electric vehicle charger market was valued at $3.8 billion in 2019 and is projected to reach $25.5 billion by 2027, registering a CAGR of 26.8% from 2020 to 2027.
Electric vehicles (EVs) can be charged in various ways, depending on location and requirement.
Accordingly, charging infrastructure for EVs is of different types and designed for various applications. Specifications and standards for EV chargers, also known as electric vehicle supply equipment (EVSE), vary from one country to another, based on available EV models in the market and the characteristics of the electricity grid.
Not getting into too many technicalities, let me simplify charging station or Electric vehicle supply equipment (EVSE) for you. EVSE is the basic unit of EV charging infrastructure.
The EVSE accesses power from the local electricity supply and utilizes a control system and wired connection to charge EVs safely. An EVSE control system enables various functions such as user authentication, authorization for charging, information recording and exchange for network management, and data privacy and security.
There are primarily two categories of charging: AC Charge and DC Charge. EVBox has explained it best. When we talk about charging an EV, the main difference between AC and DC charging is where the conversion from AC to DC occurs.
Whether an EV uses an AC or DC charging station, the EV's battery will still only store DC energy. When you use a DC charging station, the conversion from AC (from the grid) to DC happens within the charging station—allowing DC power to flow directly from the station into the vehicle's battery. 
Because the conversion process happens inside a charging station (that houses a large converter) and not within the EV (that houses a smaller converter), charging the battery takes far less time. As a result, DC charging stations can provide up to 350 kW of power and fully charge an EV within 15 minutes. EVBox has even explained how to make money with EV charging.
I think you have understood the basics of charging an EV. Let's now understand what EVBox is and its business model.
What is EVBox?
EVBox is an electric vehicle supply equipment company based in Amsterdam, Netherlands. Founded in 2010 by Bram van der Leur and Huub Rothengatter, it currently has 350,000 charge points across 70 nations.
In 2017, EVBox was acquired by ENGIE Digital, a subset of French multinational electric utility company Engie. In 2018, EVBox Group acquired the ultra-fast DC charging station manufacturer EVTronic.
EVBox is a market leader in Electric Vehicle Supply Equipment (EVSE) and related cloud-based services, operating the world's most extensive installed base of charging points (+350,000) for electric vehicles across Europe, North America, and beyond.
EVBox provides charging solutions compatible with every electric vehicle, customized to every type of consumer and business based on concerns and needs. EVBox strives to offer a reliable and user-friendly charging experience to businesses, cities, and every electric vehicle driver worldwide.
EVBox Group was one of the founding members of ChargeUp Europe, a new association representing the interests of the EV charging infrastructure industry in Europe.
What makes EVBox's business model so unique?
Value Proposition
EVBox's business model is focused on solving the unique demands of customers, businesses, and drivers in the dynamic EV industry and driving innovations that anticipate future market needs.
EVBox offers a portfolio of hardware and enterprise software solutions and has built the industry's most extensive installed base of EV charging solutions.
EVBox's open architecture SaaS platform, Everon, serves as the backbone of the offering, with a cloud-native charging management solution that can support both EVBox and third-party hardware.
The Everon software enables new monetization opportunities for charging station owners, supports dynamic load management, and integrates other software via APIs. EVBox's offering also includes a complete suite of AC level 2 and DC fast and ultra-fast, smart charging stations, ranging from 3 to 350 kW, all served by mobility services offered through partners worldwide.
Customers
Customers from all segments (including individual homeowners, large corporations from various industry segments, car fleet operators, and municipalities) can choose specific hardware and software subscriptions and services depending on their needs.
As of December 2020, EVBox Group had a diverse customer base around the world with diversified revenues from across all key customer segments, which includes
Fleet Parking & Transport;
Charging Enablers & Distributors;
Workplace & Hospitality;
Utilities & Municipalities;
Fuel & Charging Service Providers; and
Automotive OEMs.
Product Portfolio
Charging hardware portfolio: EVBox Group develops, manufactures, and sells regular and fast-charging stations, with charging capacities ranging from 3.7kW to 350kW. EVBox Group sells integrated solutions, including software subscriptions and services and standalone hardware.
Enterprise Software Platform: EVBox offers its customizable Everon cloud-native, an open architecture software platform for businesses to build and manage their charging infrastructure.
Support services: EVBox Group provides various hardware and software support and services, including Project Management Services, Commissioning, Consultation services, Migration service, API integration service, connectivity services, etc.
Revenue
EVBox primarily generates revenue by selling comprehensive solutions, including hardware, software subscriptions, and services. The hardware and software subscriptions can be provided as agnostic offerings or fully-integrated solutions.
Hardware is typically purchased upfront, while software subscriptions are charged as an annual recurring fee, depending on the features required by each customer's specific needs.
Its services include usage, installation, extended warranty, managed services, and training. EVBox has not disclosed the revenue it makes but in its year in review 2019, it mentioned that it achieved a CAGR of 84.9% since its inception in 2010.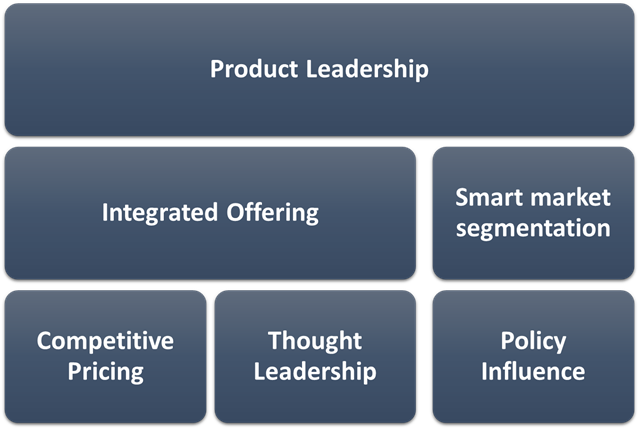 NIO's Ecosystem Strategy to Rule the World of EVs
Recommendations to strengthen the business model of EVBox?
In Europe, EVBox has established a leading position across key markets and customer segments, with an established market presence in both AC and DC public charging infrastructure and being the largest standalone CPO in Europe, according to Eco-Movement, an independent data provider of EV charge points.
EVBox Group aims to leverage its market leadership further and deepen its customer engagement across all segments in Europe by maturing its offerings and sales organization to deliver on large pan-European projects and through its thought leadership and policy alliances.
As more and more Governments across the globe plan to phase out ICE vehicles, EVBox seems to be well-positioned as a full-service provider for European countries and any country that has plans to go green.
EVBox can only achieve its mission globally if it plays the right cards. Here are my recommendations:
Growth might come from European countries in the short term, but EVs' future lies in China and India, where EV sales grew by 150%+ and 90%+ respectively, in 2021. EVBox should not ignore these markets for long.
EVBox should start leveraging its network strength to build swapping stations. Taiwan's Gogoro is currently a pioneer in swapping stations. EVBox can partner with OEMs to develop their exclusive charging stations and help them dominate the nascent EV market.
Undoubtedly V2G is the future. Vehicles would be used to power grids. In Europe alone, the V2G market is growing at 46%. EVBox should start considering (if already not) collaborating with power companies to implement V2G at a mass scale.
These recommendations will act as a power booster to EVBox's business model.
---