A decade ago, who would have thought the world would be studying online. It was a weird thought to have at that time, as traditional education is seen as a process of a teacher explaining to students in a physical setting.
Then the MOOC revolution came, and technological advancement has revolutionized the education industry. Traditional education and training methods were no longer fulfilling the needs of the educational sector. This need gave birth to the edtech industry. The EdTech market size was valued at USD 254.80 billion in 2021 and is expected to reach USD 605.40 billion by 2027.
As technology automates more repetitive, predictable, lower-skilled job tasks, individuals worldwide are looking to reskill with professional certificates and college degrees to move into emerging digital careers.
One edtech company started in 2012 has changed the world studies, and universities teach. With more than 97 million learners, and 250+ university and industry partners teaching 5300+ courses that range from open courses to full diploma-bearing degrees, Coursera has become a go-to platform for students to learn and institutions to teach and connect with learners.
Such statistics made me curious to know about the transformational business model of Coursera.
What is Coursera?
Coursera was founded in 2012 by Stanford University computer science professors Andrew Ng and Daphne Koller. Ng and Koller started offering their Stanford courses online in the fall of 2011 and soon after left Stanford to launch Coursera. Princeton, Stanford, the University of Michigan, and the University of Pennsylvania were the first universities to offer content on the platform.
Offerings have since expanded to include Specializations – collections of courses that build skills in a specific subject and degrees and a workforce development product for businesses and government organizations.
Coursera has partnered with over 250 leading university and industry partners to provide learners content and credentials that are modular, stackable, and consumable at a wide range of durations, difficulty levels, and price points.
Coursera's data-driven technology platform enables educators to efficiently produce, teach, and scale content and credentials, from individual courses to professional certificates to diploma-bearing degrees. Coursera enables educator partners to tap into global demand from individual learners, organizations, and institutions.
From inception till July 2020, Coursera has raised $430 Mn across six rounds. Coursera went public in March 2021 and raised $519 Million at a valuation of $5.9 billion.
What makes Coursera's business model so unique?
Reaching and serving a world of learners lies at the heart of Coursera's business model. Coursera enables learners to discover and engage with high-quality, job-relevant learning, inflexible, hands-on online learning environments at affordable prices—including free offerings.
Free content from reputed partners empowers learners to upskill at a meager cost. Data-driven marketing helps these partners upsell learners a wide range of paid offerings, including stand-alone courses, multi-course Specializations, certificate programs, and university degrees.
Coursera enables learners to "stack" content and credentials, allowing completion of stand-alone courses to count as progress towards a broader program of study, creating more flexible and affordable paths to upskilling and reskilling at competitive price points.
Coursera's business model primarily has three stakeholders: learners, businesses, and institutions/educators. Let's understand Coursera's value proposition for each of them.
Learners: Learners can come to Coursera to advance their careers, reach their educational goals, and enhance their lives. Coursera's data and machine learning systems drive personalized learning, effective marketing, and skills benchmarking.
As of December 31, 2021, approximately a 97million learners had registered with Coursera to learn from more than 250 leading university and industry partners in thousands of offerings ranging from open courses to full diploma-bearing degrees. Of learners who have rated a course in 2021, 81% gave their course a full 5-star rating.
Businesses: Employers can use Coursera for Business to help employees develop new skills to acquire and serve customers, lower costs, reduce risk, and remain competitive in today's economy.
As of December 31, 2020, over 2,000 organizations, including over 25% of Fortune 500 companies, were paying customers of Coursera for Business. In 2021, Coursera for Business learners logged over 1.8 million course enrollments.
According to a 2019-2020 report conducted by market research firm IDC and commissioned by Coursera, the eight Coursera for Business customers that were interviewed for the report are expected to achieve an estimated 3-year return on investment of approximately 700% (on average) due to a considerable reduction in employee attrition (-38% on average), lower spending on training costs (-24% on average), and increased worker productivity (+25% on average) as employees effectively utilize skills learned.
Institutions/educators: Coursera's unified technology enables educators to author and distribute high-quality content efficiently, employers to upskill and reskill their talent, and learners to advance their careers in a flexible learning environment.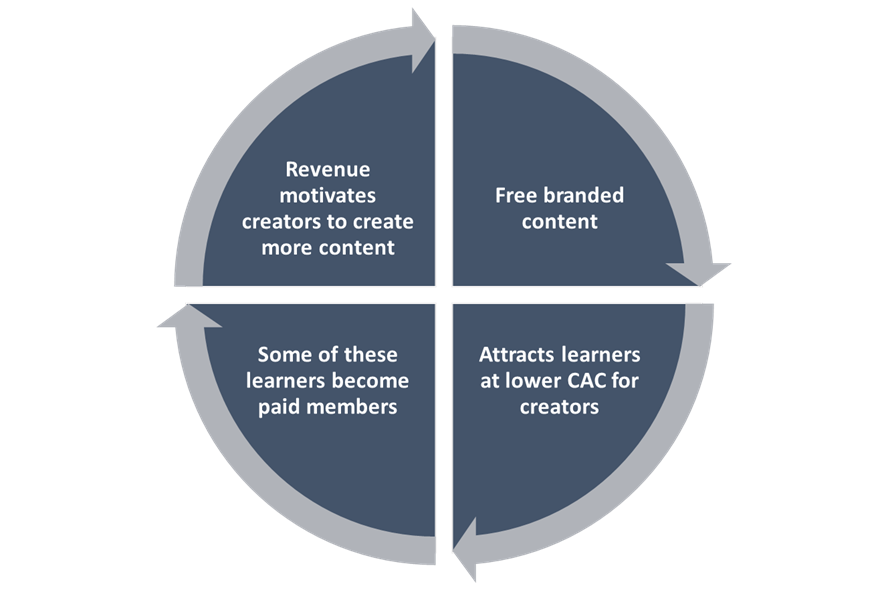 Competitive Strengths of Coursera's Business Model
Global distribution and reach with substantial brand value
Free university content attracts learners (low CAC). Some pay for certificates and degrees, generating revenue for partners and creating a consumer flywheel that creates a price-to-cost advantage.
Selected leading academic and industry partners that generate high-quality and relevant courses.
Job-relevant, hands-on projects, and industry certificates. Professional Certificates, some of which are authored by well-known employer brands such as Google, IBM, Intuit, Meta, and Salesforce, allow learners to reskill and upskill for new jobs efficiently.
How does Coursera make money?
Coursera makes money from three sources: Consumer, Enterprise, and Degrees, by providing access to the learning content hosted on the platform and related services.
In 2021, Coursera made $415 Mn in revenue, at a YoY growth of 40%. Let's understand each revenue stream in detail:
Consumer Revenue—In this segment, Coursera makes money on the sale of unlimited access to course content to consumers at a fixed price. Coursera Plus is a catalog-wide consumer subscription offering, and it is sold in the form of a monthly or annual subscription.
Coursera offers learners a broad range of learning offerings, from a 2-hour Guided Project for $9.99 on building a website to a Master of Public Health degree from the University of Michigan for approximately $45,000.
Enterprise Revenue– Coursera sells subscription licenses to business, government, and university customers that allow users to enroll in its courses and Specializations and receive certifications upon completion. Learners from these enterprises can enroll in as many courses as they want.
Coursera has two plans for businesses: Team ($319/user/year), which provides unlimited access to its catalog, and Enterprise (custom pricing) along with Team offering, which provides skill-based learning and user analytics.
Degree Revenue: Coursera has partnered with universities willing to offer bachelor's and master's degrees or postgraduate diplomas. Coursera charges a percentage of revenue earned by universities on these courses.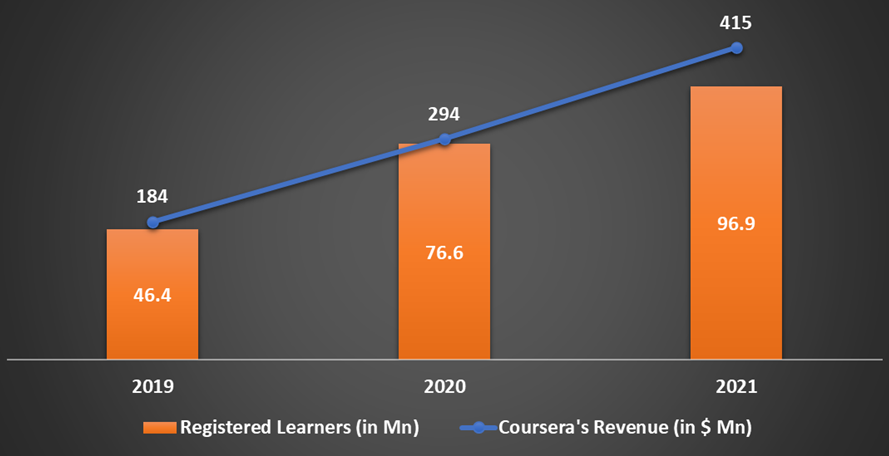 Conclusion
No doubt Coursera has disrupted the learning industry with its technology that provides any professional or student to upgrade themselves with a few clicks.
As per a survey, 97Mn+ new roles may emerge by 2025, with 94% of business leaders surveyed expecting employees to pick up new skills. As the need to upskill and reskill grows, the sky is the limit for Coursera.
---