A decade ago, who would have thought the world would be studying online. It was a weird thought to have at that time, as traditional education was seen as a process of a teacher explaining to students in a physical setting.
Then the MOOC revolution came, and technological advancement has revolutionized the education industry. Traditional education and training methods were no longer fulfilling the needs of the educational industry. These needs gave birth to the edtech industry. The EdTech market size was valued at USD 254.80 billion in 2021 and is expected to reach USD 605.40 billion by 2027.
One edtech company started in 2010 has changed how the world studies and teaches. With more than 44 million learners, 183,000 courses, and 65,000 instructors teaching courses in over 75 languages and over 644 million course enrolments, Udemy has become a go-to platform for students to learn and teachers to teach. Such statistics made me curious to know the transformational business model of Udemy.
What is Udemy?
Technological advancements and novel industries have significantly altered the types of skills required of workers, and lifelong training and continuous skills acquisition are becoming the norm. Udemy felt the need to expand access to learning and make it available across traditional barriers such as geography and social demographics.
Udemy is a for-profit massive open online course (MOOC) provider aimed at professional adults and students. It was founded in May 2010 by Eren Bali, Gagan Biyani, and Oktay Caglar and is headquartered in the US.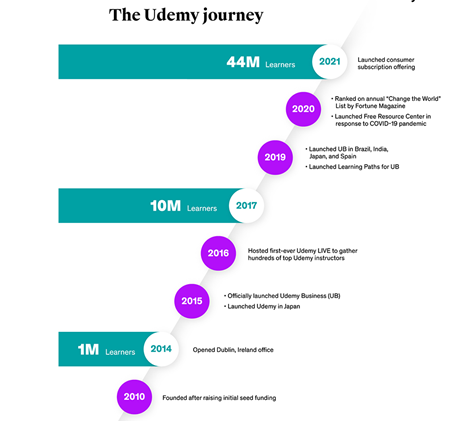 Udemy is on a mission to create new possibilities for people and organizations everywhere by connecting them to the knowledge and skills they need to succeed in a changing world.
Udemy created a two-sided marketplace where instructors develop content to meet learner demand. This approach helped learners to connect with real-world experts for updated and relevant content while assisting experts in monetizing their expertise.
Udemy's marketplace platform, with thousands of up-to-date courses in dozens of languages, provides the tools that learners, instructors, and organizations need to achieve their goals and reach their full potential.
Udemy has an offering for organizations called Udemy Business (UB). More than 10,515 organizations across the globe are Udemy's customers who want to support employees' professional growth and personal development through learning. Udemy selects the most engaging, relevant, and high-quality courses that fit the requirements of organizations.
Udemy went public in October 2021 and raised $421 Million at a valuation of $3.8 billion.
What makes Udemy's business model so unique?
Udemy allows individual learners and organizations worldwide to access affordable, relevant, and up-to-date content from experts and experienced practitioners in nearly every field. Udemy combines this high-quality content with data insights and technology to create a platform purpose-built to meet the specific needs of learners, instructors, and organizations.
Udemy has a powerful flywheel of content creation, engagement, and continuous content optimization. Expert instructors at Udemy generate new courses and update existing ones, while its marketplace encourages engagement on the most in-demand topics. The volume and frequency of these interactions allow Udemy to create meaningful insights and provide real-time feedback and analytics for our instructors.
Udemy leverages machine learning, or ML, to increase learner retention and conversion using enhanced personalization. Over 17,700 free courses are available on its platform. These free courses represent an essential entry point for learners to experience our platform.
Over 28 million consumer learners have enrolled in free courses on a wide range of topics taught by a diverse set of instructors in various languages. Udemy has built a large and cost-effective top of the funnel for both consumer and UB leads through this free content. Over 3.7 million free learners have converted to buyers.
Udemy primarily has three stakeholders: learners, UB customers, and instructors. Let's understand Udemy's value proposition for each of them.
Learners: Udemy provides over 44 million learners with relevant, affordable, and high-quality content to build skills in various aspects: technical, business, and personal development. Millions of ratings and reviews from fellow learners help decide the course to pursue.
UB customers: Udemy helps its enterprise clients achieve their learning and development goals, drawn by our instructors' real-world expertise and experience. Udemy focuses on upskilling and reskilling professionals, allowing them to increase productivity and inspire innovation.
Instructors: Udemy's platform business model provides instructors with a global audience while monetizing their expertise. Along with leveraging Udemy's proprietary tools to build courses, Instructors use platform insights, review feedback from learners, and harness analytics dashboards to manage their course content, brand, and course marketing.
Instructors receive 37% of the revenue for any Udemy sales where no instructor coupon or course referral link was used while receiving 97% of the payment when the student purchases their content using an instructor's coupon or referral link.
Instructors are paid in accordance with the course sale. In 2020, Udemy's instructors earned $161.4 million, with the average instructor earning $2,950 and over 9,000 global instructors earning more than $1,000.
How is Khan Academy realizing its mission of free education?
Competitive Strengths of Udemy's Business Model
Global distribution and reach with substantial brand value
Robust content generation engine that offers quality and variety of content at an affordable price.
Self-reinforcing flywheel with powerful network effects with professionals recommending Udemy to their organizations. More users, in turn, motivate experts to create high-quality content.
Providing a personalized learning ecosystem with its Machine learning technologies.
How does Udemy make money?
Udemy makes money from contracts with paid consumer learners and UB customers accessing its online learning platform. Let's break down each segment in detail: consumer and enterprise revenue.
Consumer Revenue: Consumer revenue consists of individual course content purchases made by individual learners and consumer subscription offerings to get lifetime access to paid courses. Udemy derives ~70% of revenue from this segment. In 2020, Udemy had 1.3Mn Monthly average buyers.
Enterprise Revenue: Organizations globally subscribe to the Udemy's Business (UB) plan to achieve the learning needs of their talent. Udemy Business has curated a11000 courses to meet the needs and standards of these companies, organizations, and agencies, post a rigorous selection process.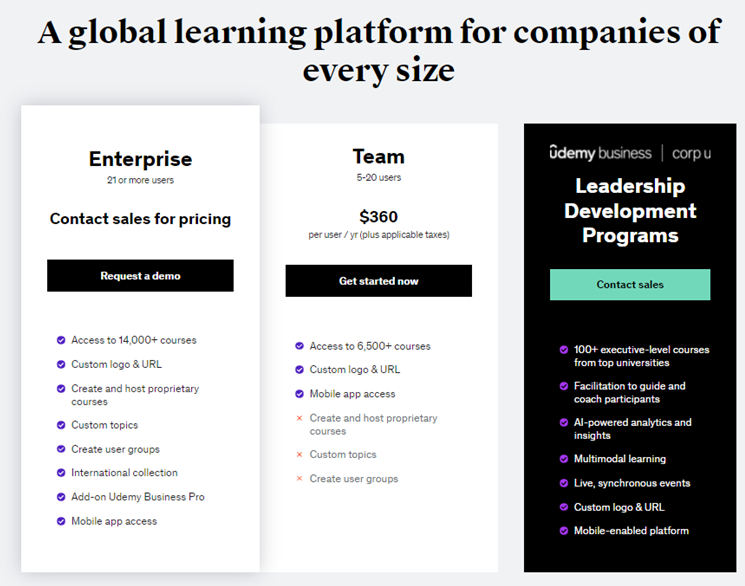 Udemy makes money via the sale of subscription plans to organizations. Subscription fees are primarily based on the number of license seats. Revenue from this stream is continuously rising from just 18% in 2019 to 30% in 2021. Udemy has observed a growth of 30% in the number of organizations subscribing to its business plan.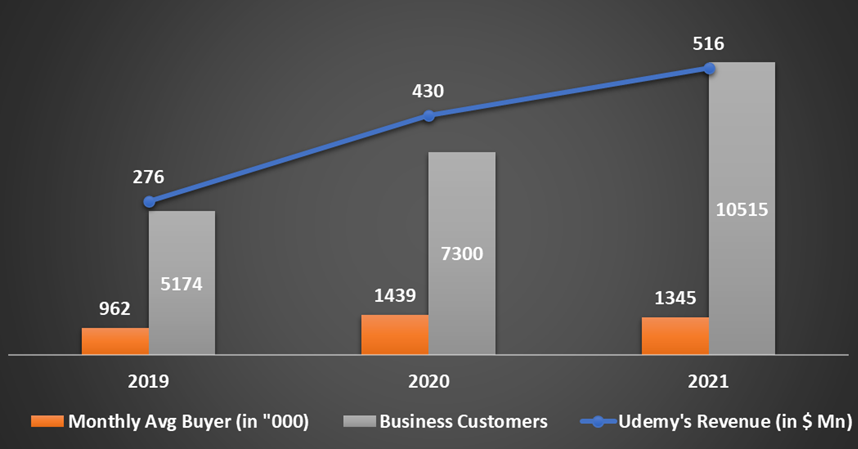 Conclusion
Undoubtedly, Udemy has disrupted the learning industry with its technology that allows any professional or student to upgrade themselves with a few clicks.
As claimed by Udemy in its SEC filing, 97Mn+ new roles may emerge by 2025, with 94% of business leaders surveyed expecting employees to pick up new skills on the job. As the need to upskill and reskill grows, the sky is the limit for Udemy.
---