Back in 2019, when I was traveling to Malaysia, the first thing that caught my attention was 7-Eleven Stores. Wherever I went across from bustling commercial districts to serene residential areas, from petrol stations to shopping malls, 7-Eleven Store was always there for me.
This compelled me to visit one of them. And it is a ONE STOP SOLUTION for all travelers. This store carried 2200+ SKUs, including their proprietary brands – Slurpee and Big Gulp. It also provided a series of services like photocopying, fax, ATM, bill payment service, a bulletin board for neighborhood community services. As a business enthusiast, this made me more curious to know about the business model of these 7-Eleven chain stores and how it operates.
7-Eleven, the world's largest convenience retailer, is a known and loved brand worldwide. Their continuous focus is on making the life of their customers easy, inventing and rethinking ways to stay convenient in this constantly changing world, and making the everyday shopping experience easily accessible.
7-Eleven, Inc. is an American chain of convenience stores. It was named Tote'm Stores between 1928 and 1946. After 70% of the company was acquired by Japanese affiliate Ito-Yokado in 1991, it was reorganized as a wholly-owned subsidiary of Seven-Eleven Japan Co., Ltd. in 2005, and is now held by Chiyoda, Tokyo-based Seven-Eleven Japan. 7-Eleven operates, franchises, and licenses 72,500+ stores in 17 countries across 10,000 locations, as of 2021.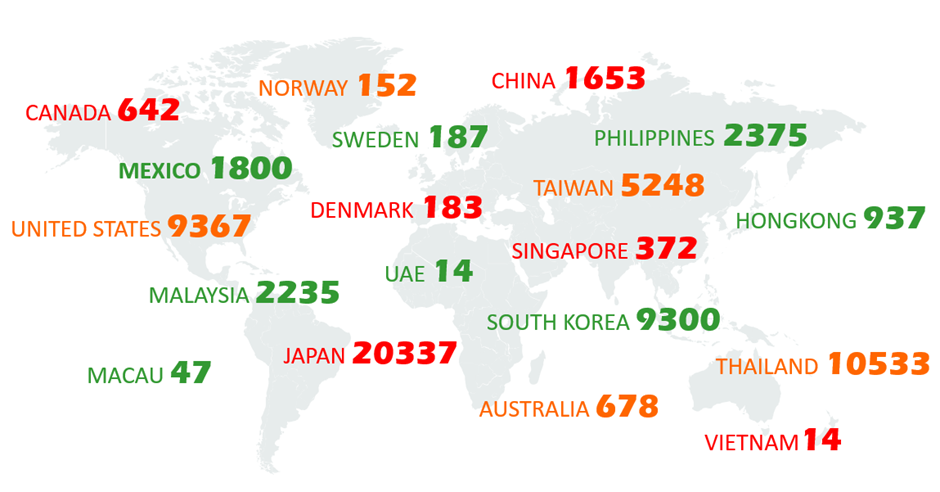 Evolution of 7-Eleven
In 1927, John Jefferson Green had a very bright idea to make life a little easy for his customers by selling everyday staples from the dock of a local icehouse in Dallas, Texas. This gave birth to the world's first convenience store.
In 1933, the ice dock started selling beer and liquor, which impacted the store's growth drastically.
In 1937, Uncle Johnny's idea was taken to another ice dock, and within a decade, the number of locations tripled, selling the new product lines. These new convenience stores were known as Tote'm stores.
In 1946, to reflect the new extended hours from 7 AM to 11 PM, seven days a week, the name was changed from Tote'm stores to 7-Eleven.
This has become a growing Global Brand with a new store opening every 4 hours and six stores opening daily. It opened 2100+ net new stores in 2020.
Fun Fact: 7-Eleven was the first convenience store to offer ATM Service, gas, and coffee to go.
Franchise Business Model of 7-Eleven
The 7-Eleven business model relies on the Modernization and Revitalization of existing small and medium-sized stores with the roots of Co-existence and Co-prosperity. There are 3 different ways through which 7-Eleven has built its franchise business model.
Traditional – For aggressive business growth, leveraging the scale of the business, and streamlining the processes, a tailored model is designed where they lease the store, land, and equipment to the franchisee owner and provide training and support.
Business Conversion Program – Existing properties like gas stations, small grocery stores, or even currently vacant sites are developed into new 7-Eleven convenience stores.
Non-traditional – This facilitates building stores within captive audience venues like airport terminals, transportation hubs, malls, hotels, and more. A team of architects, interior designers, and merchandisers customizes each store with the brand.
Cost Structure of Franchise business model of 7-Eleven
As per the entrepreneur website, the total amount necessary to begin the operation of the franchise is around $1.3 Mn. The upfront investment costs for the franchise may vary depending upon stores and locations but generally includes:
7-Eleven Pays for: Property & Building Rent or Acquisition Cost, Equipment Purchase, Cost or Rent expenses, Real property Taxes, Selected Utilities, Building Maintenance, Equipment Replacement Cost, Advertising Cost, Initial training material on store operations, Book-keeping & back-office support, Inventory Audits, Product Development & Merchandising Assistance, Ongoing Business Advisory Assistance.
Franchise Pays for: Initial Franchisee Fees, Training Expenses, Down Payment on stores' opening inventory, Stores Supplies and miscellaneous store expenses, Business Licenses & State Permits, Cash Register fund, Grand Opening Fee, Insurance Cost, Payroll processing expenses and taxes for employees, Cash & inventory shortage, National advertising fees, and local store advertising expenses, Interest, tax, and all other operating expenses.
Consistently ranked as top 5 franchisors, a variety of services are available to their franchisees like ongoing corporate support, world-class training, turnkey business modeling, and special financing programs, making them the world's most recognizable brand. 
TESCO – British Retailer that redefined Grocery Shopping
How is 7-Eleven building trust with Franchisees?
With their Open Account System, even with a small number of funds, franchisees can start the business and operate it stably with 7-Eleven's settlement and financing designed system.
A Guaranteed Minimum Gross Income System where a franchisee is given a guarantee for a certain amount of the franchisee's gross income. The gross profit is split between the franchisee and headquarters according to a pre-defined percentage.
Notes:
Gross Profit = Net Sales – COGS (calculated by subtracting costs of inventory loss, merchandise disposal, and rebates from gross COGS.
Franchisee's Gross Income = Gross Profit on Sales – 7-Eleven's charges
Along with existing Franchisees, it also helps prospective franchisees for transition and to effectively utilize the retirement funds for the purchase of the franchise.
Trader Joe's- a giant retailer but has no online presence, discounted sales, loyalty rewards, or membership program but is thriving with its 3 critical pillars. What are they?
Key Strengths of 7-Eleven Business Model
Store Network: Market Concentration Strategy is the foundation of high-value-added products and services.
Item wise Management: It has built the world's one of the largest information networks which link stores, headquarters, distribution centers, and suppliers to maximize the efficiency of store operations along with profits.
Original Products: 1000+ original products with their own production facilities and distribution centers is the key differentiator and greatest strength behind strong store loyalty.
Service Development: A diverse range of services like ATM services, acceptance of bill payments, meal delivery services, etc. contributes to growth in the number of customer visits.
Customer Obsession with Constant Innvovation:
With a legacy of innovation, they are the beginners of operating 24*7, offering a self-serve soda fountain and providing to-go coffee cups. In honor of the world's favorite frozen drink, they coined the phrase "Brain Freeze, followed by the SLURPEE drink, the BIG GULP, and then the BIG BITE continuing the history of innovation and fueling it through digital initiatives.
Being CUSTOMER OBSESSED, they always make sure that they remain two steps ahead, pursuing innovative ways to cater to tech-savvy customers. They are the leaders in CONVENIENCE, constantly putting their customers at the center of design and development, from providing user-friendly tech-platform to having the drinks served at their platform.
Redefining convenience, with one digital initiative at a time, they are transforming their business and enhancing customer experiences through constant digital innovation and providing effortless solutions by bringing the stores to their customers wherever they are and whenever they need even before customers know.
Leveraging these strengths 7-Eleven has grown modestly with a CAGR of 2.6% while maintaining close relationships with all the stakeholders along with scaling their operations high.
Staying ahead of the curve
7-Eleven always looks for redefining convenience. They have introduced the world to their private brands, Slurpee Big Gulp drinks, along with self-serve soda, coffee to go, and much more. The basic needs of bread, milk, and gas have now shifted to banking, delivery services, rewards programs, and digital apps.
Investing millions in digital innovation, they focus on what matters the most – BUSINESS GROWTH. Analyzing the sales metrics optimizes the inventory. Their automated inventory management keeps them updated with what sells best at each location, keeping their shelves always stocked up. 
As technology advancement has redefined the shopping experiences, this brand continues to research and develop platforms that provide new tech-savvy shoppers a seamless experience with simplified back-end technology.
---