Hum dabbe ke sath khana hi nai sahab bahut kuch deke jaate hai,

kabhi kabhi pyaar bhi hota hai!!

-Mumbai Dabbawalas
Before I delve into the strategy behind the famous Mumbai Dabbawalas, let me tell you the story of my first interaction with them. It was during my first internship almost nine years ago at ONGC when I first experienced living in Mumbai, the city of dreams.
I was excited to explore my new home, places to eat and the famous Mumbai local. While most of the things were sorted easily, having home-cooked lunch was a challenge.
I saw that every day, a man wearing white Kurta-Pyjama (a traditional Indian Attire) and a white colour Gandhi cap, would bring multiple lunch boxes just before lunchtime. I thought to give this a try, and that was my first experience with the Mumbai Dabbawalas.
Intrigued by their service levels, I was fascinated to find more about how they managed their operations.
Grab some food while you read along.
With every problem comes an opportunity to innovate, disrupt and create value
More than a century ago, as India started to grow, more and more people started migrating to cities for work. While new jobs were emerging, there was hardly any fast food culture or office canteens to cater to the hunger pangs at noon.
The unavailability of any service to get a hot home-cooked meal at work was the problem visionary Mahadeo Havaji Bachche sought to solve. Thus the Bombay Dabbawalas was born, and then the rest is history.
Even now, when technology has disrupted the meal delivery industry, the dabbawalas are going strong.
They deliver almost 200,000 meals per day that translate to 400,000 transactions a day and that too without any technology.
How are Mumbai's dabbawalas able to do this almost every day?
The dabbawalas follow a straightforward yet effective methodology. The dabbas (boxes) have a sequence of distinguishing marks on them to segregate the dabbas and avoid mixup. Let us understand the specifics:
(1) abbreviations for collection points,
(2) color code for starting station,
(3) the number for destination station and
(4) markings for the final destination – building and floor.
The large, bold number in the centre – indicates the neighbourhood where the Dabba must be delivered.
The second on the edge of the lid – is a number identifying the Dabbawala who will make the delivery, an alphabetical code for the office building, and a number indicating the floor.
The third—a combination of colour and shape, shows the station of origin.
Additionally, their supply chain has the most simplistic model (Hub and Spoke):
First mile: The Dabbawala collects the dabbas from the houses in the locality and brings them to the nearest sorting hub( generally the local train station).
Middle Mile: The collected dabbas travel through various sorting centres until it reaches its final sorting place.
Last-mile: The dabbas are again sorted as per the building they have to deliver to and handed over to the last-mile team.
They repeat the whole exercise twice daily to send back to their place of origin.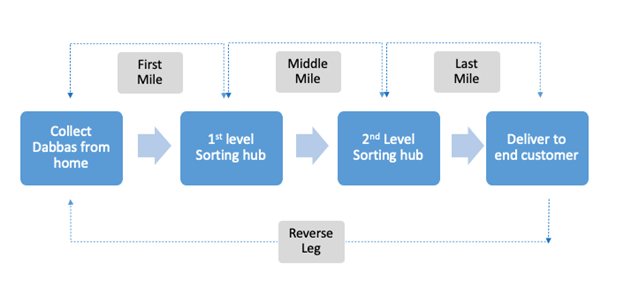 Looks like a simple strategy, right !!
While many organizations might have tried to copy it, there are hardly any other success stories.
So what makes them so unique that reputed business schools have written a case study on their service levels and great influencers such as Richard Branson, Prince Charles and many more have visited Mumbai, to know more about them?
Mumbai Dabbawala's mantra for success is three-fold:
Ownership
Every Dabbawala is an entrepreneur himself managing the customers in his area. They are self-employed as the rightful owners in the Dabbawalas organization. They have an innate sense of ownership towards their work.
Dedication
Every Dabbawala strictly adheres to policies and standards.
Over the years, the organization has perfected the standards they want to maintain, and the whole group follows it to the letter. That helped them to reduce variances and deliver a very high service level consistently so much that they were ISO 9001 certified.
Culture
It is the most crucial factor for their success which brought the whole organization together. Almost all the dabbawalas belong to the Varkari sect of Maharashtra and follow Saint Tukaram. The Hindu God Vithoba, whom they workshop, teaches that giving food is the greatest deed to do in life. Their utmost spirituality towards this divine idea is what drives them ultimately.
Are you thinking if their strategy is still relevant? How are Dabbawalas competing with online food delivery platforms?
While all the food delivery platforms use point to point delivery system, the dabbawalas have perfected the hub and spoke model, tapping the economies of scale. The average monthly subscription cost is between Rs. 500 to Rs. 1500 per month. Additionally, a high level of customer satisfaction has created considerable customer loyalty giving them a fighting chance against the tech-enabled younger players.
The principles for which the Dabbawalas stood by has become the founding pillars for so many new companies.
What the dabbawalas have started, the leading players in the food delivery industry has adapted and used technology to scale the business and created value for consumers.
The dabbawala journey is a true story of community building and belief system, something that has created a legacy for future generations.
Interested in reading more Advanced Strategy Stories? Check out our collection.
Also check out our most loved stories below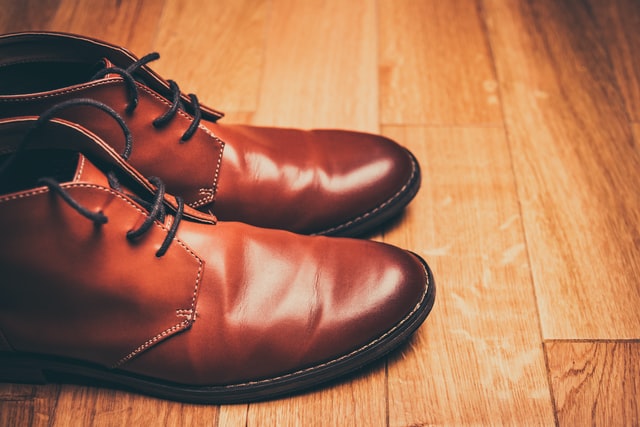 How Bata became India's household name despite being a classy international brand?
Bata is not an Indian brand. It is as international as it can be. But what strategies made it India's highest selling footwear brand?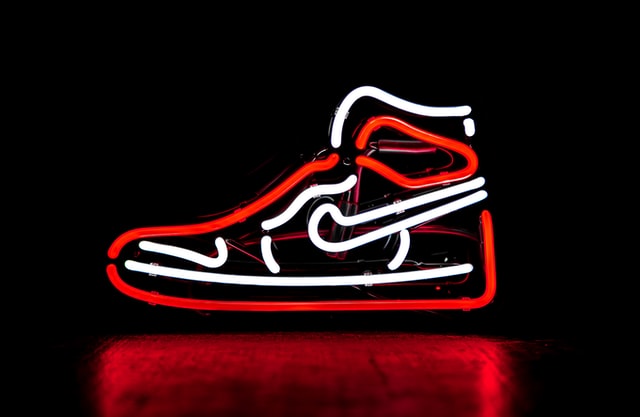 Nike doesn't sell shoes. It sells an idea!!
Nike has built one of the most powerful brands in the world through its benefit based marketing strategy. What is this strategy and how Nike has used it?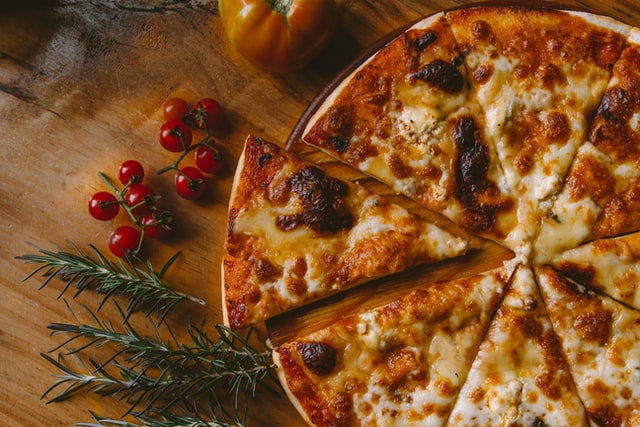 Domino's is not a pizza delivery company. What is it then?
How one step towards digital transformation completely changed the brand perception of Domino's from a pizza delivery company to a technology company?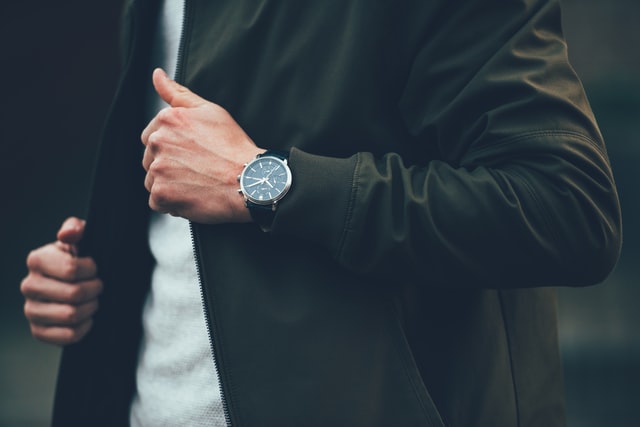 What advertising strategy made TITAN an iconic watch brand?
What are the various advertising strategies that make Titan a consumer's choice? How Titan decided to choose Mozart's symphony as its tune for commercials?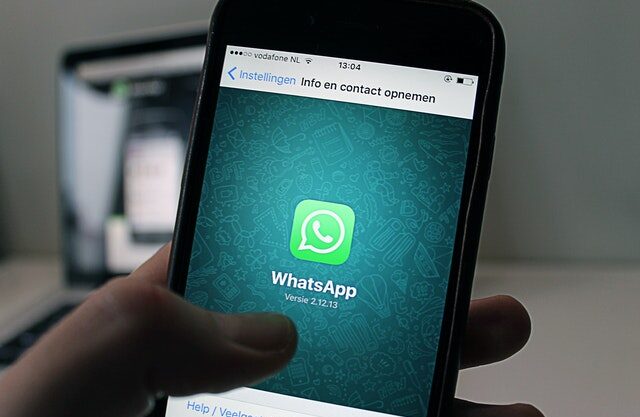 WhatsApp "Photo Status" was a strategic move. How?
Whatsapp launched photo status in 2017. It was hated by many. But why it was a good move that improved the way you use application today?