More Millennial and Generation Z consumers are driving the shift to secondhand each year. 40% of Generation Z and 30% of Millennials purchased secondhand in 2019, 14% and 9% more, respectively than in 2016. Conscious consumerism is also on the rise. Whether it is the cars we buy, the water we drink, the makeup we wear, or the food we eat, consumers increasingly care about their environmental impact.
Hence more consumers are shopping secondhand than ever before. Secondhand is gaining a share of wallets at the expense of fast fashion, department stores, and luxury brands. According to the GlobalData Market Survey, resale has grown 25 times faster than the retail clothing market on average over the past five years.
Aside from the demand side, there is a massive opportunity to unlock secondhand supply and increase the lifecycle of existing apparel that sits unworn in closets.
According to the GlobalData April 2020 Consumer Survey, only 18% of consumers have resold clothing, and 81% of consumers who have not resold clothing have said they are open to doing so. By doing so, sellers can make room in their closets successfully, utilize resale as a solution to fashion waste, and generate income to refresh their closets.
Thredup is trying to inspire new consumers to think secondhand first. Thus enabling a generation of new buyers to effortlessly find high-quality secondhand items from brands they love at incredible prices, enabling a generation of new sellers to participate in the resale economy by helping sellers conveniently clean out their closets and enabling brands and retailers to deliver modern resale experiences that help their consumers shop in more environmentally sustainable ways.
In this strategy story, we will answer how does Thredup work and make money. What is the business model of Thredup? Let's find out.
What is Thredup? How does Thredup work?
thredUP is one of the world's largest online resale platforms for women's and kids' apparel, shoes, and accessories. Thredup's mission is to inspire new consumers to think secondhand first. Thredup's custom-built operating platform consists of distributed processing infrastructure, proprietary software and systems, and data science expertise. This platform is powering the rapidly emerging resale economy, one of the fastest-growing sectors in retail.
thredUP's proprietary operating platform is the foundation for Thredup's managed marketplace. It has bridged online and offline technology to make buying and selling millions of unique items easy and fun. Thredup's marketplace enables buyers to browse and purchase resale items for primarily women's and kids' apparel, shoes, and accessories across various price points. 
Let's now see how does the whole process of Thredup work.
Thredup works as a managed marketplace that unlocks valuable clothing supply from sellers and increases demand for high-quality online resale items. Thredup takes items that previously had minimal value and were sitting idle in closets and creates value for sellers in an environmentally-friendly manner by enabling longer useful lives for their secondhand items. 
Because of the value and convenience sellers get with thredUP, Thredup attracts high-quality supply without directly spending money to acquire sellers. Sellers choose Thredup's managed marketplace to conveniently clean out their closets and earn a payout that can be received in the form of cash, thredUP online credits, select RaaS partner credits, or a charitable donation receipt. 
Sellers send their secondhand items to Thredup's distribution centers, and Thredup then processes items using its proprietary operating platform. Thredup provides end-to-end resale services for sellers using its platform, including managing item selection and pricing, merchandising, fulfillment, payments, and customer service. 
Thredup offers premium, and luxury brands all in one place at up to 90% off the estimated retail price in an ever-changing assortment, creating a fun shopping experience for its buyers. Since Thredup's items are secondhand and more affordably priced, its buyers can feel good when they shop.
In 2018, Thredup extended its platform to enable brands and retailers to participate in the resale economy. A number of the world's leading brands and retailers are already taking advantage of Thredup's Resale-as-a-Service ("RaaS") offering, which allows them to conveniently offer a scalable closet clean-out service and resale shop to their customers.
Thredup's platform works by combing:
Distributed Processing Infrastructure: Thredup's infrastructure is purpose-built for "single SKU" logistics, meaning that every item processed is unique, came from or belonged to an individual seller, and is individually tracked using its stock-keeping unit ("SKU").
Proprietary Software and Systems: Thredup's facilities run on custom-built applications designed for "single SKU" operations, implementing large-scale, innovative, and patented automation for put-away, storage, picking, and packing at scale.
Data Science Expertise: Thredup harnesses its robust, structured data set across the business to optimize economic decisions, such as pricing, seller payouts, item acceptance, merchandising, and sell-through.
How does Thredup make money? What is the business model of Thredup?
Value Proposition
Buyers: To its 1.69 Mn active buyers who ordered 5.3 million items (in 2021), Thredup offers shopping value, a unique and ever-changing assortment, an engaging and personalized online resale shopping experience, quality items post a rigorous twelve-point quality inspection, and an opportunity to reduce waste.
Sellers: Threadup enables Sellers to conveniently clean out their closets and unlock value for themselves or the charity of their choice while simultaneously doing good for the environment.
Resale-as-a-Service (RaaS) Partners: Threadup works with brands and retailers through its RaaS offering to power resale experiences tailored to their needs. Brands and Retailers are interested in testing resale as they look to increase foot traffic to their stores for incremental revenue, drive sustainability for the apparel ecosystem, reach younger consumers and build brand loyalty with them.
Marketing Strategy of Thredup
Thredup drives traffic to its marketplace and acquires new buyers primarily through a mix of paid and organic marketing. Search, social media, influencers, television, direct mail, press coverage, RaaS partnerships, referral programs, and organic word of mouth drive traffic to thredUP. 
thredUP's proprietary marketing automation software synthesizes data pipelines from across its marketplace to help measure advertising performance and identify which paid marketing activities deliver superior returns on investment. Thredup can quickly adapt and optimize its marketing programs and strategy by understanding how buyers respond to the campaigns and investments.
As part of its brand marketing strategy, Thredup invests in brand marketing campaigns to raise awareness about thredUP, build brand equity and create an emotional connection with consumers. Thredup's brand campaigns drive preference for participating in resale and give buyers and sellers reasons to be proud to buy and sell used clothing. 
These brand-building efforts include aligning with celebrities and influencers to elevate thrift and publishing data insights that show Thredup's buyers, sellers, and RaaS partners they are part of a broader fashion movement that emphasizes the environmental good.
Thredup Competitors
Thredup competitors include other apparel retailers, particularly retailers at an off-price or fast-fashion price point, vendors of new and secondhand items, including branded goods stores, local, national, and global department stores, traditional brick-and-mortar consignment and thrift stores, specialty retailers, direct-to-consumer retailers, discount chains, independent retail stores, the online offerings of these traditional retail competitors, resale players focused on niche or single categories, as well as technology-enabled marketplaces that may offer the same or similar goods and services.
Competitors offering the same or similar goods or services include:
secondhand marketplaces, such as eBay Inc., Mercari, Inc., Poshmark, Inc., and The RealReal, Inc.;
large online retailers, such as Amazon.com, Inc., Kohl's Corporation, and Walmart Inc.; and
off-price retailers, such as Burlington Stores, Ross Stores, Inc., and The TJX Companies, Inc.
How does Poshmark work and make money: Business Model
How does Thredup make money: revenue model
Thredup generated $251.8 Million in revenue in 2021. The business model of Thredup makes money primarily from selling secondhand women's and kids' apparel, shoes, and accessories on behalf of sellers. Thredup retains a percentage of the proceeds received as payment for the consignment service Consignment revenue). Thredup also makes money from selling its purchased inventory (product revenue).
| | | | |
| --- | --- | --- | --- |
| Thredup Revenue segments (in $ Thousands) | 2021 | 2020 | 2019 |
| Consignment Revenue | 186,114 | 138,096 | 97,763 |
| Product Revenue | 65,678 | 47,919 | 66,049 |
| Total Revenue | 251,792 | 186,015 | 163,812 |
Consignment revenue: Thredup generates revenue from selling secondhand women's and kids' apparel, shoes, and accessories on behalf of sellers. Thredup recognizes consignment revenue, net of seller payouts, discounts, incentives, and returns. The brand, demand, and quality determine pricing. The cost of consignment revenue consists of outbound shipping, outbound labor, and packaging costs.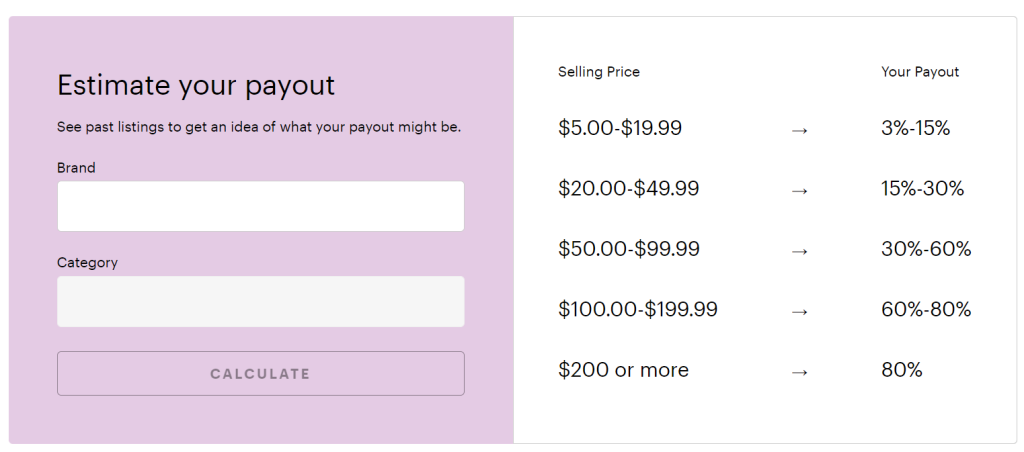 Product revenue: Thredup also generates product revenue from the sale of items that it owns, which it refers to as its inventory. While Thredup shifted its business model to primarily consignment sales in mid-2019, historically, Thredup purchased most of the inventory from its sellers before inclusion on the online marketplace.
Product revenue costs mainly consist of inventory, inbound shipping related to the sold merchandise, outbound shipping, outbound labor, packaging costs, and inventory write-downs.
---