Residential real estate is the largest undisrupted category in the United States. In 2021 alone, more than six million existing homes were sold, representing nearly $2.3 trillion in transactions. 
Additionally, with approximately two-thirds of Americans living in a home they own, housing is the single most significant consumer expenditure in the United States, ahead of transportation, food, insurance, and healthcare.
Yet, in a world where purchases are increasingly migrating online, real estate transaction has largely remained unchanged. Buying or selling a home is typically complex, uncertain, time-consuming, and primarily offline. 
A traditional home sale requires countless decisions, an average of six intermediaries, often brings unexpected costs and takes approximately three months from start to finish. Ultimately, the consumer is left dissatisfied with a broken, disjointed experience.
The current landscape is highly fragmented. Today, 90% of residential real estate transactions involve an agent. There are over three million licensed real estate agents in the United States who, on average complete less than five transactions per year, many of whom do not solely work in real estate. 
The result is often an inconsistent and frustrating experience for consumers looking for guidance in the most significant financial decision of their lives. Consumers are shifting their spending online and demanding digital-first experiences for greater efficiency, certainty, and speed. 
They are increasingly comfortable with transacting online across retail, food, and transportation and now expect similar experiences in real estate. While most home buyers browse for homes online, the transaction is still largely offline, requiring real estate agents to access homes and physical closings.
Opendoor has developed a solution and works as an end-to-end real estate platform enabling consumers to buy and sell a home online. As strategy enthusiasts, we explain how does Opendoor work and make money? What is the business model of Opendoor?
What is Opendoor? How does Opendoor work?
Opendoor Technologies, founded in 2014 by Keith Rabois, Eric Wu, and JD Ross, is an online company that buys and sells residential real estate. Opendoor is on a mission to empower everyone with the freedom to move and deliver an end-to-end home selling, buying, and ownership experience that is self-service, delightful, and low-cost.
By leveraging software, data science, product design, and operations, Opendoor has rebuilt the real estate service model and made buying and selling possible on a mobile device.
Opendoor streamlines buying and selling a home into a seamless digital experience that is simple, certain, and fast. Sellers can go to Opendoor.com, receive an offer, sign, and choose their closing date. Buyers can download the Opendoor app, tour and visit both Opendoor and non-Opendoor homes, and make an offer, all with just a mobile device.
Opendoor works on a three-step process:
Offer: Go to its website and enter the home address. The seller receives an all-cash offer, a service charge, and estimated closing costs if the home is eligible. The offer is free, and there's no obligation. The Opendoor team visits the seller's home to assess the home's condition and identify if any repairs are needed.
Home acquisition and repairs: Once a seller has received and accepted our final purchase offer, we enable the seller to close the transaction on a flexible timeline. This is a particularly important feature as over two-thirds of sellers are also buyers, who are often looking to line up the timing of these two transactions to ensure they have their next home to move to before locking in the sale of their home or to avoid double moves or mortgages.
Home Resale: After Opendoor completes the repairs and lists the home for resale, Opendoor markets homes across various channels to generate buyer awareness and demand. These channels include the Opendoor website and mobile app, local MLS, and syndication across real estate portals.
Opendoor is positioned to make data-driven decisions against an extensive, diversified portfolio of homes as the principal rather than the agent in the transaction. Opendoor has built data science capabilities and systematized tooling to gather, aggregate, and synthesize an expanding catalog of proprietary, hyperlocal data to improve and automate pricing decisions. 
WeWork works on a "space-as-a-service" membership business model that flexible access to beautiful spaces. What went wrong?
Opendoor's pricing algorithms are designed to adjust dynamically to leading indicators and market conditions so that the business can react to real-time economic conditions. This responsiveness is critical to pricing accurately and maintaining margins, especially in periods of volatility.
Opendoor currently works on third-party cloud computing services, allowing it to quickly and efficiently scale up services without upfront infrastructure costs. Opendoor also uses third-party services to enable customers to digitally sign contracts, upload videos of their homes, and manage customer support services.
How does Opendoor make money? What is the business model of Opendoor?
Products & Offering
Opendoor Complete: Opendoor Complete combines all products and services into a single, streamlined experience so customers can move seamlessly. It provides customers with certainty on the equity in their existing home with an all-cash offer, the power to make a more substantial offer on their next home with its cash backing, and the ability to line up closing dates and avoid double moves or mortgages. 
Sell to Opendoor. By selling to Opendoor, homeowners can avoid the stress of open houses, home repairs, overlapping mortgages, and the uncertainty of listing a home on the open market. Opendoor charges a service fee of 5% to customers who sell directly to Opendoor. Opendoor also asks for a repair credit as per the home's condition. 
Opendoor's final offer, including the purchase price, service fee, and repair credit, provides the homeowner with more certainty and transparency regarding their expected sale proceeds while removing the hassle of doing any repairs to get the home "sale ready." Customers have responded positively to this modern way of selling, enabling Opendoor to achieve a real seller conversion rate of over 35% in 2021. 
Buy with Opendoor: Opendoor has built an on-demand, seamless and digital home buying experience. Unlike the traditional process that agents intermediate, Buy with Opendoor customers can use its app or website to self-tour or virtually tour both Opendoor and non-Opendoor homes at their convenience, shop for financing, and submit an offer backed by Opendoor's cash. 
Opendoor Home Loans: Opendoor Home Loans is a tech-enabled mortgage platform for customers looking to buy or refinance a home. Opendoor has built this platform intending to combine savings, convenience, and certainty into a more straightforward, transparent mortgage process for customers.
Marketing
Opendoor utilizes a diversified, multichannel marketing approach, focusing on efficient growth. In addition to earned media and online real estate partnerships with leading industry brands, Opendoor leverages various channels and platforms within paid advertising, including paid online channels, direct mail, television, radio, and outdoor advertising. 
Opendoor invests in broad reach and national channels, such as television and sponsorships, to efficiently drive awareness and build trust with consumers in a new category to expand its market footprint. 
Opendoor continues to build a prospective customer base by maintaining relationships and re-engaging with homeowners who might not have been ready to sell during their first interaction with Opendoor. 
With over two-thirds of sellers also being buyers, these homeowners represent a large part of Opendoor's marketing funnel that Opendoor focuses on converting when they are ready to transact. 
How does Opendoor make money: revenue model
Opendoor makes money primarily through home sales and ancillary real estate services (significantly less). Opendoor acquires homes directly from individual sellers and resells those homes to buyers. 
Opendoor makes money when the possession of the property has been transferred to the buyer, and Opendoor has no continuing involvement with the property. The amount of revenue recognized for each home sale equals the sale price of the home net of any concessions. 
Opendoor also makes money through title insurance facilitation, closing and escrow services, real estate broker commissions, and gain (loss) on the sale of mortgage loans. These real estate services are provided in conjunction with home sales, and revenue is recognized consistent with home sales revenue, generally upon close of escrow. 
Opendoor made $8 billion in 2021. Revenue increased by $5.4 billion, or 211%, for the year 2021 compared to the year 2020. The increase in revenue was primarily attributable to higher sales volumes and higher income per home.
Opendoor sold 21,725 homes during 2021, compared to 9,913 homes during 2020, representing an increase of 119%, while revenue per home sold increased 42% between periods.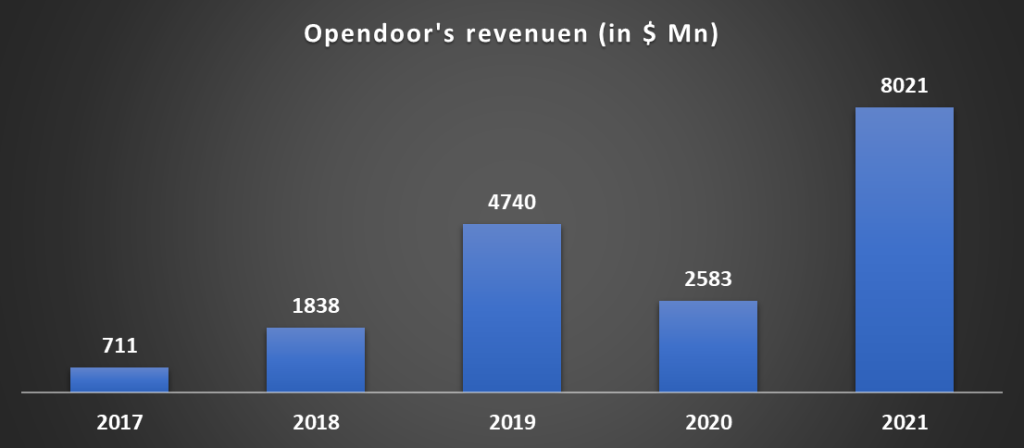 ---