The simple human truth is that we are all social creatures. We crave connection to the people and places around us. People feel a greater sense of belonging and increased positive affect after simply having a social interaction with the barista at a coffee shop. 
Countless studies show that people with regular contact with their neighbors have higher well-being. According to a Nextdoor global loneliness study, knowing as few as six neighbors reduces the likelihood of feeling lonely and is linked to lower depression, social anxiety, and financial concerns.
We also know consumer behavior has structurally changed post-pandemic, with increasing interest and involvement in day-to-day local activities. At the same time, the sharing economy, an inherently local opportunity, is expected to grow two times as fast, according to Statista.
Just as people turn to digital networks to enhance their work (e.g., LinkedIn) and play (e.g., Instagram and TikTok), they are looking for a way to do the same in their neighborhood. As the neighborhood network, Nextdoor aims to achieve that.
In this story, let's understand what Nextdoor is and how does Nextdoor work? How does Nextdoor make money, and what is its business model?
What is Nextdoor? How does Nextdoor work?
Nextdoor Holdings, Inc. operates a hyperlocal social networking service for neighborhoods. The company was founded in 2008 and is based in San Francisco, California.
So how does Nextdoor work? Nextdoor has built a platform that facilitates healthy neighborhood connections and conversations. Nextdoor has set clear guidelines and uses a combination of people and technology to encourage the behaviors that support its purpose of cultivating a kinder world where everyone has a neighborhood they can rely on.
Nextdoor works by ensuring that the neighborhoods are made up of real people, nearby. All new neighbors are required to accept a Good Neighbor Pledge upon joining to provide personal accountability for interactions on the platform.
On Nextdoor, large brands, small and mid-sized businesses, and public agencies benefit from its hyperlocal targeting to provide relevant information to people in their neighborhoods. 
These businesses enjoy instant access to a large base of engaged neighbors, positioning Nextdoor firmly in the digital advertising market.
Given the structural changes in consumer behavior post-pandemic (a stronger affinity for supporting local businesses), Nextdoor believes that more of the digital advertising market will have a local orientation.
How does Nextdoor make money? What is Nextdoor's business model?
Value Proposition
Nextdoor offers neighbors worldwide the unique ability to connect to their neighborhood, feel welcome, and belong. Nextdoor's mission is to be the neighborhood hub for trusted connections and exchanging helpful information, goods, and services. 
Value for Neighbors: Neighbors come to Nextdoor to connect to the neighborhoods that matter to them so they can belong. Nextdoor leverages technology to enable online and real-world connections between neighbors and organizations — both of which are a valuable part of the neighborhood ecosystem. 
Nextdoor ensures neighbors are connected to real people by requiring neighbors to use their real names, which fosters a trusted environment so they can meet and learn more about those nearby. 
Further, since the experience is based on geographical location, Nextdoor uniquely provides a way to bring online connections into the real world. 
Nextdoor has ~36 Million weekly active users or neighbors on the platform.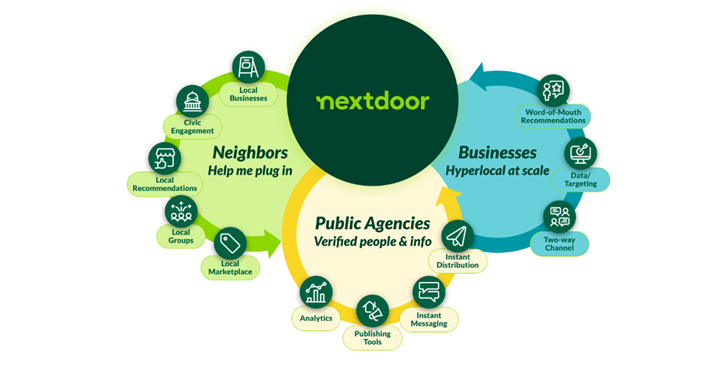 Value for Organizations: Businesses of all sizes and types come to Nextdoor to reach their customers in meaningful ways and encourage action through hyperlocal targeting and personalizing advertising at scale.
Public agencies come to Nextdoor to deliver critical information to neighbors with the hyperlocal distribution. Public agencies also leverage Nextdoor to find out what is important to their constituents and communicate with them directly. 
This includes keeping neighbors apprised about everything from local events such as webinars and street fairs to timely safety updates and urgent alerts and tips to stay safe and protected during times of crisis such as power outages, storms, or wildfires.
Neighbors often flag local businesses that other neighbors are looking for their services. Businesses often invite neighbors to Nextdoor to leave a recommendation. And public agencies often actively recruit neighbors on Nextdoor as it becomes their de facto communication platform.
Platform
The Nextdoor platform offers distinct functionalities and experiences for neighbors and organizations alike. 
How neighbors discover what's happening nearby 
Newsfeed: The Newsfeed is where neighbors find constantly updated posts, discussions, photos, and links from other neighbors and organizations. 
Notifications: In-app and Email Notifications inform neighbors about news, items, and activities they are interested in. Notifications include everything from trending posts to direct messages about items for sale to alerts by local public agencies. 
Search: Search allows neighbors to find specific content and organizations (including large brands, small businesses, public agencies, and nonprofits) related to their neighborhood.
How neighbors connect with organizations and find local resources
Businesses: Neighbors use Nextdoor to discover spots most loved by locals, leave recommendations, find exclusive deals and promotions, and interact with businesses. As of December 31, 2021, neighbors had left more than 55 million business recommendations on Nextdoor.
For Sale & Free: For Sale & Free is Nextdoor's local marketplace where neighbors buy, sell, or give away items and even offer babysitting and dog walking services.
Public Services: On Nextdoor, neighbors can receive critical, real-time information from trusted officials. Public agencies, including government entities and service providers, turn to Nextdoor directly, quickly, and easily reach neighbors in their community with hyperlocal information and alerts. 
All in all, Nextdoor is a complete social media platform for local communities.
Revenue Model: How does Nextdoor make money?
Nextdoor makes a majority of money from the delivery of advertising services. From building awareness to driving sales, Nextdoor offers advertisers of all sizes distinct and differentiated products in a unique local context that allow them to reach the right neighbor, at the right time, with the right message. 
Large brands use the platform to reach, engage, and convert neighbors by delivering hyperlocal and personalized advertising at scale. Small businesses rely on Nextdoor to get customers with information that encourages local action. 
The value of Nextdoor's audience to advertisers is driven by providing: 
A high utility platform: Neighbors come to Nextdoor for a real-time solution nearby to get things done. From finding an emergency plumber to checking which Internet service provider works best locally to finding the best spot for dinner. This creates a highly performant environment for advertisers who come to Nextdoor to develop meaningful connections with a uniquely engaged local audience.
Access to untapped audiences: According to fourth quarter 2021 data from GWI, 76% of neighbors who visit Nextdoor at least once a month do not visit Snap, 57% do not visit Pinterest, and 17% do not visit Facebook.
Contextual relevance: Nextdoor content is highly relevant based on neighbors' local boundaries, which provides a unique environment for brands to show up surrounded by relevant and welcome content.
Neighborhood-level data provides actionable insights: Nextdoor data can provide valuable insights to advertisers to help them better serve their customers.
Hyperlocal personalization at scale: Nextdoor dynamically updates ad creatives to run nationally with local specifics, such as neighborhood names, store locations, or business representative information, to create meaningful connections between our customers and neighbors. 
Targeted Ad placement: Ad Placements Advertisers can engage with their customers on Nextdoor through Newsfeed, In-App Digest and Email Digest, For Sale & Free, bidding on Search to get discovered, and Sponsored Posts.
Specific Local Deals: Advertisers offering goods and services use Local Deals to target specific neighborhoods and drive sales. Designing specific, timely discounts and promotions for specific neighborhoods engages and motivates their best customers, those nearby.
Nextdoor made $192 Mn of revenue in 2021, with a YoY growth rate of ~55%.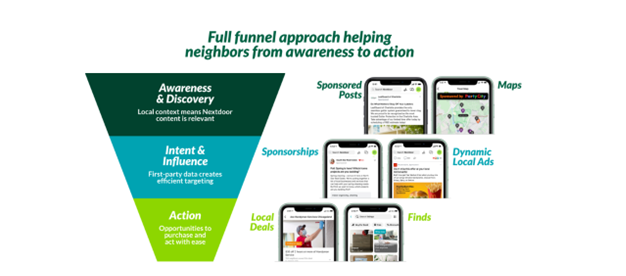 Conclusion
On Nov '21, Nextdoor went public after the company was listed on the New York Stock Exchange via a merger with a special purpose acquisition company.
With 63 Million users and over 280,000 neighborhoods (as of 2022), Nextdoor has become a niche social media platform with the purpose of cultivating a kinder world where everyone has a neighborhood they can rely on.
---