I guess I belong to that 90s era who still enjoys playing Mario, Contra, etc. Let's not be nostalgic. Though I know you are. I was introduced to Roblox last year by my gamer friend Siddharth Thakur. I could never have imagined that anybody with a programming language could create a game and anybody with a passion for gaming could play. 
Roblox is one example that emphasizes that we are moving towards a virtual age that provides limitless opportunities to gaming developers. In Jan '22 alone, 4.2 billion hours were spent. That made me interested in learning about Roblox's business model and how Roblox makes money? Before we delve into the technicalities, let's get some basics clear.
What is Roblox?
Roblox is an online game platform and game creation system developed by Roblox Corporation. It allows users to program games and play games created by other users. Started by David Baszucki and Erik Cassel in 2004 and released in 2006, the platform hosts user-created games of multiple genres coded in the programming language Lua.
The story of Roblox began in 1989 when its founders, David Baszucki and Erik Cassel, programmed a 2D simulated physics lab called Interactive Physics. Roblox is on a mission to build a human co-experience platform that enables shared experiences among users.
As of Q1 of 2022, around 55 million people worldwide come to Roblox every day to connect with friends. Together they play, learn, communicate, explore, and expand their friendships, all in 3D digital worlds that are entirely user-generated, built by a robust community of nearly 7 million active developers. 
Let's now try to understand the various aspects of Roblox's business model.
What makes Roblox's business model so unique to gamers?
Roblox's business model is a self-growing circle that relies on content and social mutually reinforcing network effects.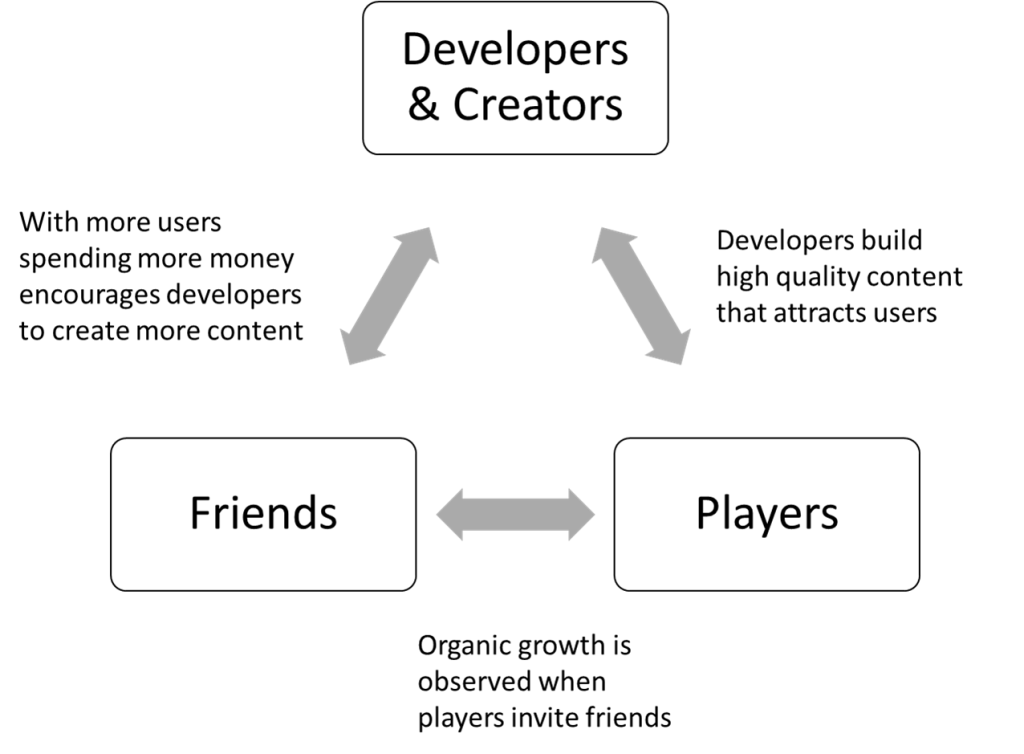 First, user-generated content, built by its community of developers and creators, powers Roblox's platform. As developers and creators build increasingly high-quality content, more users are attracted to the platform. The more users on the Roblox platform, the higher the engagement and the more attractive Roblox becomes to developers and creators.
With more users and more money users spend on the platform, incentivizes developers and creators to design increasingly engaging content and encourages new developers and creators to start building on our platform.
Second, the Roblox platform is social. When users join, they typically play with friends. This inspires them to invite more friends, who invite their friends, driving organic growth.
The more friends that each user has played together on the platform, the more valuable and engaging the platform becomes. This drives more users to our platform through word of mouth from their existing friends on the platform.
Roblox platform is powered by user-generated content and draws inspiration from gaming, entertainment, social media, and even toys. The Roblox platform offers a number of key characteristics:
Building a network of friends: Users (both developers and players) use Roblox to build a network of online friends.
Globally Immersive: Roblox claims that the experiences on Roblox are 3D and immersive, engaging, and indistinguishable from the real world. Roblox is global in terms of attracting users from all over the world and in making its platform suitable for all kinds of operating systems.
Developing an ecosystem– Roblox provides critical services such as user acquisition, billing, collections, content moderation, translation, safety, regulatory compliance, and customer support on behalf of the developers and creators. This makes it easier and simpler for even individual developers and creators and small studios to be successful developers and creators. 
Providing a variety in content: Experiences on Roblox range from operating a theme park to adopting a pet, scuba diving, creating and playing your superhero, and more. Millions of creator-built virtual items, such as hats, shirts, and pants. Users can personalize their avatars and 3D virtual items, assets, and sounds that creators can incorporate into experiences. 
Constructing an economy: Roblox has a vibrant economy built on a currency called Robux. Users who choose to purchase Robux can spend the currency on experiences and items for their avatar. Developers and creators earn Robux by building engaging experiences and exciting things users want to buy. Roblox enables developers and creators to convert Robux back into real-world currency.
How Does Roblox make money?
When users sign up for Roblox, they can create an avatar and explore the vast majority of experiences for free. However, the business model for any given experience is ultimately up to its developer. 
Most free experiences allow users to spend Robux by purchasing experience-specific enhancements. Users can also use Robux to purchase clothing, accessories, and emotes from its Avatar Marketplace. Roblox retains a portion of every Robux transaction and distributes the rest to developers and creators.
How Users Purchase Robux
Users can purchase Robux in two ways, as one-time purchases or via Roblox Premium, a subscription service that is billed monthly and includes discounted Robux, access to exclusive in-experience benefits, exclusive and discounted marketplace items, and the ability to buy, sell and trade certain Avatar items. Roblox accepts payments through app stores, credit cards, and prepaid cards.
How Developers and Creators Earn Robux
sale of access to their experiences and enhancements in their experiences;
engagement-based payouts, which reward developers for the amount of time that Premium subscribers spend in their experiences;     
sale of content and tools between developers; and
sale of items to users through the Avatar Marketplace.
As users purchase and subsequently spend Robux on Roblox, developers receive 70% of the Robux spent within their experiences and 70% of the Robux spent for items in the Studio Marketplace. Creators receive 30% of the Robux spent for their items that appear in the Avatar Marketplace.
Bookings refer to Roblox's virtual currency "Robux" that players buy and that can be used to upgrade players' avatars by purchasing in-game items such as clothing, pet, collectibles, or accessories. The average booking per daily active user (ABPDAU) was $59.85 in FY21 (as per its quarterly earnings report).
Twitch focuses on video game live streaming, including broadcasts of esports competitions. What is Twitch's business model?
Earned Robux are deposited into the virtual accounts of the developers and creators, who can convert Robux into U.S. dollars at an exchange rate through a Developer Exchange Program.
Roblox developers and creators do not always cash out their Robux into real-world currency. Some choose to reinvest their Robux into developer tools from the Studio Marketplace, promote their experiences through our internal ad network, or spend the Robux as any other user would.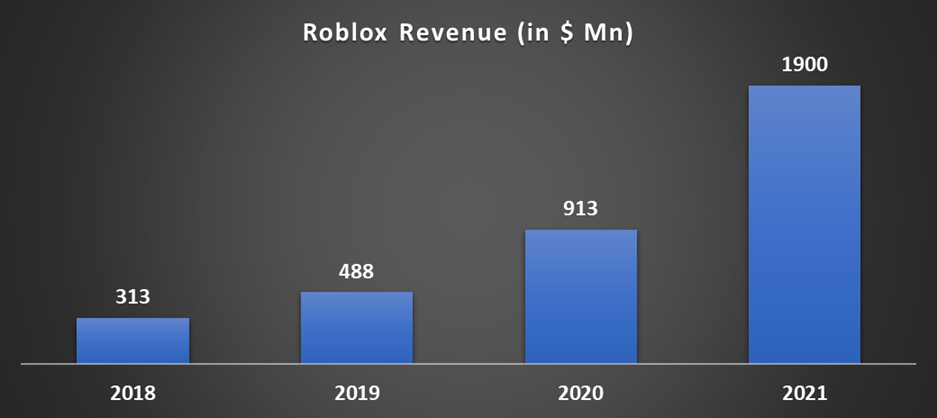 What's the latest at Roblox?
As seen in the above graph, Roblox's revenue growth (almost 100%) is astonishing. The accessibility and audience size have made Roblox a hotspot for cross-promotion. Artists like Lil Nas X and Twenty One Pilots host virtual shows inside specifically designed game worlds.
With nearly 55 million daily active users, Roblox is increasingly an integral part of people's lives. As we look ahead to 2022, we will continue to develop our technology to enable deeper forms of communication, immersion, and expression on our platform.

David Baszucki, Chief Executive Officer of Roblox.
Roblox is looking to expand beyond games to broader entertainment as part of its mission to provide a metaverse for fans. On March 21, Roblox and Sony announced that music artist 24kGoldn would perform a virtual concert inside the platform for user-generated content.
Roblox is like a primitive metaverse where it might face challenges with controlling obscene content as 67% of its users are less than 16. Although Roblox claims that it has a strict policy against any such practices, there are games where Roblox's rules are thrown out of the window. Nevertheless, Roblox's future looks bright. It would be interesting to see how Meta plans to act in the space with its metaverse.
---