PayPal Holdings, Inc. is an American multinational financial technology company operating an online payments system in most countries that supports online money transfers and serves as an electronic alternative to traditional paper methods such as checks and money orders. 
PayPal is a leading technology platform that enables digital payments and simplifies commerce experiences on behalf of merchants and consumers worldwide. PayPal democratizes financial services to help improve individuals' financial health and increase economic opportunity for entrepreneurs and businesses worldwide. 
PayPal's goal is to enable merchants and consumers to manage and move their money anywhere in the world, on any platform, and using any device when sending payments or getting paid.
PayPal's payment solutions enable customers to send and receive payments. PayPal operates a global, two-sided network at a scale that connects merchants and consumers with 426 million active accounts (consisting of 392 million consumer active accounts and 34 million merchant active accounts) across more than 200 markets. PayPal helps merchants and consumers connect, transact, and complete payments, whether they are online or in person. 
Through this strategy story, let's understand how PayPal makes money and what is its business model.
Business Model of PayPal
For Merchants
PayPal partners with merchants to help grow and expand their businesses by providing global reach and powering all aspects of digital checkout. PayPal offers alternative payment methods, including access to credit solutions, provides fraud prevention and risk management solutions, reduces losses through proprietary protection programs, and offers tools and insights for utilizing data analytics to attract new customers and improve sales conversion. 
It's Free but then how does Honey make money?
PayPal employs a technology-agnostic approach to enable merchants of all sizes to quickly and easily provide digital checkout online and in-store across all platforms and devices and securely receive customer payments. PayPal's payments platform enables merchants to accept all types of online and offline payments, including those made with the PayPal and Venmo digital wallets, credit cards, debit cards, and other competitor digital wallets, as well as other popular local payment methods. 
PayPal has expanded its merchant value proposition to enable payment acceptance at the point of sale through our PayPal and Venmo digital wallets, quick response ("QR") code-based solutions, and ourZettle point of sale solutions.
PayPal aims to offer a seamless, omnichannel solution that helps merchants manage and grow their businesses and drive increased conversion through higher consumer engagement.
PayPal offers access to merchant finance products for certain small and medium-sized businesses through the PayPal Working Capital and PayPal Business Loan products. These offerings enable PayPal to deepen its engagement with existing small and medium-sized merchants and expand services to new merchants by providing access to capital that may not be available effectively or efficiently from traditional banks or other lending providers. 
For Consumers
PayPal focuses on providing affordable, convenient, and secure consumer financial products and services intended to democratize the management and movement of money.
PayPal provides consumers with a digital wallet that enables them to send payments to merchants more safely using a variety of funding sources, which may include a bank account, a PayPal account balance, a Venmo account balance, PayPal's consumer credit products, credit cards, debit cards, certain cryptocurrencies, or other stored value products such as gift cards, and eligible credit card rewards. 
PayPal offers consumers person-to-person ("P2P") payment solutions through PayPal, Venmo, and Xoom products and services. 
How does Venmo work & make money | Business Model
PayPal enables both domestic and international P2P transfers across its payments platform. 
PayPal's Venmo digital wallet in the U.S. is a leading mobile application used to move money between our customers and to make purchases at select merchants. 
Xoom is an international money transfer service that enables customers to send money and prepaid mobile phone reloads to and pay bills for people around the world in a secure, fast, and cost-effective way. 
P2P is a significant customer acquisition channel that facilitates organic growth by enabling potential PayPal users to establish active accounts with PayPal when they make or receive a P2P payment. 
PayPal also simplifies and personalizes consumer shopping experiences by offering tools for product discovery, price-tracking, offers, and easier exchanges and returns, enhancing consumer engagement and sales conversion for our merchants. 
PayPal offers credit products to consumers in certain markets as a potential funding source at checkout.
PayPal has expanded its consumer value proposition through enhancements to the PayPal and Venmo digital wallets, which provide increased functionality for consumers to explore deals and offers and to transact with cryptocurrencies in certain markets more easily. 
PayPal's goal is to drive increased consumer engagement by providing consumers with comprehensive services to manage their finances and enhancing their ability to shop online and in person.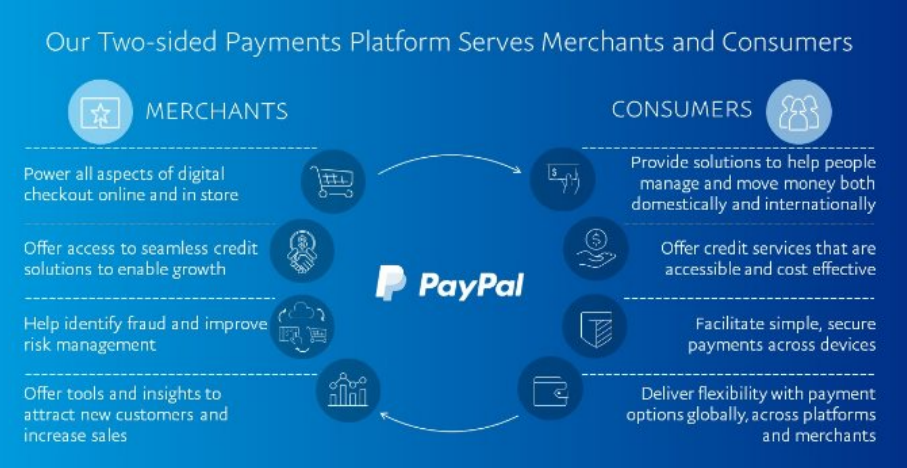 How does PayPal make money: revenue model
PayPal made $25.3 billion in 2021. PayPal has a two-sided business model where it makes money from both merchants and consumers. PayPal generates revenue from merchants primarily by charging fees for completing their payment transactions and other payment-related services. PayPal makes money from consumers on fees charged for foreign currency conversion, instant transfers from their PayPal or Venmo account to their debit card or bank account, to facilitate the purchase and sale of cryptocurrencies, interest, fees, or other revenue from credit product programs, and other miscellaneous fees.
PayPal also makes money by providing other value-added services, including revenue earned through partnerships, interest and fees from its merchant and consumer credit products, referral fees, subscription fees, gateway services, and other services to merchants and consumers.
Total Payments Value (TPV) is an important metric for PayPal. TPV is the value of payments, net of payment reversals, successfully completed on PayPal's payments platform or enabled by PayPal via a partner payments solution, not including gateway-exclusive transactions. In 2021, PayPal processed $1.25 trillion of TPV. Growth in TPV is vital for PayPal's revenue growth.
PayPal classifies its revenue into two categories: 
Transaction revenues: Net transaction fees are primarily charged to merchants on a transaction basis based on the TPV (total payment volume) completed. The number of payment transactions directly impacts growth in TPV.
PayPal earns additional fees from merchants and consumers on transactions where it performs a currency conversion to facilitate the instant transfer of funds for customers from their PayPal or Venmo account to their debit card or bank account, to facilitate the purchase and sale of cryptocurrencies and other miscellaneous fees.
Revenues from other value-added services: Net revenues are derived primarily from revenue earned through partnerships, referral fees, subscription fees, gateway fees, and other services PayPal provides to its merchants and consumers. PayPal also earns revenues from interest and fees earned on our portfolio of loans receivable and interest earned on certain assets underlying customer balances.
| | | | |
| --- | --- | --- | --- |
| PayPal Revenue streams (in $ Mn) | 2021 | 2020 | 2019 |
| Transaction Revenues | 23,402 | 19,918 | 16,099 |
| Revenues from other value-added services | 1,969 | 1,536 | 1,673 |
| Total Revenues | 25,371 | 21,454 | 17,772 |
Source: PayPal's annual report
---