Product Managers are becoming one of the most sought-after job titles in tech. As per an internal survey by The Strategy Story, 50%+ of graduates would like to choose a career in Product Management.
The Strategy Story is on a mission to simplify things for professionals. Be it through our amazing content or be it through our classes. Our goal is to make you a better management professional in every possible way.
Priyank Ahuja, a Product Leader & Digital Transformation Evangelist with 14 years of progressive experience in Product Management, will guide in his 1.5-hour master session on hacks to get into product management.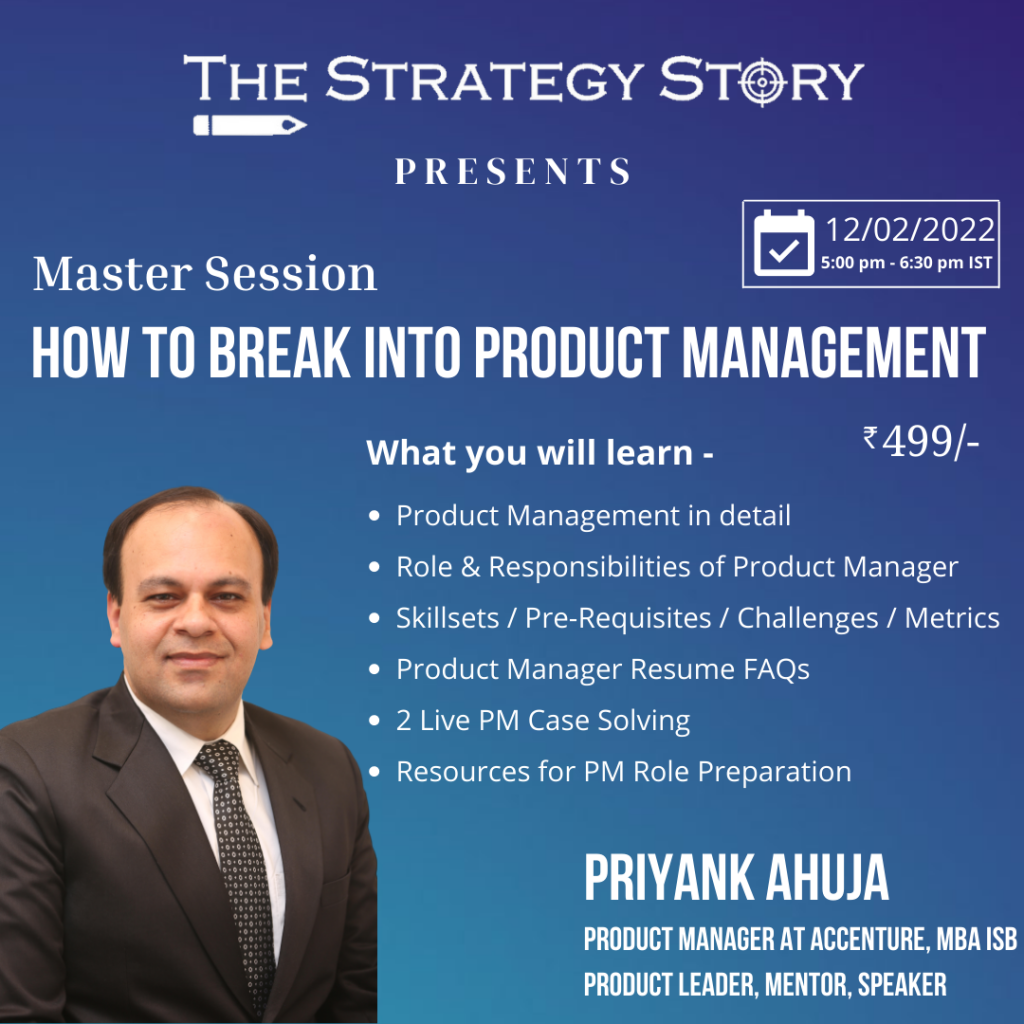 About Priyank Ahuja
Mr. Priyank Ahuja is a stalwart of the industry with 14 years of experience in projects in varied domains like Product Management, Management Consulting, Marketing Strategy, Digital Transformation, Pre-Sales, and Operations. He has completed his MBA from the prestigious Indian School of Business, Hyderabad, and International Semester Exchange with NUS Business School, Singapore.
Mr. Priyank is very well versed in managing the product portfolio, growth strategy, research, analysis, and strategizing which has led to the transformation and growth of many organizations he has worked with. To name a few, he has been a part of Airtel, Siemens, Nokia, Vodafone, TCS, ZTE Corporation and he is currently working with Accenture as Product Manager.
Apart from his consulting experience, he is an avid problem solver. His wide range of industry experience allows him to train and guide a large number of aspiring industrialists and future leaders. He is also a Certified Corporate Trainer, Mentor, Coach, Keynote Speaker, and B-School Visiting Faculty.
He has conducted 570 Corporate Training Sessions, 245 Webinars across 110 Institutions, Mentored 750 students and Judged 22 Events as a Jury Panelist (total outreach of 155K Participants).
He is also associated as a Mentor with 180 Degree Consulting, The Bridge Project, Impact Consulting, Enactus, SeekAMentor, IndyWise, Seekho, HultPrize Foundation, Shri Ram Consulting, and Research Center and InsideIIM.com | AltUni.in | Kampus App.
---