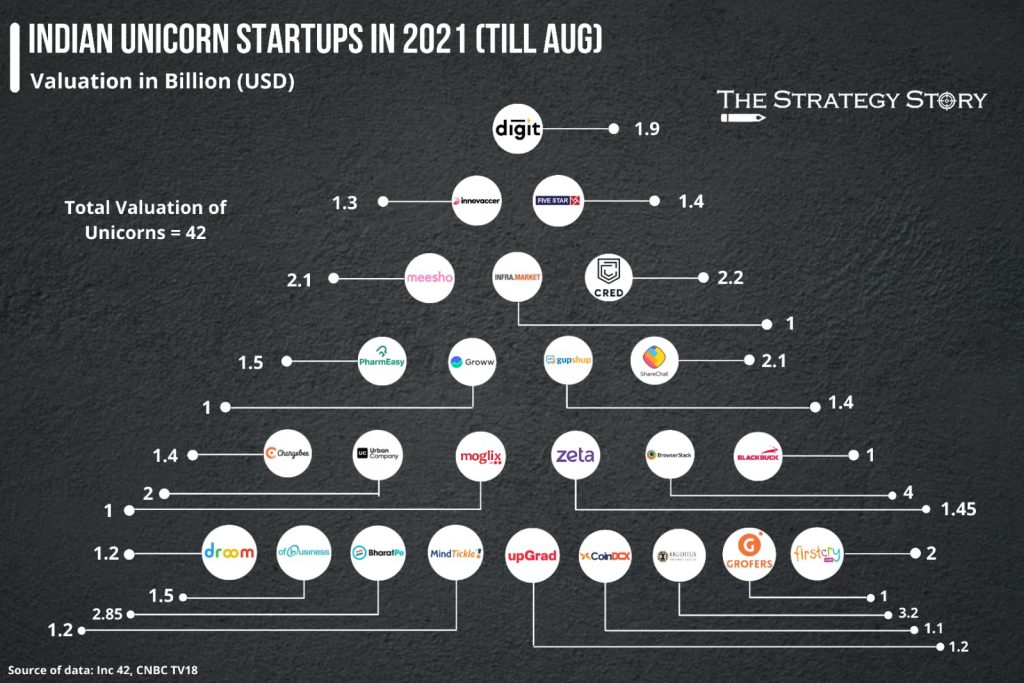 India's Startup ecosystem seems to be on a golden run this year; we're only eight months in, yet almost 40% of all unicorns to date came in 2021.
This year, with a combined valuation of $42 billion, 25 businesses attained Unicorn status, a 150% increase from 2020, when ten startups joined this elite club.
60% of unicorn startups in 2021 are from E-commerce, SaaS (Software as a Service), and the Fintech sector.
Even in the midst of a pandemic, where our supply chain is under enormous strain, BlackBuck (Zinka Logistics Solutions Pvt. Ltd.), a logistics tech startup, raised $67 million and joined the unicorn club.
CoinDCX became the first crypto unicorn in India with a $90 million investment at a $1 Billion valuation.
Eruditus Executive Education with a valuation of $3.2 billion along with a $1.2 billion valued upGrad joined BYJU'S and Unacademy in the list of e-learning Unicorns.
In 2021, Tiger Global surpassed Sequoia as the leading investor in the Indian market. Tiger Global has invested in over half of all unicorns this year.
NASSCOM had anticipated that 50 Indian businesses would achieve unicorn status by the end of 2021.
Given that figure, all eyes will be on Soonicorns like Curefit and MPL to pull off this incredible feat of 50 unicorns in a year.
Check out our Infographics Here
---